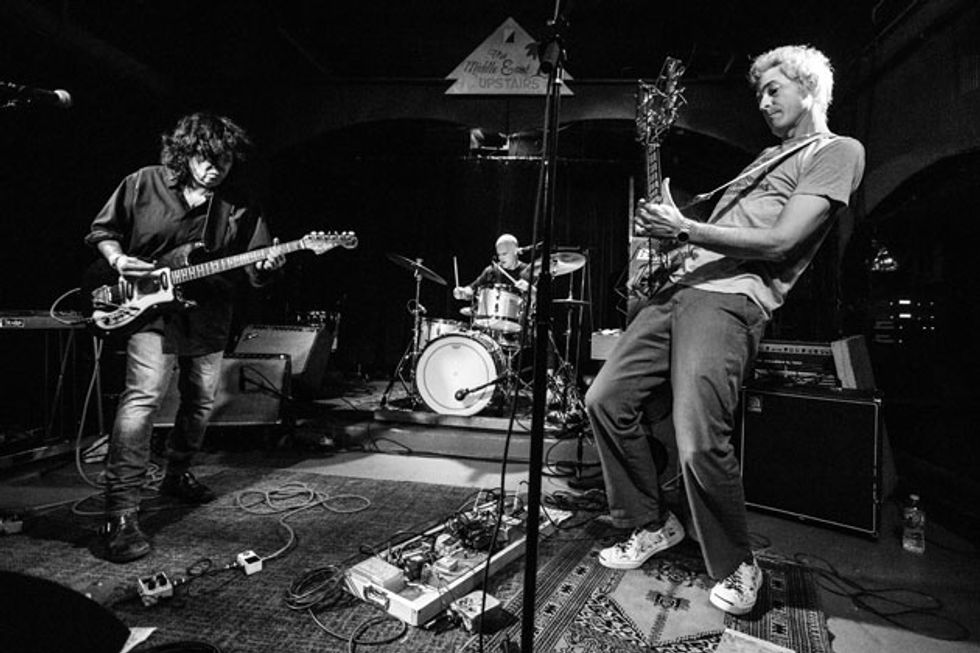 Mad scientist instrument builder Jason Sanford and drummer Gavin McCarthy complete the band E, caught here rocking the Middle East club in Cambridge, Massachusetts. Photo by Ben Stas
"It helps for me to play with a band," guitarist Thalia Zedek says about her songwriting. "Sometimes I'll have a song and I just can't figure out how it should end, or I know there needs to be another part and I can't really figure it out on my own. I've got to go in and play it with the band, and then everything makes sense."
Don't misunderstand; Zedek doesn't only collaborate. Although her latest album's cover says it's by the Thalia Zedek Band, Eve is actually her fifth solo release. But synergy is paramount. "When you find someone you really have a strong connection with, it's pretty special," she says. Concurrent with Eve's release is E, the self-titled debut of her trio featuring guitarist/sculptor Jason Sanford of the noise band Neptune and drummer Gavin McCarthy. "E is definitely each of us supplying one side of the triangle," she says.
Zedek is originally from suburban D.C., although she's been a Boston fixture since 1979 (apart from a brief flirtation with New York City in the late '80s). Upon arrival, she worked with a few local bands before joining Dangerous Birds, a group that benefited from a close association with the influential Mission of Burma. "I gigged out in a band called White Women, which was a band I was in for a year or so right before Dangerous Birds," she says. "We did a lot of fun shows in punk clubs, lofts, and stuff like that."
After Dangerous Birds, Zedek spent the rest of the '80s in no wave bands like Uzi and as lead singer—sans guitar—for Live Skull, allowing her to solely pursue her literate and often brooding lyrics. Thanks to the groundwork she laid, Zedek became an influential figure in the indie-rock scene that spawned Nirvana, the Pixies, and Dinosaur Jr., who have all saluted her inspiration.
Her biggest success arrived as a member of Come, a collaboration with guitarist Chris Brokaw, from Codeine, plus drummer Arthur Johnson and bassist Sean O'Brien. "Come's songs were a bit more conventional than E's," she says, distinguishing between her past and current projects. Come broke up in 2001, but reunited in 2013 to tour and commemorate the 20th anniversary of their debut, 11:11. "Chris and I would write together a lot. Arthur and Sean were definitely a big part of it—not taking away from what they added—but the songs would be brought in more complete. Whereas E is, for the most part, spontaneous ideas that come out when the three of us play together."
Zedek's music is often dark and brooding, but she isn't a one-trick pony. Her chord voicings can be wide-open and oddly reminiscent of 80/81-era Pat Metheny. She also crafts subtle textures with modest touches of overdrive, but will get nasty or abrasive when necessary. "There are definitely times where I'm the person making noises," she says.
Zedek's primary instrument is the low-budget Hagstrom 1 (she owns two of them). She's also often seen with a well-loved Fender Tele Deluxe, which she borrowed from a friend. "It has virtually none of the original parts on it," she says. "I think the neck isn't even a Deluxe neck, but I don't know. I got it from Jerry DiRienzo, who was in a band called Cell. I kind of have it on permanent loan."
Zedek, with her insights framed by decades of experience, opened up to us about—among other things—her influences, collaborations, chord voicings, and the special mojo of cheap gear.
One of your earlier bands, Dangerous Birds, released a single produced by Martin Swope from Mission of Burma. Were you a fan of that band back then?
I was a huge Burma fan back on their first time around. They were really amazing and Roger Miller has definitely been a huge influence on my guitar playing. He still is an amazing guitar player, but back in the '80s he was super ahead of his time. Martin produced our single and we did a fair amount of shows with them including one right before they broke up back in the '80s.
"Sometimes I'm just playing bass lines on my guitar, which is really fun." —Thalia Zedek

You were a big fan of Rowland S. Howard as well. What do you like about his playing?
I love the sound—the bluesy reverb, almost jazzy but really minor key type riffs. I'm a huge fan of the Birthday Party. I think that's how I discovered him. I also got really into his band These Immortal Souls and even opened up a show for them the one time they played in Boston.
You often work with another guitarist. What do you like about that?
In Come and in my new band E there is another guitarist, but in the Thalia Zedek Band I've been the only guitarist for a while, so I wouldn't necessarily agree with that statement. But that being said, I do really love playing with other guitar players. When you find someone that you really have a strong connection with—like I did with Chris Brokaw and like I do with Jason Sanford—it's pretty special.
Keith Richards calls it the art of guitar weaving—when you can't tell which guitar player is playing which part. Do you do that or do you prefer each guitar having a unique voice?
I'm definitely into that. When Come did our reunion shows, I had to relearn a lot of the parts because it had been 20 years since I played some of those songs. I really couldn't remember what I was playing and what Chris was playing. We had to rehearse a couple of times and I was like, "Who was playing that part? Was that you or was that me?" We honestly couldn't remember.
In E, even though me and Jason definitely have really strong chemistry between us, our guitar sounds are different. There are things that Jason is doing with his oscillators and crazy metallic contraptions, and I'm playing a more-or-less conventional guitar setup. That is a different kind of thing than Come. Jason and I have different roles in E. Come, it was more a weaving thing—like a Lee Ranaldo/Thurston Moore thing, between me and Chris.
Listening to the E album, the two guitars do sound very different.
Yeah exactly; they are. I'm playing a Hagstrom through a Twin Reverb with some foot pedals. Jason is playing his homemade guitar. He's splitting his high and low tones through different amps and then he's got some homemade contraptions. One, inside, has a hacksaw blade that is vibrating against a pickup. The hacksaw blades are tuned to different notes and supply super-low Es, because we don't have a bass player. [See accompanying sidebar, "Jason Sanford's Totally Wired Guitar.".]