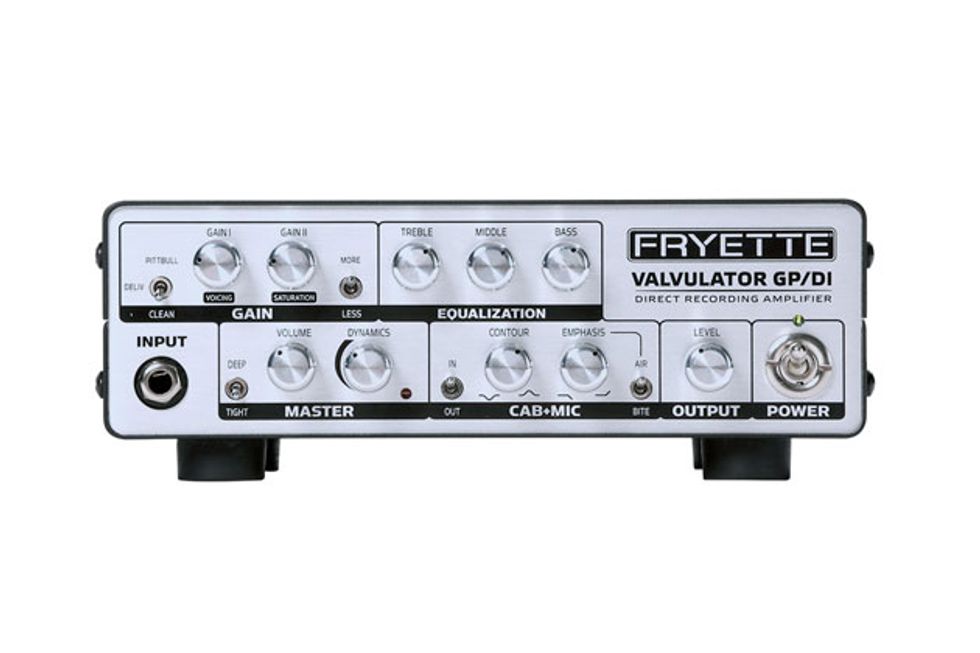 North Hollywood, CA (December 27, 2016) -- Fryette Amplification introduces the Valvulator GP/DI Direct Recording Amplifier, a direct recording solution featuring an ultra-flexible all-tube one-watt amplifier specifically designed to deliver genuine dynamic tube amp sound and feel direct to mixing console, DAW, or other computer interface for recording, as well as direct to FOH/monitor board for live performance applications.
The Valvulator GP/DI can drive a speaker cabinet for recording or practice and also has a built in headphone amplifier with FX loop for silent practice, making it an all-around low-volume playing solution.
Key features include:
All-tube, 1-watt amplifier with integrated reactive load
Broad tonal range with three tube amp voicings, Clean, Deliverance (old –school crunch) and Pittbull (modern up-front detail)
"CAB + MIC" analog speaker simulator for direct recording
Headphone amp with stereo effects loop and MP3 player input for silent practice
Balanced XLR outputs for amp out or tube buffered D.I.
Fully functional self-contained "re-amping" solution
Can drive any guitar cabinet
Dynamic Sensing Circuit
The Valvulator GP/DI is completely analog, utilizing four vacuum tubes. It can be approached as an analog modeling tool on which familiar guitar amps tones are sculpted, or on its own terms, allowing new voices to serve as inspiration.
"As a player, the first order of business is to pick up a guitar and really experience the interaction between the guitar and the amp," said Steve Fryette, Founder, Fryette Amplification. "With the GP/DI, you get to experience all that excitement."
Train guitarist, Luis Maldonado, commented, "The Valvulator GP/DI allows me to get my favorite Brit stack sounds direct to my monitor and FOH console. I run my pedalboard straight into it!"
Watch the company's video demo:

For more information:
Fryette Amplification