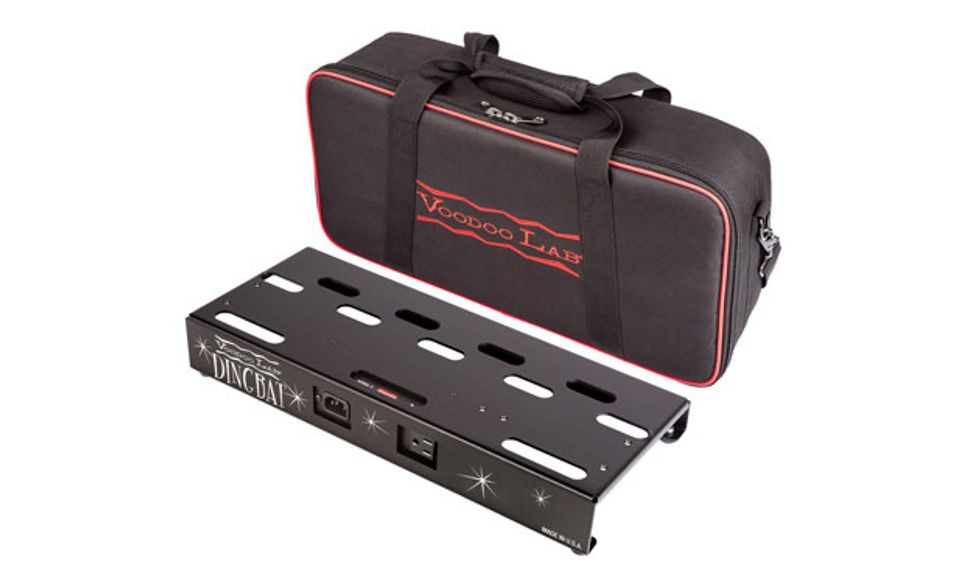 Santa Rosa, CA (January 12, 2017) -- The highly-anticipated Voodoo Lab Dingbat Series of pedalboards. They are the first pedalboards designed for seamless integration with industry-standard Voodoo Lab Pedal Power power supplies.
Manufactured in Sonoma County, California, Voodoo Lab Dingbat pedalboards offer a rugged, lightweight platform for organizing pedals and keeping cables neatly tucked away and out of view. Dingbat pedalboards are available in three sizes to cover anything from a small travel rig to a large touring system. Also available is Dingbat PX, which features an integrated Voodoo Lab PX-8 PLUS true-bypass pedal switching system, enabling access to 36 preset pedal combinations at the touch of a button. All Dingbat pedalboards include the following:
Professional tour grade padded gig bag providing excellent protection for pedalboard and pedals
Pedal Power® mounting brackets for easy installation of Voodoo Lab power supplies
Adhesive-backed hook-and- loop tape for secure mounting of pedals and other devices to pedalboard surface
UV-resistant cable ties and 4-way tie mounts to neatly secure cabling
U.S. street prices: Small $129.99, Medium $169.99, Large $199.99, PX $449.99
Adding a Voodoo Lab power supply is quick and easy using only a screwdriver. Also available are Dingbat Power Packages that include a factory-installed Pedal Power for one package price. U.S. street prices are as follows:
Dingbat Power Packages $229.99 to $399.99
Dingbat PX Power Packages $619.99 to $679.99
With simple installation of power supplies, and a variety of factory-assembled configurations including Power Packages and integrated pedal switching, Dingbat makes building the perfect pedalboard easier than ever.
For more information:
Voodoo Lab