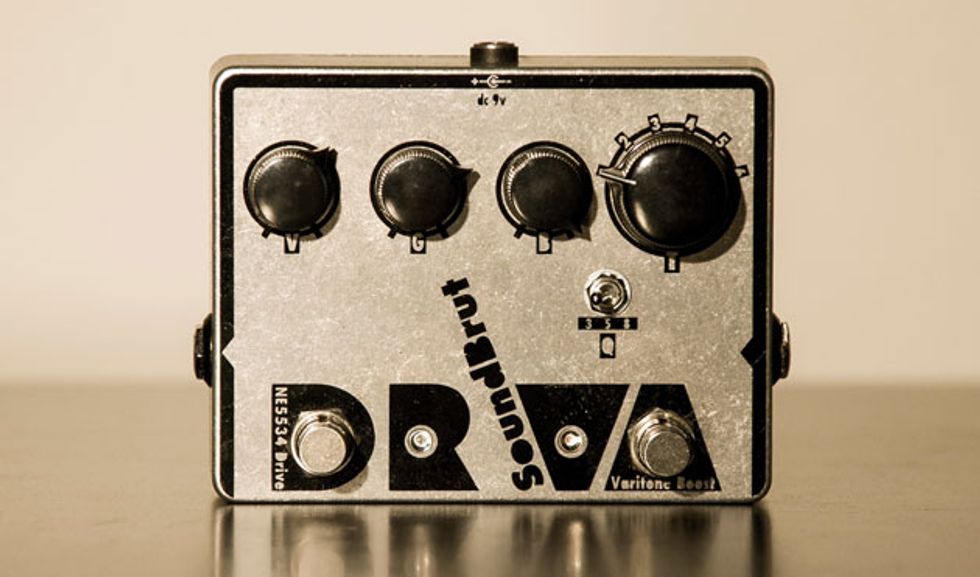 Stockholm, Sweden (February 16, 2017) -- DrVa is the first effects unit developed by Stockholm-based company SoundBrut. It is a hard-clipping overdrive and MOSFET clean boost, coupled with a custom tone circuit with 18 voicings.
DrVa incorporates two serial effects: (Dr) and (Va).
(Dr) is a hard-clipping overdrive controlled via a volume and gain knob. Fueled by a NE5534 op-amp, it celebrates the harmonic structure of your guitar and maintains an airy open tone. (Va) is a MOSFET clean boost seasoned with a custom tone circuit, not unlike the notorious Varitone circuit from the 60s Gibson guitars. You can operate both circuits individually or together.
Tone circuit in (Va) boost is controlled via a 6-way selector, switching between 6 different EQ filters, as well as a 3-way "Q" switch that changes the filter bandwidth; adding up to 18 combinations (presets) to choose from. All capacitors and EQ notches are selected to match a variety of pickups.
Our motive was to create a dirt pedal that rounds up your tone, wherever or whenever it is ON. DrVa is a useful unit for pushing under-powered fuzzes or equalizing other drive pedals. It has true bypass so that it can be placed anywhere in your effects chain. Its gain structure and tone shaping is relatively transparent. In the end, it doesn't make your sound dark, makes it a tad beefier; it doesn't make your sound trebly, makes it punchier, easier to cut through.
We love DrVa as an always-on pedal.
Retail Price: $165
Features:
Hard-clipping overdrive
MOSFET clean boost (up to 20 decibels)
Custom tone circuit in the boost section, incorporating 18 different voicings
True bypass
Small size enclosure: 119,5 x 94 mm (4,705 x 3,701 inches)
Runs on 9V DC power 100mA (center pin: negative)
No battery compartment
Watch the company's video demo:

For more information:
SoundBrut