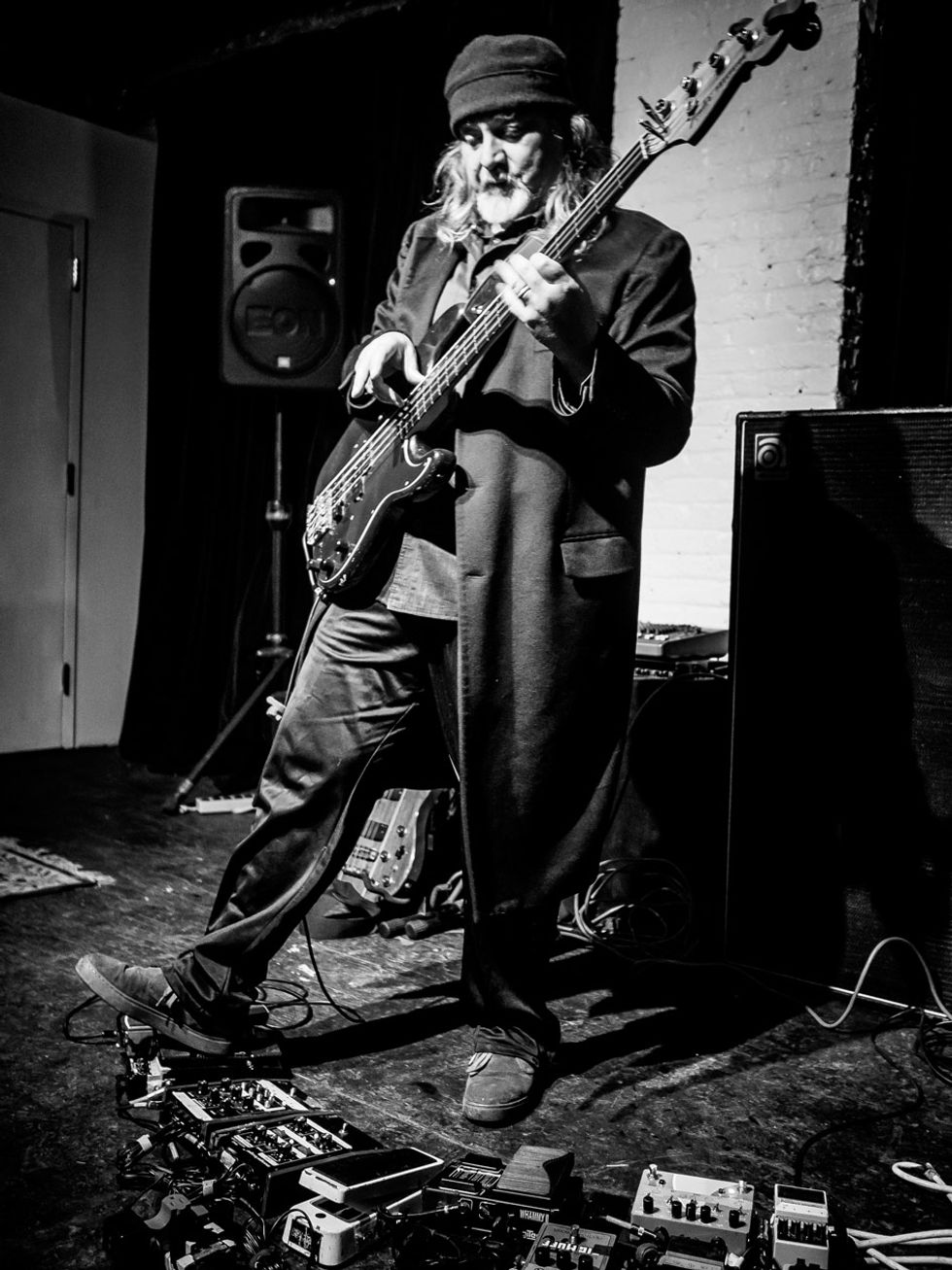 On a February 2015 gig with improvising guitarist Henry Kaiser at the Stone in New York City, Laswell applied an EBow to his No. 1: a black 1977 Fender Precision. Photo by Peter Gannushkin
There are rules, and then there are exceptions to those rules. In the musical universe, Bill Laswell has cultivated an extraordinary body of work that pretty much breaks the mold.
Whether producing seminal albums like Public Image Ltd's Album and Mötorhead's Orgasmatron (both from 1986) or playing bass in bands like the intensely abrasive trio Painkiller, he's spent most of his career defying convention. For his recent release on his M.O.D. Technologies imprint, The Drawing Center, he teams up with trumpeter Dave Douglas and drummer Hideo Yamaki and delves deeply into a boundless sonic experiment titled "The Science of Imaginary Solutions." The 45-minute, single-track instrumental was recorded live at New York City venue the Drawing Center in August 2016 and affirms Laswell's relentless pursuit of momentary creative expression. Not only is The Drawing Center a live record, it's an improvisatory one. Laswell and his mates didn't know what they were going to play when they showed up at the gig. They simply dove into the moment, trusted their instincts, and delivered an absolutely blistering set of music that defies categorization.
"The Science of Imaginary Solutions" neither adheres to the popular music format of verse/bridge/chorus/solo nor the jazz tradition of interpreting tunes with a head, motif, and solo. It's a bold project that combines aspects of world, electronic, dub, jazz, and non-Western traditions. Laswell, Douglas, and Yamaki tap into a vast well of experience that ultimately relies on artful, subtle repetition to undergird the opus. "Repetition is crucial," Laswell attests. "If you can't sustain that or sustain interest in it, you're really just bothering people with sound."
The Drawing Center reinforces the notion that music is most effective as an in-the-present endeavor. A dialogue emerges on "The Science of Imaginary Solutions," which evolves intuitively as the trio converse, argue, and debate using a musical language that sounds as elemental and timeless as the universe itself. Laswell seems to be at his best in these situations. His percolating, heavily effected bass lines engage with and react to the overt virtuosity of Douglas and Yamaki. His own virtuosity isn't as obvious. It sneaks up on you via a vocabulary that is rhythmically astute, harmonically rich, and tonally deep.
Growing up in Albion, Michigan, Laswell started playing bass because he made a conscious decision to "not do all the other stupid things" that were available. "Music was a bit safer and you might even get lucky, so I decided to go that way," he recalls.
Since almost everyone he knew played either guitar or drums, he chose bass, but literally started with a guitar and took two strings off. "There weren't a lot of bass players and I realized that that's the force, the pulse, of the music," he explains. "And if you develop a sound and a way to communicate with drummers, then you really can make a very significant statement."
Laswell has gone on to make many significant statements as both a producer and a bassist. His helming of works by Herbie Hancock, Laurie Anderson, Sly Dunbar and Robbie Shakespeare, Sonny Sharrock, Mick Jagger, and many, many others attests to his diversity and acumen. And his resume as a bass player explodes with unbound expressions of his 4-string artistry. It includes his 1983 debut Baselines, his 1987 collaboration with bass saxophonist Peter Brötzmann called Low Life, 1997's South Delta Space Age in partnership with guitarist James "Blood" Ulmer under the name Third Rail, any of the uproarious free-improv Last Exit albums, and 2000's Tala Matrix by Tabla Beat Science with tabla master Zakir Hussain.
"Led Zeppelin was the same. The bass and drums were interesting, but I wasn't always into the scratchy guitar and high singing."
Laswell says it's easier to make a statement with a bass than a guitar: "With guitar, you must constantly redefine yourself and you're competing with so many people, so I stuck with bass." Completely self-taught, he gleaned the fundamentals from recordings by R&B players he says were doing "pretty simple music," like Chuck Rainey and Donald "Duck" Dunn.
Despite his taste for daring music, Laswell is a disciple of the Stax and Muscle Shoals sounds and prefers that vibe to the more fluid Motown bass approach. His reasoning illuminates the basic nature of the axis on which most of his own music rotates, no matter how dense or seemingly complex. "Stax and Muscle Shoals were simple," he states emphatically. "And it was more feel-oriented. I could relate that to and apply it to dub and reggae. Motown was a lot of jazz musicians who all had their own thing, but they weren't good enough to be jazz musicians, so they were in Motown. They were great at what they did, but to me it was a little complicated and jazz-oriented compared to something like Stax."
By the time he was 15 years old, Laswell was playing in R&B bands touring from the urban north to the south and along the East Coast, traveling from Detroit, Michigan, to the Florida Keys. He was in the "Chitlin' Circuit"—an informal network of venues that catered to African-American music lovers, which were often owned and booked by black promoters, and were safe harbors for black musicians since the days of Jim Crow.
Laswell says playing those venues "made an impression and gave me a foundation. There's subtlety. There's simplicity. There's no other agenda. You're just right there with the notes that you're playing. These days, for young musicians coming up that's probably impossible because everything is so complicated in every way—technology, career."
Laswell believes the pressure to wear multiple hats has become detrimental to the growth of young players. "First, you have people setting standards that are pretty low and, again, you're competing with technology, technique, image, presence. It goes on and on. But very little of that is as simple as someone sitting down and saying, "I think I'm going to play this…"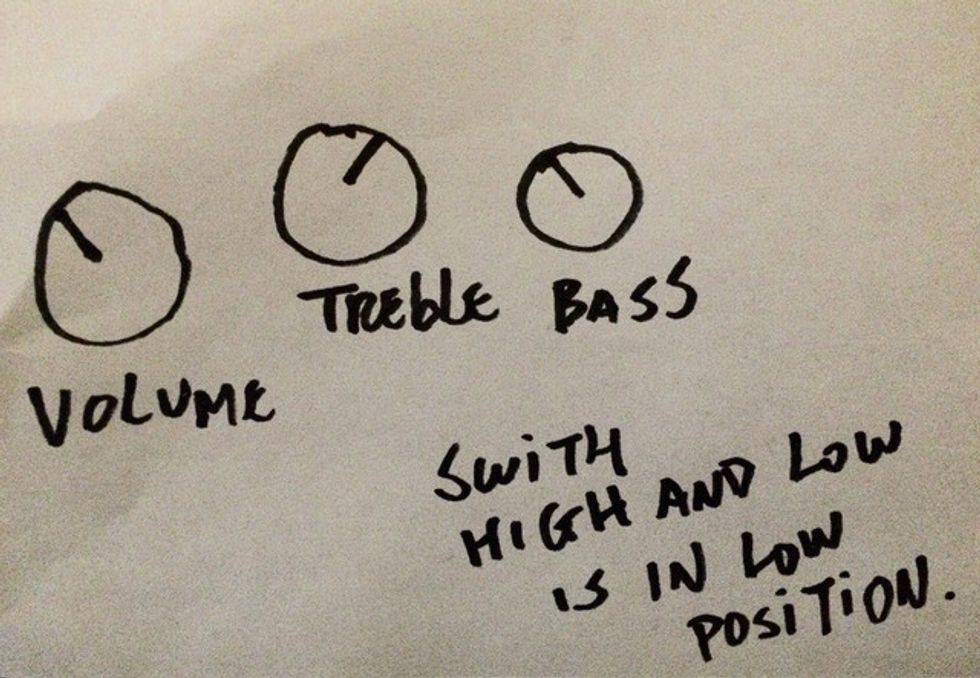 Despite his lofty conceptual achievements, Laswell is a meat-and-potatoes player at heart. When asked to explain how he runs his beefy Ampeg amp heads, he offered this drawing.
Playing funk, R&B, and other groove-based music on the Chitlin' Circuit formed Laswell's understanding of the relationship between a bassist and a drummer—something he feels is missing in a lot of contemporary music he hears. "When it works, it's one thing," he relates. "It's not two people. It really serves as one functioning time machine. You'll hear it when it works and it's not always because they're playing together, necessarily. It's just the way they interpret space."
He cites reggae rhythm dream team Sly and Robbie and Stax's classic bass and drums chair holders, Duck Dunn and Al Jackson Jr., as good examples of rhythm sections that function as one entity. "Rock bands—not so much," he says. "I don't ever hear the bass and drum relationship unless you have a bass player who's totally listening, like the guy in the Who [John Entwistle]. Keith Moon was all over the place, but the bass player managed to listen to it and it created this feeling that they were together. Led Zeppelin was the same. I thought the bass and drums were interesting, but I wasn't always into the scratchy guitar and high singing. I really thought the bass and drums anchored that band."