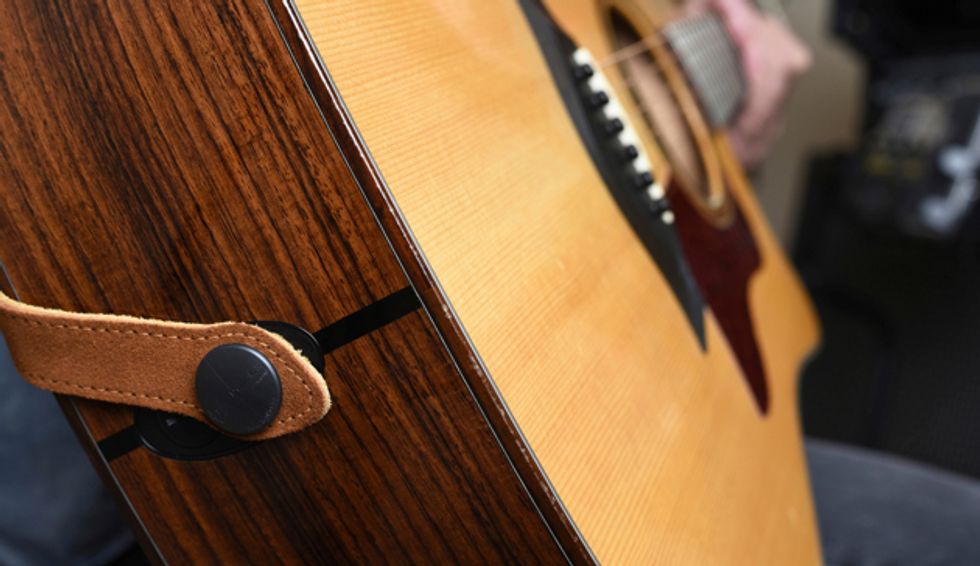 Los Angeles, CA (August 17, 2017) -- Strap Jack is the best way to keep your acoustic-electric guitar securely strapped on when playing unplugged—preventing your strap from slipping off and protecting your guitar from falling.
If you play an acoustic-electric guitar, you know that putting your strap on is difficult because the endpin jack is bigger than the strap hole. And since the strap fits poorly, it can slip off—dangerous when you're playing unplugged and there's no instrument cable to catch your guitar. Strap Jack solves this problem and protects your guitar by keeping your strap securely in place.
And unlike other strap locks out there, you don't have to make any modifications to your guitar to use Strap Jack. It's not permanently attached to either your guitar or your strap, and it's easy to install and remove.
Simply attach your guitar strap to the endpin jack of your acoustic-electric guitar and plug Strap Jack in. Strap Jack is a system designed to keep your strap securely in place while you play your guitar unplugged. For guitars with a strap button on the neck heel area, we also include a specially made, durable rubber washer—sometimes called a "guitar saver" — to keep the other end of your strap secured.
Strap Jack is simple, inexpensive, works with all acoustic-electric guitars, requires no modification to your instrument and—best of all—it really works!
Purchase Strap Jack individually ($8.95), or save on a 2-pack ($12.95), or 3-pack ($16.95).
For more information:
Strap Jack