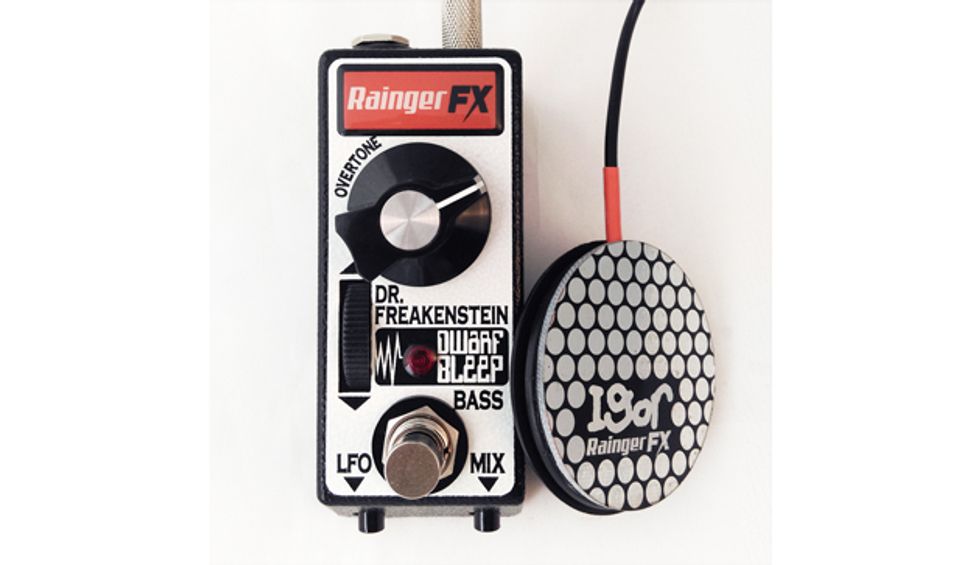 London, UK (August 18, 2017) -- Rainger FX guitar pedals is releasing an extreme version of their hugely popular Dwarf Bass mini-pedal, adding the best of the bleep 8-bit sounding glitch weirdness first seen in the Dwarf Bleep pedal for guitarists.
Housed in their custom designed mini-pedal enclosure, the Dwarf Bleep Bass has all of the full-on fuzz ferocity of the Dr Freakenstein Fuzz, but with a low frequency enhancement for a bass. Utilizing the double sided pressure sensitive expression pad "Igor", the final decay of a note can be degraded into rhythmical bleep meltdown, the speed adjusted by a trimpot through the baseplate, and pitch controlled in real-time by Igor.
Switch on the LFO modulation, and the bleeps' pitch has a steady '80's arcade game' rise and fall; press on Igor and the modulation speed increases up to fast churning insanity!
Features:
Built-in noise gate
Igor – a unique pressure-sensitive expression pedal (dual sensitivity - use by foot or by hand)
Volume thumbwheel
Clean mix button (adds approximately 1/3 clean sound)
Internal 'active/passive' instrument switch
Rainger FX's unique styling and mini-pedal enclosure (with no side sockets!)
For more information:
Rainger FX