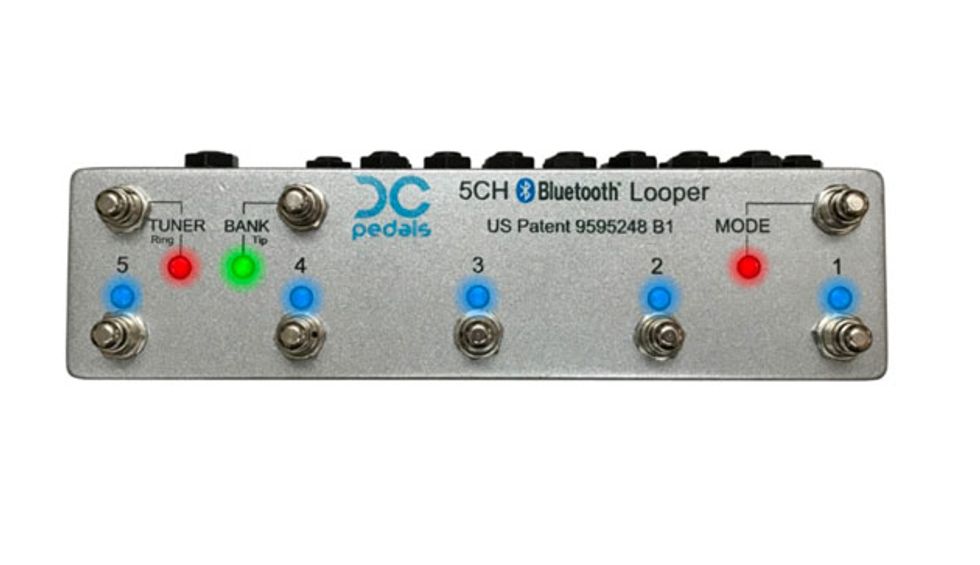 Orlando, FL (May 9, 2018) -- DC Pedals introduces the very first Bluetooth True Bypass Looper designed to preserve the musician's true tone, save time, eliminate the need for USB cables, and increase flexibility when making changes to your pedalboard presets and setlists.
Focused on the working musician, the 5-Channel Bluetooth Looper is a true-bypass switching system with five loops, 100 direct accessible presets, 100 MIDI accessible presets, MIDI input and MIDI output, and our patented Bluetooth wireless programming and control. The looper uses the musician's iOS or Android mobile device and the VirtualLooperTM app to control and program the looper in real-time. The app can be used to create and manage presets in offline mode and then downloaded to the looper seconds after setup.
"This is a HUGE time-saver and frustration-saver because you don't have to break-out your laptop and USB cables to program your bypass looper," says Doug Classe, President and Founder of DC Pedals. "You can program and save your presets on our VirtualLooper app while you are on a plane, bus or car on the way to the gig, then quickly download your new settings trough the wireless Bluetooth connection."
Features include:
Five loops with DBATM true-bypass relay switching
Outstanding buffered input and unbuffered input
Audio mute option
Dedicated tuner output with tuner mute switch
Dedicated MIDI input and MIDI output jacks
TRS control jack
Bluetooth connection to VirtualLooper mobile app
MIDI PC Mapping available in VirtualLooper app
100% designed, created, and built in the USA
DC Pedals' Bluetooth Looper is available now for a limited time introductory price of $299 direct from www.dcpedals.com. Retail price is $379. The VirtualLooper app is available for free on Google Play and the App Store.
Watch the company's video demo:

For more information:
DC Pedals