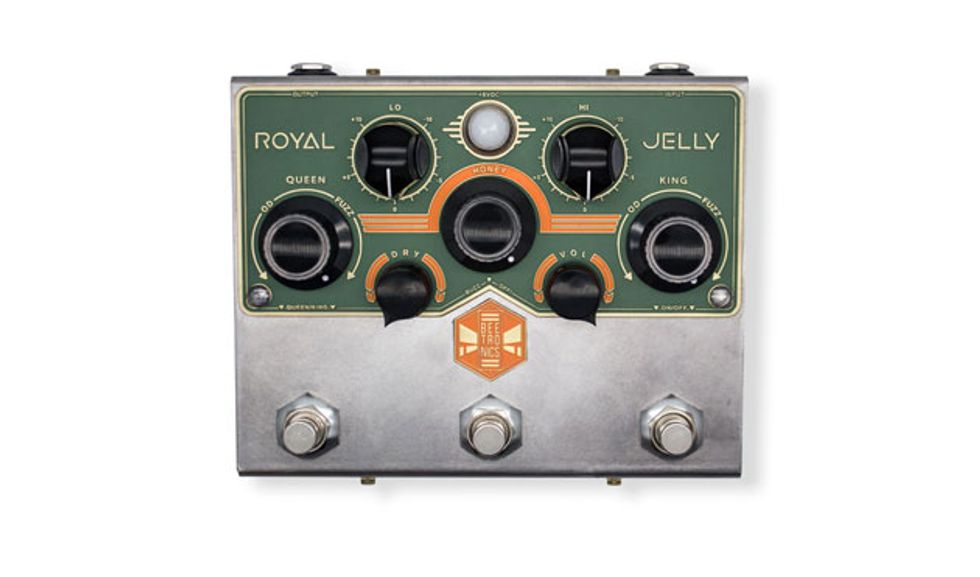 Los Angeles, CA (June 5, 2018) -- Beetronics has launched its first handmade Overdrive/Fuzz blender pedal: The Ryoal Jelly – from Royal Series, the newest addition to the Beetronics line.
The Royal Jelly is an overdrive/fuzz blender like no other pedal. It can cover any ground from overdrive to fuzz, running two circuits in parallel giving the player the possibility of blending them or running both separately like two different pedals. It also has two presets of the blend, called Queen and King. The presets allow the player not only to have two different sounds on the fly, but also make for a very natural transition between them since instead of switching pedals, you are mixing the levels between the overdrive and fuzz.
It's also possible to blend in the instrument's dry signal: a great feature for bass, drums and synths or any studio use. On the guitar, the DRY control is perfect to create unique clean tones with a fuzzy background. The Jelly's powerful EQ has 10dB of cut/boost for HI (2 kHz) and LO (80 Hz), making it possible to shape the tone in many different ways, while the BUZZ switch adds that nasty high end usually found on the vintage fuzz boxes to its fuzz circuit. The Royal Jelly drips tone and it's a pedal that can change how players approach overdrive and fuzz.
Royal Jelly Standard series pedals carry street prices of $289.00 each. They can be purchased directly from the online store at www.beetronicsfx.com
Watch the company's video demo:

---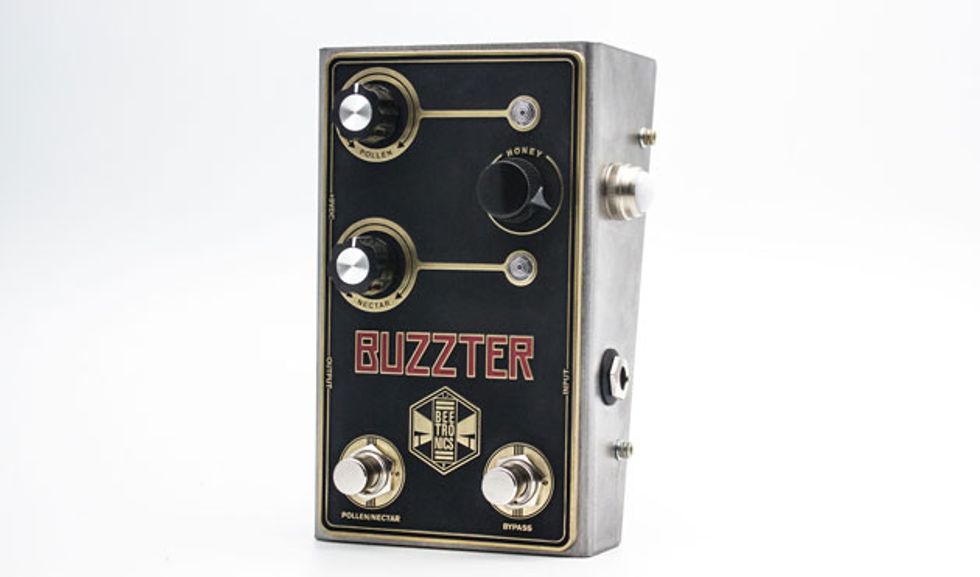 Beetronics has launched its first handmade Boost/Preamp pedal: The Buzzter – from Royal Series, the newest addition to the Beetronics line.
With two output presets, The Buzzter is a Boost/Preamp designed for players that need more than just one step up. This pedal allows 3 different stage levels to be set: the clean tone and two steps up from that. The Buzzter carries a ton of headroom and works great as an 'always on' type of boost or to push pedals and amps. It adds a little chime to the tone making it a great tone enhancer. The Buzzter allows the player to cut through the mix, twice. It's a great option for those who want to boost that sweet riff and still have one step up for a solo.
Controls:
Honey dials the boost level, while Nectar and Pollen are the output presets to tame the power of the honey and the presets can be used to attenuate the original tone.
Buzzter Standard series pedals carry street prices of $179.00 each. They can be purchased directly from the online store at www.beetronicsfx.com
Watch the company's video demo:

For more information:
Beetronics