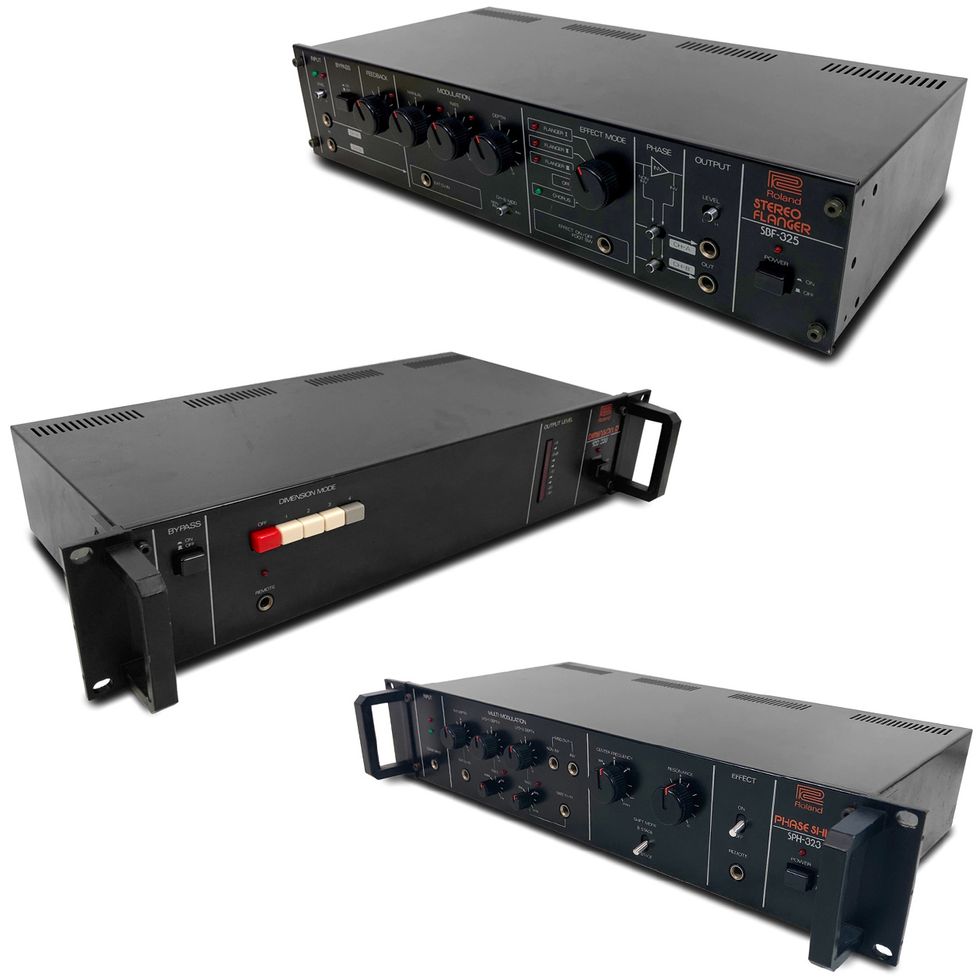 Roland's Rack Series—including the SDD-320 Dimension D chorus, the SPH-323 Phase Shifter, and the SBF-325 Stereo Flanger—quickly became studio favorites, employed by a range of producers, engineers, and guitarists.
The next big step in electronic flanging followed in 1976, with the arrival of the Eventide Instant Flanger, which was used by Tony Visconti for the distinctive piano sound on David Bowie's "Ashes to Ashes," and the famous blue face MXR Flanger/Doubler, which was also loved by dub producers. Roland's Rack Series brought the excellent SDD-320 Dimension D chorus, the SPH-323 Phase Shifter, and the SBF-325 Stereo Flanger, which all remain widely used and sought-after. Stevie Ray Vaughan fell in love with the sound of the Dimension D when he worked with Nile Rogers and David Bowie on Let's Dance, and it became one of his secret studio weapons, used in the mixing stage to subtly widen his guitar on solos.
More Modulators
The aviary of chorus, phasing, and flanging has even more rare birds. Here's a smattering of additional species you might find interesting: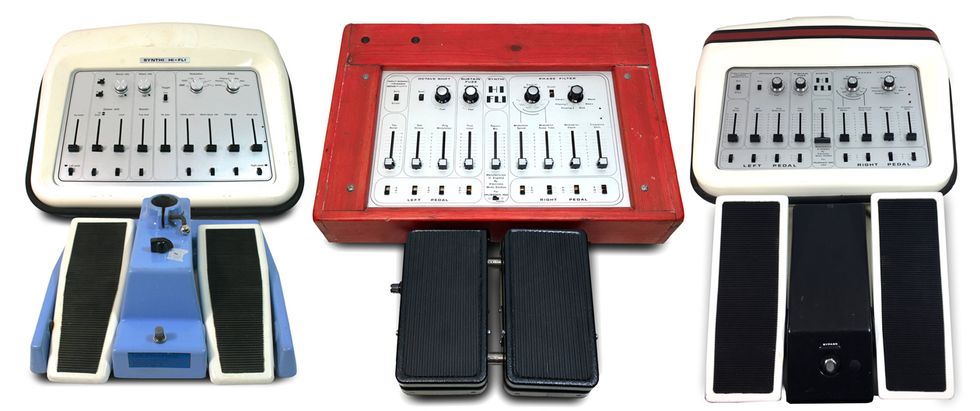 These are three iterations of the EMS Synthi Hi-Fli, which was responsible for many of the glorious modulation guitar effects on Pink Floyd's Dark Side of the Moon.
EMS Synthi Hi-Fli. It may seem strange to consider using one of the most complex and expensive guitar effects on the planet as a simple phaser, but David Cockerell's masterpiece is quite superb and flexible when put to the task. If you don't have a Hi-Fli on hand, console yourself with an early Small Stone—an aural close relative.


It's double the fun with the AMS DM 2-20 Tape Phase Simulator, which uses two delay lines to achieve the through-zero effect, allowing for more dramatic phasing and flanging sounds.
AMS DM 2-20 Tape Phase Simulator. My favorite flanger is, indeed, this phaser. The AMS DM 2-20 is without equal, and one of the only vintage units to really perfectly nail the through-zero effect by using two delay lines rather than one.
Now, it's worth taking one more digression to explain the through-zero effect. In flanging, one signal is played back at a fixed rate while the other is alternately slowed down and speeded up, and it either lags behind or moves in front of the original signal. When the modulated signal momentarily aligns in time with the original, total phase cancellation briefly occurs. That's called the "zero point." In the AMS Tape Phase Simulator, this effect is far more pronounced and dramatic than with most traditional flangers and requires complex and clever circuitry. Achieving the through-zero effect also requires two delay lines, as both the original and the modulated signal have to be capable of moving in time.
Marshall Time Modulator 5002 A System. Legend has it that Stephen St. Croix's incredible device was designed in 1975 to win a bet and was promptly exhibited at the AES convention a few days later. Finally released in 1979, the MTM is capable of a mind-bending array of effects, including positive (or additive) flanging, negative (or subtractive) flanging, automatic double and triple tracking, resonant flanging, and Leslie sounds. Stevie Wonder used one on Songs in the Key of Life. Soundgas' studio MTM came from Musicland Studios in Munich and was used on Queen's "Another One Bites the Dust." That song's reversed piano sound displays all the hallmarks of an MTM. The later 5402 A System is even rarer and features extended delay times for even wilder effects.
AMS DMX-1580S Digital Delay and DMX-K Chorus Controller. The AMS stereo digital delay, fitted with a controller board and paired with the ultra-rare Chorus Controller, is your ticket to an ultimate classic '80s stereo pitch-shifting chorus and vibrato that ranges from subtle sweetening to full-blown craziness.
Roland PH-830 Stereo Rack Phaser. The ultimate Roland monster rack phaser features two channels for true stereo operation. It's very rare and simply superb.
Foxrox Paradox TZF. I've not heard later versions, but the original blue TZF was the first pedal I found that completely blew me away with its classic through-zero flanging effect. I still have it and use it almost daily.
Publison DHM 89 B2 Stereo Digital Audio Computer. This is a super-rare early digital pitch shifter/delay that's capable of classic chorus sounds. Listen to the guitars on Cyndi Lauper's "Time After Time" for an example. But beware when buying: Publison scratched off all chip IDs and schematics are non-existent outside of France. Repairs can be expensive, but these are stunning units and worth the trouble.
Pefftronics Super Rand-O-Matic SB-101. Dating from the end of the last millennium, but sounding unlike anything that had gone before or has come since, this unassuming little box of joy does chorus, flanging, and phasing, and a whole lot more. Check out this rare stomp if you can.
Lovetone The Flange With No Name. This is the rarest Lovetone pedal of all, and I've yet to corral one. If it's half as good as the Doppelganger (their gorgeous twin phaser), then I'm not going to stop searching until I finally find mine.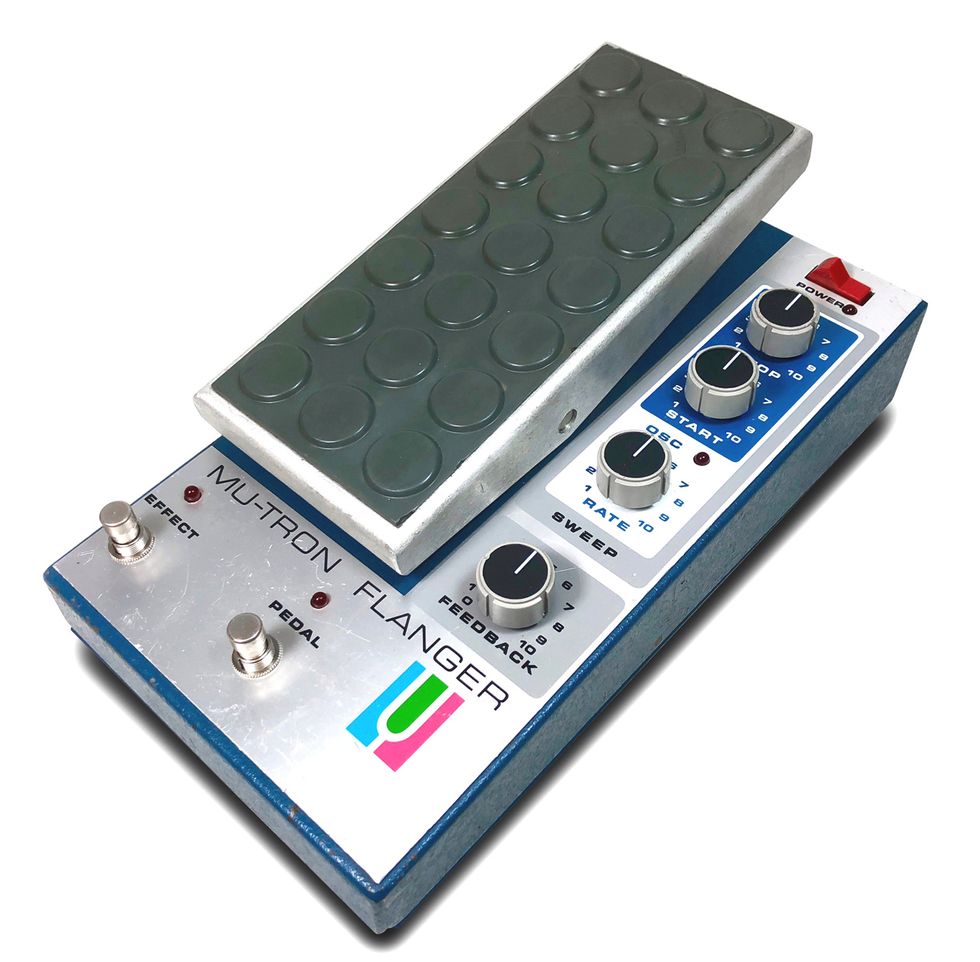 Another futuristic-looking member of the Mu-Tron clan, the Flanger has parameters that are manipulated—after their initial settings—by a treadle.
Mu-Tron Flanger. The monster Mu-Tron treadle-controlled Flanger is by no means the wildest of the Mu-Tron family of devices, but, in keeping with its phase-shifting brethren, it's a sonic delight. As with many Mu-Tron stomps, you might need a bigger pedalboard to accommodate it.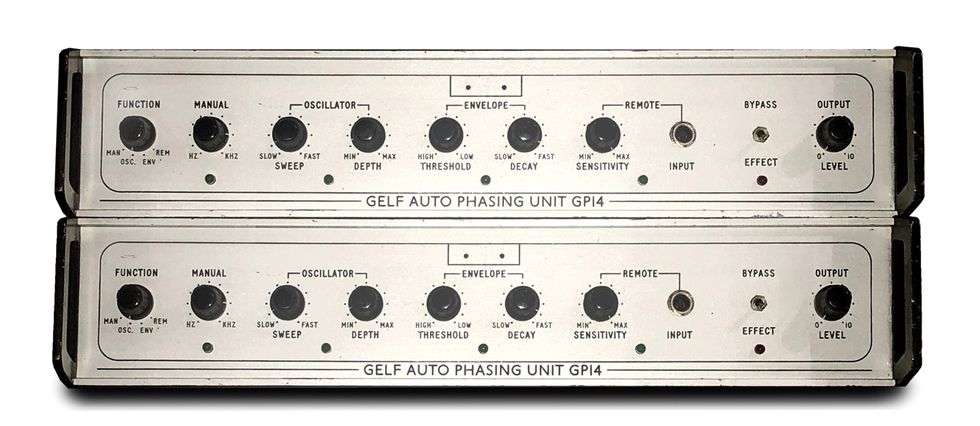 This pair of Gelf Auto Phasing Units reside in the author's studio, but were originally in Pink Floyd's legendary room, Britannia Row. Their dials are basic but allow for precise control of phasing effects.
Gelf Auto Phasing Unit. These are insanely rare and very little is known about their development and manufacture, but their sound is legendary. We have a pair in the Soundgas studio that came from Pink Floyd's Britannia Row Studios.
Dytronics CS-5 Tri-Stereo Chorus. Session royalty, including Michael Landau, Steve Lukather, and Dann Huff, used this huge-sounding rack chorus to achieve thickly layered '80s guitar tones.
A/DA Final Phase and A/DA Flanger. Both of these pedals are worth investigating—whether vintage originals or '90s and more recent reissues. The flanger, in particularly, is a serious contender for the sonically astute, and especially if you love getting wilder results.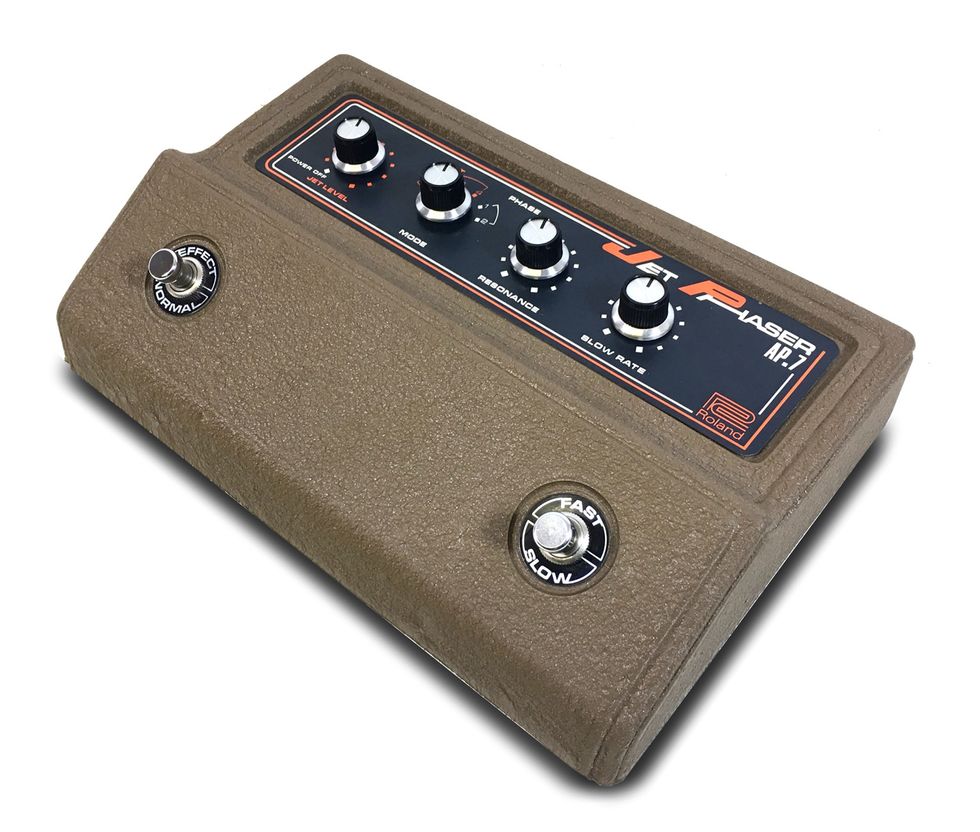 If you're looking for classic phaser "swoosh," a Roland Jet Phaser is the charm—great for adding sonic magic to both guitar and bass.
Roland Jet Phaser. It wasn't what Ernie Isley used on "That Lady"—he actually plugged into a Big Muff and a Maestro PS-1—but it gets you very close in a single pedal. And it's part of the core sonic strategy of bass great Larry Graham.
Apologies for any omissions, but please feel free to chip in with comments and suggestions at the end of this article on premierguitar.com.
---