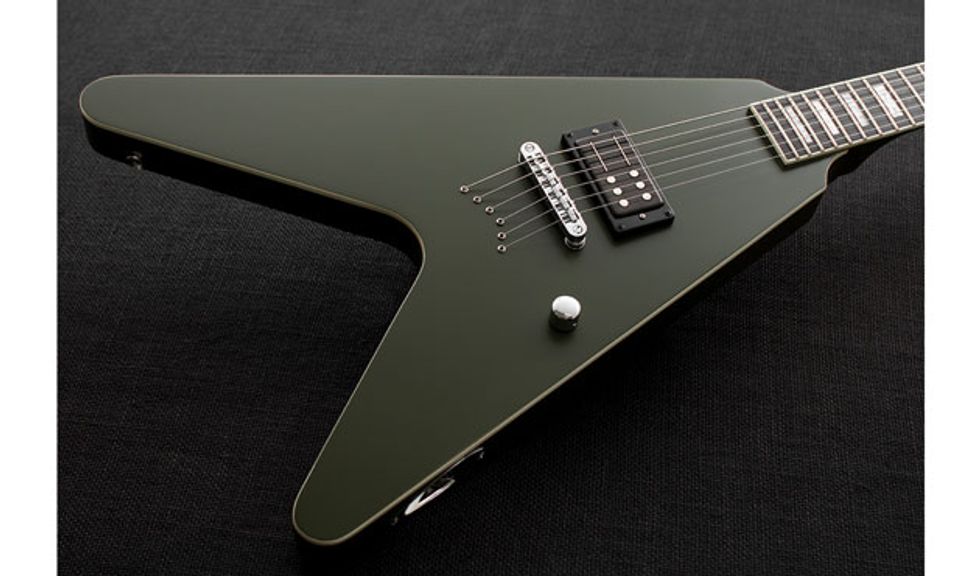 Toledo, OH (October 29, 2018) -- Todd Evans of Mobile Deathcamp liked the original Volcano, but he was looking for a lightweight guitar with a heavy tone, faster feel, and maximum sustain. The Reverend Todd Evans Signature Squatch Hammer was born. Based on Reverend's original Korina Volcano with a string-thru body, an ebony fretboard for speed, a single high-output Railhammer Anvil bridge humbucker, and finished in satin for a smooth, high-performance feel. Available in satin army green or satin battleship grey, both with matching headstocks.
Evans, formerly of GWAR, is the founder and mastermind behind Mobile Deathcamp. The band is currently touring the United States until December 2018 with Raven and Extinction AD. According to SMN News, "Ohio 3-piece Mobile Deathcamp can play some pummeling no holds barred speed metal! Their songs are straight forward old school metal assaults, with crossover appeal."
On all Reverend Guitars, there is a Boneite nut, locking tuners, and a dual-action truss rod – all for maximum performance. You can't be different if you're playing what everyone else is. Visit www.reverendguitars.com to start your journey towards being an individual.
For more information:
Reverend Guitars