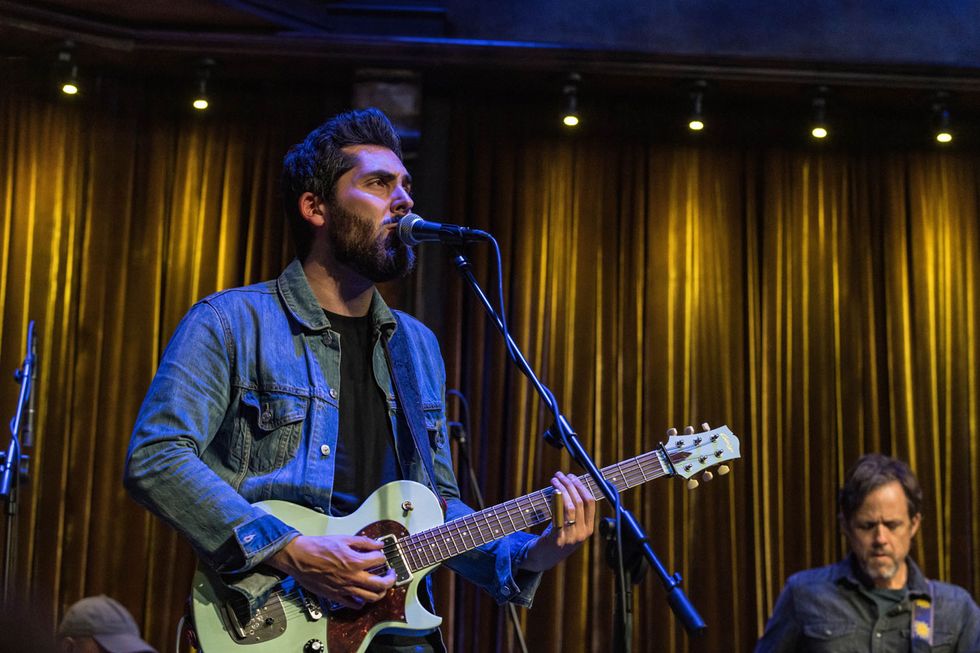 Posen's Collings LT M is one of his favorites—especially for slide. He also plays a Collings SoCo Deluxe, several Strats including an Eric Johnson model, a Suhr Classic S Antique, a Josh Williams Mockingbird, and a Teisco Del Ray. Photo by Zoltan Katona
Thus far in his career, 32-year-old Ariel Posen is best known to the world at large for his work as a sideman for the Bros. Landreth. But a quick YouTube search unveils just how immersed in guitar culture Posen has become, with results showing him playing all sorts of drool-worthy vintage and boutique gear in videos posted by stores such as Carter Vintage Instruments, Chicago Music Exchange, Norman's Rare Guitars, and Andertons, as well as companies like Collings, TC Electronic, and Lowden. Of course, this seeming ubiquity is the result of Posen's reputation as a guitarist. But as much as word of Posen's abilities may precede him, he insists that How Long, his debut release, is not a guitar album. It's all about the big picture, he explains: "These days, I like listening to songs and the story and the total package."
In fact, he relates that his style is the result of listening to all kinds of musicians—not merely guitarists. "If I didn't do that, I wouldn't have truly found out what it is that I want to be playing and how I want to be playing," he explains.
Made at Stereobus Recording in his hometown of Winnipeg, the same studio where he would hang out while his klezmer-musician parents would record when he was growing up, How Long delivers tight, pop-rock nuggets influenced by artists such as Stevie Ray Vaughan, John Mayer, and the Beatles. The obvious attention to detail in the writing, arranging, and production proves Posen's point that this is very much a song-forward effort. But from the melodic slide hooks on songs like "Fade" and "Things That I've Said" to the wide-open bluesy psychedelia in the solo of "Get You Back," Posen's playing maintains a strong presence throughout How Long.
Premier Guitar caught up with Posen to discuss his beginnings, the process of making How Long, how he crafted such stellar tones, and what it's like to finally break out on his own.
Growing up, your parents were musicians and you spent a lot of time with them on the road and in the studio. Can you tell me a little about that?
My parents had a folk band, Finjan, when my brother and I were growing up. They always maintained day jobs. My mom's a teacher and my dad's a radio producer for the CBC (Canadian Broadcasting Corporation). They'd do a lot of gigs on weekends during the year, and during the summers they'd travel around doing festivals and we would tag along with them. When they would record, we would go with them and hang out at the studio all day watching Boy Meets World on a little square TV.
"That Teisco is so microphonic, feeding back like crazy and getting all these cool overtones. That was the sound."

When did you start picking up the guitar yourself?
I started on piano when I was about 7 or 8. Coming from a musical family, we were highly encouraged. When I was about 8 or 9, everyone started playing guitar at school. It was [Green Day's] Dookie, [Nirvana's] In Utero, and Rage Against the Machine, and all these bands like that. Everyone started playing guitar, me included, and just got obsessed with it.
At that same time, the Beatles' Anthology came out. My parents grew up with the Beatles, and to them they're the pinnacle of music, songwriting, melody, harmonizing, and this and that, so they just kind of dumped that on us. The early Beatles stuff was easy to latch onto at 8 or 9 years old.
You didn't plan on being a professional musician. What did you grow up thinking you would do?
I started playing gigs when I was 14. I'd do the occasional gig and actually make money doing it, whether some kind of concert or wallpaper gig for a party or corporate event. I played in a high school band with friends. I always loved it and it was a big part of me. Growing up and during high school, specifically, the other 50 percent of my life was basketball. I was so dedicated to playing. It was everything. When high school was finishing, I talked to this advisor and he said I should maybe consider going into athletic therapy.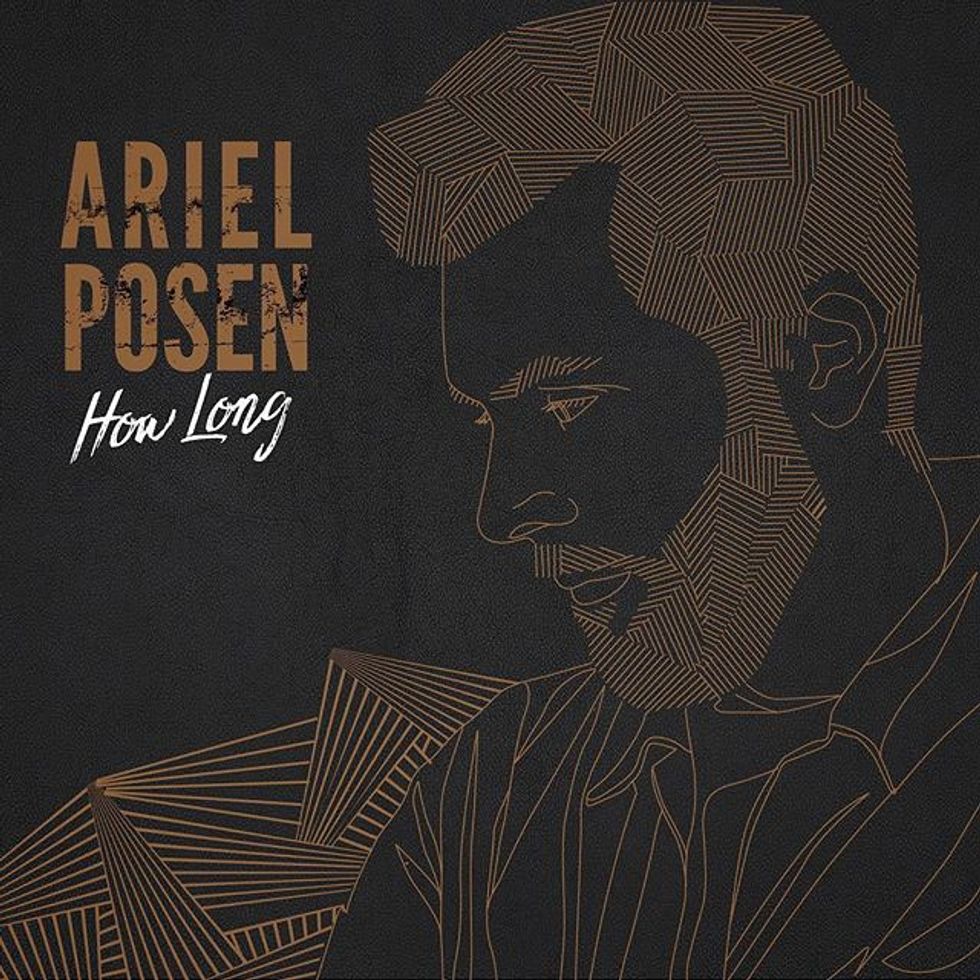 TIDBIT: As fate would have it, Posen recorded his debut solo album at the same studio where he played while his parents made klezmer records when he was a boy: Stereobus Recording in his hometown of Winnipeg, Manitoba.
My first year of university, I slowly dropped out of every single class that I was taking. I had this moment of, "What the hell!? I should be doing what I want to be doing." And that was playing music. I don't care at all about athletic therapy!
My parents were totally supportive. They said, "Being a musician is not the easiest job, but if you're driven and committed, the people who work in this industry are the ones who want to work and the ones who sit around are the ones who don't want to do anything."
When did you end up playing for the Bros. Landreth?
I've been playing music with those guys since I was 18 or 19. We're all from Winnipeg. It's a very tiny village of a music scene. From years and years of playing guitar on tour for artists or in the studio, we'd all be in similar concoctions of bands together. Dave [Landreth] and I were in our first proper band together. They started Bros. Landreth around 2013 or so, recorded an album, then had to part ways with the piano player, and I came in after that. We'd play as a five-piece here and there before that, but it was full-time then. We hit it hard for a couple years; then they went on hiatus. I think we did eight months in 2015 and it kind of broke everybody.
How did the material on How Long develop? Are these tunes you'd been marinating on while you were busy with other projects?
I've fronted bands before. I love singing, I love fronting a band and playing guitar. It's fun and it feels good. I've always said I should do this.
I was spending a lot of time off in Ireland and, for fun, I booked a couple of gigs under my own name, just playing covers. It was really fun, and I hadn't done that in a long time. I got in touch with a friend, Murray Pulver…. He's a fantastic guitar player and a guy I've looked up to for years and years. We've done a lot of work together on the road touring, and in the studio. We got talking and I said, "I wanna have a write and see if we can come up with something." We wrote a tune, and I liked it. Then we wrote again a couple times, compiling songs, and I wrote with a couple more people. I'd do the odd gig under my own name and have guys learn one or two songs I was working on.
After that, I got offered to do a tour with Josh Smith as a co-bill in the U.K., and he knew that I had the material. It was an amazing opportunity. I've done so much touring in my life, but never under my own name. Halfway through the tour, it was going well, and I thought, I need to have something to show, I need to do a record. I called up Murray and said, "Hey man, I'm gonna be home. Do you wanna produce this record?" And it all came together in a very short time.