Perlak's two main guitars are Millennium models made by Thomas Humphrey, both with a Brazilian rosewood back and sides for warmth and depth of tone. "When I was in college, I bought my first Humphrey, made in 1990, from a woman who couldn't play it anymore," says Perlak.
The importance that the Berklee College of Music has had on the development of the guitar in the last half of the 20th century and beyond cannot be overstated. Ever since the Boston institution first offered guitar as a principal instrument, in 1962, it has been a breeding ground for some of the world's great players—from improvisers like Bill Frisell and Emily Remler to highly technical rockers like Joe Satriani and Steve Vai to idiosyncratic singer-songwriters like Bruce Cockburn and St. Vincent. A walk past Berklee's main campus, on Boylston Street, finds throngs of students with their guitar cases and gigbags, suggesting the instrument's continuing prominence at the school.
Given all that, it's surprising that in almost 60 years Berklee has only had four chairs of its guitar department. When Kim Perlak took this position last fall, she became the first woman to do so, and the first classical guitarist, as all three of her predecessors—Larry Baione, William Leavitt, and Jack Peterson, in reverse chronological order—had been jazz-oriented. But, presiding over about 1,000 guitar students who play in many different styles, Perlak is hardly the stuffy classical pedagogue.
A native of Western Massachusetts, Perlak, who is in her mid-40s, developed an affinity for the classical guitar at an early age. That's thanks to sophisticated teachers and time spent in the Berkshires, where she was exposed to the Boston Symphony Orchestra at Tanglewood, the orchestra's summer home. While Perlak solidified her technique and repertoire in the 1990s and '00s—she has a BM from Stetson University, an MM from the Yale University School of Music, and a DMA from the University of Texas at Austin—she expanded her musical thinking and came to develop a voice on the classical guitar that's modern yet firmly rooted in tradition, not to mention an openness to collaborating with musicians from outside of the classical world.
On a recent break from her packed schedule, Perlak phoned to talk about her earliest musical experiences, her academic journey and all that she's picked up along the way, her magical Humphrey guitars, and why, as deep and seasoned a musician as she is, she still takes lessons.
What were your formative years like, musically speaking?
I grew up playing piano as a really young child, because my mom was a piano teacher. Then I started playing guitar around age 10. I took acoustic lessons from great teachers in music stores near where I lived, in Western Massachusetts. When I was 12, I began studying with this wonderful teacher named Suzi Higgins. She had a classical background and wrote acoustic music and played in a variety of different groups. My interest and love of the guitar just took off studying with her.
"I just know for a fact that the work you put into your instrument can open all these doors that you can't see when you're young."
Suzi also had the great idea to put together a few of her students in a guitar quartet. I was the youngest in that group and it was really great. We rehearsed once a week at each other's homes. It was like having a garage band, but being a classical guitar quartet. Then we started booking gigs at restaurants in Berkshire County, which, of course, is home to the Tanglewood Music Festival in the summertime. My summer job in high school was to play with these friends. Playing with them and learning with them was this incredible experience.
So my education was really centered in classical guitar. I had this background from studying with Suzi and my previous teachers in all different styles of guitar. I tried to keep that up as much as possible and play all kinds of different music that I loved. Then I really pursued an education in the classical style.
At a time when your classmates must've been into rock guitar, why did you choose the classical?
I loved the quiet nature of it. I love the self-sufficiency of it: being able to play a whole piece, all the different parts, as one person. I love the intimacy of it and the tone production, the way that you have to get to know your hands and how to produce a tone that is really varied, that has dramatic variation and expressive possibility just by using your fingers on an acoustic instrument. The enchantment with that is just something I've never lost.
I think one of the best things about playing the guitar in general is learning how to be expressive with your tone and with your sound. And the social aspect of joining this very close-knit community of musicians in the classical guitar community was incredible. When you think about it, the teachers I had in college were the first generation of American classical guitar teachers at that level. They had all studied with [Andrés] Segovia in master classes and some of them had studied with Segovia more formally. You're touching history directly.
You become this instant part of guitar history and of the classical guitar in our country. And it was such an incredible way to meet people from all over the world. It was great for me, coming from a small town, and being a relatively shy person and having chosen a social instrument. It's like you have an instant musical family, because you're part of this larger tradition.
What does it feel like to have so few degrees of separation between you and Segovia and the rest of the tradition?
It's a very moving experience to know that my guitar lineage is so powerful—knowing that I could sit with my teachers and they could tell me, "You know, this is how our guitar community began in this country and this is what I learned from Segovia, who is one of our living masters of the 20th century in music, and his peers."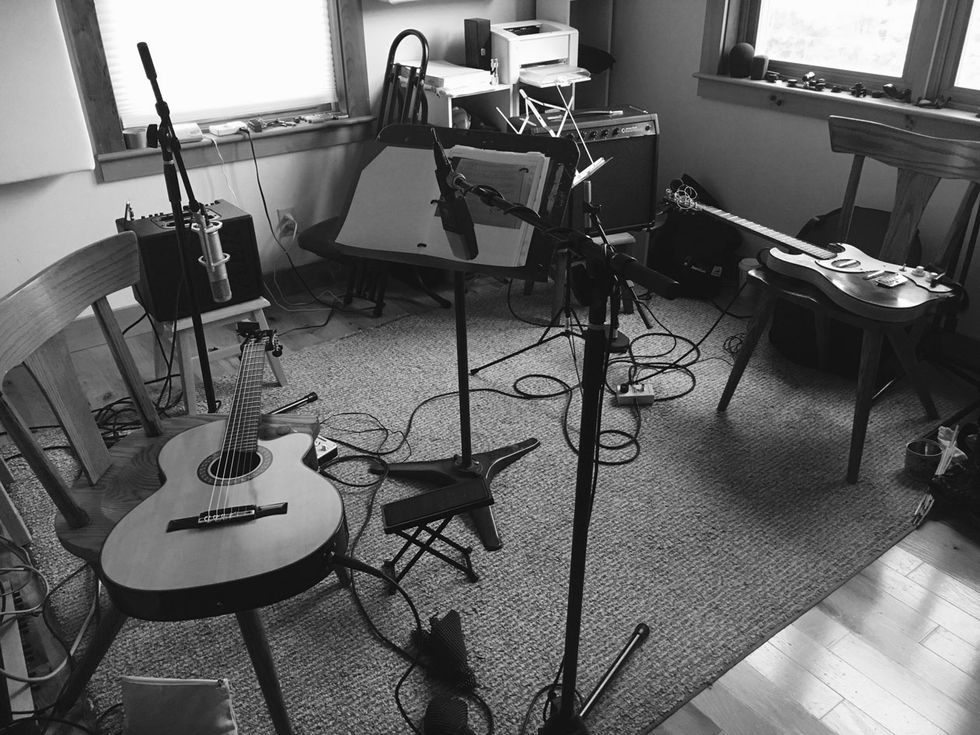 The Perlak/Tronzo Duo album was released in 2017 and features Kim Perlak on classical guitar and David Tronzo on slide guitar. Pictured on the cover is Perlak's custom Kirk Sand guitar, which was modeled after the John Knowles Thinline model.
And really, you see how the tradition develops, because what I do in my musical life and my artistic life is so modern. It involves the influence of so many different styles of music that have been a part of my life in many different ways. Yet, it's still really rooted in the tradition that I carry on from my teachers in classical music, and their teachers.
How would you say you found your own voice as, for lack of a better word, a classical guitarist?
I've had to have a real awareness of stylistic authenticity and personal authenticity and the balance of those two things. Continuing to really practice my instrument, develop my technique, and make sure that I stay steeped in tradition as a classical musician is important. So is approaching a modern style with the same commitment.
For example, when I'm working on being a better improviser, I really study the instrument in that way and work with collaborators and colleagues and teachers, even taking lessons. I continue to study and just deepen my skills and my awareness of that style. Then, I ask myself where I want to go with it; how I'm going to combine these things. It's giving each tradition its due respect and then stepping back from that and asking myself artistically where I really feel like I want to be expressive.
You mentioned collaborating. What has it been like to work with people from outside of the classical world, like your Berklee colleague David Tronzo?
This is one of the great joys of being at a place like Berklee, where there are so many incredible artists. That project with David Tronzo came out of a lesson swap. When I first heard him, I was so interested in his approach to the instrument, his sound, and the type of music he was playing. I asked him if he would teach me. He was interested in my tone production and my right-hand technique, so we did a lesson swap for about a year. Out of that, we started writing music for each other to play and we became a duo, which is now about five years in the works.
Playing with David challenges the way I see the instrument in every way. It inspires me to look at the fingerboard differently. It inspires me to think about my sound in a deeper way. It inspires me to think about what is possible with sound, because our approaches to the instrument are so different. What's remarkable about it is that when you look at us separately, it might be be hard to think about people who are more different in their approach to the instrument. But the way we think about music and being expressive and going deeply into our traditions and our love of modern music and creating new music—all of those values are the same. We're building on what we have in common and then melding together all of the beautiful differences.
I've noticed that when I do something that's more in my wheelhouse stylistically, because I've branched out and studied with him, the way I learn music in general and think about it as a soloist is deeper and more organic. I think it's also made me a better teacher.
---