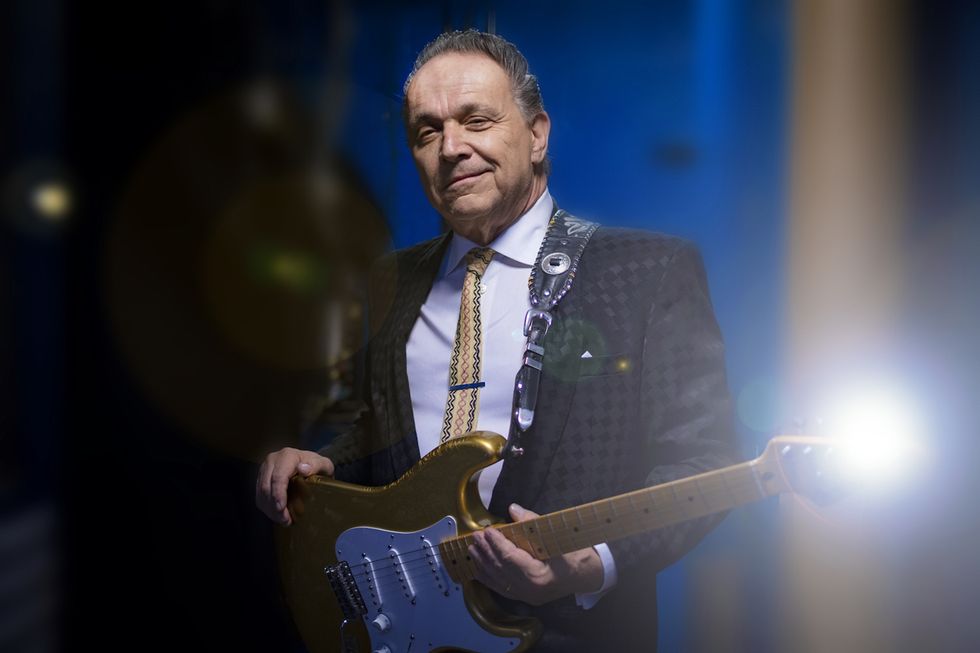 "I like to turn the amp up really loud and turn the guitar down to find that sweet spot. And I love it when maybe it's a little bit too trebly, and the presence is up loud. I guess it's a sound I heard on those old records, and I just went for it," Jimmie Vaughan says of his glowing tone. Photo by Luca Viola/Last Music Co. 2019
Jimmie Vaughan has always been a 6-string badass—at least since he started playing dances and bars as a teenager in mid-'60s Texas, where he rapidly became the guitar player all the other young guitarists in the Lone Star State aspired to match in tone and technique. Over the past half-century, his big, bold, perfectly chiseled sound and Zen phrasing have grown richer, making him a legend everywhere the language of guitar is spoken. Although his brother, the late Stevie Ray Vaughan, played in a dialect closer to Albert King's and Jimi Hendrix's, Stevie's main guitar idol—from the short-pants days when they strummed acoustic guitars together on their parents' front porch in Dallas until Stevie's tragic death in a helicopter accident after a 1990 concert in Wisconsin—was Jimmie.
Jimmie broke out of Texas in the '70s with the Fabulous Thunderbirds, with ceaseless get-in-the-van tours and a series of albums that balanced original tunes with numbers penned by relatively forgotten blues and R&B artists like Jerry McCain, Slim Harpo, Jimmy Mullins, and Frankie Lee Sims. The T-Birds and Stevie were at the forefront of an '80s old-school blues revival, performing with a rock-infused vitality that injected life into a genre that had fallen from the mainstream's radar. In 1986, the T-birds even had a top 10 hit—their original tune "Tuff Enuff"—while Stevie was becoming an arena headliner. At the time, an array of classic blues artists, including B.B. King, Etta James, and Buddy Guy, all credited the Vaughans' success with boosting their genre and their careers.
That wasn't intentional. The Vaughan boys just wanted to play the music they loved and spread its positive vibes. And they found a way to do that together once more with 1990's Family Style, which united Jimmie and Stevie in the studio with producer Nile Rodgers. Sadly, Stevie died a little less than a month before its release, and, understandably, Jimmie went into an emotional tailspin. He quit the Thunderbirds and withdrew from the spotlight, resurfacing four years later with his first solo album, Strange Pleasure. He's made seven more albums since, including a duo recording with singer-guitarist Omar Kent Dykes. While each one has captured his corpulent tone and impeccable playing, the four albums he's made since 2010—that year's Plays Blues, Ballads & Favorites, 2011's Plays More Blues, Ballads & Favorites, a 2017 live set, and the brand-new Baby, Please Come Home—sound closer to the bone. Or, at least, to the sturdy skeleton of '50s and early '60s blues and roadhouse R&B that makes Vaughan's music stand tall.
"I don't know how much influence I can have on the world anyway, so what if we all just do what we do and hope that everything turns out okay?"
Vaughan insists that he's not on any kind of mission to preserve the songs and sounds of that era, and yet the songwriting credits on Baby, Please Come Home read like it was compiled by a cognoscente of the period when raw blues was ramping up to rock 'n' roll, and the two mixed blood: Bill Doggett's "Hold It," Etta James' "Be My Lovey Dovey," and tunes by Clarence "Gatemouth" Brown, Dave Bartholomew, Richard Berry, Fats Domino, and even hillbilly hero Lefty Frizzell. Vaughan is that cognoscente, of course, but he's also a superb interpreter and master of the styles and sounds captured on the original vinyl he treasures.
Sure, his chiming, sliding chords, precise bends, and sticky single-note lines reflect the careful digestion of the playing of dozens of influences, from B.B. King and Freddie King to Johnny "Guitar" Watson, but they also telegraph what's commonly described as soul … which is really an honest and open expression of character. Vaughan sounds only like Vaughan, regardless of who or what he's channeling. He literally is his music—and in the years since Family Style, where he made his singing debut, his voice has also become a potent part of that expression. On Baby, Please Come Home, it's out front with minimal reverb, with all the dust accumulated from his beginnings in Texas saloons to the stages of Clapton's Crossroads Guitar Festivals, providing the same patina of experience that made the work of his own heroes so memorable.
Vaughan was on a tour stop in Solana Beach, California, when we spoke by phone. He was gregarious and laughing about various ticks in the music he plays and loves. And the conversation ricocheted between the past and present: from guitars and amps to his personal Top 40 to how he conjures and sculpts his sound to his little brother, Stevie. The last time I spoke with Vaughan, it was about his guitar collection, and he'd just acquired one of his holy grail guitars, so we started there.
Do you still have that killer '50s Barney Kessel Kay with the Kelvinator headstock?
Yes. It's one of my favorite things. I heard that Barney Kessel, who is one of my favorite guitar players, didn't like it. I can kinda understand that. You like what you like, you know. And you can have five guitars that look the same, but one of 'em's gonna work and the other four won't.Some of them can speak to you and bark better, you know what I mean?
Are you still adding to your collection?
Well, I bought an L-5. I forget what the model is, but it's got a pointy cutaway and it's with humbuckers. I bought it from Rudy [Pensa, of Rudy's Music] up in New York. It's a jazz guitar. And I have a couple of those. I bought, like, a T-Bone Walker Gibson—the one that he played with the three pickups. And then I have my new guitars I've been playing. So I'm guitar-happy.My wife told me that. I said, "Honey, do you want to go buy you some shoes?" And she said, "No, I'm shoe-happy right now." [Laughter.] So I guess I'm guitar-happy.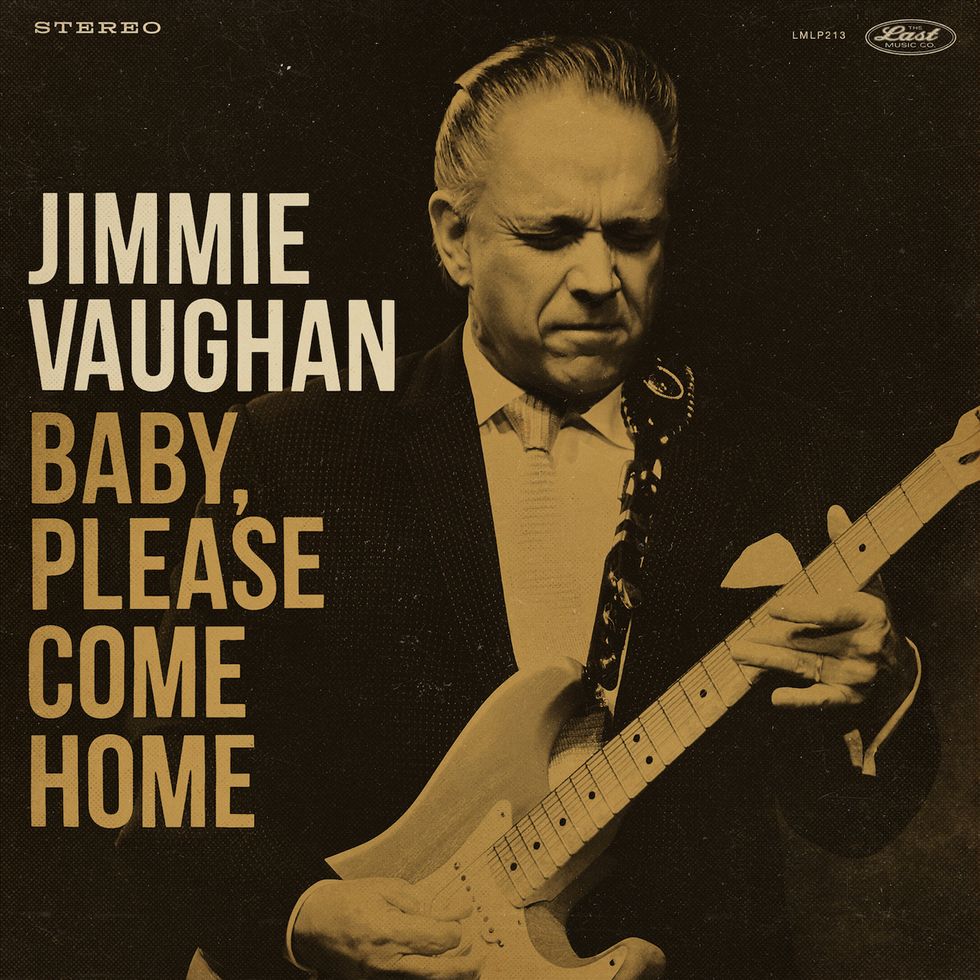 TIDBIT: Vaughan recorded all but his vocal performances for his new album live on the floor at Fire Station Studios in San Marcos, Texas, where he ran two '59 Bassman combo reissues and played his new Fender Custom Shop signature Stratocaster and a Japan-made guitar of unknown pedigree.
Just before putting on Baby, Please Come Home, I was listening to a 1950s Ike Turner & His Kings of Rhythm collection called She Made My Blood Run Cold, and it struck me how much, aside from the fidelity, your album sounds like it. The overall sound, the guitar approach and pace … they could've been recorded at the same time. How important is it to you to achieve that sense of period authenticity in arrangements and sound?
Well, I don't really do it for that reason. I do it because I think it sounds good like that. I'm not trying to be correct. I'm just trying to get that sound. Basically, it's live in the studio.We might need two or three takes, but after a couple or three, you kinda want to go to something else because it gets old. We used this place in San Marcos that I've used many, many times. It's an old fire station [Fire Station Studios], and even the T-Birds recorded there. It's just a nice big room, and they have nice equipment.
Your recent albums focus on nuggets from the pre-rock or early-rock catalog of blues and R&B. Might you be on a mission to give those songs and that era a new life for a new audience?
I don't have any big, fancy reasons to do it except that's what I like, and it seems to me the most satisfying just to make records that you like. And I've found all these players that really do it right.I pick songs that I think I can sing. It's a little bit more like picking a pastry that you like. I don't get into a big philosophy about it. I don't know how much influence I can have on the world anyway, so what if we all just do what we do and hope that everything turns out okay? [Laughs.] I'm not trying to save the blues or any of that. I think if you really enjoy something, then it will come through and other people might get it.
It's the art. It's like, you have a canvas and you have paint, so what do you want to paint? It's mostly artists that I remember from my childhood. And I sort of have my own Top 40. I've done that since I started, because it just seemed like it was more fun. I can't imagine being in a group and playing songs that you don't like. I've tried that, and it wasn't good. So I guess I hardened against anything like that. Now, for me, it should be all fun.
---
---