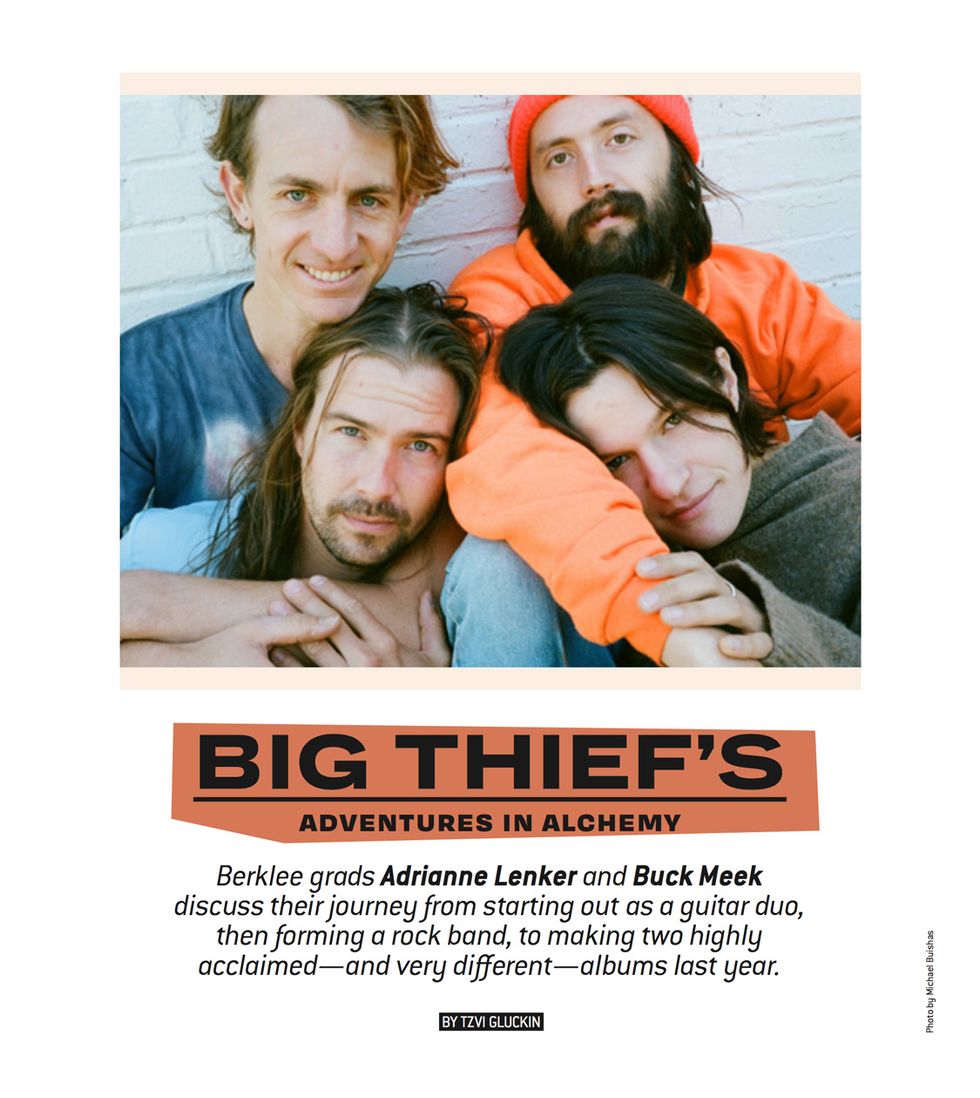 Big Thief consists of (from left to right) Buck Meek on guitar, Max Oleartchik on bass, James Krivchenia on drums, and Adrianne Lenker on vocals and guitar. All four members attended Berklee but didn't meet until later when they were all living in New York City. Photo by Michael Buishas
According to Adrianne Lenker, the principle songwriter, lead vocalist, and guitarist for the New York-based indie band, Big Thief, sometimes it's important to sound bad.
"What excites me the most is making my own road map on the guitar," she tells us in our interview below, which was conducted on the phone from Europe while the band was still touring, before the world shut down due to the coronavirus pandemic. "Part of that process is sounding horrible, or just being able to playfully sound like crap … and not be afraid that I'm going to be kicked out of the cool club."
That sense of adventure and daredevil curiosity is the band's animating spirit. About a year-and-a-half ago, following its exceptional first two albums, Masterpiece and Capacity, Big Thief returned to the studio for the back-to-back sessions that resulted in last year's very different releases, U.F.O.F. and Two Hands. First they went to Bear Creek Studio in lush, green, Washington state, and that expansive energy—by way of ambient soundscapes incorporated into their otherwise tight arrangements—permeates U.F.O.F., the album they recorded there.
"Our drummer, James Krivchenia, brought in what he called the magic box, which was essentially a pedalboard with some wild synths and modulation effects," explains Buck Meek, the band's other guitarist and backing vocalist. "He pulled a channel from the board in the control room through his magic box, and throughout the entire session, whenever he wasn't playing drums, he was on the couch with that thing. At the end of the session, we had this huge bank of wild sounds that he had modulated from dry source material from the sessions, and we used that in the mixing process to create a lot of the ambiance that you hear."
Big Thief made two albums with two different approaches in 2019. U.F.O.F. was recorded in Washington at Bear Creek Studio, with an experimental, ambient approach. Conversely, the stripped-down Two Hands was recorded live at Sonic Ranch in Tornillo, Texas.
A week after wrapping up at Bear Creek, Big Thief took up residency in the heat, at Sonic Ranch in Tornillo, Texas, near the Mexican border. There, they recorded Two Hands, their stripped-down masterpiece, which serves as a yin to its predecessor's yang. Unlike U.F.O.F., Two Hands was recorded live, and highlights the band's interplay and cohesiveness. Both albums, especially songs like "Contact" and "Not," showcase their use of dynamics, the multiple textures they coax from their gear—often just by how hard they touch the strings—and the effort they expend crafting arrangements as a band.
That inquisitiveness applies to their gear as well. After a year experimenting and searching, Meek, along with Andrew Latham from Shure Microphones, prototyped the Whizzer, which is the white box you'll notice sitting on top of his and Lenker's amps. It's also the focus of juicy gossip and debate on multiple gear forums. The device was inspired by Neil Young's Whizzer, which is a mechanical knob turner attached to the top of his vintage Fender Tweed Deluxe. (Meek explains its development and how it works in our interview that follows.)
We spoke separately with Lenker and Meek about their different philosophies and approaches to music, songwriting, recording, and gear, and got a rare glimpse into the band's fascinating process, and propensity to experiment.
---
---