Blues Giant Ronnie Earl Takes His Strat Beyond the Blue Door
Photo by Jean Hangarter
PG sits down with a master who's crafted a supremely soulful style by distilling the inspiration of B.B. King, Muddy Waters, and other legends into tones uniquely his own.
When I telephoned Ronnie Earl for our scheduled interview, he asked if he could call me back shortly, because he was with his guitar teacher. This came as a surprise: Earl, who is 66, is one of the greatest living blues musicians—a four-time winner of the Blues Music Award for Guitar Player of the Year, who has shared the stage with legendary players like B.B. King, Carlos Santana, and Eric Clapton. You wouldn't think there is anything Earl needs to be taught on the guitar.
But when we later connected, Earl explained that he'd been exchanging lessons with a rockabilly guitarist—one of the best players he'd ever heard—whom he'd met at a music store in Massachusetts. I wondered aloud if Earl was learning to play in this style, which would be quite a departure for him. He said, emphatically, "No, no, no. I'm too old to be a rockabilly guy. I'm a bluesman through and through," adding that the teacher was showing him more general approaches to the guitar and ways of thinking about the fretboard.
Earl, whose birth name is Ronald Horvath, grew up in Queens, New York, in the 1950s and '60s. Though he had an early interest in music—he briefly had piano lessons and his father took him to Manhattan to hear jazz greats like John Coltrane and Charles Mingus—he was a relative latecomer to guitar. Earl didn't start playing until he was a sophomore at Boston University, where he studied special education, a career path he explored for a short time before becoming a professional musician.
Earl's first steady gig was as the house rhythm guitarist at the Speakeasy, a blues bar in Cambridge, Massachusetts, where he played with Otis Rush and other touring heavyweights. It was around this time that he adopted the surname Earl, a tribute to the bluesmen Earl Hooker and Earl King. Things really took off for Earl when, in 1979, he joined Roomful of Blues, which was then a 10-piece jump blues and swing band based in Providence, Rhode Island. Eight or so years later, he formed his own group, the Broadcasters, which took its name from Fender's precursor to the Telecaster. He's been leading this band in one form or another—including nearly 30 albums—ever since, playing a mixture of blues, soul, and jazz that's equally appealing to guitar nerds and non-musicians.
With a grueling touring schedule of more than 200 nights a year, leading the Broadcasters eventually took its toll on Earl, who, after having gotten sober in the late '80s, was diagnosed with bipolar disorder and diabetes. Though he has long since scaled way back on touring—he played fewer than 20 shows in 2019—Earl continues to hone his craft on studio albums of invariably excellent quality. His latest outing with the Broadcasters, Beyond the Blue Door, is the follow-up to 2017's The Luckiest Man. It shows his deep command of the blues and its offshoots—including his exquisite clean tone, emotive vibrato, and soul-deep bends, plus his affinity for the Stratocaster, and, most of all, his warmth and humanity.
Somewhat atypical for a professional musician, you didn't start playing the guitar until you were around 20. What initially drew you to the instrument?
I didn't start till then because my parents wanted me to finish college—and back then you had to listen to your parents! [Laughs.] But I first got interested in the guitar when I was in my late teens and saw B.B. King live. That was life-changing. Then I got into the other kings, like Albert King, Muddy Waters, Louis Myers—who was Muddy's guitarist—and so many others. It was a natural progression.
"You can't teach the feeling of blues. You have to be born with it or acquire it."
Speaking of B.B. King, I understand that he played an important role in your career.
Well, he took me on as one of his godsons, you know? And he put me on some shows. I played the Montreux Jazz Festival with him. I played all over the world with him. And he taught me how to be a gentleman: to be respectful of the music and the audience, and to dress respectfully, in a suit, which I actually still do to this day.
What are some of the biggest things you took from him, musically speaking, whether in general or specific to the guitar?
Just his whole soulful way of playing really got, and continues to get, to me. There were never too many notes—definitely the best kind of sparsity—and always just the most beautiful tone. B.B. was really the greatest there ever was, and, same as many blues guitarists, it would have been impossible for me to be here without him. But even more, he influenced me in the way he was such a beautiful human being.
For example, he played in prisons, for inmates who might not otherwise get to hear blues music or anything live at all. Johnny Cash might have made a prison album [the classics At Folsom Prison and At San Quentin], but B.B. was doing it first, without getting credit. B.B. was clean and sober, unlike a lot of the musicians at the time, and he really loved to help people. He showed all of us young'uns the way to be—not just in music but in the world. I still think about that all the time.
Everything changed for you in 1973, when you traded a Martin for a Strat. What kind of Martin was it, and can you revisit the experience?
Oh, it wasn't anything too fancy—nothing like an 000-45, just a plain old D-18. I bought it one day and then returned it the very next day for the Strat. Because it was electric, it gave me instant access to this whole other world of sounds, and, obviously, the ability to play in a band and be heard and bend strings. All of a sudden, the world was a very different place, and I've been playing and loving Strats ever since.
TIDBIT: Earl's strategy for making studio albums embraces roughed-out arrangements that leave plenty of room for improvisation—especially on guitar.
There's definitely a whole lot of Strat on your latest album, Beyond the Blue Door. Can you talk about how you get such a big and pure tone? What's your rig like?
Well, the band helps a lot in the tone department. And believe it or not, I'm not too big of a gear person at all. I've just got a bunch of Strats, I've got a Tele, I've got a couple of Martin and Collings guitars. I play through a Fender Super Reverb, and that's it. No pedals, no nothing.
Why do you avoid pedals?
It's partly what I'm used to. When I was starting out, no one around me was using pedals, and none of my heroes were, either. But more important, I believe that tone comes from the fingers and the heart, and that's not something you can find in pedals. I like to stay away from artificial ingredients.
You were an associate professor at the Berklee College of Music. What was that experience like? And at the university level, how do you teach something like blues guitar, where the feeling is perhaps more important than the technique?
Well, I'm a teacher by trade—after all, I got my degree in special education—so I really liked being a teacher at Berklee, and it was inspiring to see so many talented students there. But it is tricky. You can't teach the feeling of blues. You have to be born with it or acquire it, and the best way to get it is by being around good blues guitarists and absorbing what they're doing. It's all about that feeling, and I was so blessed to get that from players like B.B. King.
You're a blues guitarist, but you often venture at least a little outside of the genre, like on your composition "Alexis' Song," with those great jazz chords, on the new album. Who are some of your influences, in terms of jazz, and how have they affected the blues side of things for you?
Well, I'm definitely not a jazz guitarist, but I admire—in fact I love, love, love—all the great players, like Wes Montgomery, Kenny Burrell, Pat Martino, and Grant Green. I also get a lot from organ players like Jimmy Smith, Jimmy McGriff, who I got to make records with, and Jack McDuff. I sometimes borrow chord voicings from jazz guitarists, like on that particular track, but I'm more moved by the feeling of jazz than anything else. By the way, do you like the record?
Oh yes—it's terrific, and I really like how wide-ranging it is. And what a beautiful guitar tone throughout.
Thank you so much. Bless your heart. It actually took me a while to like it, as it's always hard for me to hear an album objectively when I'm making it. Sometimes it takes a while for a new album to settle into my ears for me to fully appreciate what's going on.

Earl has played with a long list of blues icons in his 45-year career, including B.B. King, Albert King, Otis Rush, Big Joe Turner, and, in this case, Eric Clapton, who joined Earl with Roomful of Blues onstage at New York City's original Lone Star Café on September 4, 1987. Photo by Joseph A. Rosen
What is the process of making an album generally like for you as a bandleader? Do you record songs you've been working out on the road, or do you bring in a brand-new collection in the interest of spontaneity?
Well, we don't really go on the road anymore and haven't for a long time. We just go play a show and come home.And we rehearse just a little before we record the album, to make sure we're all on the same page in terms of the arrangements and stuff. But mostly, it's live in the studio, with lots of improv. You know?
That's definitely apparent on the album. So do the records generally sound the way you imagine them in your mind's ear? Or does each one tend to evolve in unexpected directions depending on the chemistry in the studio in a given session?
To be honest, the albums usually take on a life of their own, with lots of little surprises, and nooks and crannies that I didn't originally think of. But I'm okay with that. As long as it's soulful, even if there are mistakes and unintentional moments, I'm happy. I'd much rather have a slightly sloppy take that's soulful than one that's technically perfect, but stiff.
Are there any benchmarks for you in terms of perfect albums?
I listen to Stevie Wonder, the Four Tops, Tammi Terrell, and I love all of their albums. I listen to Merle Haggard and love all the old country and Appalachian music. But my favorite album of all time is hands down What's Going On by Marvin Gaye, which is just so soulful. I love it.
What in your body of work are you most proud of?
I love people and I love life, so just playing for my audiences is what I'm most proud of. It's always a blessing and a privilege. But being sober for 30 years is actually my greatest accomplishment. It made me a lot more inspired and gave me a new life—a life with God, a better life with my wife of 22 years. Another thing about becoming sober is that my music changed drastically and became spiritual, which is such an important part of the blues.
---
---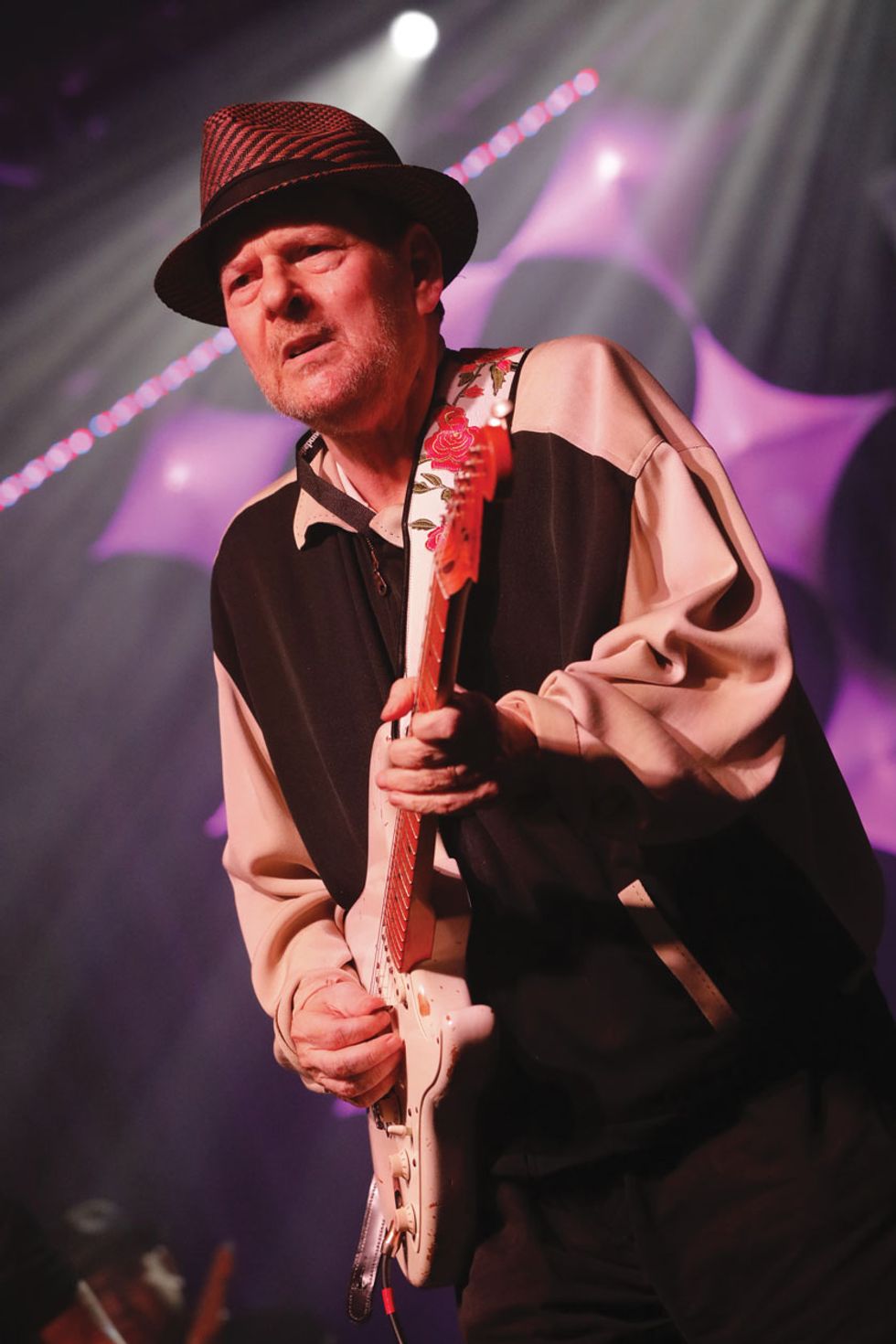 Ronnie Earl is a devotee of the Fender Stratocaster. Here, he plays one of his Custom Shop models onstage at the 2019 Blues Music Award in Memphis. Photo by Joseph A. Rosen
Ronnie Earl's Gear
We got the lowdown on Earl's stage and studio equipment from his road manager, Dave Clark. "Ronnie has three pre-CBS Fender Stratocasters: a '57 sunburst, a '59 blonde, and a '62 fiesta red named Mahalia—after Mahalia Jackson. They see the studio but are too valuable to take on the road. Onstage, he plays a couple of Fender Custom Shop reissue Strats with stock pickups. The necks have been reshaped to make them more comfortable for Ronnie, with the finish sanded down. They're set up with a slight amount of relief and a medium action. The tremolo springs are adjusted pretty tight, because Ronnie doesn't use the tremolo arm at all.
"In terms of acoustics, Ronnie has some guitars by Martin and Collings—a C10 and a Parlor 1 T. But give him even the least expensive Squier and he'll sound every bit as good. The tone is in his hands.
"I believe that tone comes from the fingers and the heart, and that's not something that you can find in pedals."
"There are no pedals. Ronnie plugs straight into a pre-CBS Fender Super Reverb. He's got three, and one is almost always with the tube-amp guy, in for maintenance or repair. The amps are pretty much stock, with the exception of Celestion G10 Vintage speakers, though one has Eminence Ragin Cajuns, which are his favorite. Ronnie plugs into the Vibrato channel and sets the Normal side on 0, with the volume at a minimum of 6, no matter how small the venue. He usually sets the treble at about 10, the middle at 8, and the bass at 5, with the bright switch off, as well as the reverb on 4.
"He prefers either Ernie Ball Super Slinky [.009–.042] or D'Addario EXL 120 [.009–.042] strings, and his picks are Fender 351 medium celluloid."
---
Ronnie Earl goes deep and soulful with his "Blues for Otis Rush" live from B.B. King's Blues Club in New York City in 2014, defining blues Strat tone and taste at a dictionary level. Rush is one of Earl's main influences, and both guitarists shared a long friendship.