Crossroads Guitar Festival 2010
Premier Guitar braves record-breaking temperatures to take you inside the year's hottest blues gathering—Eric Clapton's Crossroads Guitar Festival.
Top: Buddy Guy, Eric Clapton, Jeff Beck. Bottom: Derek Trucks, Ronnie Wood, John Mayer
"I don't know how you feel, but I feel like I'm in heaven."
That's not a quote from any of the 30,000+ people enduring sweltering heat for the June 26 Crossroads Guitar Festival in Chicago. That's blues legend Buddy Guy in the midst of a lively set with Jonny Lang and surprise guest Ron Wood.
Judging by the ensuing uproar from the crowd, the feeling was mutual.
But Guy's take on the situation wasn't just talk. When he, Wood, and Lang wrapped up their set—which included an instrumental cover of the Rolling Stones' "Miss You"—they took their bows and walked offstage laughing and with their arms around each other. Between the crowd and performers, you couldn't tell who was having more fun.
And that's just one of the many snapshots that prove Eric Clapton's Crossroads Guitar Festival is an extraordinary event.
The word "crossroads" can have many meanings—from simple and straightforward to metaphorical—depending on context. When American blues lore and a gathering of the genre's living masters are part of the narrative, it gets pretty compelling. Add in the fact that the rendezvous of greats was organized to raise money for the Crossroads Centre—a rehab facility Eric Clapton started on the island of Antigua to help people at perhaps the most pivotal crossroads of their lives—and it just takes the whole experience up a notch.
Left: Fingerstylist Stefan Grossman (right) shows Eric Clapton his 1920 Grand Concert Stella acoustic in the air-conditioned Fender Artists Tent backstage. Photo by Jo Ayres Right: Derek Trucks with his Maestro-equipped SG and Warren Haynes with his trusty Les Paul.

Held at Toyota Park in the Chicago suburbs on one of the hottest weekends of the summer, this year's Crossroads festival—the third one since the benefit got off the ground in 2004—brought together 25 guitarists for one of the largest and most exciting live guitar extravaganzas around. Crack-up comedian Bill Murray reprised his role as host this year, and in addition to Guy, Wood, and Lang, Crossroads featured repeat performances by Jeff Beck, B.B. King, John Mayer, Vince Gill, Robert Cray, Warren Haynes, Robert Randolph, Derek Trucks, Susan Tedeschi, James Burton, Steve Winwood, Doyle Bramhall II, Sheryl Crow, Sonny Landreth, Albert Lee, Los Lobos' César Rosas and David Hidalgo, ZZ Top, Hubert Sumlin, Johnny Winter, Jimmie Vaughan, and of course Mr. Clapton himself. Other performers included Bert Jansch, Earl Klugh, Gary Clark Jr., Keb' Mo', Joe Bonamassa, Stefan Grossman, and Citizen Cope.
Throughout the 12-hour show full of blistering blues, the sold-out crowd was treated to set after set of energetic, generation-spanning collaborations. Over the next 11 pages, we take you to Toyota Park with photos and a detailed timeline of performers and songs, and go backstage with some of the show's performers and techs to show you what it's like behind the scenes.
Crossroads 2010
•
Backstage accounts from the Crossroads artists
•
Play Crossroads winner Ryan McGarvey
•
How the stage was put together
•
13 performance and gear shots
•
Timeline of events
Left: Citizen Cope (right) plays his song "Hands of the Saints" during Eric Clapton's set. Right: Eric Clapton's famous Blackie (the real deal) was on display with his Cream-era Gibson ES-335 and Stevie Ray Vaughan's Lenny (both not pictured) in a temperature- and humidity-controlled booth in the Guitar Center Village.

One Big Family
Talking with the performers, a common theme kept appearing: As Derek Trucks put it, "It feels like a really surreal family reunion." The fun, celebratory vibe woven through each set had its roots backstage, where old friends were catching up and new friends were being made.
"It was great. You walk 10 feet, see someone you haven't seen in a while, and give them a big hug," explains Warren Haynes, who shared his set with Trucks. "Then you walk 20 more feet and introduce yourself to someone you've never met but that you've wanted to meet for a long time. It was kind of like that all day long."
Jonny Lang, whose set with Guy and Wood set the gold standard for the vibe, agrees.
"It was a no-pressure situation for everybody that performed that day. Even for the guys that were on tour, it was like a day off to hang with their buddies, have some fun, and make some music."
The relaxed atmosphere can be attributed to the man behind the festival, the man a generation of guitar freaks used to call "God": Eric Clapton. Slowhand kicked off the day jamming with emcee Bill Murray on the Buddy Holly track "Not Fade Away" for a small crowd of early arrivers. It was clear that Clapton keeps it casual, appearing onstage in white shorts and orange sneakers for a surprise sit-in with Doyle Bramhall II, Sheryl Crow, and Gary Clark Jr. Clapton's attitude also extended to the diverse set of artists he brought together for the show.
Trucks sums it up: "It's one of the few places where everybody shows up and just checks their ego and all of the baggage at the door. There are not too many people who could pull that off. Eric is in a really unique spot where his elders respect him and the younger generation respects him—it's a really great thing."
A Gathering of Generations
All day long, the cross-generational nature of the show was at the forefront: Onstage, you had pairings like Citizen Cope and Eric Clapton or Keb' Mo' and Albert Lee, and in the audience there were many families with their children and teenagers. The presence of legends like Sumlin, Honeyboy Edwards, King, Winter, and Guy was appreciated both onstage (where, for some, their presence was more important than their playing) and off.
"After our set, we went back to the dressing room and sat down with Hubert Sumlin and Johnny Winter for a while and just listened to those guys tell stories and just hang. It was pretty special," says Trucks. "Sitting on the bus with B.B. King and my 8-year-old son, and watching those two interact—those are things you don't forget."
For the youngest of the younger generation of performers, 26-year-old Gary Clark Jr., being one of the new guys was an experience in itself. "Being so new to this whole thing and not knowing a lot of these cats, I was really nervous on soundcheck day, because I was worried how I'd be received and how they'd act around me. But by Saturday night I felt welcomed and a sense of belonging," Clark explains. He also had the privilege of playing with Clapton. "I never knew that Mr. Eric Clapton was going to get up onstage with us during our set. I was just playing, and then there he was—that threw me for a loop."
Jonny Lang, who played the first Crossroads in 2004 at age 23, said, "Our goal for the set was to fly by the seat of our pants and just have as much fun as possible. Playing with Buddy and Ronnie, I was just on cloud nine the whole time. Musically, I don't remember much of what happened—we got onstage and, before I knew it, the whole thing was over [laughs]."
Amidst the old friends, younger players like Lang and Clark found common ground. "Jonny was really complimentary of what I've been doing, and I've looked up to him because he's just a little bit older than me," Clark says. "We just have this mutual respect thing going on."
Meanwhile, another new friendship was being forged between Vince Gill, who has played all three Crossroads events, and Joe Bonamassa, who made his first Crossroads appearance this year. "I had no idea he was so young, I really think the world of him," Gill says. The two hit it off and even discussed Gill lending his guitar and vocal talents to a future Bonamassa project. It wouldn't be the first collaboration Gill has done with Crossroads colleagues. He worked with Sonny Landreth on his latest album, and sat in with Clapton when he played in Nashville this year.
Left: Sheryl Crow, Derek Trucks, and Doyle Bramhall II get in some last-minute practice in one of the air-conditioned green rooms before their sets. Photo by Kevin Mazur. Right: Eric Clapton (with a signature Strat in Ferrari grigio silverstone) and Jeff Beck (playing a blackguard Tele he promptly—and haphazardly—tossed offstage after the song) have a blast during their "Shake Your Money Maker" duet.
Players. Friends. Fans.
Of course, despite the close friendships and professional connections, there was plenty of good-old-fashioned music appreciation happening backstage, too. Performers could watch each other from the side of the stage, on an elevated area that overlooked the stage, or on a huge television screen in the air-conditioned Fender artists' tent. "The way everybody has learned to play the instrument is really quite remarkable," says Gill, "I listened to almost everybody. Sonny Landreth destroys me, Joe Bonamassa kills me, Derek Trucks kills me. Then you go and throw in Jeff Beck and Eric and Buddy Guy! And James Burton and Albert Lee are probably the reason I wanted to play a
Telecaster
. It's a heady day."
Everyone we talked to had their prized highlights. One of Haynes' was watching Winwood accompany Clapton for much of his 90-minute set. "He's one of my favorites," Haynes says.
For Burton, the fun-filled Guy-Wood-Lang set stood out. "It was great seeing my buddy Ronnie Wood. He and Buddy were just having a blast out there onstage—and I love seeing my buddies out there enjoying themselves."
But, predictably, Beck stole the show for much of the audience—including the performers. "The one thing I won't soon forget was Jeff Beck's performance. It was far and beyond the best I've ever seen him," says Lang. Clark and Haynes both cited Beck's performance as one of the highlights of their day as well. "He tripped me out!" says Clark.
For one of the originally scheduled bands, however, watching performances was out of the question. This year's Crossroads lineup was supposed to include a performance by the Allman Brothers Band, but Gregg Allman ended up getting his chance for liver transplant surgery on June 23, just three days before the festival. Band members Trucks, Haynes, and Oteil Burbridge (bass) put together a last-minute set with the Derek Trucks and Susan Tedeschi Band backing them. The group set up in a rehearsal room, patching together their set while the acts before them performed.
Trucks and Tedeschi's band lineup was fairly new—Trucks says Crossroads was maybe their 8th show—and getting them all to Chicago wasn't easy. "Not everybody had that time off," Trucks explains. "One of our drummers was in Montreal and had a gig that night, so he couldn't make it. The other one was playing in Ottawa and we somehow got the group he was playing with to let him off the hook. He flew in the morning of the show. We had never used one of the background singers and had never played with one of the drummers—it was very seat-of-the-pants. Between trying to work in all the guests and trying to figure out a day or two before the show which tunes to work up, it was total mayhem. But it was fun!"
Fortunately, the chaotic energy translated into success. "On paper, it didn't make any sense [laughs], but sometimes you just know that things are meant to be," says Trucks. "There was so much stress and energy going into it that the first two or three songs were a nice release—it felt really good. That was one of the highlights for me, just the fact that, once we started, all of that weight just melted away."
Left: Steve Winwood played a sunburst Fender Strat.

Right: Five of the 22 guitarists onstage for the Crossroads finale: (left to right) Derek Trucks, Pino Daniele, Warren Haynes, James Burton, and Jimmie Vaughan.
Gear, Gear, and More Gear
In addition to playing a whole new set with new personnel, Trucks and Tedeschi's band was playing with slightly different gear. Tedeschi and husband Trucks normally play Fender Super Reverbs, but they used the Allman Brothers Band's backline, which included a PRS Dallas head and cabinet. Armed with his red Gibson SG, Trucks sounded killer, and Haynes sounded great plugging his two Les Pauls into a Diaz CD-100 and a Soldano SLO-100.
Some performers brought their own rigs, while others brought a guitar and plugged into the backline. Most everybody kept it simple. Gill ran his '53 Tele into two '65 blackface Fender Deluxe Reverbs. Burton played his famous black-and-red-flamed Tele, and Albert Lee used his Ernie Ball Music Man signature guitar with Seymour Duncan single-coils, both through the backline Fender '65 Twin Reverb reissues. "That's all you really need," Burton remarked.
Lang brought his own Fender Deluxe Reverb, while Clark was hooked up with a Fender Vibro-King—an amp he had been craving for years. In fact, Fender amps were the standard for the day, with Beck (he used two Pro Juniors in addition to a Marshall JCM 2000 powering two Marshall 4x12s), Clapton ('57 Twin-Amp reissue), Wood (Vibro-King), and Winwood (Super-Sonic 60) using them as their amps of choice.
John Mayer ran a two-amp setup consisting of his Dumble Steel String Singer and Two-Rock John Mayer signature head. His pedals included an Ibanez TS9 Tube Screamer, a Klon Centaur, an MXR Carbon Copy, and a Keeley Katana. Sonny Landreth also used a Dumble—a brown Overdrive Special—during his high-energy opening set on the main stage and during his Ernie Ball Stage clinic.
Buddy Guy, who played through a Chicago Blues Box Roadhouse head, was calm and collected when he broke a string on his cream Strat. He playfully inserted improvised lyrics about it into the song and Wood pretended to take off his guitar for the elder statesman while they waited for a tech to bring Guy his iconic polka-dot Strat.
For the finale, 22 guitarists piled onstage to play "Sweet Home Chicago" through a wall of amps. "It was this huge array of 2x12 combos," said Haynes, "and everyone just picked one and plugged in."
Left: Sonny Landreth plays a custom Fender Strat equipped with a Tele bridge through Dumble Overdrive Special and Fender Twin amps for his Ernie Ball Stage clinic. Right: César Rosas (left) and David Hidalgo (right) step in with the Derek Trucks and Susan Tedeschi Band to fill in for the previously scheduled Allman Brothers Band. The duo had played the House of Blues V.I.P. party the previous night.
A Little Rehab for Everyone
Toward the end of Clapton's set, the bluesman confided, "This was supposed to be the last one, but somehow I don't think it will be." It may have been the sweetest thing everyone there heard all day. And with so much amazing music permeating the air, it was easy to forget that it was all for a nobler cause. A raffle for guitars and other goods in the Guitar Center Village area outside the stage raised more than $15,000 for the Crossroads Centre charity, and merchandise and DVD profits will also be donated to the treatment facility.
But it's probably safe to say that the concert was therapeutic for many, many more people than those who will be treated at the world-class center on Antigua. Because, at the end of the day, the vibe and experience was what it was all about— for the performers and the audience. Together, 30,000 fans and 20-something guitarists endured blazing heat—which sent more than a few attendees to the medical tent—to bask in the healing glow of great music, to establish and nurture meaningful relationships, and to witness once-in-a-lifetime performances.
Hit page 4 for an interview with Play Crossroads winner Ryan McGarvey about his experience at the festival...
Once in a Lifetime
Ryan McGarvey comes from behind to win the Ernie Ball Play Crossroads contest
"It's finally sinking in for me," says Ryan McGarvey as he catches his breath in the shade after playing 30 minutes of ripping blues rock to a sizable crowd from the Ernie Ball stage at the Crossroads Festival. McGarvey, a native of New Mexico, certainly hadn't expected to be here. He came from behind and won Ernie Ball's Play Crossroads contest after entering a month late. Fans voted for the top 500 entrants out of a pool of nearly 3500, and then judges selected the winner from the top 100 vote-getters.
Onstage, McGarvey tore up and down the fretboard of an Ernie Ball Music Man John Petrucci BFR-6 guitar, and it was clear he made some new fans. Afterward, he talked with a small crowd that had gathered to find out more about the tall 23-year-old who bears a slight resemblance to his friend Joe Bonamassa.
When we got a moment with McGarvey, we found that he's a big blues fan and a total gear nut.
You're playing Eric Clapton's Crossroads Festival at age 23. How's that feel?
It's everything to me. The exposure and promotion that's gone along with this has been great, but for me it's really about just knowing I got to do something like that.
What's the whole experience been like so far?
We've just been getting pumped to come out here, and it kept getting better and better. We went to the House of Blues [VIP party] last night and got to meet a ton of people there, and we sat in with Los Lobos. We've been anxious to play all day today, but I think we were mostly nervous about making sure our equipment worked. But we're super thrilled to be here—we couldn't be happier about it.
Did you prepare like crazy?
[Laughs.] We actually didn't get to until this week! We mostly worked on narrowing our set. We're used to really long bar sets, so cutting it down to 20 or 35 minutes of music was a big stretch. We tried to pick a good array that would show off different things and not be too repetitive.
Your bassist and drummer looked like they were having the time of their lives. How long have you been together?
These guys have been with me about eight or nine months. I went to high school with Sam [Miller, bass]—he was actually one of the first people I ever played with—and I met August [Johnson, drums] through Sam. We're a brand-new band, really, but it's been working really great.
What were some of your influences growing up?
I grew up listening to classic hard rock, then I fell into a pure blues stage— nothing but real blues, like Honeyboy Edwards. Real-deal stuff. I branched out from that and opened my head to more contemporary blues-rock guitarists like Ian Moore, Chris Duarte, Kenny Wayne Shepherd, and Joe Bonamassa. I try to take a little bit from everything I listen to.
Tell us about your gear—you were playing the Music Man Petrucci guitar and a Les Paul onstage.
The Petrucci surprised me. My other guitars have much thicker necks, and my [Ernie Ball Music Man] Reflex was more comfortable off the bat because it's like a cross between a Les Paul and a Tele. But when I tried the Petrucci it just blew me away how crystal clear it could get things. That's what it's all about for me, being clear and minimal if I can. The Les Paul is a 2000 '59 Historic. I looked for a year and a half for that guitar in every single online posting I could find. I was looking for the specific color, the right amount of flame. I was going to do whatever it took to get one! I finally found that one and it's just perfect. It's about 8 pounds and 4 ounces, and it's a great-sounding guitar.
What about amps?
I have a '66 Super Reverb with four Eminence Ragin' Cajun speakers, and a '67 Deluxe that I use as a very clean head through a Marshall AVT 4x12 cab. It's kind of surprising, but it's an amazing match. Sometimes I switch out the Deluxe with a Ceriatone Overtone Special, which is a handmade Dumble clone.
You like to keep it minimal, but you have quite the pedalboard.
My board looks like a mother ship, but I use everything very sparingly. I use a Teese Real McCoy wah, a Boss tuner, a Dunlop Uni-Vibe, a Fulltone Full-Drive 2, an Ibanez TS9 Tube Screamer that was converted to an 808 by Analog Mike, an ISP Decimator pedal for clubs where I can't get rid of that single-coil noise, a TC Electronic Stereo Chorus+, a Boss DD-2 Digital Delay, a Roger Mayer Crossroads Signal Director, and a Way Huge Pork Loin. That list makes it sound like it goes on forever, but I'm usually just playing a Les Paul and the Full- Drive, maybe some delay. I try to get the amp really clean and use my pedals to overdrive it. It's just more reliable.
So what's next for you?
We have a couple of festivals in New Mexico, and we're playing the Mile High Blues Festival in August. We're talking with a booking agent and have some even better things in the works!
ryanmcgarvey.com
Hit page 5 for an explanation of Crossroads' unique turntable-style stage and how it was all put together...
The Magical Merry-Go-Round
How Crossroads pulled off 17 lineup switches at five minutes apiece.
Left: Bill Murray pretends to hold the turntable back as new gear is rotated to the front. Right: The festival's country crew—(left to right) Keb' Mo', an unidentified rhythm guitarist, Vince Gill, James Burton, Albert Lee, and Earl Klugh—stirs up the crowd with "Mystery Train."
"It's like launching an aircraft from an aircraft carrier all day long," says John Huddleston, general manager of Lighting Services for Upstaging Inc., about what it took to pull off so many Crossroads Festival performances in 12 hours. "It's loud, there's a lot of hand gestures and head nods, and everyone knows what they're supposed to do the second they're supposed do it." The Upstaging crew had to be on their toes and know each and every move to get 16 sets and a huge grand finale finished before the crowd cried "uncle" on a sizzling summer day.
"We had to creatively figure out how one act could be playing while we prepared and set another act," says Huddleston. "There really is no other option within these circumstances."
Essentially, everything is set up on a 55-foot turntable stage. An eight-foot wall runs down the center, dividing the circular stage into A and B sections, and a large motor under the stage turns it a half-turn after every set. When artists are performing on one side, controlled chaos ensues on the other. Some things—like fully assembled drum kits, pianos, and keyboards on rolling risers—are completely set and ready to be wheeled up to mapped-out positions on the stage. Individual techs are busy tuning guitars, dialing-in amp settings, and prepping pedalboards while the Upstaging crew is checking cable patches, input levels, and frequency and channel compatibility so that the tones and sounds techs have prepared are properly represented.
Crossroads' giant turntable stage allows for seamless transitions between acts. 1. The current band plays their set as normal and stays on the stage as it rotates to the back. 2. Meanwhile, techs and crews set up the next act's gear. 3 & 4. A large video screen and lighting rig hang over the top of the stage. 5. An eight-foot tall divider splits the turntable in half. Illustration by Lori Keehner
"Two of the main goals everyone had throughout the day were to keep within five minutes of the scheduled set times and to retain the utmost sonic fidelity to truly showcase the artists and their signature tones," says Huddleston. "We stayed pretty much on time up until the finale with B.B. and everything sounded great." To guarantee that the show ran like a well-oiled machine, Upstaging had about 100 workers, and the bands and musicians had more than 50 techs to watch over the gear.
During all the moving, lifting, and situating of the gear, guitar techs are glued to their bosses' gear to make sure settings aren't changed, guitars are still in tune, and things aren't missing or damaged—any of which could slow down or halt production and the show.
To aid in that area, Fender had their Custom Shop master builders at Crossroads to set up and refurbish guitars all weekend. "I even saw Bill Murray getting his Strat worked on," laughs Huddleston. The Fender team also made sure the performers had their desired backlines. If a guitarist didn't have their own tech—as was the case with Ron Wood, who simply showed up with his Strat—they made sure he had his preferred amp and someone to take care of his guitar before and after the set.
To ensure that the work of the instrument techs and Upstaging crew isn't for nothing, Huddleston says audio engineers work feverishly to guarantee that the onstage legends get their legendary tones. They're in constant communication via radios to make sure that, from act to act, each artist gets the best signals and highest-quality audio so that their tones are represented the way fans know them. "This is a festival about guitars and guitarists, so we have to be sure that when the turntable starts moving there's not only juice going to the amp and guitar, but also that, when that first chord hits, their tone is there."
Hit page 6 for 13 more gear and performance photos from the event...
A packed finale stage: (left to right) Derek Trucks, Warren Haynes, James Burton, Joe Bonamassa,
Jimmie Vaughan, Susan Tedeschi, Eric Clapton, Keb' Mo' (background), Buddy Guy, Johnny Winter,
Robert Cray, B.B. King, Jonny Lang, Ronnie Wood, Hubert Sumlin, Steve Winwood, Vince Gill,
Sonny Landreth, Cesar Rosas, Robert Randolph, and David Hidalgo.
Sheryl Crow, Doyle Bramhall II, bassist Tommy Sims, and Gary Clark Jr. welcome surprise-guest
Eric Clapton for a tune during their mid-day set.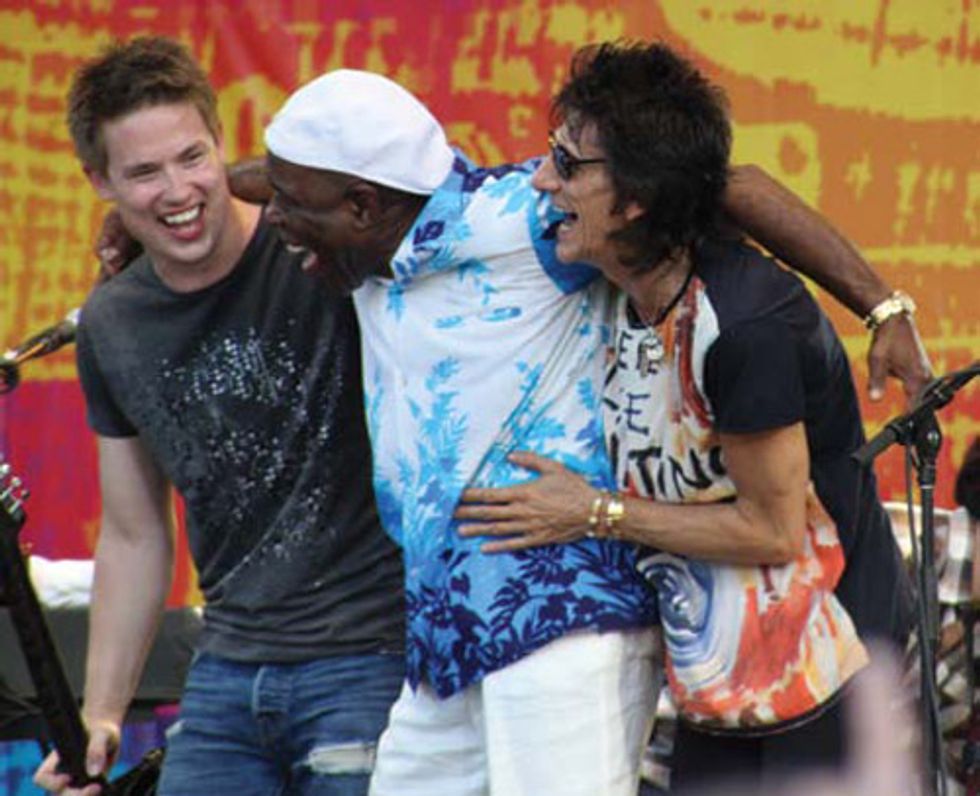 Jonny Lang, Buddy Guy, and Ronnie Wood laugh their way offstage following a great
cross-generational performance.
After his set had already ended, Eric Clapton returns to the stage with Jimmie Vaughan (not pictured)
and Robert Cray before being joined by the legendary B.B. King.
Eric Clapton plays a daphne blue signature Strat through a tweed Fender '57 Twin-Amp
reissue for his 90-minute set.
John Mayer's Dumble Steel String Singer and Two-Rock John Mayer Signature heads.
Susan Tedeschi—one of only two featured female performers at Crossroads (Sheryl Crow was the other).
Jimmie Vaughan, Robert Cray, Eric Clapton, and B.B. King play an extended set before the finale, with
much of the time going to King's jokes and stories.
Jeff Beck's amps: two Fender Pro Juniors and a Marshall JCM 2000
Super Lead powering two Marshall 4x12 cabs.
Beck plays his Olympic White signature Stratocaster during his solo set.
Bill Murray (right) reprises his host role, alternating between hilarious and
thankful, much to Clapton's amusement.
ZZ Top's Billy Gibbons (left) plays his Gretsch Billy Bo Jupiter for a hard-rocking set before the
band leaves for Milwaukee, Wisconsin, where they play Summerfest.
Derek Trucks' amps, two PRS Dallas heads on top of a PRS 4x12 cabinet (left), and
Warren Haynes' César Diaz CD-100 and Soldano SLO-100 heads atop a 4x12 (center).


Hit page 7 for a detailed timeline of Crossroads...
10:00 a.m.

Gates open at Toyota Park


10:15 a.m.

Bert Jansch plays the first note of the festival during his clinic at the Ernie Ball Stage.


11:00 a.m.

Stefan Grossman delights early birds with a clinic at the Ernie Ball Stage.


11:10 a.m.

2009 Guitar Center King of the Blues winner Kirby Kelley kicks off the mainstage music by playing over the same backing track he won the contest with.


11:25 a.m.

Eric Clapton makes an early appearance, jamming with emcee Bill Murray on the Buddy Holly classic "Not Fade Away."


11:45 a.m.

Fingerstylist Pete Huttlinger demonstrates his incredible ability to play the same song in different styles with a variety of right-hand techniques on the Ernie Ball Stage.


11:50 a.m.

Sonny Landreth rocks the main stage with a red Strat and his mind-bending slide work. Three songs into his set, he's joined by Clapton for a rendition of Chuck Berry's "Promised Land."


12:20 p.m.

Robert Randolph and the Family Band delivers an energetic set, enlisting Joe Bonamassa's help on "Further on up the Road" and "Going Down," which also features Italian guitarist Pino Daniele.


12:30 p.m.

Albert Lee fields questions and wows the crowd with his chicken-pickin' talents during his clinic on the Ernie Ball Stage.


1:00 p.m.

The Robert Cray Band owns the main stage with Texas blues legend Jimmie Vaughan performing his tribute "Six Strings Down" for his late brother Stevie Ray. Hubert Sumlin joins them to lead the way on the Mississippi Sheiks' "Sitting on Top of the World" and Howlin' Wolf's "Killing Floor."


1:15 p.m.

Sonny Landreth plugs into his Dumble Overdrive Special to demonstrate his behind-the-slide technique at an Ernie Ball Stage clinic.


1:45 p.m.

The blues take a breather while Scottish folk musician Bert Jansch performs a solo set.


2:00 p.m.

Robert Randolph discusses the role of church in his early playing, as well as six-hour guitar battles with Derek Trucks during his jovial Ernie Ball Stage clinic.


2:05 p.m.

Stefan Grossman takes the main stage for an acoustic set. He ends the set by jamming with Keb' Mo', who played a Beltona resonator.


2:25 p.m.

ZZ Top sets the crowd on fire with a hard-rocking set that includes Hendrix's "Foxy Lady," "La Grange," and "Jesus Just Left Chicago."


2:45 p.m.

Ryan McGarvey, winner of the 2010 Play Crossroads Contest (see sidebar, p. 124), earns some new fans with his enthusiastic set.


3:00 p.m.

Doyle Bramhall II and his band throw down bluesy rock 'n' roll, with Sheryl Crow strapping on a Tele to join them for a version of her hit "Long and Winding Road." Gary Clark Jr. sits in for the whole set, and Derek Trucks and Susan Tedeschi also sit in for a few songs, while Clapton and Bramhall close out the set with dueling leads.


3:30 p.m.

Joe Bonamassa weathers the heat for a wellattended acoustic set at the Ernie Ball Stage.


3:50 p.m.

Vince Gill and his band give Crossroads its shot of country. James Burton joins them to take the lead on Elvis' "Mystery Train," while Albert Lee and Keb' Mo' trade solos during "The Door" and "Soon as I Get Paid." The set closes with Sheryl Crow lending vocal help on Clapton's "Lay Down Sally."


4:15 p.m.

Blues legends Honeyboy Edwards—one of the last living guitarists to play with Robert Johnson— and Hubert Sumlin— Howlin' Wolf's guitarist starting in 1954—close out the clinics at the Ernie Ball Stage.


4:45 p.m.

Sheryl Crow introduces Citizen Cope as "one of my favorite singer-songwriters." Cope's acoustic set includes a rendition of "Sideways" with Crow.


5:05 p.m.

Earl Klugh, the sole jazz representative, helps the crowd transition into the evening headliners with his silky smooth fingerstyle.


5:22 p.m.

Bill Murray comes out dressed as a '70s-era Elvis to introduce the next act. He dressed as Buddy Holly earlier in the day.


5:25 p.m.

The John Mayer Trio—Steve Jordan on drums and Pino Palladino on bass—tears through a four-song set that includes Bill Wither's "Ain't No Sunshine" and Hendrix's "Wait Until Tomorrow." Mayer plugs into his Dumble Steel-String Singer and signature Two-Rock amps, and dons a Fender Custom Shop Hendrix Monterey Pop Festival Strat for the Hendrix tune.


6:00 p.m.

The biggest surprise of the evening is delivered as Ronnie Wood joins Buddy Guy and Jonny Lang for the funnest set of the show, which includes showstoppers like "Forty Days and Forty Nights," "Five Long Years," "Let Me Love You Baby," and the Rolling Stones' "Miss You."


6:45 p.m.

The Derek Trucks and Susan Tedeschi Band lead a star-studded gathering that stepped up to fill in for the Allman Brothers after Gregg Allman had a sudden liver transplant. Los Lobos' Cesar Rosas and David Hidalgo grab center stage for "300 Pounds of Heavenly Joy," Warren Haynes takes over for the Allman Brothers Band's "Soulshine," Johnny Winter offers a shaky rendition of Hendrix's "Red House," and keyboardist Chris Stainton sits in for a cover of Joe Cocker's "Space Captain."


7:45 p.m.

Dressed all in white, Jeff Beck drops jaws with a raucous set that includes "Hammerhead," "Dirty Mind"/"Big Block," "Somewhere Over the Rainbow," Muddy Water's "Rollin' and Tumblin'," and Sly and the Family Stone's "I Want to Take You Higher." He finishes with Italian composer Giacomo Puccini's "Nessun Dorma."


8:43 p.m.

Bill Murray dons a psychedelic Hendrix outfit— complete with wig, upside-down Strat, and cigarette—to welcome the man of the show, Eric Clapton, to the main stage.


8:45 p.m.

Clapton greets the crowd with a ripping rendition of "Crossroads," then delves into a 90-minute set full of hits. It begins with "Key to the Highway" and a collaboration on Citizen Cope's "Hands of the Saints." Jeff Beck returns for Elmore James' "Shake Your Money Maker," followed by Clapton's recent touring partner Steve Winwood, who switches between Hammond B-3 organ and guitar on songs like "Had to Cry Today," "Low Down," "Glad," "Well Alright," "Voodoo Child," "Cocaine," and "Dear Mr. Fantasy."


10:05 p.m.

The stage crew stocks the main stage with more than 20 amplifiers in preparation for the show's finale.


10:15 p.m.

The crowd welcomes B.B. King with a thunderous ovation as the blues god gets hugs and hellos from Clapton, Jimmie Vaughan, and Robert Cray. King commands the three "young'n guitarists" to get chairs so they can sit alongside him.


10:30 p.m.

King tells dirty jokes, dances, and tells stories, as Clapton, Vaughan, and Cray help guide the set through "Rock Me Baby" and "Key to the Highway," closing out with "The Thrill is Gone" at 10:55.


11:05 p.m.

Buddy Guy leads the way on vocals for "Sweet Home Chicago" as Clapton, B.B. King, James Burton, Ron Wood, Vince Gill, Derek Trucks, Warren Haynes, Jimmie Vaughan, Susan Tedeschi, Robert Cray, Johnny Winter, Jonny Lang, Hubert Sumlin, Albert Lee, Cesar Rojas, David Hidalgo, Robert Randolph, Gary Clark, and Joe Bonamassa trade licks and smiles to close out the 2010 Crossroads Festival.