Ouija Lord: Neal Casal of Circles Around the Sun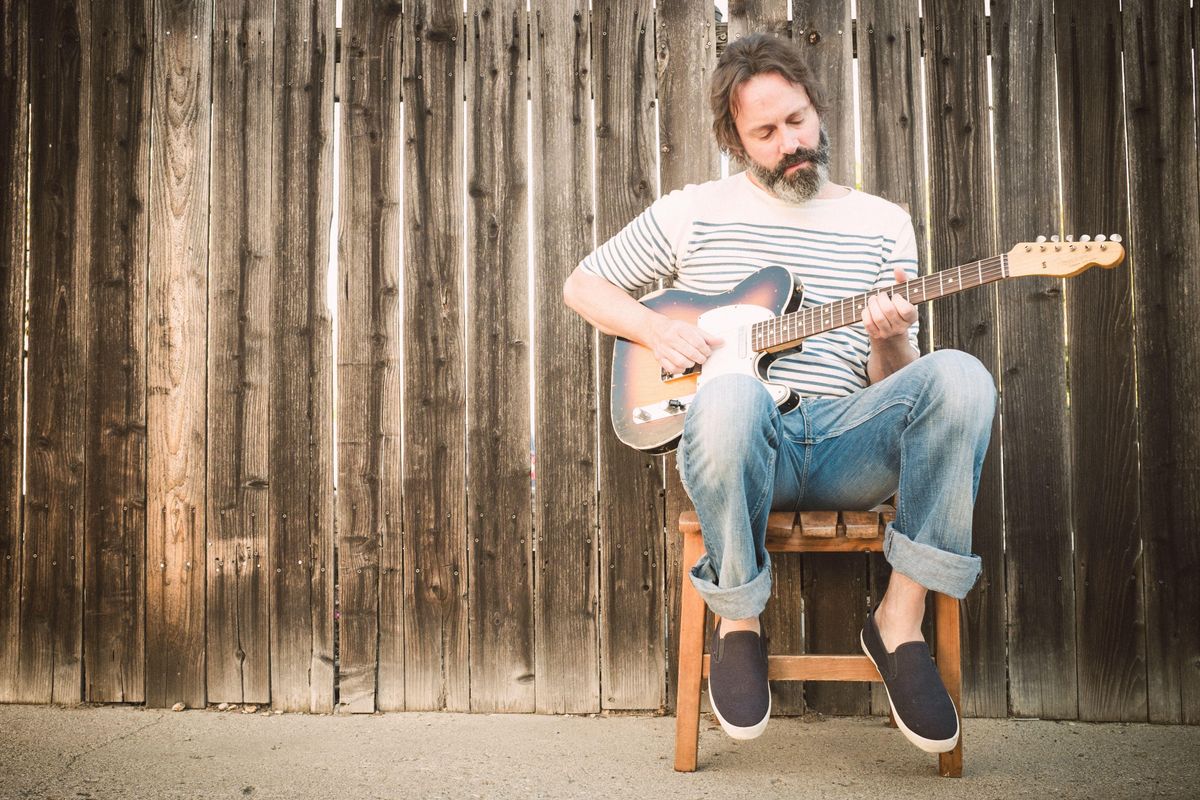 Photo courtesy of Neal Casal
The psych-roots guru conjures the spirit of the Grateful Dead with his new album, talks about playing with Phil Lesh and Bob Weir, and explains the magic in Jerry Garcia's legendary Wolf guitar.
I was fortunate to be able to attend both of the Grateful Dead's Fare Thee Well shows in Santa Clara, California, in June, and, like thousands of other Deadheads, I became intrigued by the music that played over the P.A. before the band took the stage and to accompany the intermission video highlights of the Dead's long, strange trip. "It's definitely not the Dead," I thought, "but there's something Deadish about it"—the long, slowly evolving jams, the weaving interplay between musicians, the psychedelic flourishes, the shimmering guitar tones. At other times early Pink Floyd came to mind. Could it be one of the band members' side projects? Maybe a jam band I don't know about?
It wasn't until a few days later that I found out the music was the brainchild of guitarist Neal Casal, who is a current member of both the Chris Robinson Brotherhood and Hard Working Americans, a former member of Ryan Adams & the Cardinals, and a prolific singer-songwriter in his own right. He was asked by Justin Kreutzmann, a filmmaker and son of Grateful Dead drummer Bill Kreutzmann, to compose some music to accompany the video component he was putting together for the intermissions of the Dead's historic farewell run.
It was an honor to be sure, but a pretty intimidating proposition for any musician, let alone one who has been a serious Dead fan for 35 years. Never mind that Casal would have very little time to put the music together, or that the video was still being edited so he would have to create his soundtrack blind, or that Kreutzmann hoped to have enough music that it would never repeat during the five-show run—in other words, five-plus hours.
So with no time to (pardon the expression) fret, Casal set to work, bringing in his CRB bandmate Adam MacDougall on keys, bassist Dan Horne (Beachwood Sparks, Jonathan Wilson), and drummer Mark Levy (the Congress). Somehow, over the course of a mere two days at JP Hesser's Castaway 7 Studios in Ventura, California, the four musicians managed to record all of the preshow and intermission music for the Fare Thee Well run. Not the five hours Kreutzmann requested, but nearly four hours—a pretty stunning achievement in such a short time.
Even with all the attention focused on the four surviving core members of the Dead during their final shows together, the soundtrack created by Casal and his friends, a group now known as Circles Around the Sun, managed to generate a significant buzz online. So Rhino Records decided to give the music a proper release: a two-CD set titled Interludes for the Dead. Furthermore, the music is included in the 12-CD/7-DVD box set of the Dead's entire Fare Thee Well run.
Casal spoke with Premier Guitar on a couple of occasions: once from his home in Ventura and once from Denver the morning after CRB's New Year's Eve show at Cervantes' Masterpiece. He talked about his early influences, the evolution of the Interludes project, sharing the stage with Phil Lesh and Bob Weir, and how playing Jerry Garcia's Wolf guitar changed his life.
How did you first get into guitar?
I started playing when I was 12. I grew up in New Jersey, and this was the dawn of the '80s, as Atari games were just sweeping the nation. My dad asked me what I wanted for Christmas. I really was at a loss, and in a move to fit in with the other kids, just said, "Well, I want Atari."
Neal Casal put his own singer/songwriter career aside in the early 2000s to become a master at supporting other vocalists. He's played with Ryan Adams and is a member of the Chris Robinson Brotherhood and Hard
Working Americans.
My dad was a cool guy, and he said, "I cannot get you that Atari, because you're going to be interested in it for a couple of months and it'll gather dust in the closet. You gotta do better than that."
He named all these things he saw me interested in, and when he said, "Play an instrument," my eyes lit up. It had never dawned on me that I could actually do this. So he bought me my first guitar and I never looked back.
Do you remember what it was?
It was a black Ovation Applause, with the plastic back.
Who are some of your musical influences?
It all started with the Rolling Stones. My brother handed me a copy of Exile on Main St. that same Christmas, and they were the first band I was obsessed with. Shortly after my first guitar lesson, I started playing along with "Sweet Virginia" and that was it. My fate was set.
Keith, and Mick Taylor in particular—he's a huge influence on my playing. And Ron Wood means a lot to me as a guitar player. I find his influence cropping up in my playing a lot. And the Grateful Dead. Both Jerry and Bob were huge for me. Also Ry Cooder, though you won't necessarily hear it. All the English folk people are huge for me as well: John Renbourn, Bert Jansch, Davey Graham. Robbie Basho, who was an American guy, is really huge for me, just in the way I conceptualize guitar.
Also David Lindley. And Jackson Browne, believe it or not, is an influence on my acoustic playing. On his first four records he had a particular way of strumming the guitar, to articulate and animate a song. And all the John Mayall guitar players: Peter Green, Clapton for sure, and Mick Taylor. That holy trinity of English blues guitar players.
You mentioned Cooder and Lindley. Do you play a lot of slide?
I do play a lot of slide. [The late blues guitarist] Robert Nighthawk may be my biggest slide influence. When I heard him, I could tell where Mick Taylor got that beautiful slow vibrato.
I was just checking out your 2012 album, Sweeten the Distance. I really like it.
All through the '90s, up until the time I started playing with Ryan Adams in 2005, I made solo records. That was my focus for a long time. I was hell-bent on learning to become a songwriter, a guitar player, how to make records, how to craft songs, how to record, how to play with other musicians, seeking out the best musicians I could find—world-class musicians—to get me out of my local-boy mentality and raise the bar.
In the early '90s, there was a guy named Jim Scott, an engineer/producer—if you look up his discography it's rather staggering—and he was a mentor to me. He produced my first record and my third record. I also worked as a guitar player for him. And George Drakoulias. He produced the Jayhawks records. These were people in California who were mentors. And I met Ryan during those times, because Jim Scott produced the Whiskeytown record Strangers Almanac.
Are you a big Dead fan?
I grew up as a Deadhead. I had the records. I saw some Dead shows. At the Garden, Meadowlands, Giants Stadium, '80s, '90s. I saw some Jerry Garcia Band shows. But I never played the music. I was never in a Grateful Dead cover band. I never learned the songs because I was working on my own music.

Casal's thoughts on his Dead-inspired project: "I was thinking about it like, 'Man, I'm getting to make music for my fucking heroes here! This means something to me.'" Photo by JP Hesser
How did you get the gig to provide the Fare Thee Well intermission music?
I had worked with Justin because I scored the Bob Weir documentary, The Other One: The Long, Strange Trip of Bob Weir. [Editor's note: Kreutzmann was an executive producer.] And I also worked with Justin on [the concert film] Move Me Brightly, which was filmed up at Bob's studio, TRI, a few years ago, around what would have been Jerry's 70th birthday.
What did Justin ask for Interludes for the Dead?
He wanted music that would connect to Dead fans, but there's a fine line there. It's a very delicate balance. With Dead music and Dead culture, if it's too far away from the sound, then there's a disconnect. But we didn't want to get into mimicry, just ripping it off, because that's an even bigger disconnect. So the idea for me was to try to capture the essence or feeling of it, and sort of dance around certain motifs without going straight into them.
"Playing with Phil was a big deal, and it made me rethink my guitars, my amps, my pedals, my playing, my singing—everything. It's inspired me to go deeper."

Did you compose the music before the sessions?
We composed zero before. We didn't have much time. We didn't have the video in front of us, either. At the time we made the music, the visuals weren't done, so we were working blind.
We did that shit in two days. We lucked out. It was the perfect storm. I asked the right musicians. I got the right studio. We didn't think we were making a record. That stuff was never intended to be an album. If it had been, I never would have written a bunch of 25-minute songs.
I was thinking about it like, "Man, I'm getting to make music for my fucking heroes here! This means something to me." I had Steal Your Face in 1978. I wasn't there in the '60s, but at the same time I didn't get onboard yesterday.
Was there a lot of overdubbing?
There's zero overdubbing. All of it was improvised. We would talk over the feel, the key, a couple of chord changes. Justin had given me some guidelines: "Give me an 'Althea' vibe. Give me a 'Bertha' vibe. Give me a 'Playing in the Band' vibe. Just touch on certain key themes." Most of this music was first-take stuff—especially the longer pieces.
Neal Casal's Gear
Guitars
Scott Walker Santa Cruz
Fender Custom Shop B-Bender
Telecaster
Fender Custom Shop 1962 reissue Telecaster
1958 Martin D-21
1957 Gibson J-50
1970 Martin 12-string D12-20
Eastman Double 00 acoustic
Amps
Divided by 13 FTR 100
Divided by 13 2x12 cabinet with 65-watt Celestion Creambacks
Effects
Catalinbread Echorec delay
Catalinbread Montavillian delay
Catalinbread Belle Epoch delay
Catalinbread Octapussy octave fuzz
Catalinbread Valcoder tremolo
Catalinbread Topanga Spring Reverb
EarthQuaker Devices Terminal fuzz
EarthQuaker Devices Grand Orbiter Phaser
EarthQuaker Devices Arpanoid polyphonic pitch arpeggiator
Strymon Orbit dBucket Flanger
Strymon Lex Rotary speaker simulator
3Leaf Audio Proton Envelope Filter
BearFoot FX Pale Green Compressor
BearFoot FX Baby Pink booster
BearFoot Honey Beest OD
Dunlop Cry Baby 105Q Bass Wah
Walrus Audio Plainsman dual-stage clean boost
BMF Effects Purple Nurple overdrive
Divided by 13 Switchazel switching box
Road Rage true bypass looper
JRIG pedalboards
Strings and Picks
Curt Mangan (.0105–.048)
John Pearce Phosphor Bronze Wound Light Gauge (.012–.053)
Dunlop yellow Tortex .73 mm
Mr. B's Bottleneck Guitar Slides
For me, that would be my dream gig. Someone telling me to record spacey 20-minute instrumental jams.
Yeah, and the reason they're so long, is because Justin asked me to have music that didn't repeat over the course of five shows: the two Santa Clara shows and the three in Chicago.
I don't think Justin had done the math. I said, "Justin, that's five hours of music. Do you understand what you're asking for?"
It's kind of insane to try to make five hours of music in two days. It's basically impossible. But liking a challenge, I went for it. So that's why the pieces ended up being so long. I didn't have to explain much to these guys, because everyone understands it, but there's just an amazing amount of patience and discipline that it takes to play for that long.
And not to peak too early.
Exactly. When you really get into the Grateful Dead in a deep way, when you truly understand what those guys were doing, especially when you listen to the '73, '74, single-drummer Dead era, you hear some of those jams, and those people werenot in a rush. It would go, and go some more. And keep going.
One Interludes track in particular, "Farewell Franklins," evolves into many different areas. At the end it gets into this trancey groove where you play a single-note thing that almost sounds like some sort of African instrument.
This stuff went so far that we ended up in places that didn't sound anything like the Grateful Dead. Other influences came into play. What you just said about African sounds … all the Fela Kuti stuff—that music is born in the same kind of discipline and patience. I love those highlife guitar players. Also noise guitar—Spacemen 3 and other underground guitar stuff.
You used a lot of cool old-school echo sounds, almost like an Echoplex or Roland Space Echo. Is that a newer pedal or do you use old stuff?
All of my delays are Catalinbread. They make incredible pedals. The longer ambient stuff is the Echorec. Another one is called the Montavillian, and another one is called a Belle Epoch. That fuzz that you hear at the end, where it sounds like an African instrument, that's an Earthquaker Devices Terminal. There's also a Strymon flanger, the Orbit.
At times you had some sort of envelope filter on.
The classic envelope sound—that's a Proton, by 3Leaf Audio. And I really love the pedals made by BearFoot FX. I have their Pale Green compressor, and my overdrives are BearFoot. They just do such good work.
What amplifier are you using?
A Divided by 13 FTR 100. I'm way into that amp. There's no master volume. There's no nonsense. Before I got that amp I told Fred [Taccone, who heads the company], "I need headroom." And boy, did I get it! That amp never goes above three-and-a-half. I use that amp all the time now. And it was the recording amp for the Interludes stuff too. I play it through a 2x12 Divided by 13 cabinet with Celestion 65-watt Creambacks.
And guitars?
The guitar for all the Interludes music was made by Scott Walker. He's in Santa Cruz, California. He just makes the most beautiful guitars. It's pretty and fancy looking, and those are usually the guitars I shy away from—the ones that have that wall-hanger, rich-guy guitar look. But Scott's guitars are different. They are beautiful, but they are every inch players' guitars.
Mine is a Santa Cruz. The two humbuckers are Lollar High Wind Imperials. I also have a single coil in the middle position, which is some kind of Lollar. There's also an onboard effects loop, full Garcia style, that I use with the stereo cable. It's great. I love it.
I'm not a volume pedal guy. So I love the onboard effects loop, particularly for fuzzes and overdrives, because I can turn my volume knob way down and the effects don't change.
Sometimes it's hard to get the tone right on a fuzz. The guitar can get lost in the mix.
Exactly. So with the couple of fuzzes I use, the Earthquaker Devices Terminal and also the Catalinbread Octapussy, which is an octave fuzz, I'll hit the fuzz but dial my volume knob down, and then actually fade the fuzz up, so it comes in smoothly. It's a lot more controllable, and a lot more musical and subtle.
It's the same for regular overdrives, too. Like when you dip into a verse, and want to tuck behind the singer, I can leave the pedal on and move the volume knob down and nothing changes very much. I don't lose the effect. It's great.
And one more effects thing. Bryan Kehoe from Dunlop suggested something to me a couple years ago when I was building this pedalboard. I wanted a wah, and he said, "Try a bass wah on guitar, because they're based off an envelope filter, and they have a different sound than a normal wah." I use it all the time. It's all over that Interludes stuff. It gives you a different character than your typical wah. The normal wah in my hands just turns into the Hendrix thing. All of my worst classic rock tendencies come out with a wah.
"With Dead music and Dead culture, if it's too far away from the sound, then there's a disconnect. But we didn't want to get into mimicry, because that's an even bigger disconnect."

I also have a push-push knob that splits the coils of the humbuckers, and there's another switch where you can either have the middle single-coil pickup on its own or mix it in with the other pickups. I have so many choices on that guitar.
You're talking to someone who was always a traditionalist. This is very new to me. And it's a thing that I learned from Phil Lesh and from the people around the Grateful Dead. I get it now, because if you have to play for three hours a night, you have to cover a lot of ground. I don't have a tech. I don't want to be changing guitars all night. I don't like it anyway, because it takes a while to get used to a guitar when you put it on. So I'm into the idea of having all of the choices in one really great-feeling, great-sounding guitar.
There can also be a sort of reverse snobbery against boutique guitars, particularly in Nashville, where people love the vintage gear.
That kind of traditionalism is frankly just not expansive enough for me anymore. I started out on exactly what you said: I had a '57 Les Paul Junior, I had no effects, I went straight into a Marshall. I mean, it was a helluva sound, but it's kind of a one-trick thing.
I know you've played onstage with Bob Weir. How has that been?
He's sat in with the CRB a number of times. I sat in with Furthur once. And I played with him on the Move Me Brightly project. But when he sat in with Hard Working Americans a couple weeks ago—that was the best experience I've had playing with him.
YouTube It
"Gilbert's Groove," from Interludes for the Dead, bridges the psychedelic worlds of the Grateful Dead and Pink Floyd. At 1:15, you can see some nice close-ups of Casal's Scott Walker Santa Cruz guitar displaying its lovely fret inlays and the swirl on the upper bout. At 1:35, Casal kicks on his 3Leaf Audio Proton envelope filter, and it almost sounds like Jerry sitting in with the Floyd. As the video fades, Casal throws in the Dead's classic "Shakedown Street" riff.
There's this one song that led into this long D modal jam that he's so good at, and he and I got into a really nice musical conversation for several stretched-out minutes. It really blew my mind. That knack that he has for comping, that harmonic chordal knowledge all just poured out and organized the song in a whole new way, and gave me a platform for more interesting and intricate soloing. The entire Bob trip unfolded in front of me.
And you've played with Phil Lesh a fair bit, right?
I met Phil when playing with Ryan. They were friends. Phil sat in with us one night at the Hollywood Bowl, and that blew my mind. I had a book of photography come out a few years ago that documented the Ryan years, and Phil wrote the afterword for that book, which was such an honor. It's called A View of Other Windows.
But I never really knew Phil until I started playing with Chris Robinson. Phil sat in with us a couple times at Great American Music Hall in San Francisco, and then a couple years later when Terrapin Crossroads, his club in San Rafael, opened, he called on me to do a couple of those Rambles [a concert series teaming Lesh's house band with special guests] with him.
That must have been exciting.
Yeah, it was, and I got my ass handed to me because I did not know the catalog and I had to learn it really fast. And man, was it an eye-opener. To learn that canon, and to really begin to understand the complexity and the depth of that music, changed me forever. Also, to be learning alongside the guy who wrote the music—a massive part of that band and that culture and that time period—who by the way, as you know, is still absolutely playing his ass off and can steamroll most 25-year-olds.
Playing with Phil was a big deal, and it made me rethink my guitars, my amps, my pedals, my playing, my singing—everything. It's inspired me to go deeper. That's the mantra, to go deeper.

Luthier Doug Irwin built five guitars for Jerry Garcia, including Wolf, which he delivered in May 1973 for $1,500. Irwin sold the guitar at auction in 2002, seven years after Garcia's death, for a reported $789,500. Photo by Jay Blakesberg
Dances with Wolf: Playing Jerry Garcia's 6-string
Neal Casal is among the very few guitarists who have laid hands on Wolf, one of Jerry Garcia's legendary custom guitars and one of his main instruments during the Grateful Dead's '70s heyday. Casal has played the 6-string, with its lolling-tongued wolf inlay below the bridge, a distinctive S-H-H pickup array, and gorgeously inlaid neck, twice onstage—once in December 2012, at San Francisco's Great American Music Hall, and again recently at that city's Fillmore. His thoughts:
What impact did playing Wolf have on you?
My Scott Walker guitar was inspired by Wolf. And playing Wolf for the first time a few years ago changed my whole idea of what a guitar could be and how much you could get out of one guitar. That was Jerry's thing. He didn't want to change guitars all night. So he tried to have one that had everything he needed built into it. Tonally it's as strong as any guitar—stronger than most guitars I've played.
So Wolf inspired you in some ways to get the Scott Walker.
Not in some ways. In almost every way. Playing Wolf, a huge light bulb went off for me. When I first played Wolf, it was my second year in the CRB. I'd never been in a two-set band before, playing for three hours a night, where I'm the main soloist in the band. Chris built the CRB on the Grateful Dead template—on how they constructed their shows. Logistically, as far as the demands of a show, I was now in that same position.
I played an SG for the first couple years in the CRB. And I found that an off-the-rack guitar didn't have enough tonal choices to get me through a long show that required a lot of versatility. Also, CRB not having a guitar tech, I didn't have the choice to change guitars a lot, because I didn't have someone there to help me with that.
"It's really rewarding when you get to use the entirety of your instrument. That's been a really nice growth in my musical life."

All of these things led up to Wolf dropping into my hands. I had a revelatory experience with the guitar. And I quickly set out to find somebody who could make me something with that kind of versatility.
There are plenty of Wolf copies out there, but I'm not going to go that route. So I found something with my own voice that was inspired by that guitar. Scott Walker knows that realm of guitars really well. He gave me everything: the effects loop, the buffer, the booster, the pickup choices, the coil tapping, all of that. And I use every single bit of it.
It's really rewarding when you get to use the entirety of your instrument. That's been a really nice growth in my musical life.
How did you get to play Wolf?
A friend of our band knows Dan [Pritzker, of Sonia Dada], who owns the guitar. He likes having people play it. If you're a guitar player, you know damn well that guitars don't lead healthy productive lives hanging on walls or sitting in cases for the rest of their existence. It's not good for them. There's something energetically about a guitar where, if it's a good one, they need to be played.
So Dan is kind enough to send the guitar around to people occasionally who he thinks will appreciate it. He felt like we were one of those groups, luckily for us, and sent it down a few years ago, and we all enjoyed it. Chris played it a lot, too. We really studied the guitar pretty hard and got inspired. That guitar is by no means finished making music at all.
Was it a strange feeling, holding a guitar Jerry had played so many times?
Of course [laughs]! It's so weird. There have been a lot of pictures of me playing that guitar. I've seen the comments. "Put that thing down! You're not worthy of holding it."
My answer to those people is, "Don't worry. I know I'm not worthy. I've already beaten you to every criticism you have. Trust me. I don't think I'm Jerry. I don't think I'm nearly as good. I get it. I know that I'm just a peon and shouldn't have this thing. But guess what: It was offered to me to play, and I'm playing it. And I'm doing my reverential best with it. And by the way, if someone offered it to you, would you turn it down?"
Honor our hero—that's all. I don't see how that can be a bad thing.