Scott McMicken's Long, Weird Relationship with the Guitar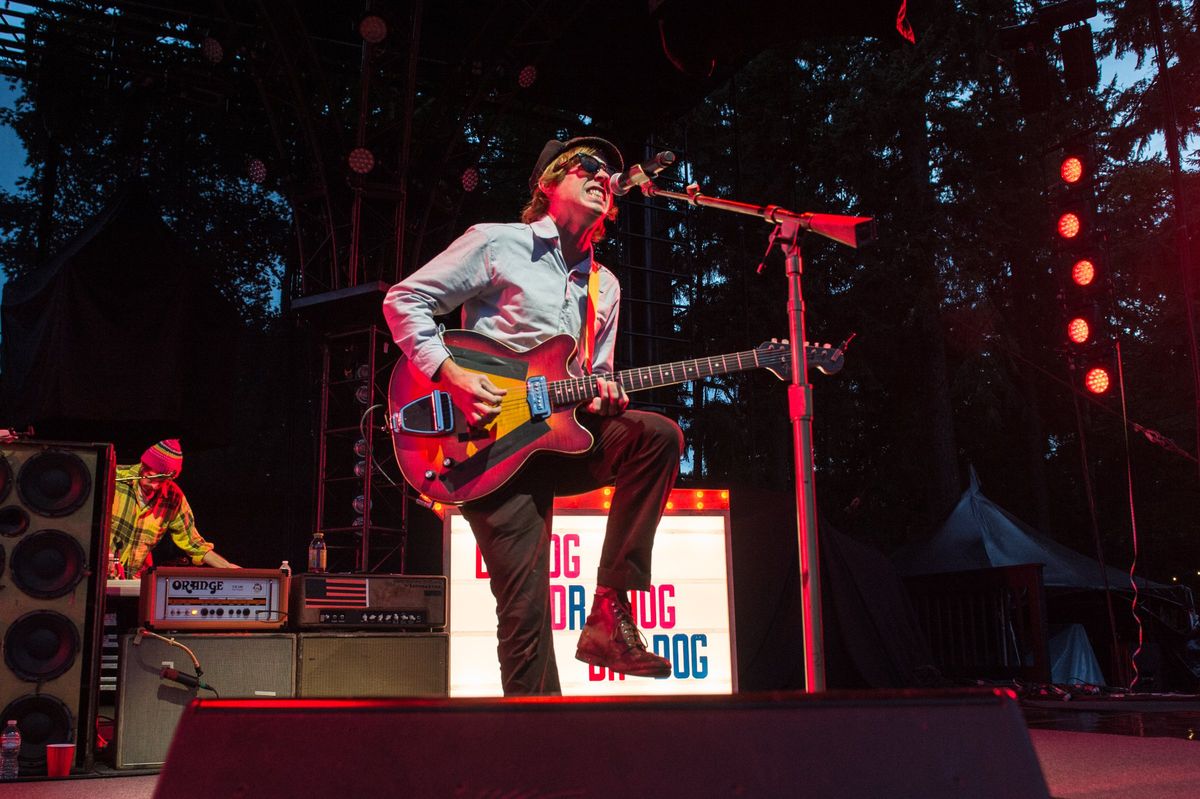 Photo by Jim Bennett Photo Bakery
The Dr. Dog co-founder's first solo outing, Shabang, is a jangly, improvisatory adventure that deepens his relationship to his main instrument—even if it means sometimes stepping back from it.
Experimentation comes in many forms. For Scott McMicken—co-founder, guitarist, singer, and songwriter for the jammy indie septet Dr. Dog—recording his solo debut was an opportunity to try something new. Something outrageous. The experiment? To not play guitar.
---
"The guitar has been a revolving relationship in my life that, as of very recently, has taken really interesting turns, and on this record, I didn't play any guitar," McMicken says in his endearing, stream-of-consciousness way of speaking, which demonstrates a propensity for run-on sentences. "There's always been this connection between playing guitar and singing for me where I started to notice that if I am playing guitar and singing while I am recording a song, then that sort of limits what I am able to do on guitar. Over the years, I noticed that I always enjoyed playing guitar on [bass player and co-founder] Toby [Leaman]'s songs in Dr. Dog more because I didn't have to think about singing. But then, when I do have to think about singing, I tend to lean into basic rhythm guitar, which isn't necessarily compelling to me—I don't necessarily want to hear a guitar strumming some chords from the guy who's singing—so I decided to not play guitar and just stand there singing, and it made the process so cool."
To be clear, McMicken hasn't abandoned the instrument. Despite his earlier declaration, he admits he may have snuck a few licks onto Shabang as well. "I've had this long and weird relationship with guitar," he says. "It's my guy. It's my best friend. It's by my side. But it's had a multifaceted position in my life as a musician within the grand scheme of things, and more recently it's revealed itself, and I see something that I hadn't been able to see for many years and it's exciting."
As co-founder and co-frontman of Dr. Dog, Scott McMicken's guitar hasn't seemed to leave his hands. But with his new solo project, he's taken a step back from his trusty 6-strings.
Photo by Wyndham Garnett
Part of that revelation came in the way he composes songs, some of which were written on an acoustic he got from Reuben Cox at Old Style Guitar Shop in Los Angeles. Cox's creations are usually beat, low-budget Kays, Harmonys, and other similar models of yesteryear that, according to McMicken, are subjected to a thorough retrofit. The old machines receive better pickups, modern electronics, and a rubber bridge, then they're given a professional setup and made playable with flatwound strings. You can see them everywhere—the first one was made for Blake Mills, and now Taylor Swift, Phoebe Bridgers, and many others use them as well—and they provide just enough of a wrinkle to help you reimagine the instrument and encourage some creativity.
Scott McMicken and THE EVER-EXPANDING - "Diamonds In The Snow" [Official Video]
"It's a game changer," McMicken says of the old-made-new instruments. "Another person who is big on these guitars is Jeff Tweedy. When I found that out I texted him, and he said something like, 'Songs just fall right out of those things,' and he's so right. There's something so unique about the way they sound that when you do something basic, like strum a C chord, there's something about it that engages your mind in a different way. They are really inspiring tools for writing because they give you just that little twist on that familiar terrain that right away, it feels more exotic and engages your imagination more."
"I've had this long and weird relationship with guitar. It's my guy. It's my best friend. It's by my side. But it's had a multifaceted position in my life as a musician within the grand scheme of things."
That warped, lo-fi, rubber-bridge-inspired feel is all over Shabang. The album opener, "What About Now," could be a campy, slowed-down outtake from Bob Dylan's Bringing It Back Home, complete with the scratches that came from playing your vinyl copy a million times. The eerie and psychedelic "Mountain Lion" has all sorts of dime-store bells and whistles that seem to emanate from someone's fretboard, although it's unclear, despite McMicken's assertions to the contrary, if those came from him or the album's primary guitarist, Paul Castelluzzo. Many of the album's grooves have a reggae-style chink on the two and four, plus an effortless yet danceable looseness that gives the impression of a party happening somewhere nearby. The rubber bridge itself—or something like it—is particularly noticeable on the bouncy title track, as well as the record's trippy jam "Ever Expanding."
But that rubber bridge is just the tip of McMicken's revelatory iceberg. For years, he was a champion of underdog gear (check out his 2020 Rig Rundown where he sings the praises of his ancient, handwired solid-state Peavey Vulcan), but when he plugged into a vintage Fender Princeton, "it just revealed to me the sound of guitar in a way that I had never experienced before. It was so pure and so nice in that vintage way that seems perfect, but also kind of flawed. Plugging into a 1965 Princeton, you're not thinking, 'What ketchup am I going to put on this?' You're thinking, 'Listen to this.' You're more directly engaged in a pure way."
McMicken at far left, with the Ever Expanding's core ensemble.
That Princeton led to the acquisition of a 1967 Fender Champ, which, at least for now, is McMicken's desert-island amp. "I have a feeling that it will never leave my side," he says. "It has reintroduced me to the way it feels to play a guitar and has left me more inspired than ever before. There's something about a solidbody Fender guitar into an old, little Fender amp where I feel like you're hearing the platonic form of electric guitar. You're hearing story number one, and whatever that super-sweet vintage thing is, it's not perfect. The reason why it rules for me—and the reason why it's beautiful—is not because it's embodying some form of perfection. It actually just sounds busted in some kind of cool way. It took me a long time to realize and to open up to that. But slowly, one piece after another, I've been able to appreciate that more."
McMicken's approach to pedals is also ever-evolving, and he's recently stopped using delay. "I realized what a disservice I was doing having all these delays," he says about his experience mixing recordings of live Dr. Dog shows. "There's so much other stuff going on, and I was smearing it all with all this echo. I need to be much more conservative."
But McMicken is an experimenter at heart. Thinking about his vocal range and the keys he's most comfortable singing in prompted him to tune his guitars down a step and a half to C# standard. Detuning gives the strings extra slack, which makes the instrument feel different. That affects the way McMicken plays and stimulates his creative muse.
Scott McMicken's Gear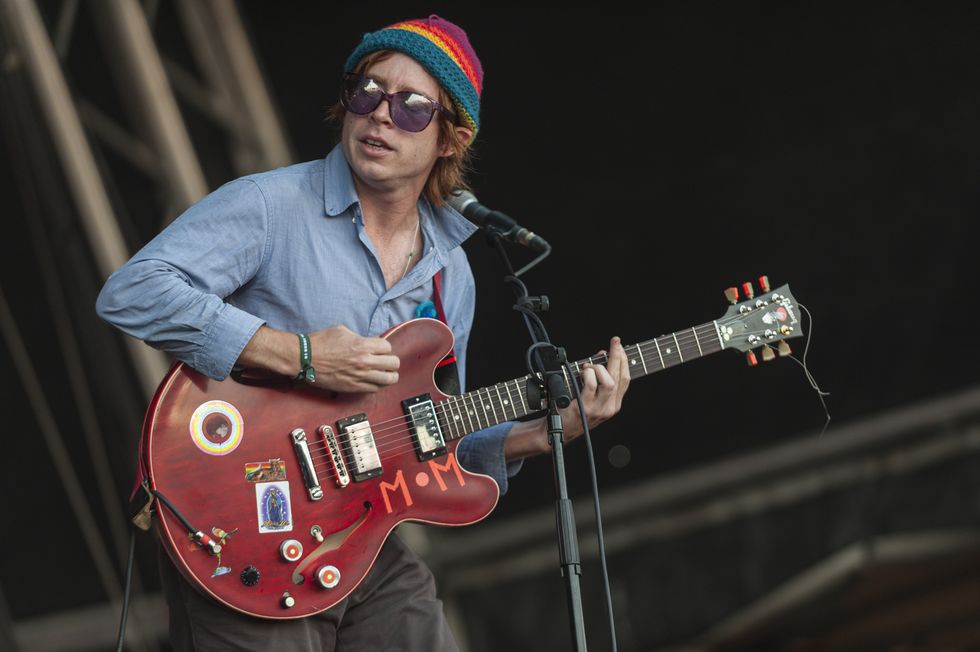 McMicken's producer hand-picked all of the musicians who played on Shabang. McMicken met them for the first time in the studio, and instantly felt an "organic, laidback vibe."
Photo by Jordi Vidal
Guitars
Reuben Cox-modded Sears acoustic with rubber bridge (baritone)
Oahu acoustic
Partscaster Tele assembled from a Squier body, anonymous neck, and higher-end electronics
1980s Fender Stratocaster
B&D 1920s tenor banjo
Amps
1965 Fender Princeton
1967 Fender Champ
Pedals
ZVEX Super Duper 2-In-1
Strymon Deco
Electro-Harmonix Micro Synth
Strings & Picks
Heavy picks, any brand
.013 gauge strings, any brandFlatwound strings on the baritone that came with the instrument
"That slack vibe has been blowing my mind on guitar," he says. "It's like a whole new effect that I just never got into." Initially, tuning down was a way for McMicken to sing in lower keys without changing chord shapes. But then he discovered "that the tones of the guitar are so nice with that slack. You have to be more delicate—you can't wail away on it—but if you exist in a certain parameter of articulation and velocity with your right hand, you can be very dynamic. Of course, it can also fart out and die if you hit it too hard. But even that feels like an asset to me, because as a guitarist, I am evolving my style and working towards playing more mindfully."
"I texted Jeff Tweedy, and he said something like, 'Songs just fall right out of those things,' and he's so right. There's something so unique about the way they sound when you do something basic, like strum a C chord."
That feel contributes much to his newfound guitar aesthetic, which is a sloppier, noisier take on the instrument—whether he's actually playing it on Shabang, or is simply drawn to those sounds as a bandleader. But the style isn't irreverent. "I never identified with the heroic nature of the electric guitar, and I was always drawn to the people who were much more sloppy about it," he says. "That's the ethos I've been living in for so many years now. But in the last few years it's shifted, and I've woken up to the fact that the electric guitar is beautifully dynamic and expressive, and I can see that when I try to connect to it on a personal level—not just view it as this utilitarian device to execute rock in, but actually feel it and put myself into it."
There's a freewheeling sensibility all over Shabang that seems to stem from the songwriter's approach. The band was assembled by the album's producer, Nick Kinsey, and McMicken only met everyone when it was time to record. (In addition to the songwriter and producer, there are another 13 musicians on Shabang.) "There were no rehearsals," says McMicken. "It was, 'Hello, what's your name? My name is Scott,' moments before turning the mics on." This laidback, organic vibe, with an emphasis on spontaneous group improvisation—and a dedication to keeping the recordings as live as possible—brought out an expressive dynamism McMicken has been searching for in his music.
Even though, for the most part, he isn't playing the guitar parts, the vibe is obvious. "I am in hot pursuit of developing more of an immediate relationship with the process of recording music," he says. "Being more in the moment, and getting as close as you can to recording a 'live' finished product with minimal overdubbing. Nick chose the musicians based on different experiences he's had with them, and I trust him deeply so it was easy for me to say, 'You pick the players, and I am sure it is going to rule.' And it did. I met so many wonderful people."
YouTube It
Scott McMicken leads his Ever-Expanding collective with his Reuben Cox-modded acoustic. The band's live take on "Reconcile" could fit neatly alongside any track from The Basement Tapes.