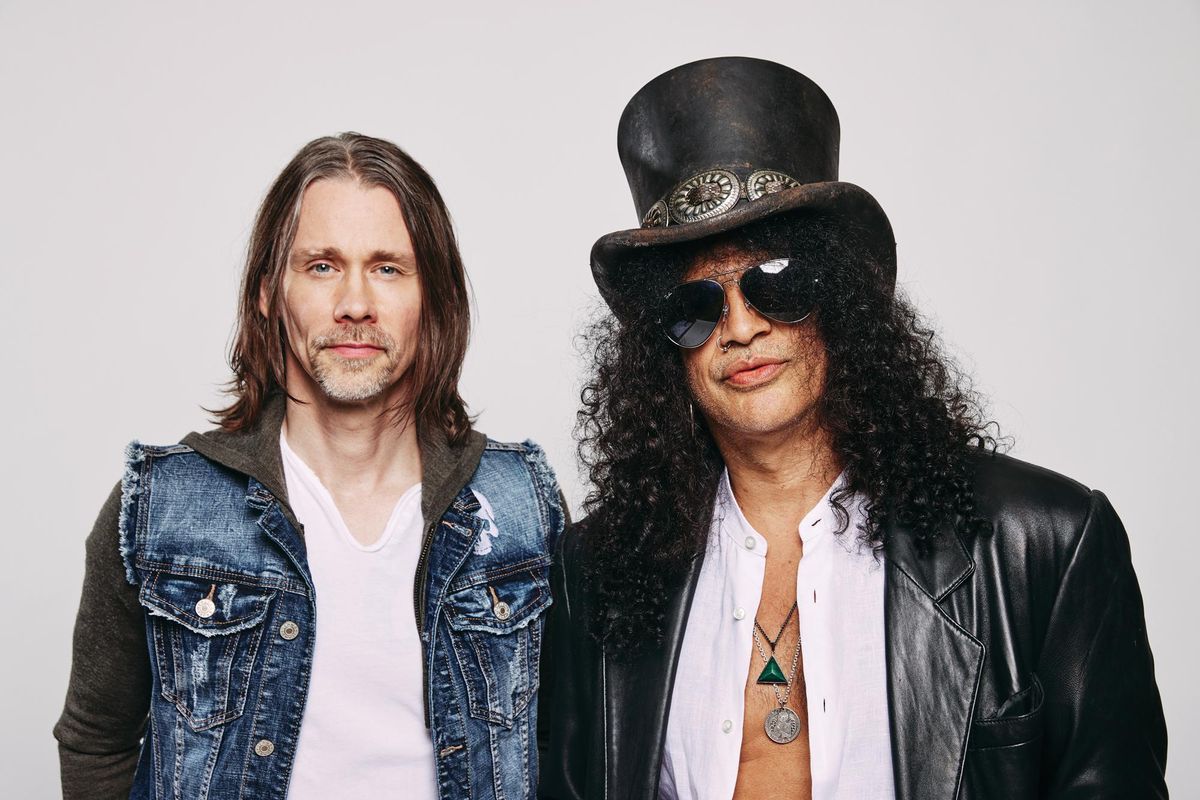 Photo by Andrew Nelson Photography
Despite almost the entire band getting Covid while recording in Nashville, Slash featuring Myles Kennedy and the Conspirators refused to be stopped. The result, 4, is their best album to date.
When you think of Slash (born Saul Hudson), several things immediately come to mind. There's his signature top hat, his flowing curly locks, his killer solos and bluesy riffs, and, of course, the Les Paul—the iconic axe that's been by his side since the mid '80s when he broke ground on Guns N' Roses' Appetite for Destruction with timeless classics like "Sweet Child o' Mine" and "Welcome to the Jungle." There's some controversy surrounding the actual guitar used on that album, with speculation that it wasn't actually a Gibson but rather a replica made by luthier Kris Derrig. No matter the origin of that guitar, Slash popularized the Les Paul at the time when pointy-headed super strats ruled the world.
---
In fact, he single-handedly brought the Les Paul back into vogue, and rare models began fetching unheard of sums. With supergroup Velvet Revolver and his solo project, Slash featuring Myles Kennedy and the Conspirators, the Les Paul has remained Slash's inseparable partner-in-crime. Gibson named Slash their global brand ambassador and has collaborated with him on 17 signature Les Pauls since 1997. So, it's not surprising that when Gibson Records launched, Slash was the first artist they contacted.
The new album from Slash featuring Myles Kennedy and the Conspirators, 4, is Gibson Records' inaugural release. It features Todd Kerns on bass, Brent Fitz on drums, Frank Sidoris on rhythm guitar, and Kennedy on vocals. Kennedy is also known as the lead singer for Alter Bridge. It's less common knowledge that Kennedy is a monster guitarist with a degree in jazz studies and commercial music. In his formative years, Kennedy led Cosmic Dust, a fusion band that was the vehicle for his Frank Gambale meets Mike Stern pyrotechnics. Kennedy doesn't play guitar on 4, but when they're on tour, to avoid straining his voice, Kennedy locks himself in the hotel room and sheds endlessly.

Slash ft. Myles Kennedy and The Conspirators - The River Is Rising (Official Music Video)
Spirit Animals
The songwriting process for 4 began during the Living the Dream tour in 2019 in the dead time before and after shows. "It's not a rule but I always write stuff for the next record while we're on the road with the previous," says Slash. "A lot of this new record was initiated in that process. In dressing rooms before the show, on the bus sometimes—though usually not on the bus because everybody is all over the place—and definitely in the hotel rooms. Because I never really go anywhere. I just stay in my room. I record stuff onto my phone—the cat's out of the bag [laughs]. When I bring something to soundcheck and the band starts to jam on an idea, I record from the board."
Slash is a self-taught zookeeper and has housed and cared for countless wild animals, so it makes sense that animals served as inspirations for some of the songs on 4. He got his first pet rat, a black-and-white creature named Mickey, from disco/funk legend Sly Stone. One of Slash's anacondas, Sam, resides at the Nashville Zoo, and whenever Slash is in town, he'll go visit him. Once, Slash snuck his mountain lion, Curtis, into the opulent Four Seasons hotel after the Northridge earthquake displaced him.
Given that history, it's fitting that the album closer, "Fall Back to Earth," began while Slash was on safari in South Africa at Kruger National Park, inspired by the sounds of monkeys and hippos he heard in the nighttime as he looked up at the stars in the majestic sky. "I took my guitar to the park, yes [laughs]," says Slash. "I just came up with this melody, which was the main theme of 'Fall Back to Earth,' and I stuck with that. I loved it because it came from a place of inspiration because of the environment that I was in."
"For me, as a sort of semi-insecure guitar player, there are things that I did want to go back and fix, but Dave was like, 'Come on, man.' I was like, 'I know, I know.'" —Slash
Kennedy, a self-proclaimed softie, also took inspiration from an animal. He wrote "Fill My World" from the imagined viewpoint of his Shih Tzu, Mozart. "It was a few years ago and I was on tour. My wife had come out to see me, and we were both trying to get home. We have a little dog named Mozart and he usually stays with friends or a dog sitter. They dropped him off thinking we'd be back in an hour or two. Unfortunately, a storm rolled in, so we basically got stuck. As the storm hit, we were freaking out because we were watching on the cameras. He was at the house by himself and the thunder and the lightning—which the dogs just hate—were just scaring the hell out of him. You could see it. It was kind of heartbreaking so I thought it would be interesting to write a song from his perspective. What might have been going through his head at that point." At one point in the song, an audible crack in Kennedy's voice can be heard.

Enter Dave Cobb
After the songs were written, it was time to make studio arrangements. "I talked to a couple of trusted executives in the industry that I know, and I said, 'I'm looking for a good rock 'n' roll producer,'" recalls Slash. "And, of course, the list was very short. I had four guys to look at. Two of them were interesting, two of them were, no."
Grammy-winning producer Dave Cobb easily got the gig. "We just talked about records we loved," recalls Cobb. "We talked about how records used to be made where you came into the room and recorded to tape with no separation and played as if you were a band playing live instead of making it a big procedure. And that's how we hit it off. I remember growing up and learning how to play guitar, and Slash was huge to me. I was a little nervous to talk to him."
TIDBIT: Slash and his band, Myles Kennedy and the Conspirators, recorded 4 at Nashville's iconic RCA Studio A. Dave Cobb produced the album, which is also the inaugural release for Gibson Records.
"He wanted to record a rock band live in the studio and I wanted to be a rock band that recorded live in the studio, so we hit it off right away," says Slash. The band set up at Nashville's RCA Studio A, a legendary space that Chet Atkins' built where every country music luminary from Dolly Parton to Waylon Jennings has recorded. "The vibe in that place is so inspiring, I have to say … everybody's recorded there," says Slash. "Steve Cropper's got an office upstairs. I never got to meet him but just the fact that he was in the building was just so cool."
Guitars, bass, and drums were recorded live in one room, and Kennedy did his vocals live in an adjacent booth. Everyone was at ease, just rockin' out, which made for a particularly stellar vocal performance from Kennedy. "I thought I was just laying down vocals for scratch tracks. I thought I was just helping guide the band, so they know, 'Okay we're on the verse, or we're on the chorus.' Then I assumed that in a week or so we'd go in, and I'd re-cut the vocal," says Kennedy. "But Dave was happy with them. That's the way they get a singer to relax—tell him it's just a scratch track (laughs)."
Cobb's ability to embrace the moment also relaxed Slash's usual quest for perfection. "For me, as a sort of semi-insecure guitar player, there are things that I did want to go back and fix, but Dave was like, 'Come on, man.' I was like, 'I know, I know,'" Slash says.
Slash's Gear on '4'
One of the most expressive combos of all-time: Slash and his inseparable Les Paul. He wrote one of the songs from 4 while at a game park in Africa. "I took my guitar to the park, yes," he says with a laugh.
Photo by Annie Atlasman
Guitars
Gibson '59 reissue Les Paul (2)
Gibson '68 reissue Les Paul Custom
Gibson '69 reissue Flying V
Kris Derrig Les Paul replica (1986)
Most of Slash's guitars are outfitted with his signature Seymour Duncan APH-2 Alnico II Pro Slash humbuckers
Strings & Picks

Ernie Ball Slash Signature (.011–.048)
Dunlop custom picks 1.14 mm
Amps
Marshall Silver Jubilee 2555 JCM Slash Signature 100-watt head
1960 Marshall 4x12 cabinet loaded with Celestion Vintage 30s
Effects
MXR EVH Phase 90
MXR CAE Boost/Overdrive
Dunlop Heil Talk Box
Hammond Leslie
Hughes & Kettner Tube Rotosphere
Dangerous Times
When Slash was in Guns N' Roses, they were called "The Most Dangerous Band in the World" because of their hedonistic excesses. Now, older and wiser, Slash isn't quite as carefree. For the recording session, to avoid public exposure and reduce the chance of getting Covid, the band hired a tour bus to bring them from Vegas to Nashville.
The bus first picked up Slash in L.A. and brought him to Vegas, where most of the other band members live. Myles drove into Vegas from Washington. Upon arriving in Sin City, they met up at a clinic, and after all testing negative, got on the bus and headed to Nashville. After a night's rest, they got straight to business the next morning. At a breakneck rate of two songs per day, 90 percent of the record was done in five days. And then on the sixth day, when Slash was gearing up for some guitar overdubs, he got an unexpected call from Kennedy.
"He called me on my cell phone, which was odd to begin with," recalls Slash. "Then he said that he had tested positive. Because we had to do regular testing, I was like, 'Oh fuck.' I couldn't understand how that could possibly have happened because we hadn't gone anywhere. Consequently, Brent, Todd, and one of the engineers at the studio were positive as well."
Slash is synonymous with vintage Les Paul guitars and has collaborated on 17 signature models since 1997. Here he's playing a '59 reissue at the Fillmore Detroit with Myles Kennedy in 2015.
Photo by Ken Settle
Kennedy was also baffled. "The first time we tested was like three days before we got there and the next time we tested was the morning we walked into the studio. Everybody was fine and I was fine," Kennedy recalls. "Then about 24 hours later I started to notice some strange symptoms. I thought they were allergies initially and, especially since I just tested, I thought, 'There's no way it's Covid.' But unfortunately, as the symptoms continued to evolve, I realized it was something a little more serious."
Everyone had to go into quarantine, but that didn't mean the music making had to stop. "I started to do what little guitar overdubs I had—I had some harmonies, and some sitar parts," says Slash. "Then two days later I tested positive. It was inevitable because we were all living in the same house and sharing a communal kitchen. The house was now effectively called 'Covid Manor.'" Only Sidoris avoided getting Covid.
Luckily, the setup of their accommodations made it possible to quarantine and still be productive. "It was perfect," says Kennedy. "I had a little separate house outside the house. I think it was like a pool house or something. I ended up recording Todd's vocals because Todd ended up getting sick as well. He would come out during the day, and I would set up my DAW and we would do the backing vocals."
"Spirit Love," "Whatever Gets You By," and "Fall Back to Earth" were all finished in the pool house, and then the files were sent to Cobb.
"Seeing him actually in the studio, it was a 'Holy Shit' level of guitar playing. I knew he was incredible, and I knew he was a legend, but he's way better than that when you see him in person." —Dave Cobb
Speaking of rock bands and pool houses, one might wonder what Airbnb owner in their right mind would rent a property to a bunch of rock stars just unshackled from the Covid lockdowns. Kennedy agrees that any sense of trepidation would be justified, citing a legendary pool-scene interview featuring W.A.S.P. guitarist, Chris Holmes. "Oh yeah, if you saw The Decline of Western Civilization Part II: The Metal Years you would definitely be cautious, because that's the infamous Chris Holmes scene right there [laughs]. That's a great moment though. I've watched that countless times. It's very rock 'n' roll."
Dumble Destiny
Cobb's gear inventory is impressive, and during the sessions Slash crossed paths with a true bucket-list item. "It was the first time I consciously knew I was playing through a Dumble amp. I've been hearing that name forever, but I didn't know what it was," admits Slash. "[Cobb] introduced me to a Fender that Dumble had customized, and it sounds fuckin' amazing. I didn't actually record anything with it, but it just sounded really good."
Cobb recalls, "You know, Slash sounds good through a lot of things. He sounded great through that Dumble. When he plugged into it, it sounded like Slash—rock 'n' roll, over the top, classic. It sounded like a great rock 'n' roll amp when he played through it."
Sadly, Alexander Dumble passed away in January, a few weeks after this PG interview with Slash took place. It seems almost like fate that their worlds collided shortly before Dumble's passing. Slash commissioned Dumble to build him an amp, which may be one of the last projects the famed builder completed. "I got in touch with Alex after the session and he actually did a Fender for me," Slash says. "It sounds really great. He's not easy to get in touch with or to get him to do something, it became very apparent. So it was an honor to have him do something for me. But I didn't know the history before. There was some discrepancy over the cost of it for a second, but he and I got to be good friends as a result of that. I didn't know how much it cost, I thought five meant five-hundred bucks [laughs]."
Photo by Annie Atlasman
While Slash enjoys his Dumble amp—the new discovery—he stuck to a tried-and-true formula for 4. His iconic Marshall Silver Jubilee 100-watt heads into a 4x12 straight cabinet with Celestion Vintage 30s was the rig of choice.
For guitars, Slash had his staples at the ready. "I used my Kris Derrig replica, which is like my go-to guitar for recording," he says. "But I also used a '69 reissue Flying V, which I got last Christmas, that sounds great on a couple songs. I used two '59 reissues, one apiece on two different songs, a '68 Custom reissue on one song, and that was basically the setup."
As Cobb put it, it doesn't really matter what the gear is: Slash is going to sound like Slash. "Slash's tone—the way he plays through a Silver Jubilee—is the ideal tone for Slash, you know what I mean?
"I'll tell you what's really cool. I know from being a fan, how good he is as a guitar player, and as a writer, and all of that," Cobb continues. "But seeing him actually in the studio, it was a 'Holy Shit' level of guitar playing. I knew he was incredible, and I knew he was a legend, but he's way better than that when you see him in person. I mean the solos on the record are live and he's going for it, and it came out so classic and timeless. And his playing has so much feel and heart and soul. I didn't realize how much better he is than I even thought he was. That was probably the biggest revelation. When he plugs in, it's like, "I know why he's Slash." I was in the room with the engineer and the assistant in the control room, and we were all like, 'Holy shit. This is way bigger and better than we even thought it was going to be.'"
Slash ft.Myles Kennedy & The Conspirators - Anastasia | Live in Sydney
For these new recreations, Fender focuses on the little things that make original golden-era Fenders objects of obsession.
If there's one thing players love more than new guitars, it's old guitars—the unique feel, the design idiosyncrasies, the quirks in finish that all came from the pre-CNC era of instrument manufacturing. These characteristics become the stuff of legend, passed on through the years via rumors and anecdotes in shops, forums, and community networks.
It's a little difficult to separate fact from fiction given these guitars aren't easy to get your hands on. Fender Telecasters manufactured in the 1950s and 1960s sell for upwards of $20,000. But old is about to become new again. Fender's American Vintage II series features 12 year-specific electric guitar and bass models from over two decades, spanning 1951 to 1977, that replicate most specs on their original counterparts, but are produced with modern technologies that ensure uniform build and feel.
Chronologically, the series begins and ends, fittingly, with the Telecaster—starting with the butterscotch blonde, blackguard 1951 Telecaster (built with an ash body, one-piece U-shaped maple neck, and 7.25" radius fretboard) and ending with the 1977 Telecaster Custom, which features a C-shaped neck, a CuNiFe magnet-based Wide Range humbucker in the neck position, and a single-coil at the bridge. The rest of the series spans the highlights of Fender's repertoire: the 1954 Precision Bass, 1957 Stratocaster in ash or alder, 1960 Precision Bass, 1961 Stratocaster, 1963 Telecaster, 1966 Jazz Bass, 1966 Jazzmaster, 1972 Tele Thinline, 1973 Strat, and 1975 Telecaster Deluxe. The 1951 Telecaster, 1957 Strat, 1961 Strat, and 1966 Jazz Bass will also be offered as left-handed models. Street prices run from $2,099 to $2,399.
Fender '72 American Vintage II Telecaster Thinline Demo | First Look
Spec'd To Please
Every guitar in the series sports the era's 7.25" radius fretboard, a mostly abandoned spec found on Custom Shop instruments—Mexico-made Vintera models, and Fender's Artist Series guitars like the Jimmy Page, Jason Isbell, and Albert Hammond Jr. models. Most modern Fenders feature a 9.5" radius, while radii on Gibsons reach upwards of 12". Videos experimenting with the 7.25" radius' playability pull in tens of thousands of viewers, suggesting both a modern fascination with and a lack of exposure to the radius among some younger and less experienced players.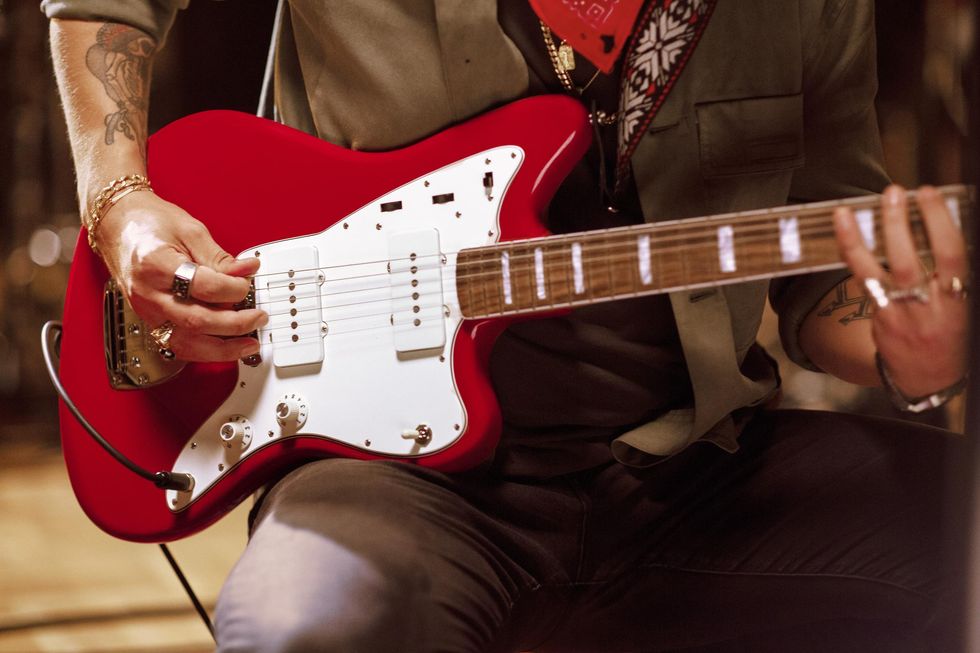 T.J. Osborne of the Brothers Osborne picks an American Vintage II 1966 Jazzmaster in Dakota red.
Bringing back the polarizing 7.25" radius across the entire series is a gamble, and it's been nearly five years since Fender released year-specific models. But Fender executive vice president Justin Norvell says that two years ago when the Fender brain trust was conceptualizing the American Vintage II line, they decided the time was right to "go back to the well."
"We've been doing the same [models], the same years, over and over again for 30 years," says Norvell. "We really wanted to change the line and expand it into some new things that we hadn't done before and pick some different years that we thought were cool."
"It takes a lot of doing to go back in time and sort of uncover the secret-sauce recipes."—Steve Thomas, Fender
To decide on which years to produce, Fender drew from what Norvell calls a "huge cauldron of information" from Custom Shop master builders to collectors with vintage models to former employees from the 1950s and 1960s. The hands-on manufacturing of Fender's golden years meant guitars produced within the same year would have marked differences in design and finish. So, the team had to procure multiple versions of the same year's guitar to decide which models to replicate. Norvell says some purists would advocate for the "cleanest, most down-the-middle kind of variant," while others would push for more esoteric and rare versions. Norvell says that ultimately, the team picked the models that they felt best represented "the throughline of history on our platforms."
Simple and agile, the Fender Precision Bass—here in its new American Vintage II '54 incarnation—earned its reputation in the hands of Bill Black, James Jamerson, Donald "Duck" Dunn, and other foundational players.
Norvell says the American Vintage II series was developed, in part, in response to calls to reproduce vintage guitars. Just like with classic cars, he says, people are passionate about year-specific guitars. Plus, American Vintage II fits perfectly with the pandemic-stoked yearning for bygone times. "For some people, these specific years are representative of experiences they had when they were first playing guitar, or a favorite artist that played guitars from these eras," says Norvell. "These are touchstones for those stories, and that makes them very desirable."
Cracking Codes
Fender's electric guitar research and design team, led by director Steve Thomas, dug through the company's archive of original drawings and designs—dating all the way back to Leo Fender's original shop in Fullerton, California. They found detailed notes, including some documenting body woods that changed mid-year on certain models. Halfway through 1956, for example, Stratocaster bodies switched from ash to alder. That meant the American Vintage II 1957 Stratocaster needed to be alder, too. That, in turn, meant ensuring enough alder was on hand to fulfill production needs.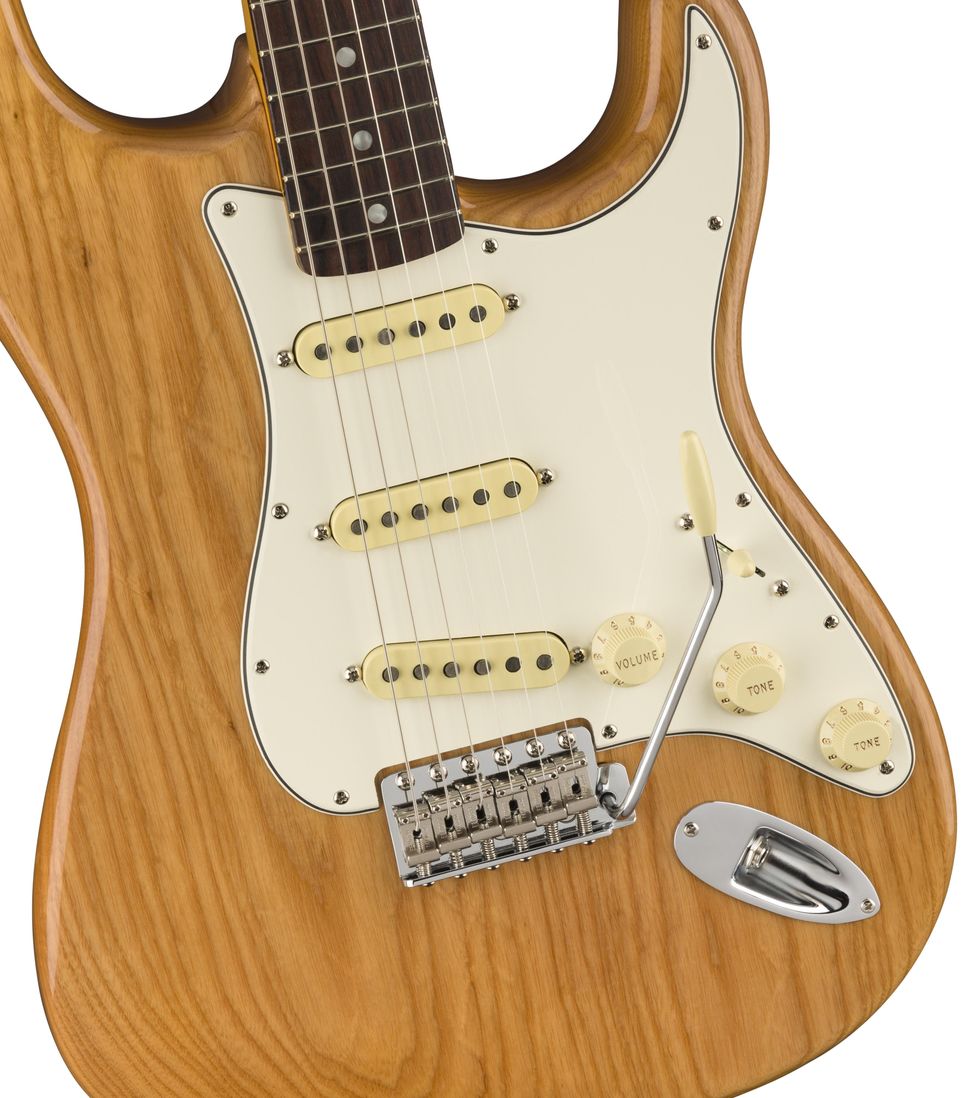 Among the series' Stratocaster recreations is this 1973-style instrument, with an ash body, maple C-profile neck, rosewood fretboard, and the company's Pure Vintage single-coils.
Thomas and his team discovered another piece of the production puzzle when researching how pickups for that same 1957 Strat were made. "We realized that if we incorporated a little bit more pinch control on the winders, we could more effectively mimic the way pickups would have been hand-wound in the '50s," says Thomas. "It takes a lot of doing to go back in time and sort of uncover the secret-sauce recipes."
Thomas proudly calls the guitars "some of the best instruments we've ever made here in the Fender plant," pointing to the level of detail put into design features, including more delicate lacquer finishes which take longer to cure and dry, and vintage-correct tweed cases for some guitars. New pickups were incorporated in the series, like a reworking of Seth Lover's famed CuNiFe Wide Range humbuckers, which were discontinued around 1981. Even more minute details, like the width of 12th fret dots and the material used for them, were labored over. Three different models in the line feature clay dot inlays at unique, year-specific spacings.
Ironically, modern CNC manufacturing now makes these design quirks consistent features in mass-produced instruments. While the hand-crafted guitars from the '50s and '60s varied a lot from instrument to instrument. "Everything needs to be located perfectly, and it wasn't necessarily back in the day," says Norvell. "Now, it can be."
Don't Look Back
With this new series so firmly planted in the rose-tinted past, Fender does run the risk of netting only vintage-obsessed players. But Norvell says the team, despite being sticklers for period-correct detail, sought to strike a balance between vintage specs, practicality, and playability. The 1957 Stratocaster, for example, has a 5-way switch rather than the original's 3-way switch. Norvell also asserts that the "ergonomic" old-school radius feels great when chording. "It might not be [right for] a shred machine, but it feels great and effortless."

The 1966 Jazz Bass is also represented, shown here in a left-handed version.
Norvell also pushes back on the notion that Fender is playing it safe by indulging nostalgia and leaning on their past successes. He says that while the vintage models are some of the most desirable on the market, the team "purposely did not stick to the safe bets," citing unusual year models like the 1954 P Bass and the 1973 Stratocaster.
There's a good reason why anything that hails back to "the good ol' days" hits home with every generation. We're constantly plagued by a belief that what came before is better than what we've got now. But with the American Vintage II series, Fender makes the case that guitars from the '50s, '60s, and '70s can very easily be a relevant part of the 2020s.
The Sunn O))) Life Pedal circuit has been meticulously tweaked from the original and includes a third footswitch.
Sunn O))) present an enhanced version of the Sunn O))) Life Pedal Octave Distortion + Booster, in collaboration with their comrades at EarthQuaker Devices. The Sunn O))) Life Pedal circuit has been meticulously tweaked from the original to squeeze every last drop of heavy crushing tone available. The octave section has been fine tuned to make it more pronounced without losing the bottom end and we added a third footswitch, utilizing Flexi-Switch Technology, for the octave to allow an additional method of quick and radical tone shaping.

"Working on this new version has been a great continuity of this collaboration which feels so right, and sounds so right," says Stephen O'Malley. "It's a really beautiful pedal and it's also a beautiful art collaboration. I think we made something really interesting that people can enjoy to use for their own music, but also, it makes a lot of sense to release a piece of distortion as a release for our band. We're really happy that this is a trilogy now."

The Sunn O))) Life Pedal is designed to represent the core front end chain used in those sessions, to drive the tubes of the band's multiple vintage Sunn O))) Model T amplifiers (or take your fancy) into overload ecstasy. This is a 100w tube amp full stack's holy dream, or its apostate nightmare.
Tech Specs:
Sunn O))) Life Pedal is a distortion with a blendable analog octave up and a booster
Features 3 different clipping options: Symmetrical Silicon, Asymmetrical Silicon & LED, and pure OpAmp Drive
Distortion and booster can be used independently
Expression and footswitch control over analog octave up
Octave blend allows total control over how much Octave is mixed into the circuit
True bypass with silent relay based soft touch switches
Features EarthQuaker Devices' proprietary Flexi-Switch® Technology
Lifetime warranty
Current Draw: 15 mA
Octave Distortion: Input impedance: 1 MΩ / Output impedance: <1 kΩ
Booster: Input Impedance: 500 kΩ / Output Impedance: <1 kΩ
List Price: $299 USD
Sunn O))) Life Pedal Guitar Demo
Module 4 was designed to be a highly versatile take on a classic vintage compressor - Dan Armstrong's Orange Squeezer from the '70s.
The Module 4 can be transformed to a standard 'Full Frequency' range compressor by pushing the Orange button. Basically, the user gets two compression flavors and they are easily distinguishable. Orange brings a warm, vintage sound and feel while 'Full Frequency range' brings a more modern, brighter, clearer tone. The pedal is equipped with several colorful, and practical options, all packed into the new DryBell enclosure line.

Features:
Output - Controls the output volume (make-up gain) of the compressor. It also acts as a high headroom and distortion-free clean Boost, thanks to the high internal power supply voltage
Tone - Controls the overall high-frequency spectrum of the unit Blend - Sets the mix of dry and compressed signals
Attack - Controls the reaction time of the compressor
Release - Controls the time before the unit releases or stops compression
Preamp - Controls the input gain of (any) instrument
ORANGE pushbutton - Enables/disables the ORANGE mode. When the ORANGE mode is off, Module 4 becomes a 'Full Frequency range' compressor
Expander - Automatically attenuates incoming background noise
Additional Features:
​

3-color compression level meter - A visual representation of gain reduction and input signal level

LOW END cut – Option to keep or remove certain low-end frequencies

True bypass or buffered bypass options

Orange button also works in buffered bypass when the pedal is turned off. In that case, the buffered bypass reacts like the Orange Squeezer's Front-end, keeping the bypass EQ very similar to the EQ when the pedal is active

Power on settings save option

Dot marks around knobs - Represent the settings of the original OrangeSqueezer

Standard power supply 9-18V DC, 100mA minimum
DryBell Module 4 is available for $315.00. The first batch of Module 4s is available exclusively from the DryBell webshop.
For more information, please visit drybell.com.
DryBell Module 4 demo (official)
The Flat Earth has minimal knob count and feed-forward compression circuitry.
The Mayfly Flat Earth uses Feed-Forward circuitry which determines the amount of compression by analyzing the signal before it's compressed. Old school compressors (you know: the Red one, the Orange one, the Grey one)use Feed-Back circuitry which looks at the signal after it's already compressed. This results in noise, pumping, and tone-loss.
Boutique pedals based on older designs try to get around these problems by adding more knobs: blend knobs, tone knobs, etc. According to Mayfly Audio, "The Flat Earth has minimal knob count to allow guitarists to get to 'wow' quicker."
Feed-forward compression circuitry: great compression that's easy to setup
No pumping or other compression artifacts
Very low noise floor, very low distortion
Level, sustain, and attack controls. That's all you need
Full bypass using relays with Fail Safe (automatically switches to bypass if the pedal loses power)
Cast aluminum enclosure with stunning artwork
MSRP $149 USD ($199 CAD) direct online
Introducing the MayFly Flat Earth Compressor