Inside Jeff Beck's New Album Listening Party
Photo by Ross Halfin
PG attended the Strat master's invitation-only event in NYC to get the skinny on his vocal-heavy, trip-hop-inspired new record.
If there's been one constant throughout Jeff Beck's illustrious career, it's been the man's willingness to heed the call of the maverick spirit and push his art and performance beyond what's expected of a guitar hero. On April 7, Premier Guitar was fortunate enough to be on hand when Beck invited a small group of journalists and assorted industry folk to join him in the hallowed space that is Electric Lady Studios' Room A to unveil and discuss his as-yet-untitled new album. The experience proved to be yet another testament to the man's thirst for progression in his expression, even as most of his peers are resting comfortably on their legacies.
The album, set to be released on July 15, is an intense, dynamic, vocally driven affair that relies heavily on the talents of an unknown young female vocalist from North London and her rhythm-guitarist partner. While Beck isn't yet divulging the names of the pair, he related how they met at a house party celebrating Queen drummer Roger Taylor's birthday.
"I asked Roger what she did and he said, 'She's a guitarist,'" Beck said. "I figured that if she's in Roger Taylor's house, she's got to be good. So we exchanged numbers and when I called her, she invited me to come see her band. I went out there and it was this small club with about eight people in it, and she and her friend—the vocalist on the album—were just kicking butt. Seriously! I was completely blown away by the sound they had. I was only after a rhythm guitarist, but I was truly blown away. The next stage was they came over to the house. The fire was going and the prosecco was flowing, and we just came up with what you hear—it just flowed out! I fed the idea and stayed with it until it was on the right course, and what you heard is just spot on for what I wanted to say."
Besides its unusual musical approach, the record has an unexpected political air that goes from the opener, "The Revolution Will Be Televised"—a massive groove-based number peppered with fire-and-brimstone blues licks—and continues on through the 11th track, "Shrine."
"The fire was going and the prosecco was flowing, and we just came up with what you hear—it just flowed out!"

"I'd been reading and reading and reading about things of international importance—horrible and otherwise—in my time off," explained Beck. "And the internet—along with whatever else it does in drawing you into frivolous stuff—the news really is in there. And that's what I got drawn into."
Pressed on more specifics, Beck remained coy, saying, "I really don't want to put too fine a point on what the album is about, because the album's lyrics are something of a challenge and a puzzle."
As for the record's guitar work, while it's every bit as challenging and emotive as anything we've heard from him, this release sees it taking something of a backseat to the songs themselves, which run the gamut from revved-up British trip-hop to the Prince-esque funk of "O.I.L. (Can't Get Enough of That Sticky)."
"I'd rather not do another guitar-nerd album," Beck said matter-of-factly. "I thought, 'If I don't change course now, I'm going to be stuck with that sort of Guitar World thing, and that's not where I come from at all—even though I've been on about 400 of their front covers! I'm not that person and I don't want to be analyzed under microscopes about how many notes I played. This project enabled to me to do what I wanted to do, and use the voice as a vehicle and sort of dance with that."
Asked how his gear differed from what he used on his last release, the legend was almost as difficult to pin down as on other specifics. "I went through every single amp I had in the house—mostly Marshalls—and they were all blown up. There was one left that worked, and the whole album was done with that head."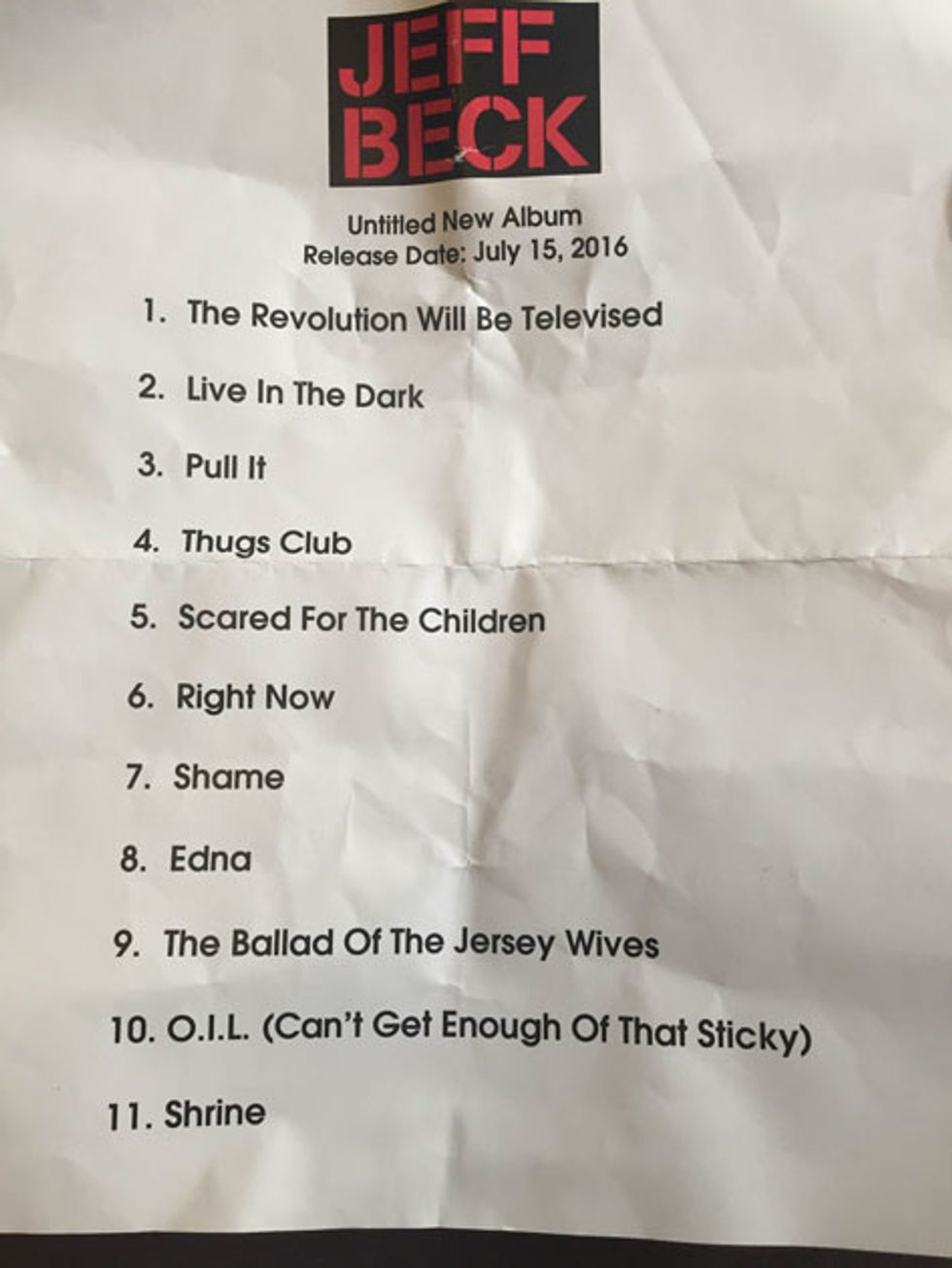 This track sheet from Jeff Beck's upcoming, vocal-heavy album was distributed to members of the press invited to a listening party in New York City on April 7, 2016.
Regardless, fans of Beck's more off-the-wall playing (like on "Trouble Man" from his 2003 album, Jeff) will revel in the lunacy of the album's third track, "Pull It"—a grimy romp of guitar madness that the Strat legend characterized as "a sick 5 minutes with a ring modulator, which is a dangerous thing." On other tracks, jaw-dropping guitar work juts in and out of instrumentation and moods that often recall Massive Attack and Portishead—a similarity that's largely due to his mysterious new vocal foil, whose voice bears an uncanny resemblance to Portishead singer Beth Gibbons' soulful, distinctly British cries.
When the throng of journalists asked about the album's sonic references to trip-hop and overall production aesthetics, Beck replied, "I've always had an ear for modern power, because digital technology enables you to get a kind of power you just can't get with the acoustic and analog stuff we used back then. But you can hear on the album that we made sure the floor would shake. It's got a lot of definition to it. I've been listening to really deep club stuff from Ibiza and stuff like that, and I thought, 'What a waste of a good drum sound—I could use that!' Most of it is real drums and real bass, just really doctored and got at, but it's all there and there are no synthesizers. I wasn't having that—they've been dominating everything lately."