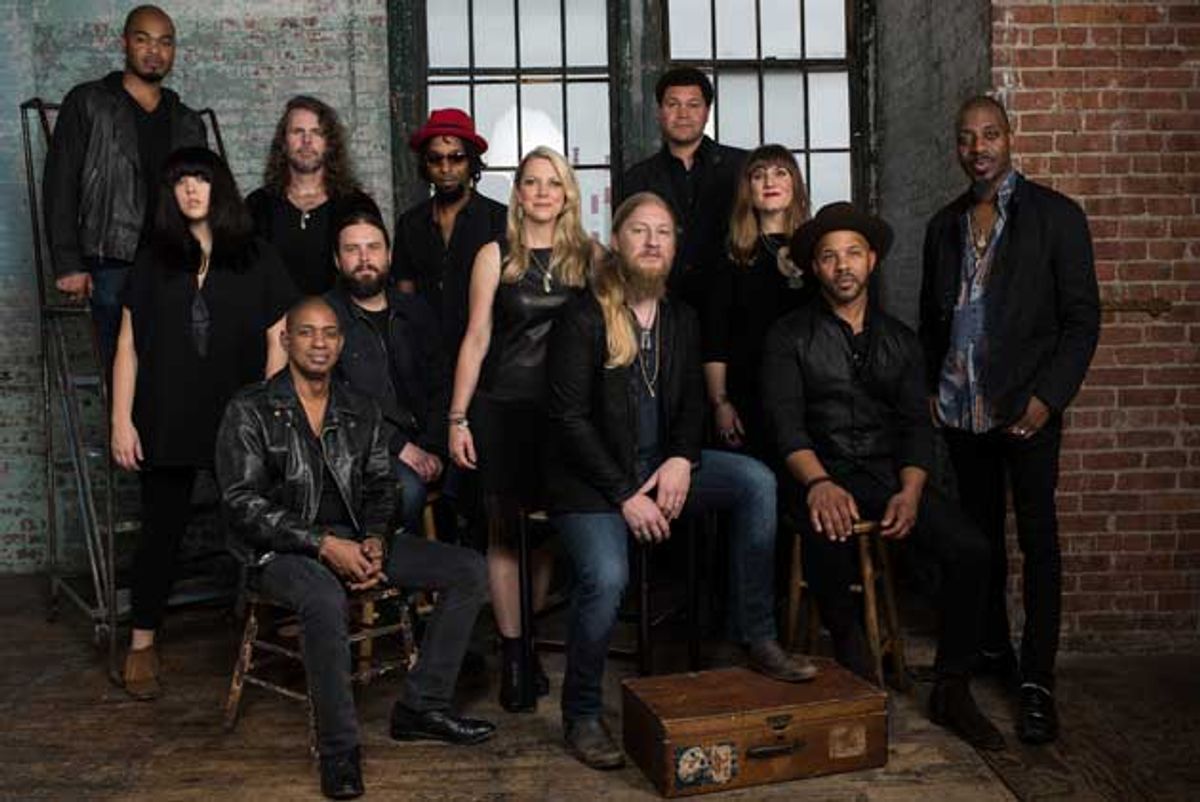 Their opening run of dates includes multiple shows in Chicago, New Orleans, Nashville, and Washington, DC.
Photo by Tab Winters (November 19, 2018) -- Today, the Grammy Award-winning Tedeschi Trucks Band, led by the husband and wife team of guitarist Derek Trucks and vocalist/guitarist Susan Tedeschi, is ready to kick-off 2019 with a return to the road and a new album. As the 12-member powerhouse prepares for its highly anticipated fourth studio release, the group's jam-packed itinerary of concert appearances continues to develop.
With TTB's fanbase increasing each year, multi-night residencies are now a mainstay of the band's tour schedule. Their opening run of dates in 2019 includes multiple shows in Chicago (4 nights), New Orleans (2 nights), Nashville (3 nights) and Washington, DC (4 nights). The spring dates will also include a return visit to Europe that will conclude with two nights in London.
Unrivaled in their blend of American soul, blues, rock and country, Tedeschi Trucks Band is renowned as one of the premier live bands in the world. Praised by the New York Times as "Soulful rock that wears its roots-music bona fides on its sleeve — performed by some of the genre's most exceptional musicians," TTB delivers supreme musicianship and an exceptional ability to explore almost any musical territory.
Fans have come to expect and embrace TTB's widely varied sets throughout each tour, the band challenging themselves to create unique nightly performances that showcase their deep catalogue. The band is eager to begin including new original material from their forthcoming album into the mix as the winter tour gets underway.
Beyond the road, the band will soon be announcing details of its next album, it's first studio release in three years. This follows their recent Grammy-nominated live album/film release, Live From the Fox Oakland (2017), and their last studio release, Let Me Get By (2016). The album is slated for release in early 2019.
Hailed as "two of the best roots rock musicians of their generation" (NPR), Tedeschi and Trucks are widely respected by both their heroes and peers. On January 12, 2019 Susan and Derek will perform in Nashville at an All Star tribute to Willie Nelson, who personally requested the couple's appearance. The celebration will also include performances by Alison Krauss, George Strait, Jack Johnson, John Mellencamp, Kris Kristofferson, Lyle Lovett, Norah Jones, Sheryl Crow, and Vince Gill.
1/17 Cedar Rapids, IA - Paramount Theatre
1/18 Chicago, IL - Chicago Theatre
1/19 Chicago, IL - Chicago Theatre
1/22 Knoxville, TN - Tennessee Theatre
1/23 Chattanooga, - TN Soldiers & Sailors Memorial Auditorium
1/25 Chicago, IL - Chicago Theatre
1/26 Chicago, IL - Chicago Theatre
1/28 New Orleans, LA - Saenger Theatre
1/29 New Orleans, LA - Saenger Theatre
1/31 Nashville, TN - Ryman Auditorium
2/1 Nashville, TN - Ryman Auditorium
2/2 Nashville, TN - Ryman Auditorium
2/15 Washington,DC - Warner Theatre
2/16 Washington, DC - Warner Theatre
2/17 Hershey, PA - Hershey Theatre
2/22 Washington, DC - Warner Theatre
2/23 Washington, DC - Warner Theatre
2/26 Philadelphia, PA - The Met
2/28 Birmingham, AL - Alabama Theatre
3/1 Augusta, GA - William B. Bell Auditorium
3/2 Asheville, NC - Thomas Wolfe Auditorium
4/2 – 4/27 – Europe/UK
For more information:
Tedeschi Trucks Band