Blackstar Releases HT Club 40 Vintage Pro and Launches ID:Core Series
The Limited Edition HT Club 40 is equipped with two ECC83 and two EL34 tubes and features two footswitchable channels
Anaheim, CA (January 23, 2014) -- – Blackstar Amplification is making available a limited number of pieces of the new HT Club 40 Vintage Pro, a customized version of their top-selling HT Club 40 tube guitar amplifier.
This 40-watt, special edition amp is covered in the same red Artisan Tolex found on Blackstar's upscale Artisan series, married with black grille cloth, for a classic boutique appearance. It offers two channels, featuring Blackstar's award-winning boutique clean tones and modern high gain distortions, all driving a 16 Ohm Celestion Vintage 30 speaker. A specially-voiced reverb is also onboard.
As with the mainline HT Club 40 models, the Limited Edition version is equipped with 2xECC83 and 2xEL34 tubes and features two footswitchable channels; Blackstar's patented Infinite Shape Feature (ISF) for infinite sound possibilities from UK to USA and in-between; master volume; and speaker emulated out.
The Blackstar HT Club 40 Vintage Pro is fitted with a "Limited Edition" badge, and will be available in April 2014 with a U.S. Street price of $799.99.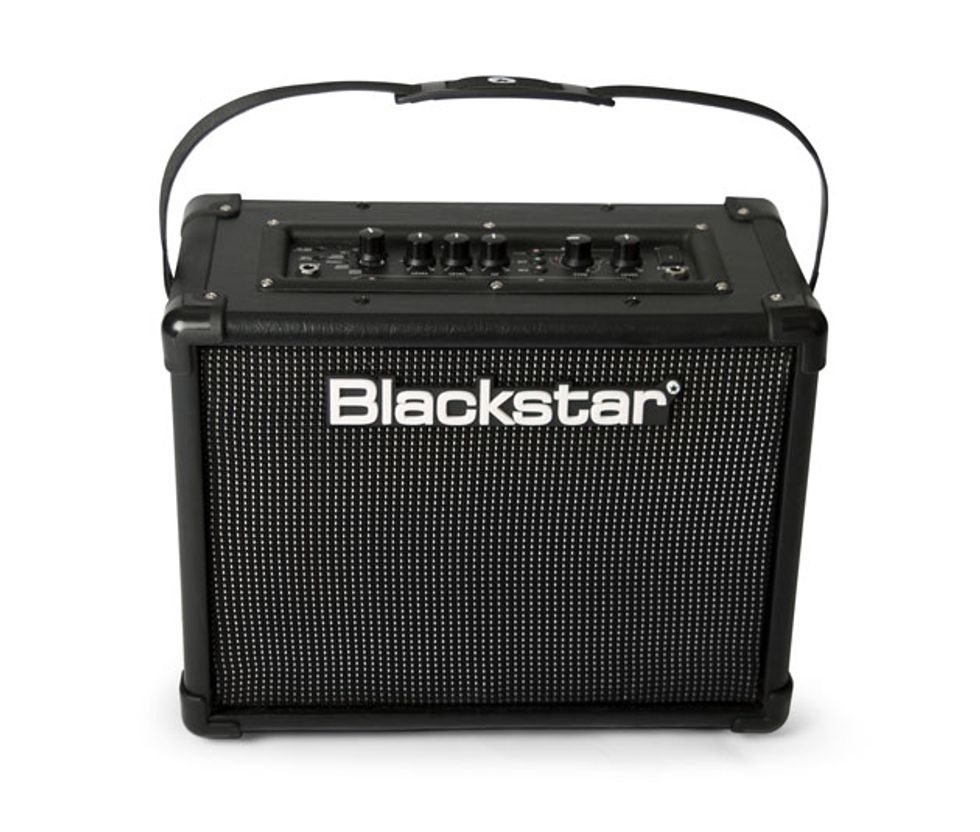 Blackstar Amplification announces the affordable ID:Core Amplifier Series, which feature the core attributes of Blackstar's original ID:Series. These programmable, wide-stereo guitar combo amps are small in size, but were designed to deliver huge tone. Well-suited for personal practice or bedroom jamming along with a CD or MP3 player, the compact ID:Core amplifiers are available in 10, 20 and 40-watt configurations.
All ID:Core models provide high-quality sound performance and take advantage of Blackstar's patented ISF control that lets users go from USA to UK tones in mere seconds. There are six onboard voices in all: Warm Clean; Bright Clean; Crunch; Super Crunch; OD1; OD2. Each includes power amplifier modeling, a staple in the Blackstar ID:Series family. The effects section delivers studio quality modulation, delay and reverb effects simultaneously that can be stored along with user-created sounds.
Taking advantage of the built-in USB functionality, all ID:Core amps are compatible with Blackstar's INSIDER GUI software, so guitarists can create deep edits and store their patches in their amp. The INSIDER software also enables users to exchange patches with others around the globe across the Blackstar online community.
The Blackstar ID:Core amp series will be available March 2014 with U.S. Street pricing as follows: ID:Core 10 - $99; ID:Core 20 - $149; ID:Core 40 - $199.
For more information:
Blackstar