Boss and Roland Announce Fall 2011 New Products
The new gear includes the FB-2 Feedbacker/Booster, BC-2 Combo Drive, RC-300 Loop Station, and R-26 Portable Recorder
Los Angeles, CA
(September 19, 2011) -- Boss and Roland introduce the FB-2 Feedbacker/Booster Pedal, BC-2 Combo Drive Compact Pedal, RC-300 Loop Station, and R-26 Portable Recorder.
FB-2 Feedbacker/Booster Pedal
Combining an adjustable tone/gain boost with the ability to kick in a natural cranked-amp feedback sound at will, the FB-2 is a unique stompbox that gives guitarists a world of new expressive possibilities.
Features:
Wide tonal variety, from flat, clean boost to powerful mid-boost and bright, clear treble boost
Boost characteristics can be changed continuously and smoothly from one knob
Responds expressively and accurately to picking nuances, even at high-boost settings
Versatile tone, simple operation, and low noise
Advanced Feedback function provides smooth and natural amp feedback
BC-2 Combo Drive Compact Pedal
Just as the ST-2 Power Stack brought the sound of a raging stack amp to pedalboards everywhere, the BC-2 now gives players classic British combo amp tone in a convenient stompbox.
Features:
Wide range of tones with a single knob—from classic crisp clean and punchy crunch to creamy overdrive with long sustain and beyond
Natural and dynamic response to picking nuance at any knob position
Provides warm combo tones and authentic combo-amp cabinet resonance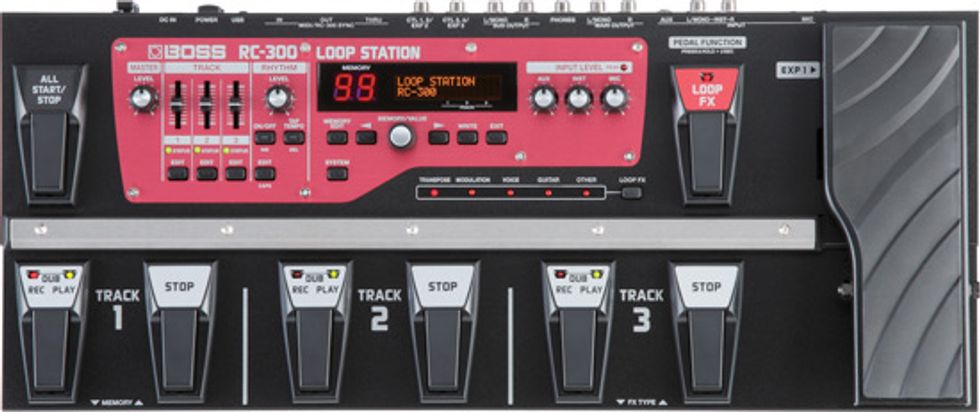 RC-300 Loop Station
Equipped with multitrack loop phrases, three hours of stereo recording time, built-in effects, enhanced real-time control options, USB, and much more, the RC-300 is a dream machine for the growing legions of instrumentalists and vocalists that incorporate live looping in their musical performances.
Features:
Three stereo tracks with dedicated footswitches and controls for each
Dedicated fader per track
Expression pedal for effects control in real time
Up to three hours of internal recording and 99 onboard memories
16 onboard effects optimized for looping
XLR Microphone input with phantom power
USB storage; import/export WAV files
R-26 Portable Recorder
The R-26 Portable Recorder is a handheld device that provides up to six simultaneous channels of pro-quality audio recording to SD/SDHC media. With two types of built-in stereo mics, XLR/TRS combo inputs, USB audio interface functionality, and much more, the compact R-26 is perfect for demanding applications such as solo and ensemble music recording, environmental sound capture, broadcasting, and audio/video production.
Features:
Two types of built-in stereo microphones (omnidirectional and directional) that can be used in various combinations
Two XLR/TRS combo inputs with 48 V phantom power, plus an input for a stereo plug-in powered mic
Supports up to six channels (three stereo channels) of simultaneous recording
Large LCD touchscreen display for intuitive navigation
Large input-level knobs for fine adjustment
Built-in Hi-Speed USB interface for use as an audio interface or external storage
Loop-Back function; combine this with the built-in or external mics for the optimum live video streaming setup (only with Audio Interface function)
Bundled with SONAR LE software (PC)
For more information:
Boss
Roland
Source: Press Release