Colby Amps Relaunches Park Amps and Unveils the Mod Machine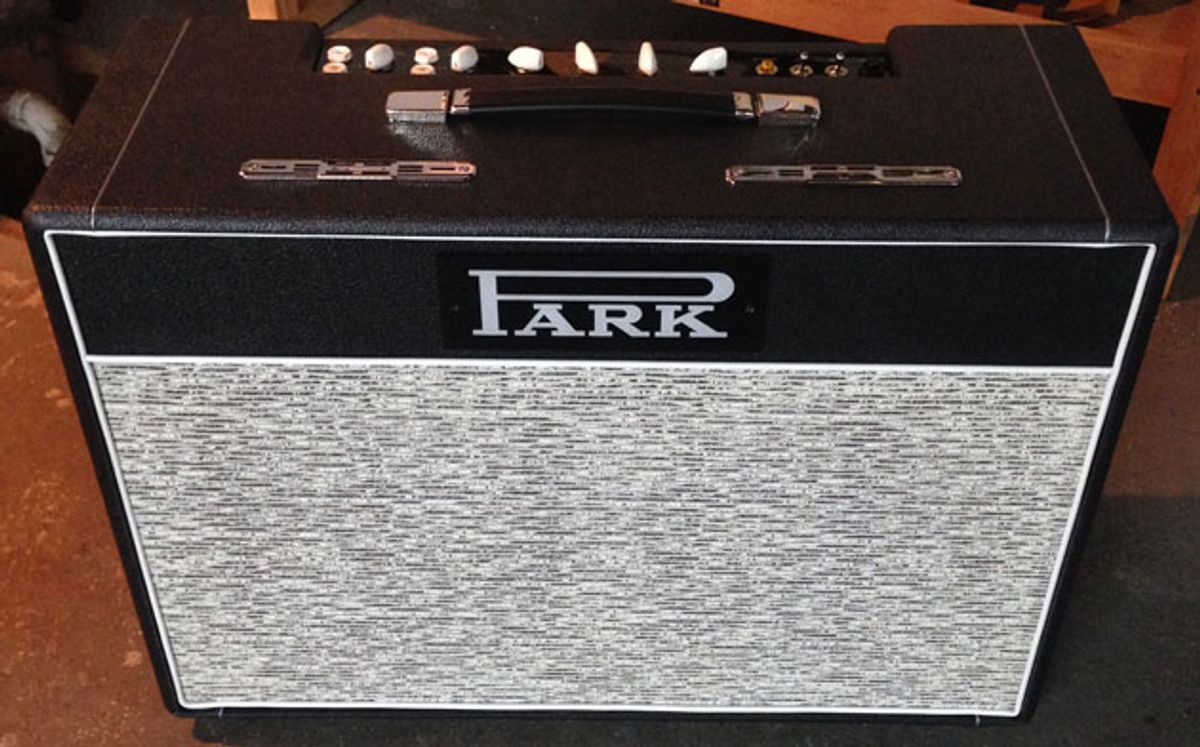 The first Park by Colby Amplification amp will be a limited edition, true-to-original, top-mount, KT66-loaded Park 45.
City Island, NY (January 20, 2014) -- Park amplifiers, legendary among both collectors and tone aficionados have been re-launched by Colby Amplification. Following on the success of Colby's award winning first product launch, the dual tone booster, Mitch Colby has recreated the very best of British amplification just as it was in the 1960s and 1970s.
Park, once an alternate brand of amplifiers made in a well known British factory, are known for their smooth clean and overdriven tones. Original Park amps were basically the same as the other "golden-era" British amps made in that same factory. The Park amps also followed the circuit evolution as the amps got louder and more aggressive through the 1970s. Park also offered unique models such as the "Rock Head" which in 1980 included cascading gain and a Post Phase Inverter Master Volume. Today, due to their rarity and magnificent tone, original Park amps are now highly collectable.
The first Park by Colby Amplification amp will be a limited edition, true-to-original, top-mount, KT66 loaded Park 45. This amp will include high quality and hard to find parts such as vintage Piher resistors and Phillips "mustard" capacitors, all affixed to a brown Paxolin board with split turrets. Merrin "clone" transformers finish off this detailed reproduction amplifier. The construction and cosmetics will be the same as the original including an aluminum chassis, laced wiring, McMurdo octal tube sockets and EC Collins reproduction pinstripe grill cloth. The limited edition Park 45 is also available as a 2x12 combo with Celestion G12M speakers. Only 25 limited edition amps (heads and combos combined) will be produced.
There will be a number of other models available at introduction including the Park 45 head and combo, Park 50 head and combo and the unique Park slant 4x12. The construction and cosmetics will be the same as the originals including "banana knobs" and offset Park block logo. These amps will feature the same topography and circuits as the originals, but unlike the limited edition models will be built with modern components.
With his 30 plus years of involvement in the amplifier business, over 40 years of playing guitar and a lifetime dedicated to tone, Mitch is uniquely qualified to bring back these highly coveted amplifiers. "It is extremely gratifying to be able to recreate the designs that are part of the history of great British amplification".
All Park amplifiers will be hand wired in New York.

Colby Mod Machine
On the heels of Colby Amplification's award winning debut amplifier, the dual tone booster, Colby Amplification introduces the Mod Machine, a powerful amplification tool for recording, club gigs, practice and touring. The Mod Machine is an all-tube, hand-wired, British style amplifier capable of multiple sounds and power amp configurations.
Starting from a full, clean sounding "JTM" circuit, the Mod Machine can morph to everything from a "Plexi" to a metal panel "Master Volume" to searing higher gain sounds. The power section includes four different modes (Pentode/Triode/Cathode/Fixed) for additional tonal options and with corresponding power ratings from 12-50 watts or 22-100 watts depending on the model. The all-tube FX loop has send and return level controls so you can connect time based pedal and rack effects for maximum tone and flexibility. The comprehensive Master section includes Pre and Post Master Volume controls as well as Presence and Hi Trim controls so you can dial in the right settings for both low and high gains sounds and achieve the sound you are looking for at any volume level.
Other significant controls are the four-way pre-emphasis, three-way Shift switch and a switchable extra gain stage (STAGE 2). STAGE 2 also reconfigures the preamp for a tonal shift to a more modern sound and has its own Gain control which in conjunction with the Emphasis and Shift switches plus dual master volumes allows the user to dial in just about everything from clean to mean to scream.
For more information:
Colby Amps