How to sit in without butting in
One of the best ways to get your name around town as a musician is to get out and play whenever you can, or sit in with other bands on the nights you're not giggin'. Personally, I have always found sitting in to be a difficult venture.

Musicians talk a lot about gear and tone. Gear starts out broad with amps, speaker cabinets, and guitars, and comes down to the very finest of details: strings, picks and even cables. They all have their place, and once you choose one it becomes a part of your personal sound. Players sometimes spend hours and hours adjusting and tweaking every point of connection, including pickups and volume pots, to get their personal sound. What works for me may not be right for you—all of these modifications are specific to us.

With all of that attention to detail in creating music, it's no wonder I never feel comfortable sitting in on someone else's rig. Don't get me wrong—it's a great honor to be asked to play in a club or bar anytime I go out. However, rarely will I find a little of my own comfort zone and have one of my own picks in my pocket.
Short of that, I'm charting open waters without a compass! I've never played through anyone else's guitar rig that sounded anything like mine. I'm not saying that mine is better or worse—it's just always different. We've all made distinctive choices on our rigs. We like our guitars set up to specific string heights with various gauges of strings. We prefer different effects pedals, and so on. I think in my entire career I've only felt good about sitting in maybe three times, and in all three of those instances I never would have expected to get anything decent out of the guitar that I had in my hand—so go figure. In spite of the gratuitous, "Man, you sounded great up there" compliments from other players and members of the audience, I generally feel it could have been better if I'd had all my own stuff and was able to give them my "personal sound."

I've been on both ends of the sit in. There have been occasions where I'm the guy with the club gig and someone is sitting in on my stuff. I'm sure they walk away thinking much the same thing: It sounded great when he was playing it, so why did it sound like I was playing with my feet when I got up there? I imagine that will never change. It's not practical to go out every night dragging a Marshall half-stack and Les Paul around with you from club to club, hoping that somebody might ask you to play a couple of tunes, so you just have to deal with the gear that they have and understand that it's probably not as bad as you think it is.

I can, however, give some advice for when you do sit in. Treat the other guy's gear with respect. I had a guy once sit in on a club date, and he started playing slide with a beer bottle. I'm sure it made the appropriate impression on his hottie gal pal, but I spent the next break cleaning sticky beer residue out of the pickups of my vintage strat. Even though you want it to sound as good as it can, any time you pick up another player's six-string, don't make any drastic changes to his setup. It's his gig. You're only gonna be up there for two songs, so don't start tweakin' knobs like you're sound-checking for a big arena gig. And finally, leave them wanting more. Don't overstay your welcome. It was great that they asked you to come up, but don't take over the stage for the rest of the night—or even the rest of the set. I actually got a couple of paying gigs doing just that. I did my two songs, I never touched a knob, and I returned that axe safely back to the guitar stand, just as if it were one of my own high-dollar guitars. On the break, the guitar's owner commented that he not only enjoyed my playing, but appreciated how much respect I showed his equipment. He then asked if I was working the following weekend because he was doing a gig across town and needed a second lead guitarist to fill out the band. So, always be a pro and try to play your best. You never know who's listening.

Keep Jammin'


---
Rich Eckhardt

Rich Eckhardt is one of the most sought after guitarists in Nashville. His ability to cover multiple styles has put him on stage with singers ranging from Steven Tyler of Aerosmith to Shania Twain. Rich is currently playing lead guitar with Toby Keith. His album Soundcheck is available now, with another due this summer.
richeckhardt.com
Looking for more great gear for the guitar player in your life (yourself included!)? Check out this year's Holiday Gear Finds!
Outlaw Effects introduces their next generation of NOMAD rechargeable battery-powered pedal boards.
Available in two sizes, NOMAD ISO is a compact, versatile tool that offers the convenience of a fully powered board plus the additional freedom of not having to plug into an outlet. NOMAD ISO is ideal for stages with limited outlet availability, quick changeovers, busking outdoors, temporary rehearsal locations, and more.
NOMAD ISO builds upon the legacy of the ultra-convenient and reliable NOMAD rechargeable pedalboard line originally launched in 2018. The brand new NOMAD ISO editions feature eight isolated outputs (1 x 9V DC, and 1 switchable 9V/12V DC) for even more versatility and clean, quiet power. With an integrated lithium-ion battery pack boasting 12800mAh capacity, NOMAD ISO can fuel a wide array of pedals, and will last over 10 hours* on a single charge.
Each NOMAD ISO pedal board includes adhesive hook & loop pedal-mounting tape, eight (8) standard DC connector cables, and one (1) reverse polarity DC cable, giving you everything you need to build your ultimate "off-the-grid" rig. A rugged, road-ready padded gig bag with shoulder strap is also included, to safely protect your gear while you're on the move.
NOMAD ISO S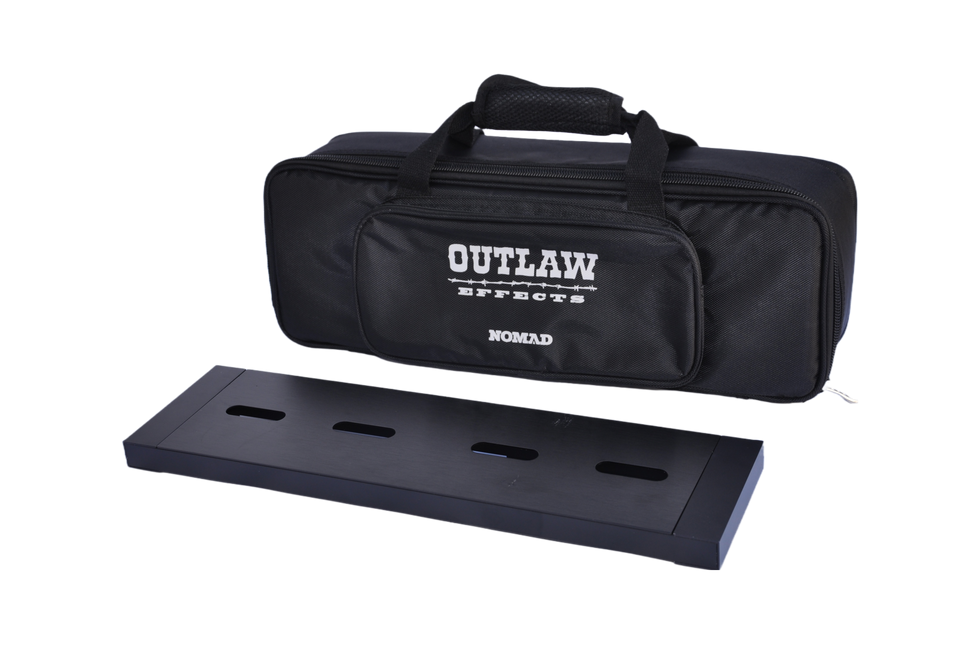 NOMAD ISO S: MSRP $309 / MAP: $249
Dimensions: 19 ¼" x 5 ¼"
NOMAD ISO M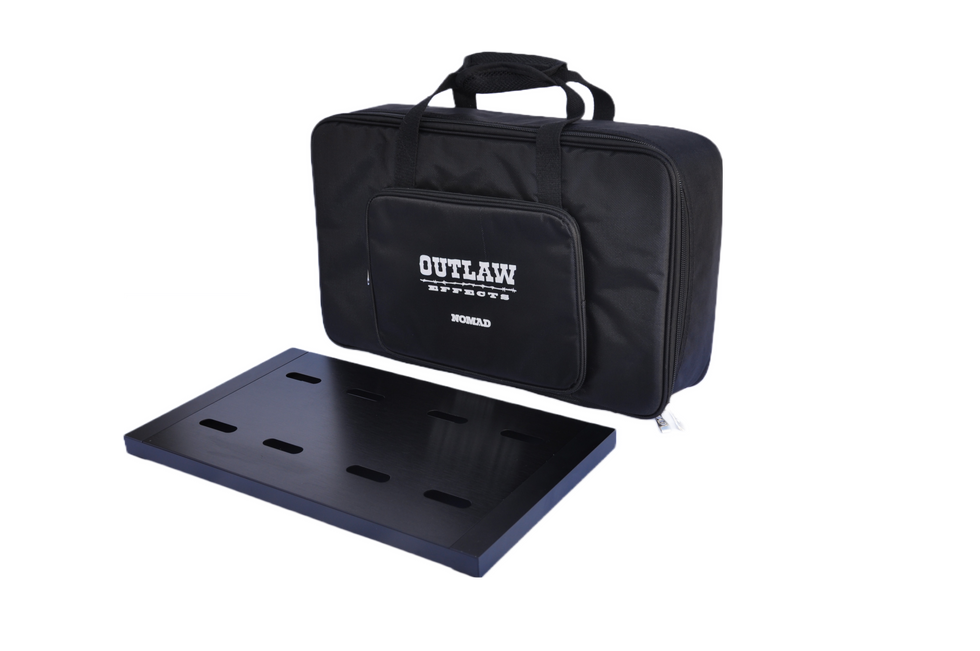 NOMAD ISO M: MSRP $349 / MAP $279
Dimensions: 19 ¼" x 11"
More info: https://www.outlawguitareffects.com.
Dunable announces new Minotaur model featuring Grover Rotomatic Keystone tuners.
The Minotaur's DNA is rooted in their classic Moonflower model, which Dunable discontinued in 2017. However, they have long since wanted to create a fresh take on a carved top guitar design, and various attempts to rework the Moonflower led them to a brand new concept with the Minotuar.
Dunable's goal is to give the player a guitar that plays fast and smooth, sounds amazing, and gives maximum physical ergonomic comfort. The Minotaur's soft and meticulous contours, simple and effective control layout, and 25.5" scale length are designed to easily meet this criteria.

Dunable Minotaur!
Features
25.5" scale length
Dual Humbucker
one volume, one tone, push pull for coil splitting
Grover Rotomatic Keystone tuners
Grover Tune O Matic bridge with brass Kluson top-mount tailpiece
jumbo nickel frets
12" fretboard radius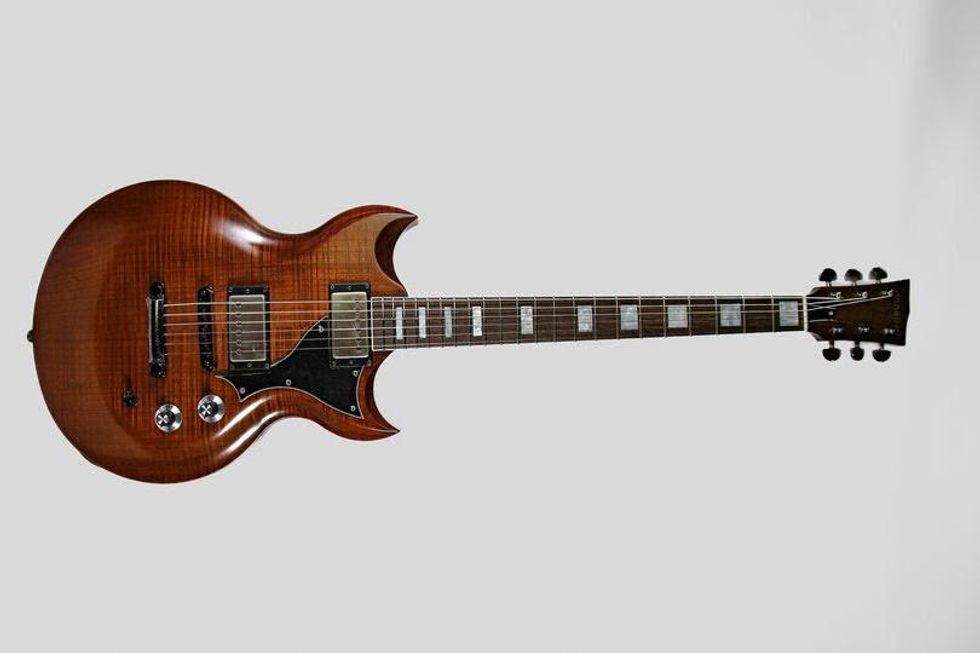 Dunable
This full-amp-stack-in-a-box pedal brings a new flavor to the Guitar Legend Tone Series of pedals, Missing Link Audio's flagship product line.
Adding to the company's line of premium-quality effects pedals, Missing Link Audio has unleashed the new AC/Overdrive pedal. This full-amp-stack-in-a-box pedal – the only Angus & Malcom all-in-one stompbox on the market – brings a new flavor to the Guitar Legend Tone Series of pedals, Missing Link Audio's flagship product line.
The AC/OD layout has three knobs to control Volume, Gain and Tone. That user-friendly format is perfect for quickly getting your ideal tone, and it also offers a ton of versatility. MLA's new AC/OD absolutely nails the Angus tone from the days of "High Voltage" to "Back in Black". You can also easily dial inMalcom with the turn of a knob. The pedal covers a broad range of sonic terrain, from boost to hot overdrive to complete tube-like saturation. The pedal is designed to leave on all the time and is very touch responsive. You can get everything from fat rhythm tones to a perfect lead tone just by using your guitar's volume knob and your right-hand attack.
Features 
Three knobs to control Volume, Gain and Tone
Die-cast aluminum cases for gig-worthy durability
Limited lifetime warranty
True bypass on/off switch
9-volt DC input
Made in the USA
MLA Pedals AC/OD - Music & Demo by A. Barrero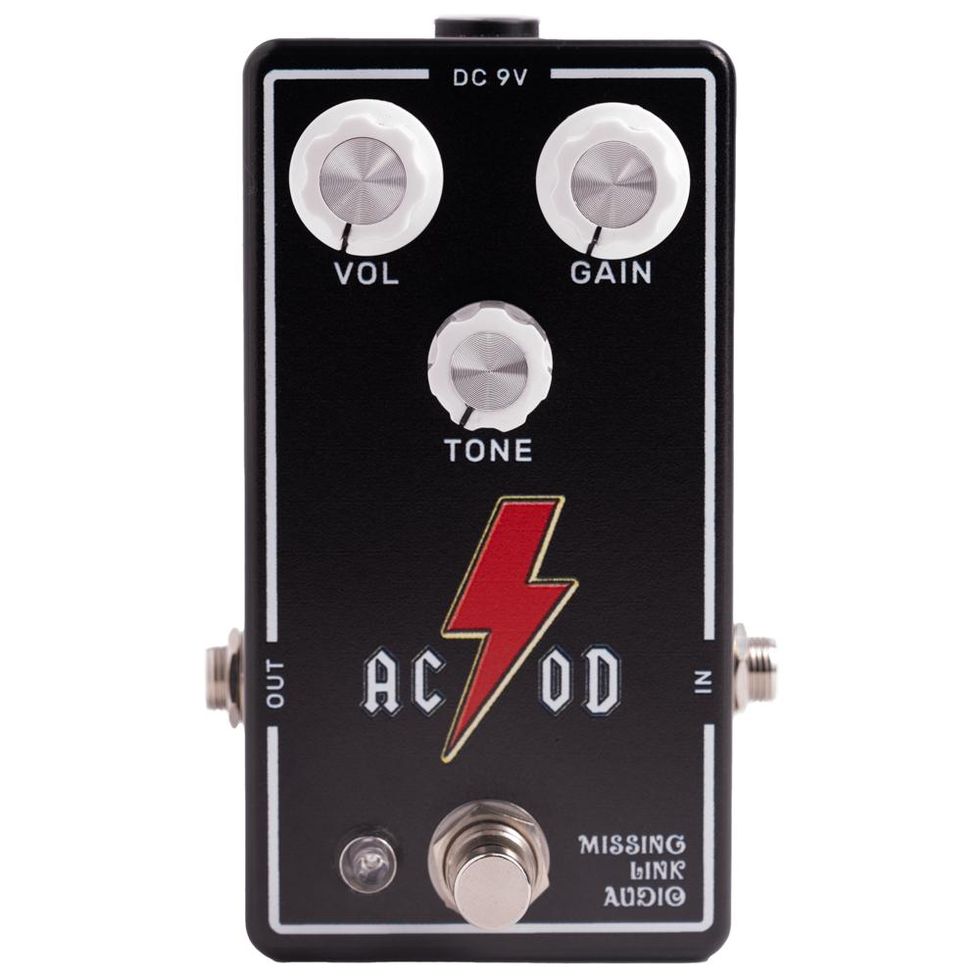 www.mlapedals.com.