The effects guru puts two historic pedals—the TS808 and the Nobels ODR-1—inside a single box, with a fresh circuit design that allows for four variations on their revered voices.
At first glance, Keeley Electronics' new Noble Screamer seems like a guitarist's dream version of a Reese's Peanut Butter Cup. This enticing morsel tastefully pairs two classic overdrive flavors, the timeless (and ubiquitous) Ibanez TS808 Tube Screamer and the best-kept-secret Nobels ODR-1.
The two circuits lurk side-by-side beneath the Noble Screamer's sleek hood, ready for action. But there's more: Keeley Electronics' founder and designer Robert Keeley provides a nifty additional twist for creating your own sonic mashups. With the Noble Screamer pedal you can link the Tube Screamer-like overdrive section—a masterpiece of soft-clipping aural bliss—with the ODR-1's thumping sonic flavors. Or conversely, you can deploy the ODR-1's hard-clipping drive with the Tube Screamer's famously midrange-forward tone circuit. Voila! Suddenly you have four pedals in one.
Beyond providing some pretty darn sweet guitar tones, the Noble Screamer also embodies a few bigger and more profound themes. It shows increased emphasis on made-in-the-USA manufacturing, a trend that extends far beyond music gear. It offers additional options for buffering and true bypass as standard equipment on a guitar pedal—highly useful even for guitarists who remain stubbornly technology averse. And it aims to reinvent a key product line from an iconic company. But let's start at the beginning…
Nailing the Right Shade of Green
"Pairing the ODR and Tube Screamer isn't just about the green color, but it sure helped," laughs Robert Keeley. "There is a rhyme and reason why I chose those two pedals for the Noble Screamer. I had never done any mods or anything based on the ODR-1, but the idea for the pedal came from this: Wouldn't it be fun to combine two green pedals? And what if I could allow you to hear what makes each pedal unique, and borrow from one to the other? I was able to choose between the Tube Screamer tone control or the ODR tone control, and do the same thing with their clipping sections. So, I built both circuits in there, so people could mix-and-match and hear what makes each pedal unique."
Keeley Electronics Noble Screamer Overdrive and Boost - Tech Demo
Keeley knew he would face heavy scrutiny in tackling the ODR-inspired circuit. Introduced in 1992, the Nobels ODR-1 has attained near-mythic status in the Nashville scene, spurred by the advocacy of session veteran Tom Bukovac. Almost singlehandedly, Bukovac—fondly known as "Uncle Larry" to his online followers—helped popularize the original ODR-1 among his Nashville friends and collaborators. And over the years, many of Nashville's heaviest hitters have made the pedal an essential part of their arsenal.
Tom Bukovac x Keeley Electronics - Noble Screamer vs Vintage ODR-1 vs Vintage TS808
"There's a constituency in Nashville, Brentwood, and Franklin that really loves this pedal," Keeley notes. "They're all friends and they're damn near family, and this pedal works so well with their music. So, one of our goals became winning over that Nashville crowd. We carefully compared this to some great examples of 808s and ODRs—using audio analyzers, too—and then we took it to Nashville and asked veteran players to compare it to the original units."
The Noble Screamer passed the audition. After A/B'ing it with an original ODR-1, Nashville session and stage ace Guthrie Trapp acknowledged "we're sitting here and can hardly tell the difference. And to not have to spend $1,500 or $2,000 on a pedal…," he added, shaking his head. And even Bukovac himself says, "They sound pretty similar. The guitar tone sounds great."
Guthrie Trapp x Keeley Electronics - Noble Screamer vs Vintage ODR-1 vs Vintage TS808
Adding a Few Twists
Plenty of players will be hooked by the authentic sound of the Noble Screamer's two iconic overdrives. But for many guitarists, the real fun begins when you experiment with tone/overdrive mashups, combining a Tube Screamer with an ODR tone circuit, and vice versa. "The Noble Screamer's ODR tone control is a spectrum control," Keeley notes, "and it moves up the bass and the treble at the same time. The Tube Screamer is a simple low-pass filter that helps create the midrange hump. They make a fun combination and they allow you to get some unique sounds."
L.A.-based guitarist Brett Papa lauds the approach: "It's really interesting to see how it nails both of those classic tones. But for me, the hybrid is the coolest thing about that pedal, because it really is the best of both worlds. Some pedals are so temperamental circuit-wise, but it doesn't really matter with this pedal, because wherever your amp is at, you can dial in a great sound."

The stompbox also offers unusual flexibility in its switching and buffering capabilities. It utilizes the buffer that Keeley perfected with his earlier Halo pedal (designed with guitarist Andy Timmons). In the Noble Screamer, the player can easily select true-bypass or buffered bypass: Simply step on the on/off switch for two seconds and it'll toggle between the two settings.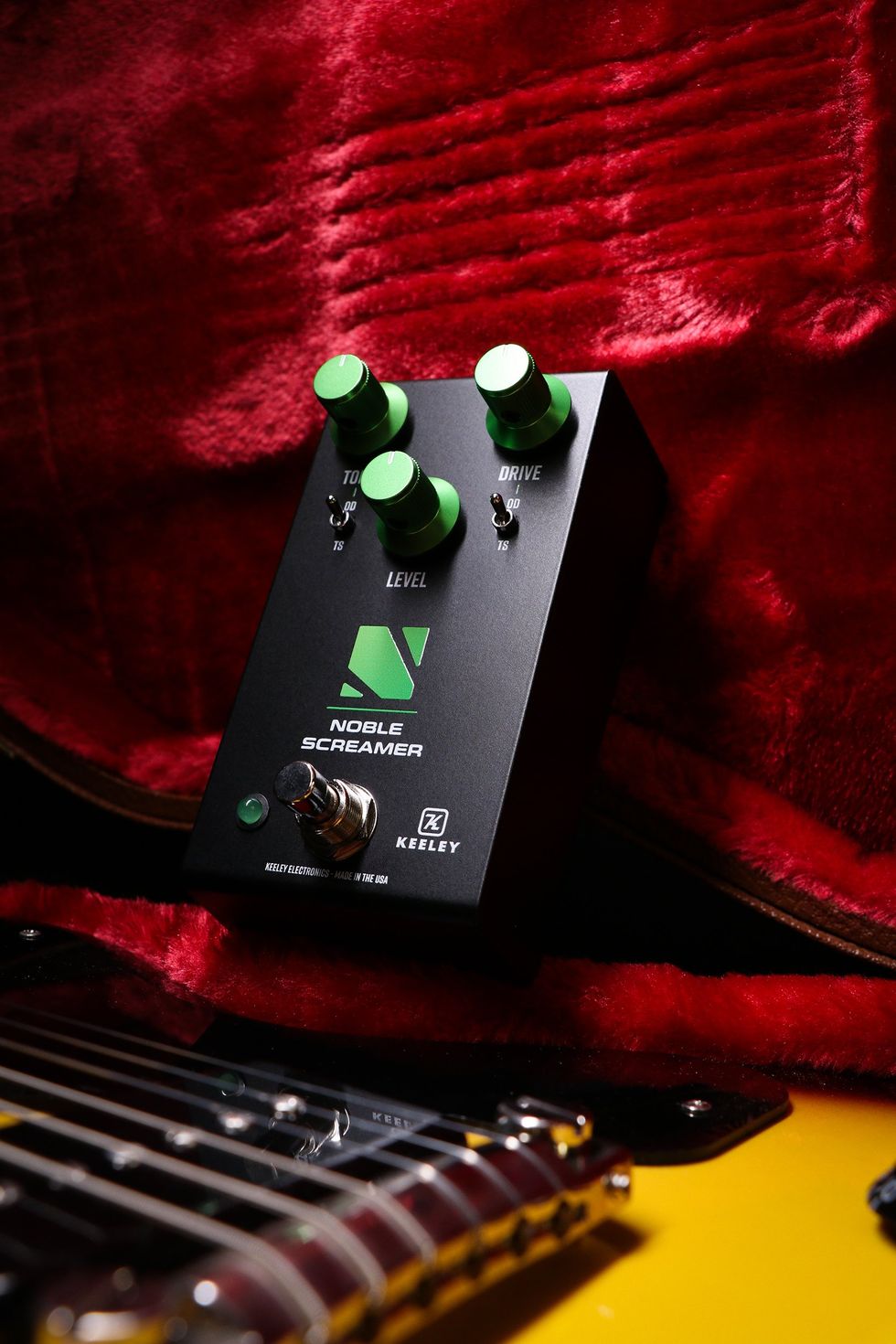 "This pedal's switching also makes it unique," says Keeley. "For years I had been carrying around the quote that Bill Finnegan put on his KTR pedal, which has a switch where you can choose true bypass or buffered. He printed 'almost always better' on the setting when you switch on the buffer. I think it's really valuable to have noiseless switching like the old Boss and Ibanez pedals. True bypass is great in a few cases, but the inevitability of it making a clicking sound can be a problem, so that's why we're offering buffered bypass, too."
Taking Control and Upping the Ante
Beyond its sonic characteristics, the Noble Screamer underscores important investments, production advancements and design choices from a company reshaping itself and preparing for its next chapter. The Noble Screamer is the first pedal to take advantage of Keeley's new Oklahoma City factory and its expanded production capabilities. The most visible sign is the pedal's newly designed heavy-duty aluminum case. The streamlined, rugged enclosure is built in-house following a large investment in specialized equipment. "Making my own folded aluminum enclosure is a brand new capability," Keeley explains. "I wanted to stop buying aluminum enclosures from China and start making my own. That way I can control the process and get exactly the type of enclosures that I want. To take full advantage of the enclosures, we also increased our capacity for circuit board manufacturing, and that was another big investment. We got another printer, powder coating booth, and oven. I doubled everything in the whole shop and invested in the future. Other manufacturers who are like-minded can do more manufacturing in the U.S. It's pretty cool to see so much manufacturing coming back to the States."
Keeley Factory Drone Video
Keeley chose to design a pedal that combines battle-worthy toughness and understated elegance. The Noble Screamer enclosure boasts a slightly slanted top—an homage to old-school classic pedals—but with a modern look and premium knobs. "The knobs and the subtle graphics speak really loudly on that slanted enclosure," he says. It's built like a tank—albeit a rather stylish one.
Was it a difficult decision to go with a standard-sized pedal when mini pedals have seen increasing popularity? Keeley is adamant. "At a time when a lot of people are cutting back on spending, I'm going against the trend and choosing to put out our boldest, most innovative ideas and give people a reason to spend their money on them," he declares. "I think I can control the costs. The Noble Screamer is the exact same size as comparable pedals. There's a definite trend toward small pedalboards with pedals that can fulfill one sound. Mini pedals are great and I plan on keeping them as an entry point for our product line. I don't see any reason why I can't fold aluminum for my own mini pedals at some point. But in the meantime, when we're releasing our next generation of pedals, I'm going to focus on this new platform. I want this new line to redefine our product line and what we're capable of. We've had success with compressors and reverbs and delays. This new line is hopefully going to redefine our drives."
The Noble Screamer heralds a new direction for Keeley Electronics, and guitarists can look forward to more exciting mashups in the future. After all, the Reese's Peanut Butter Cup turned out to be an enduring classic. So, you can expect plenty more ear candy from Keeley in years ahead.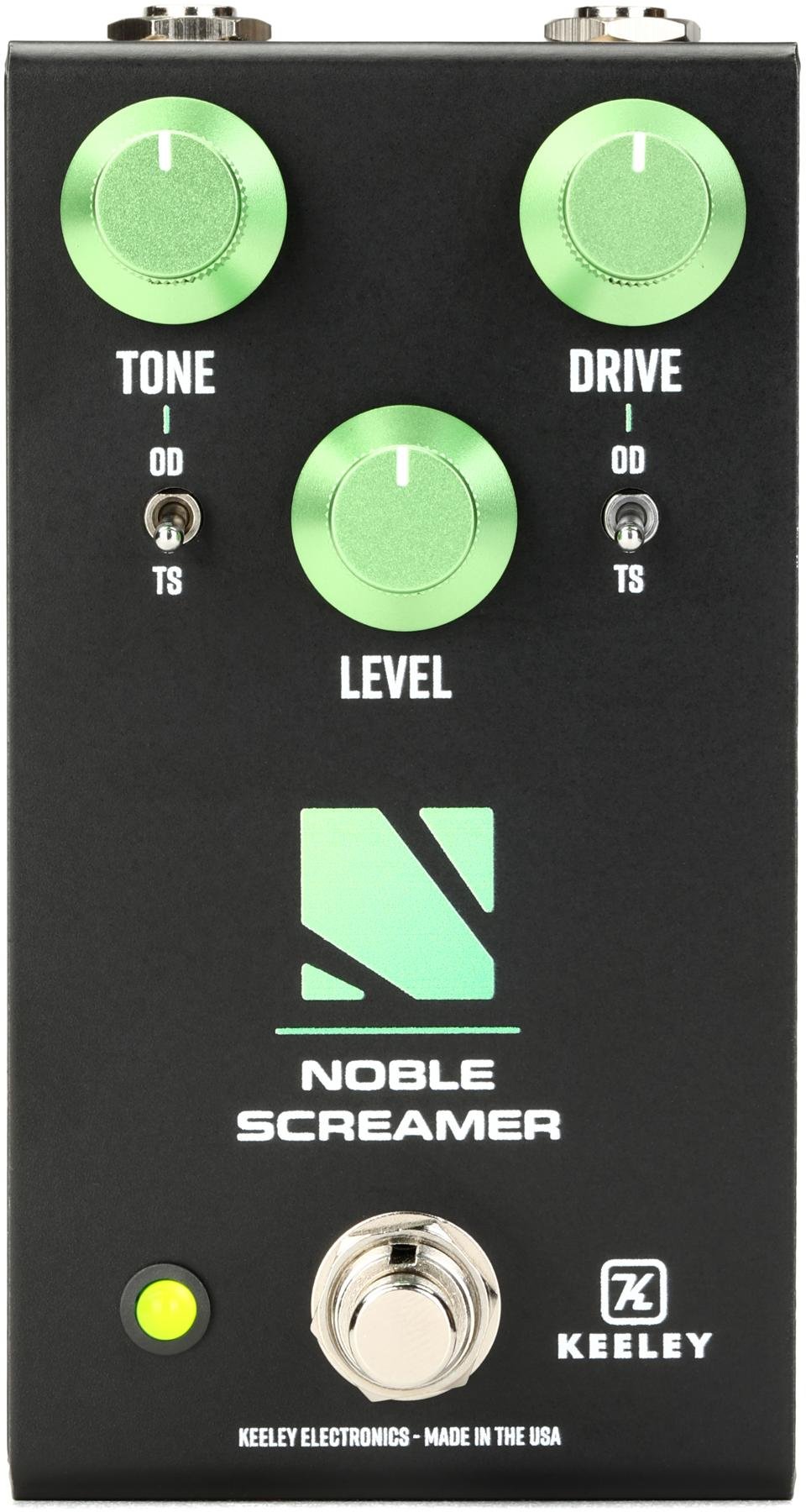 Noble Screamer Overdrive
Keeley
Rhett and Zach kick off the episode with a chat about which video games they're loving and Rhett's cross-country adventures with his wife before Eli Lester, owner of Two-Rock Amplification, joins them for an in-depth exploration of his amp-building philosophies.
Lester walks Rhett and Zach through his origins in amp-building, repairing instruments and amps in the back room of the shop where he gave guitar lessons. He played in rockabilly bands and had an affinity for old '50s and '60s Cadillacs that needed work, but he couldn't afford to pay someone to fix them up, so he had to learn to do it himself. In his freshman year of college, he'd buy old amps and rent books from the library to figure out how to repair and mod them. Eventually, his voracious fandom of Two-Rock amplifiers helped him connect with the brand's founder, Bill Krinard.
On Two-Rock's building philosophy now, Lester says his approach is more about feel more than sound. "We build them for the artist, not the audience," he says. Two-Rock's obsession with delivering high-fidelity sound goes into every piece of the amp; Lester says each part is manufactured to spec in California, and part of the brand's high price tags is thanks to how well they treat their employees. "We're all tinkerers and geeks," Lester grins.

Thanks to Sweetwater for sponsoring this episode! Head to sweetwater.com for your musical gear needs.
Later, Lester explains how they design high-wattage amps that don't blow your eardrums, and how Two-Rock is "tipping their hat" to Dumble-style amps. Building amps for a job is indeed hard work, but Lester wouldn't have it any other way: "I just get to build my dream guitar rig, that's all I do."
Enter before October 20, 2023 for your shot at the Epiphone Emily Wolfe "White Wolfe" Sheraton as seen in our recent Rig Rundown!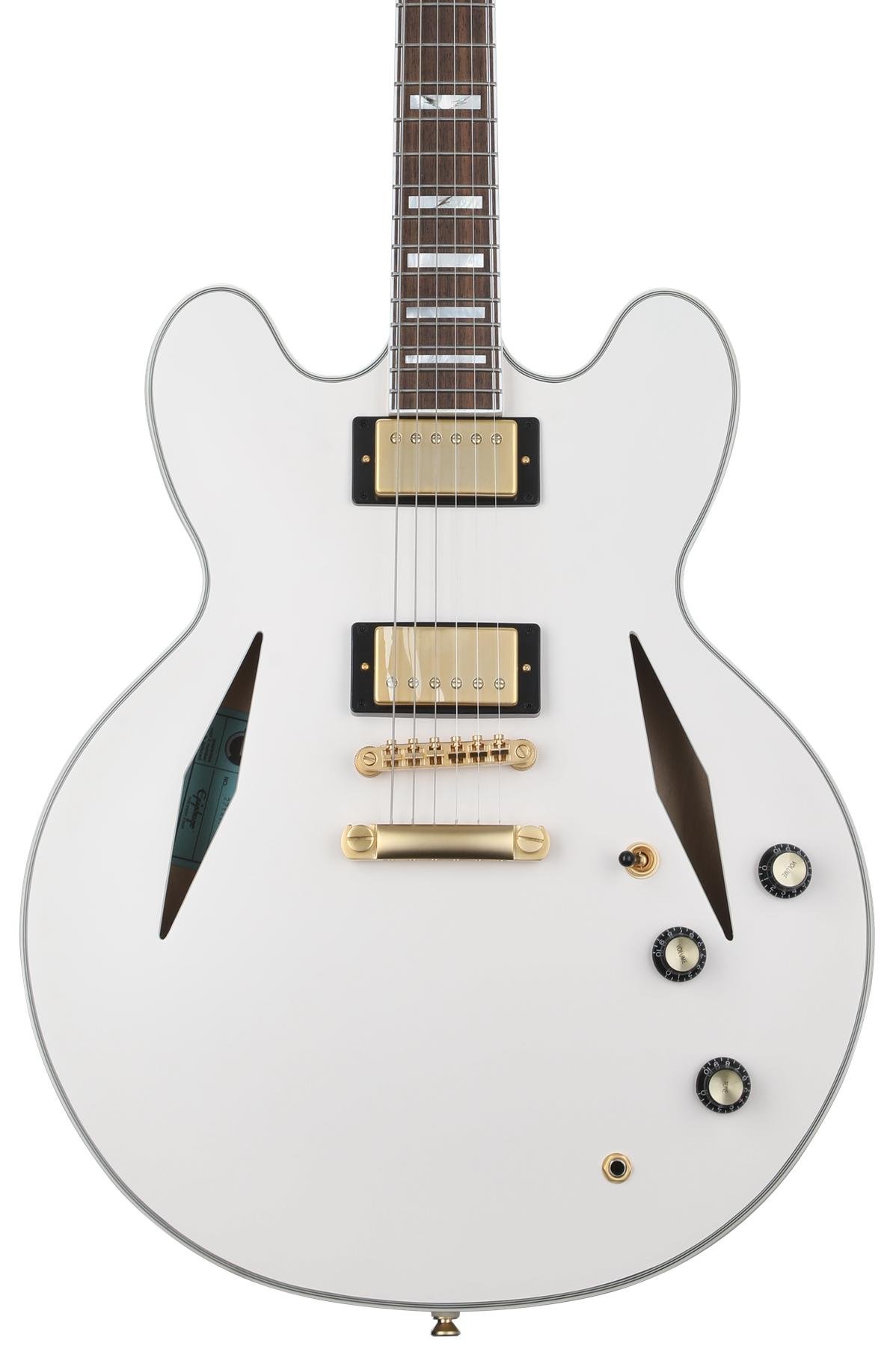 The Epiphone Emily Wolfe "White Wolfe" Sheraton is based on the triple-threat rock & roll singer, songwriter, and guitarist's popular Sheraton Stealth. Once again, Emily has lent her creativity to develop her new artist model. The Emily Wolfe "White Wolfe" Sheraton is equipped with an Indian laurel fretboard with 22 medium jumbo frets and mother of pearl block inlays with abalone lightning bolts. The headstock has a mother of pearl tree of life inlay on the front, Emily's Wolfe logo and a white gloss Emily Wolfe signature on the rear, and is outfitted with Grover® Rotomatic® tuning machines and a Graph Tech® nut. An Epiphone LockTone™ Tune-O-Matic™ bridge and Stop Bar tailpiece hold down the other end of the strings and contribute to the impressive sustain of the instrument. The electronics include full-sized Epiphone Alnico Classic PRO™ humbucker™ pickups paired with CTS® potentiometers for smooth control over individual pickup volume and overall tone. It's finished in Aged Bone White paired with lightly aged gold hardware. An EpiLite™ case is included.
Epiphone
Rig Rundown: Emily Wolfe [2023]