Photos courtesy of Reverb/DK Factory
When it comes to rosewood, there's a wide variety out there—which makes identifying it a bit of a challenge. On this K. Yairi guitar, the type of tonewood remains a mystery.
The jacaranda trees that line Australian sidewalks with bright violet blooms are a famous variety, but around the world, the name "jacaranda" can refer to many different plants. In Brazil, the word encompasses an incredible variety of shrubs and trees, including some species of rosewood.
There, "jacarandá-da-Bahia" is a common name for Brazilian rosewood. These so-called jacaranda trees of the Bahia region are, scientifically speaking, Dalbergia nigra, and when the full phrase is used, you can be sure that's what you're getting. But this phrase, too, can be shortened to "jacaranda" alone.
Now, why am I treating you to a lesson in the naming conventions of flora? Because to vintage guitar fans, true Brazilian rosewood—rather than just some rosewood from Brazil, like cocobolo—is what we might call "the good stuff."
Martin used it religiously until 1970. Fender's famous slab fretboards were made from it. The stuff is so good, in fact, that its international trade has been protected for many decades, most formally through the Convention on International Trade in Endangered Species of Wild Fauna and Flora (CITES).
This '70s K. Yairi guitar's slotted headstock is one of the features that indicate that it was inspired by Nashville's Grammer acoustics from that era.
Photos courtesy of Reverb/DK Factory
So if a guitar trader tells you, "This is built with jacaranda," that could mean it's honest-to-goodness Brazilian rosewood. It could also mean it's cocobolo or even Honduran rosewood, which picked up the nickname "new jacaranda," confusingly enough, when it started being used as a substitute for Dalbergia nigra.
Which brings us to the matter at hand: the 1974 YW-800G built by K. Yairi, featured in this edition of Vintage Vault. Up for sale on Reverb now through the Tokyo-based seller DK Factory, the YW-800G has an all-rosewood body that makes a striking impression. But what kind of rosewood is it? Do I need a CITES permit if I'm going to buy it?
"For a moment, I thought, is this majestic-looking instrument far more common than I knew?"
Many guitarists know Kazuo Yairi's name through his long association with Alvarez, starting in the late '60s. With a small team and time-honored craftsmanship, Yairi earned a reputation as a master luthier, whether his guitars were tagged Alvarez-Yairi, Alvarez (with his signature on the label), or another brand, like his own K. Yairi. In the '70s, many K. Yairi guitars were Martin copies, and great ones at that. Some resemble the spartan D-18; others are as decked out as a D-45.
So, what should we make of this YW-800G? It has enough abalone in its inlays and binding to go toe to toe with any top-tier Martin. Its ebony fretboard, hand-carved mahogany neck, and Grover tuners fit in with that hallowed lineage. Underneath, Yairi's unique approach to scalloped X-bracing is still Martin-esque in character. But the outrageous curves of its slotted headstock and bridge, that almost batwing pickguard…. These features aren't from Nazareth—they're straight out of Nashville, taken from that city's own Grammer acoustics, which were then popular with country artists.
I'll confess, when one of these YW-800Gs recently landed on Reverb, I didn't think I'd ever seen such a guitar. A few days later, a second one appeared, leading to a quick double take. For a moment, I thought, is this majestic-looking instrument far more common than I knew?
These Grover tuners are one design element that match Martin guitars, which many K. Yairi models mimicked in the '70s.
Photos courtesy of Reverb/DK Factory
Thoroughly curious, I went back through old Reverb listings and confirmed—this is a rare breed indeed. Only a handful of similar K. Yairis have popped up for sale in Reverb's decade-long history, ranging in price from about $1,500 to this $2,500 version. (Interestingly, the YW-800G has crossed decades of construction, made as early as 1973, and as recently as 2014.) But back to the question of the hour: What exact wood did Yairi use to make this wonderful rosewood body? The answer is, unfortunately, not fully forthcoming.
There's a 1980 K. Yairi catalog that shows the model. There, we can tell that it sold for 80,000 yen at the time, or about $400 (roughly $1,500 in today's dollars). But the specs and features are in Japanese, naturally, which doesn't help us here. Alvarez-Yairi catalogs from the era written in English provide more clues. They use "jacaranda" and "rosewood" as distinct words, referring to different types of wood. For example: "Three piece back has two panels of jacaranda; center panel is select grain rosewood."
Given this, and given the budget-friendly price point, I think it's safe to assume that K. Yairi's jacaranda is not, in fact, proper Brazilian rosewood (Dalbergia nigra), though you'd be hard-pressed to spot the difference. With such good looks and a beautiful sound, it might not even matter that it's just some rosewood from Brazil instead—especially if that means it gets through customs unscathed.
Sources:
Reverb listings and Price Guide data, K. Yairi's 1980
Hand Crafted Folk Guitar
catalog, Alvarez Guitars' catalog for the 1976 United States bicentennial,
America Sings: Commemorating 200 Years.

A 6-string hound that's still barking nearly 40 years after it's birth.

I am named after my mother's father, Jonathan Schairer, who was a luthier/repairman in the Boston area in the late 1800s. He passed away when my mother was a little girl, but somehow, I inherited his skills. I would take the violin he built out of its case as a little kid and just marvel at it. I was always asking Mom how and when he made it, and too many other questions she couldn't answer.
In 1984, when I was 23, I borrowed Jeff Tyrell's '76 Stratocaster. Jeff was a local fixture around the Attleboro, Massachusetts, and Providence music scene from the 1970s through the 2000s. I took his guitar apart (without his permission, mind you), measured everything with calipers, drew plans, made templates, and started my own. A local shop provided a poplar blank glued up from nine laminations! I bought a plain maple board and carved a 1-piece neck from it. I had intended it to be a replica of a '50s-era Strat, but at that point, I only knew what they looked like from photos. The neck was my interpretation of what I thought a V-profile neck felt like, and the body, of course, had the weak contours of Jeff's CBS-era Strat. It was built on a Stanley Workmate. My tools: clamps, chisels, a router, a violin knife, my dad's machinist square. I had access to a drill press and a three-wheeled bandsaw, on which I broke three blades while cutting out the body!
"I was always asking Mom how and when he made it, and too many other questions she couldn't answer."
Along the way, the guts of a DOD overdrive made it inside this S-style.
Another local legend, Glen Markel, who repaired guitars for touring acts passing through, applied the nitro for me. I would hang with Glen in his shop and ply him with a thousand questions, take notes, return home, and then apply what I absorbed. I can't thank him enough. I also read everything I could find on guitar repair and construction as a young man.
Since then, I've modified the guitar countless times. I swapped the original Fender trem out for a Kahler, then a Floyd Rose; the DiMarzio pickups for EMGs, then finally Texas Specials. I even took the innards from a DOD overdrive and installed them under the pickguard. The '80s were not kind.
The JSB Strat in action.
We now live in Virginia and, at 62 years of age, I have made more than 20 guitars. Just prior to moving here, I dropped in to say so long to Jeff in New England. He had sold the very Strat that I took apart to build mine, despite my repeatedly asking him to call me if he decided to sell it. Ironically, a week later I saw it at the local Guitar Center on the wall and bought it on the spot. Jeff passed away about two years later, and I have since foolishly sold his Strat that started this crazy journey. But whenever I pull mine from its case, it feels like coming home.

If your story is chosen, you'll also receive a $100 virtual gift card from Allparts, the industry's leading supplier of guitar and bass parts! All entrants will receive a 20-percent-off coupon to allparts.com.
Please note that the coupon cannot be combined with other promotions.
When it comes to fine-tuning your tone, guitarists often forget the value of a good speaker. ToneSpeak's new models offer a wide range of versatile end-of-the-signal-chain options, in classic to fresh flavors.
Electric guitarists are constantly on a tone quest, but too often we forget to look in the most obvious place: our amp speakers.
In many ways, this oversight is totally understandable. Hey, it's easy to obsess about a gorgeous instrument sporting a flame maple top or classic vintage vibe. And there's a vast array of pedals and effects out there screaming for our attention. (Yes, we used "screaming" intentionally. Please don't hate us.) Of course, pickups, strings, cables, amplifiers, and preamps also have a big impact on our tone.
However, it's important to remember that
every
item in our signal chain eventually goes through our amp's speaker­—the crucial transducer that converts electrical impulses into sound.
The speaker always gets the final word in our musical conversation. It is literally the last piece of gear that we control before our playing reaches the listener's ears or the sound engineer's microphone. And if we're wondering how to upgrade our overall sound—or breathe new life into a battle-weary amp—maybe it should be the first place we look for answers.
ToneSpeak, a newly launched speaker company based in Minnesota, aims to give you some great new options when you select that all-important piece of gear. Since the company's birth in 2021, their goal is to provide speakers that are clearly rooted in classic sounds, but with unique tones of their own.
Modern Speakers Saluting Iconic Predecessors
ToneSpeak's Liverpool 1275—a 12" speaker designed to appeal to Vintage 30 users—provides a case study in the approach. "In selecting what models we wanted to build," explains Anthony Lucas, ToneSpeak's senior transducer engineer, who designed the new speaker line, "we started with American and British roots. We didn't want to copy anything. If you want a Vintage 30, then you should get one from Celestion. It's a great speaker. But we were okay with using a Vintage 30 and a Greenback as an inspiration, to provide a baseline. The first prototype sounded too much like a Vintage 30"—he laughs—"and we knew we didn't want to do that. We ended up giving the Liverpool warmer, smoother upper mids and highs, and a bit more lows."

Lucas knows his stuff: He designed products at Eminence in the U.S. for years before departing the company in 2020 and building the new ToneSpeak line, with help from another former Eminence colleague, Josh Martin.
"At this company, most of us are musicians and involved in music," says Lucas, "and all of us speak the language of tone, so that's how ToneSpeak came about. We talked to musicians and manufacturers and asked what they liked and didn't like about various speakers. We tried to respond to them by keeping what they liked and improving on the things that they didn't."
Plenty of 12" Options—and Other Sizes, Too
The Liverpool 1275 is one of five 12" speakers in the growing ToneSpeak line. Other models include the British-inspired Birmingham 1275—a natural fit for fans of the G12H Greenback, with balanced, throaty midrange and lots of articulation—and the formidable Manchester 1290. A high-powered brute, the Manchester will appeal to any player who loves the Celestion Classic Lead but seeks a bit more flexibility. "The common complaint about high-powered speakers is that they sound sterile unless you push them pretty hard," notes Lucas. "So, we designed the speaker to sound very musical even at lower volume, while still being able to handle 90 watts and sound great. It's probably our most balanced, most transparent speaker in the whole line."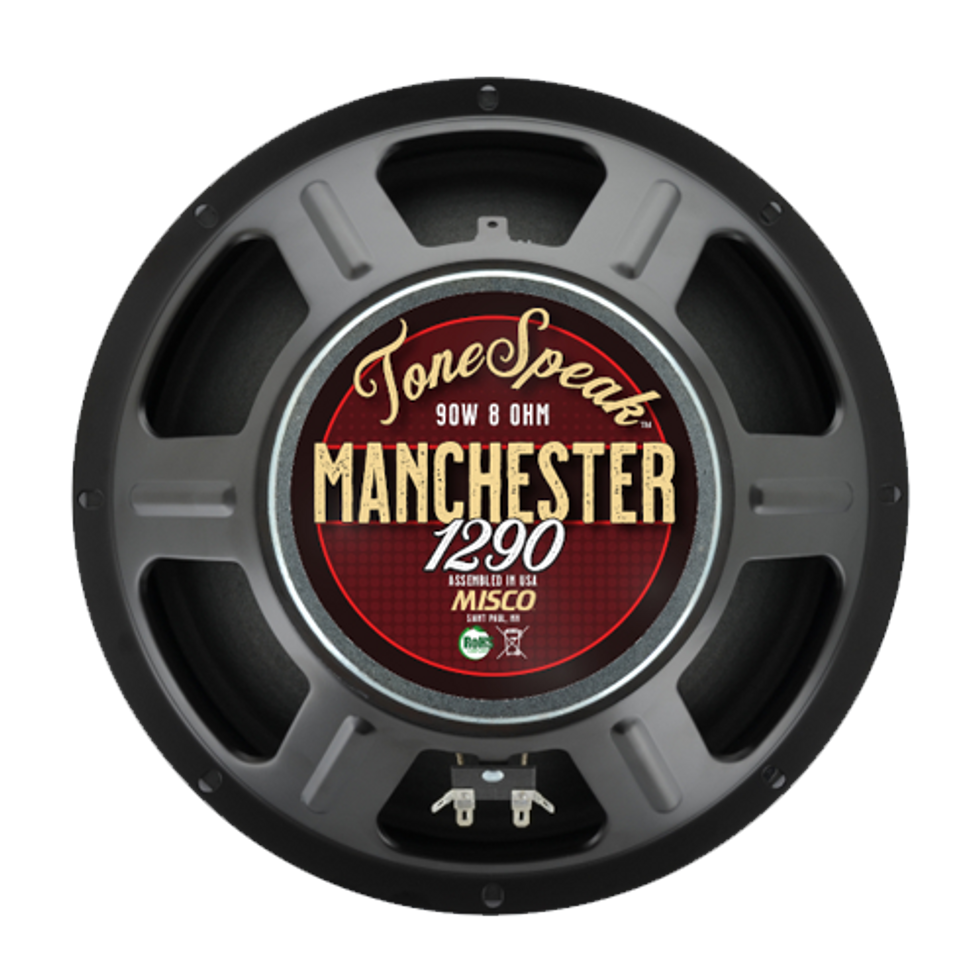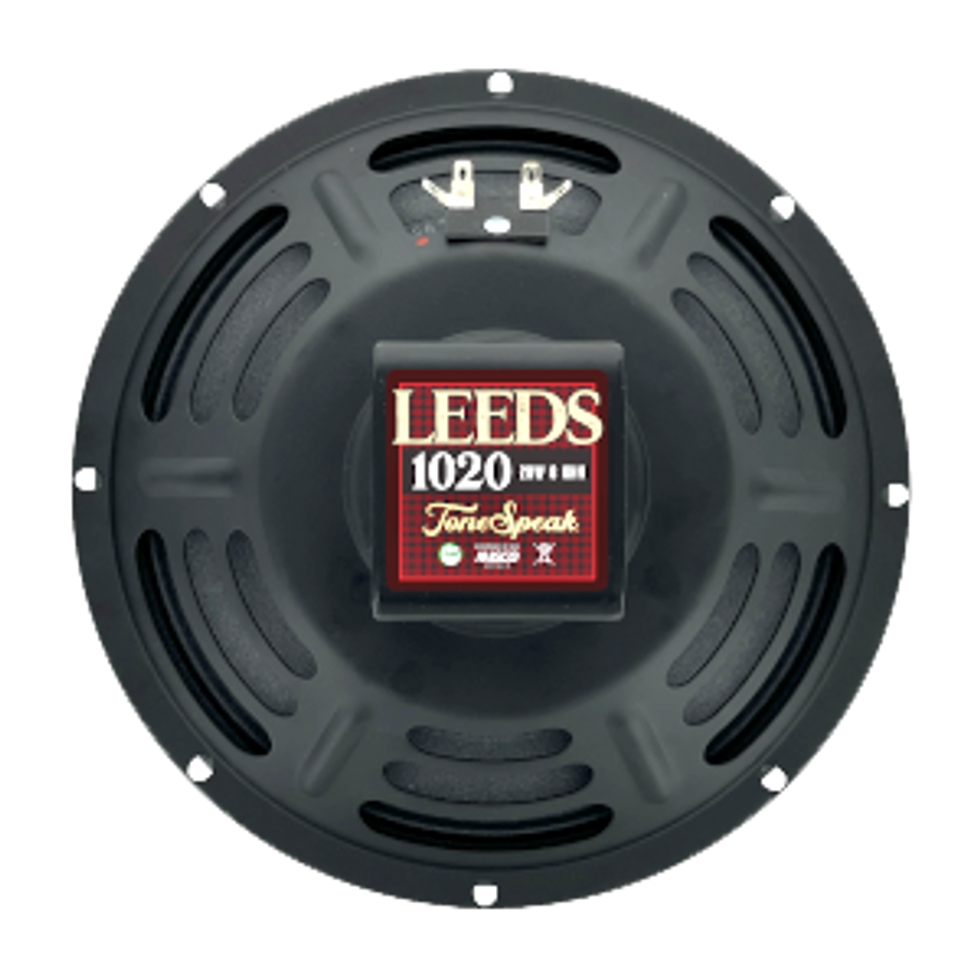 If you've got a 4x12 closed-back cab that could use an upgrade, ToneSpeak's Birmingham or Liverpool models are your go-to options for classic tone bliss. And if you want to raise the aggression factor a notch or two—while still sounding great at lower volumes—the Manchester might be your cup of tea.
ToneSpeak: The Chris Condon Demos
Seeking a specially individualized tone that perfectly fits your unique style? Blending two different speakers with varying tonal characteristics in a 2x12 or 4x12 cabinet can produce amazing results. Just ask Robben Ford: He's using the Austin 1250 and the Manchester 1290 in his Little Walter 2x12 cabinet.
On the other hand, if you're outfitting an open-backed combo, ToneSpeak's 12" offerings include a pair of American-based speakers: the Austin 1250 (the same one Robben Ford uses—see above) and New Orleans 1250.
The Austin harkens back to the classic Eminence GA-SC64 speaker. Looking to upgrade your Deluxe Reverb? This is the ticket. "The Austin 1250 is more or less transparent, so you really hear the amp," explains Lucas. "We brought the mids up—because guitar is a mid-dominant instrument—so they're more forward and clear without being harsh. The highs are really open and it's very solid in the lows."
ToneSpeak: The John Szetela Demos
The New Orleans is designed for players who like the smoky, subtle tone of a hemp cone. "We felt that other hemp-cone speakers are a bit too dark," says Lucas, "so we designed our hemp cone to have a more open sound. It's still warm and smooth, but it fills the room and takes to distortion really well. The high end doesn't sound like it has a blanket put on it."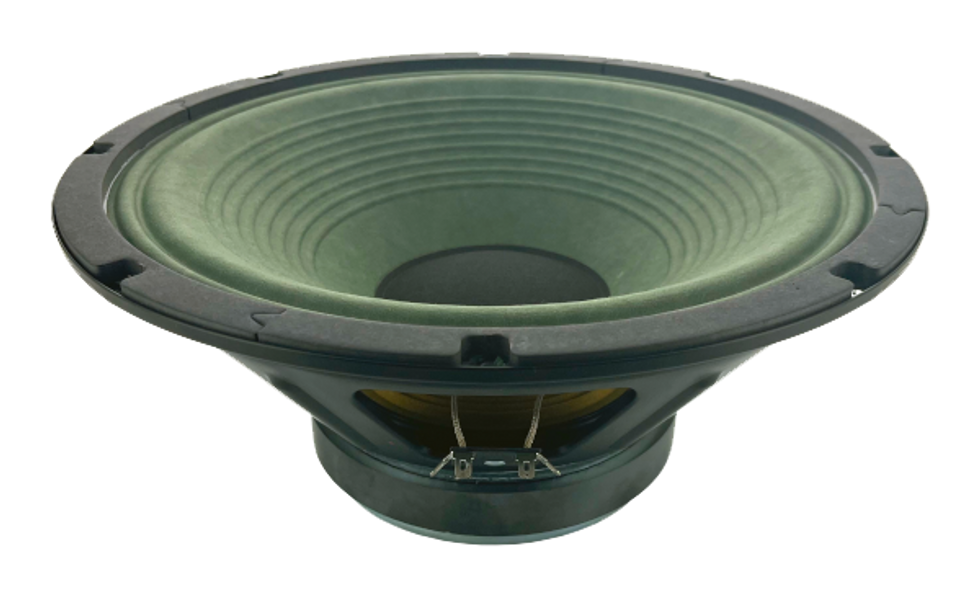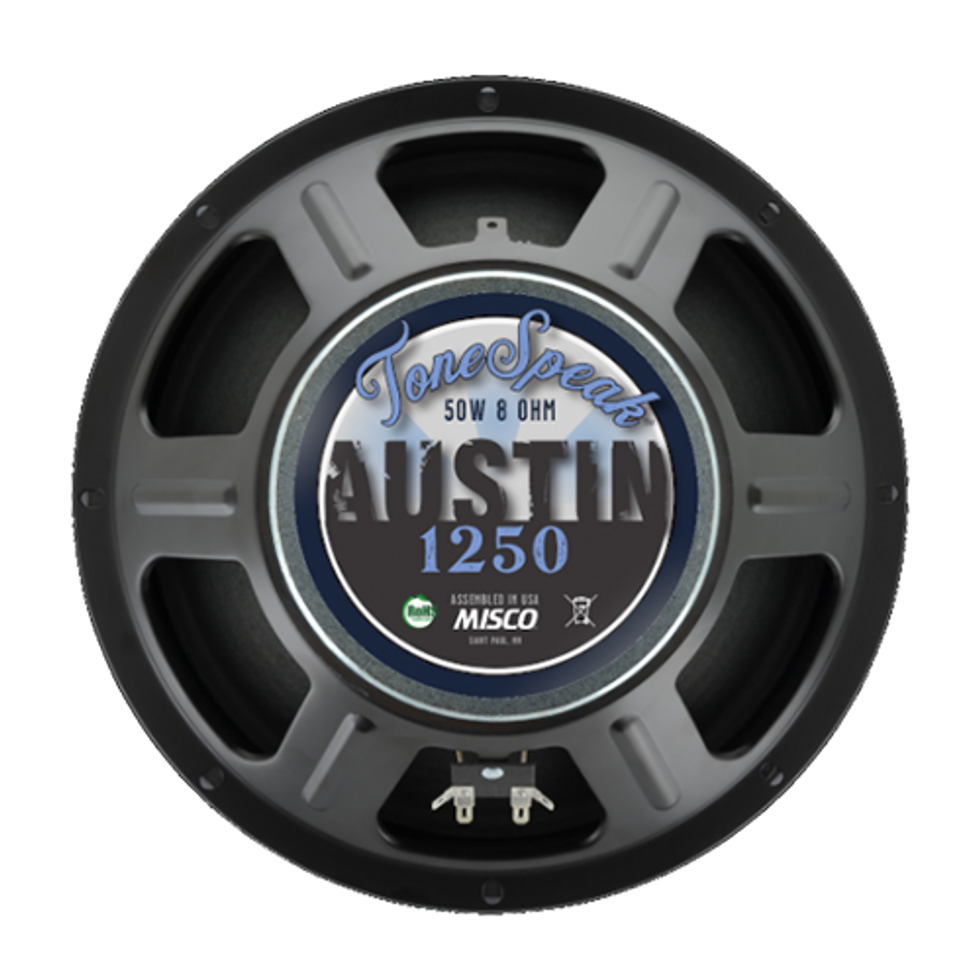 ToneSpeak also offers a range of speakers in other sizes. The company's four 10" models include American-inspired options (the Boston 1020 and Minneapolis 1050) and British voicings (Leeds 1020 and Glasgow 1050). And a pair of 8" models include a British-inspired Belfast 820 and American-voiced Detroit 820, with a hemp-composite cone that makes it perfect for Tweed Champ enthusiasts.
In designing the broad range of ToneSpeak's product line, Lucas considered all of the components that go into a guitar speaker and affect its tone: cones, coils, and spider suspension. He also delved into a factor that might not be familiar to most players: edge doping—treating the edges of the speaker cone with a substance that works as a shock absorber, to keep the cone under control at high volumes. "We compared a few different edge dopings, which have a big impact on defining upper mids and highs. They can sometimes roll off the highs too much if you're not careful. We developed our own proprietary edge doping, which I'm really proud of. It makes a big difference in the sound of the speakers and we're using it on the entire line, except for the New Orleans hemp-cone speaker, which sounded better without any doping at all."
If you're wondering how a brand-new speaker company can offer so many models so quickly, the answer is simple: They are allied with the long-established builder MISCO, aka the Minneapolis Speaker Company.
An Ongoing Legacy of U.S.-Made Speakers
Launched in 1949 by Cliff Digre, a World War II veteran with a deep interest in electronics, MISCO has been led by Cliff's son, Dan Digre, since 1990. The company builds a dizzying array of products and speakers for a variety of industries—including aerospace—many of them far-removed from the musical instruments realm.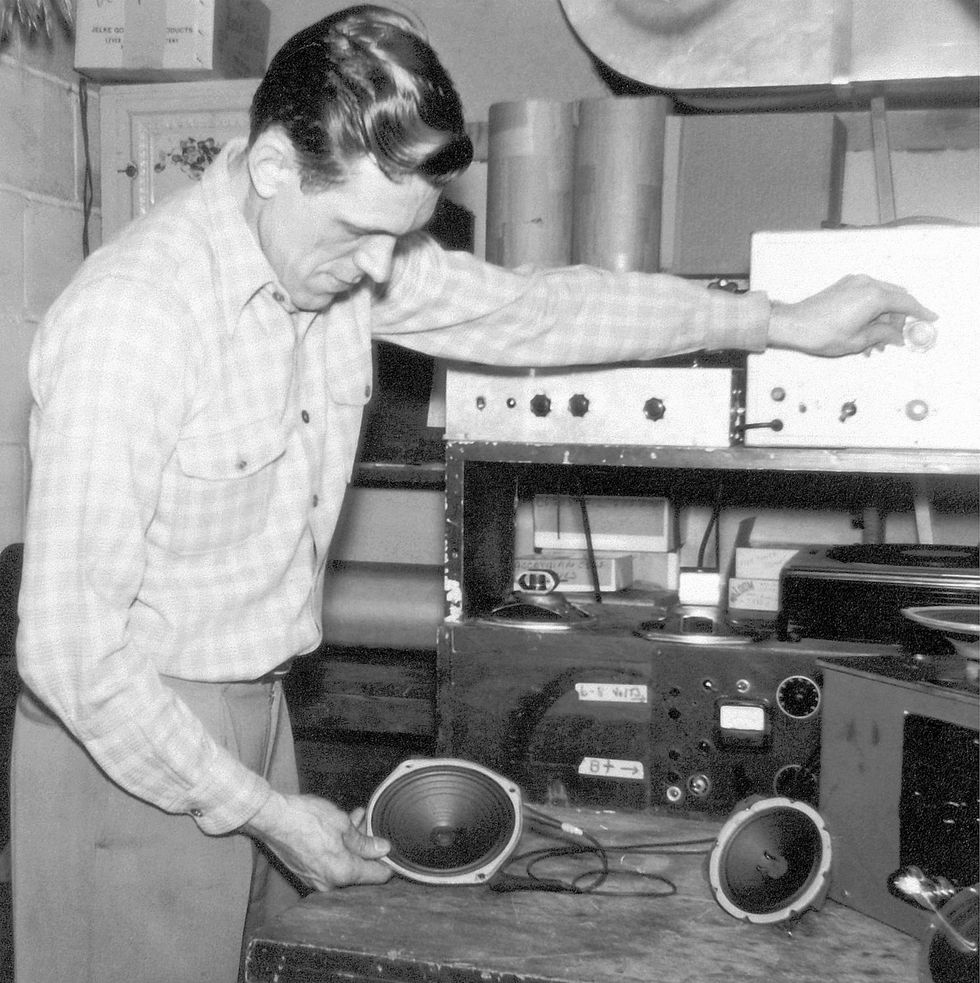 MISCO founder Cliff Digre tests an early speaker in his workshop.
However, MISCO has been making OEM guitar speakers for more than 60 years, and in the 1960s even had its own brand of speakers called Redline, that featured red cones. So, when MISCO partnered with Anthony Lucas to launch the ToneSpeak brand, the company possessed decades of know-how in the guitar-speaker arena. It was a perfect opportunity to fill a need in the marketplace. "Anthony had a lot of experience designing speakers when he worked at Eminence," notes Digre. "For decades, our core has been OEM, which by its nature means people are asking you to do things for them. ToneSpeak exists because the market was asking for some alternatives to what was out there, with an American brand behind it."
Digre readily acknowledges that building guitar speakers presents a unique set of challenges—starting with the end user's tastes and preferences. "Guitarists have an amazing sensitivity to tone color. These players have fabulous ears—they're very discerning, and I have a great respect for them. The philosophy of designing a guitar speaker is different from almost any other type of speaker because it's part of the sound of the instrument. Most other speakers are designed for the signal to pass through it as uncolored as possible. But the guitar speaker requires the color of the driver to become part of the instrument. And it's not a commodity: You need to be able to consistently, repeatedly replicate the tone color. Controlling the variables that affect tone color is very important. MISCO has the means of measuring and controlling those factors."
The Science Behind the Speakers
MISCO's engineering and manufacturing expertise is the secret sauce behind ToneSpeak's rapid rise. "There's some serious engineering in this company used by a lot of different industries," Digre admits. "MISCO builds the speakers for NASA. They're used in the space station and the Orion spacecraft that's going to land on Mars one day. While those aren't musical products, they do require a very specific set of attributes. These are very demanding applications, and your quality really has to be top notch."
Those high standards inform the entire approach behind ToneSpeak. "Whether we're building a speaker for a spaceship or a guitar amp, we're devoting the same attention to detail and consistency," Digre says. "One of our brands uses the phrase 'Our Science, Your Music.' That philosophy applies equally to ToneSpeak. We've got the science of design, the science of manufacturing, the science of testing—but they're all in the service of music. By design, I want musicians to be in this company, because a musician is going to understand a lot of things that a pure engineer is not. We need to have the musical perspective embedded into the DNA of the company."
Digre's outlook is perfectly aligned with Lucas' stance on speaker design, and the satisfaction he gets when they've nailed the formula just right. "I get a smile when a real player gets a hold onto a tool that I've made and they connect with it," Lucas says. "You can always tell by watching and hearing them. They can't stop playing. They're hooked. It's like they get lost in the music. That what really brings me joy as a designer. I've done my job."
Ultimately, electric guitarists are the beneficiaries of this approach. Whether you're upgrading your main gigging amp—or resuscitating a garage-sale find—you'll find a new range of options in the ToneSpeak line. So, roll up your sleeves, have some fun, and crank it up. Great tones are waiting for you!
To find a speaker that completes your sound, head over to ToneSpeak.com