Acoustic Gear Finds June 2021
Don't miss the latest and greatest gear finds for your acoustic!
---
Cole Clark Guitars
The Cole Clark CCFL2ECRDBL Acoustic-Electric Guitar is designed for the guitarist who demands the highest standards in an instrument. The 2 Series FL Dreadnought guitar is the go-to choice for every player looking to have ultimate control of both the acoustic and plugged-in performance environments, with Cole Clark's signature 3-way pickup system and beautiful, sustainably-sourced, natural Redwood and Blackwood timbers.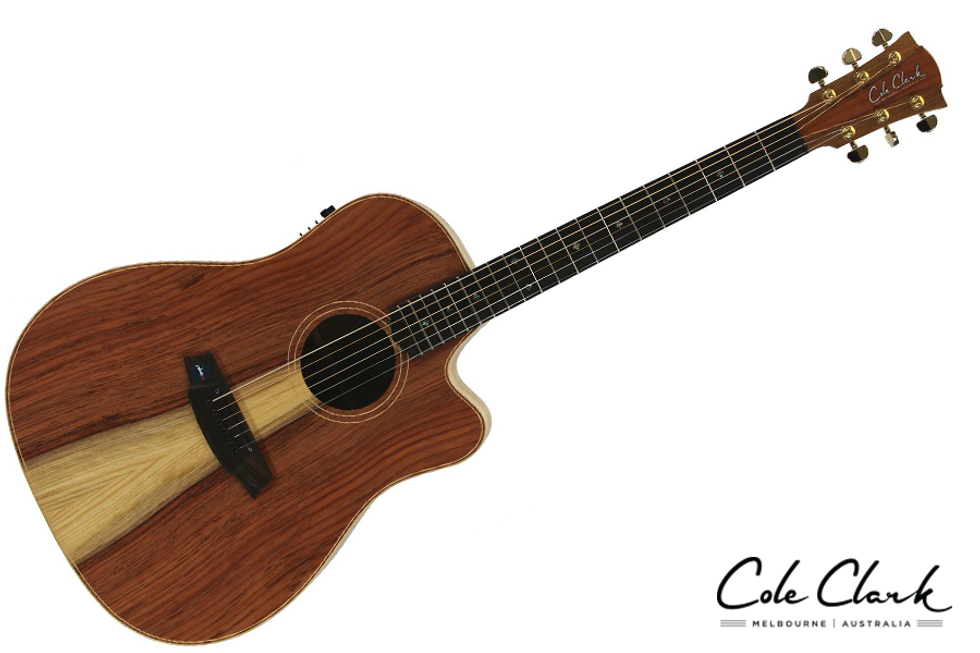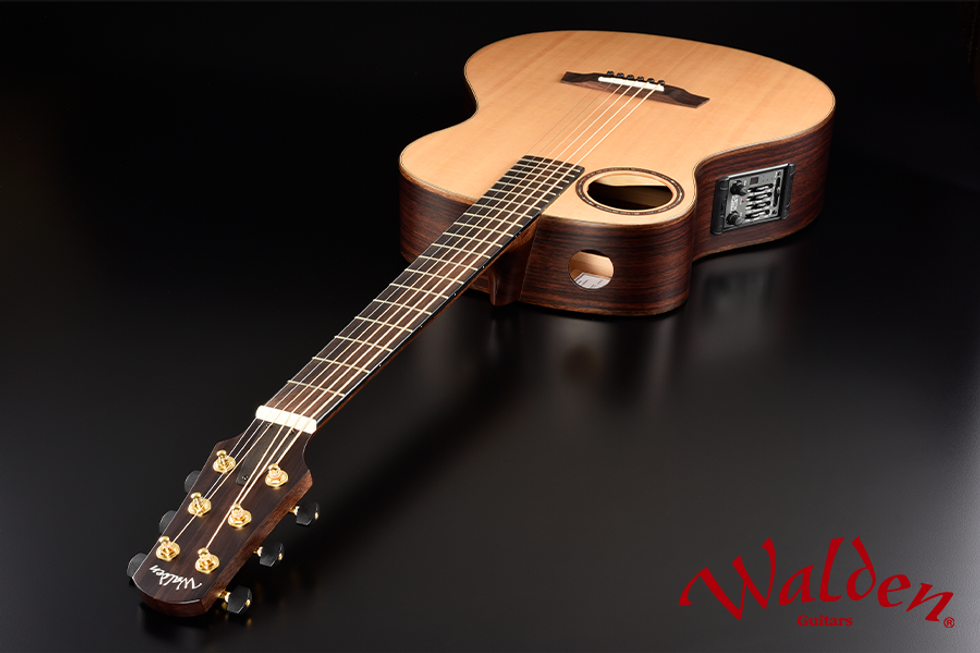 "I love this thing, I can't put it down. It's kind of like having a piano in your lap, you got all the low end for bass lines, and you got chords that you can strum on top, even alternating simple bass lines. There's all kinds of fun you can have with this thing!" ~ Sean Harkness, NYC

Typically tuned to B, the Baritone provides a clear low end response perfect for soloists, singer-songwriters, percussive finger-style players, or guitarists who crave a walking bass line while comping chords.

With its offset soundhole, side-port, and solid Sitka spruce top with innovative low-mass bracing, the Walden B1E sounds sonically excellent while incorporating the more comfortable Grand Auditorium body shape. A graphite reinforced Mahogany neck contribute to stability and its 27″ scale length and 1-13/16″ nut width contribute to the B1E Baritone's transparent playability.

Click here to watch videos
Click here for more information
Click here to follow Walden Guitars on Instagram
Walden Guitars
PRS
The PRS SE A50E pairs maple back and sides with a solid spruce top for stunning warmth and depth. When matched with PRS hybrid"X"/Classical bracing, which allows the top to freely vibrate and project, the SE A50E has an uncommon 3-dimensional character for a maple back and side guitar. The Angelus Cutaway body shape delivers comfort and playability, well suited for picking and fingerstyle playing.
Plugged in, the Fishman GT1 pick up system delivers dynamic, organic tone and allows players to easily take this guitar from rehearsal to the stage. This electronics system features an undersaddle pickup and soundhole mounted preamp with easy-to-access volume and tone controls.
Additional high-quality features include a solid spruce top, ebony fretboard and bridge, bone nut and saddle, as well as PRS trademark bird inlays and headstock design. Ships with a high-quality hardshell case.
Click here to learn more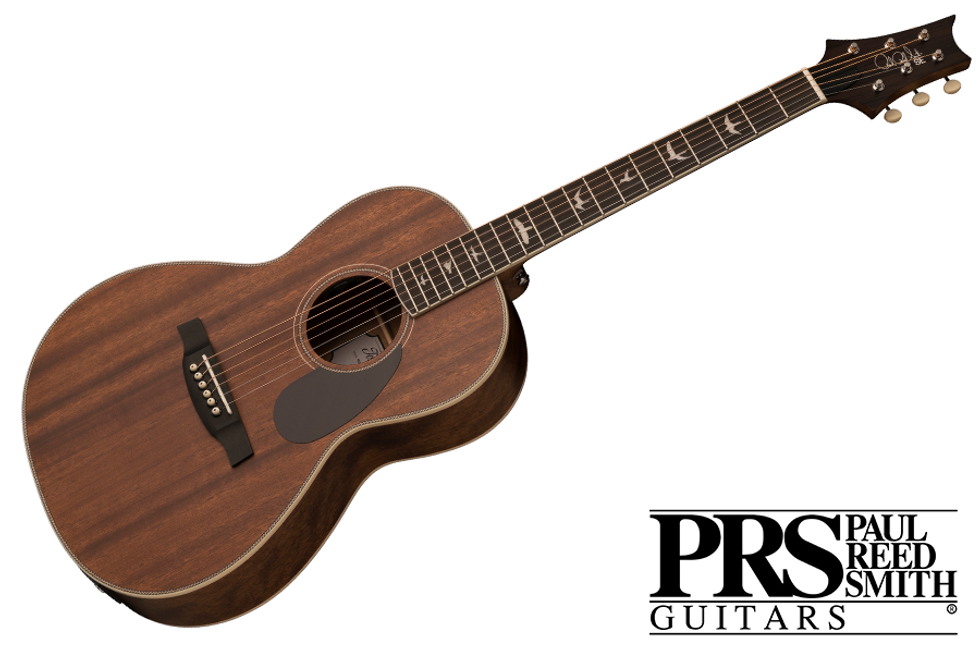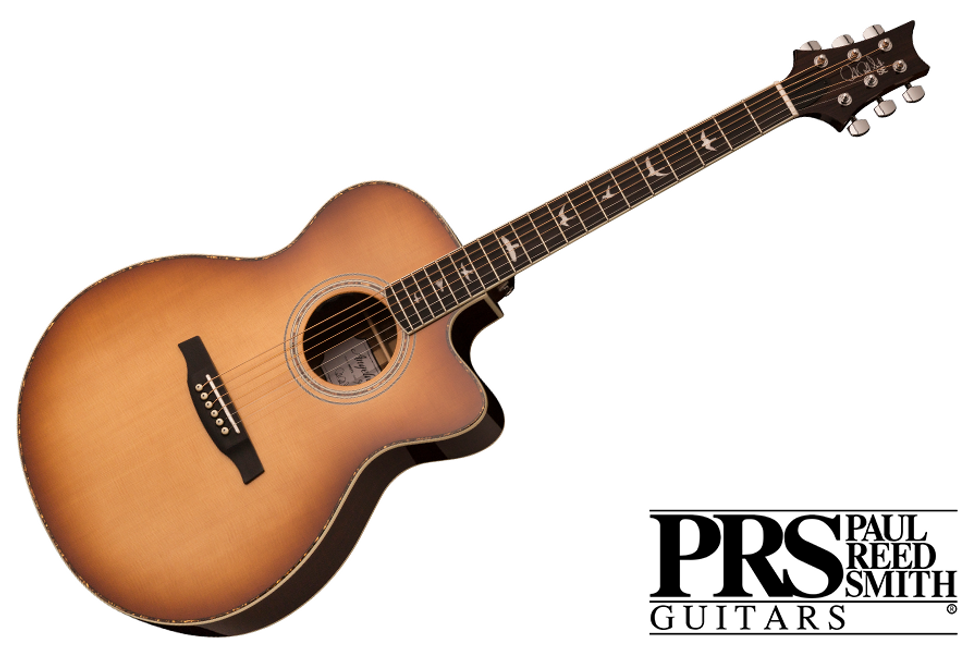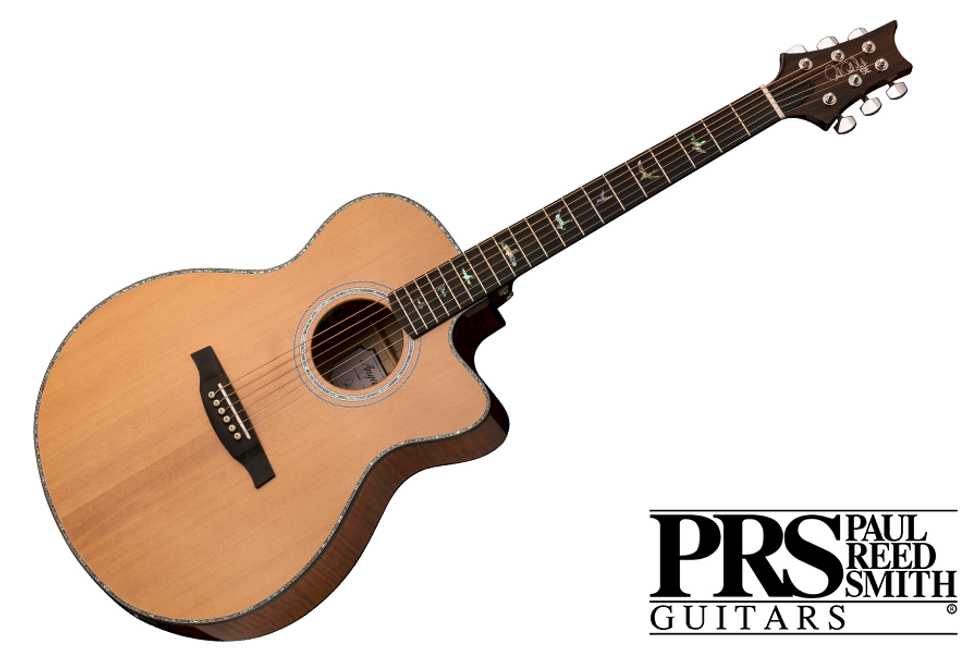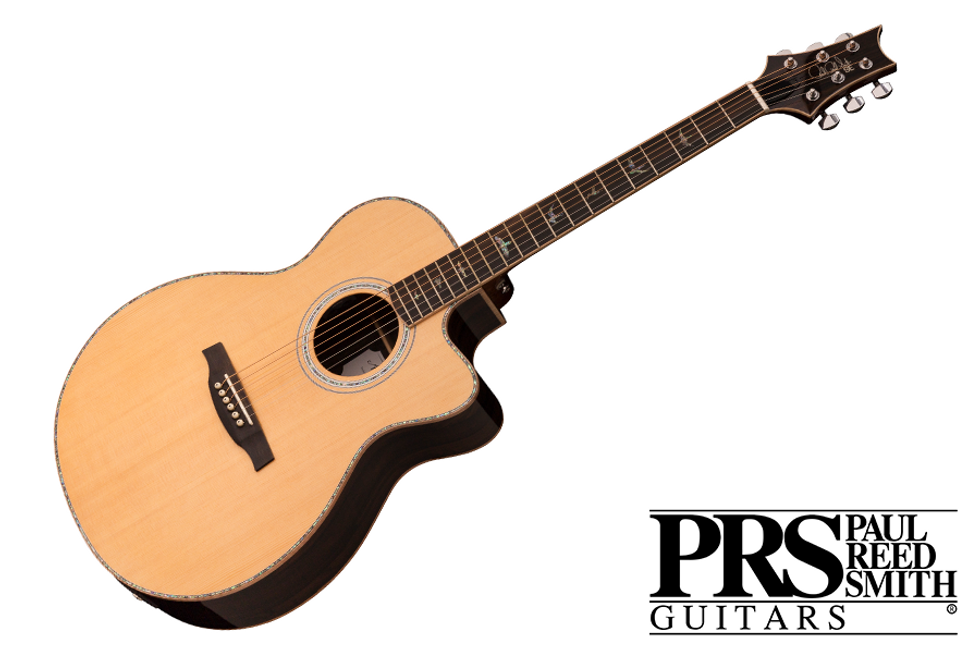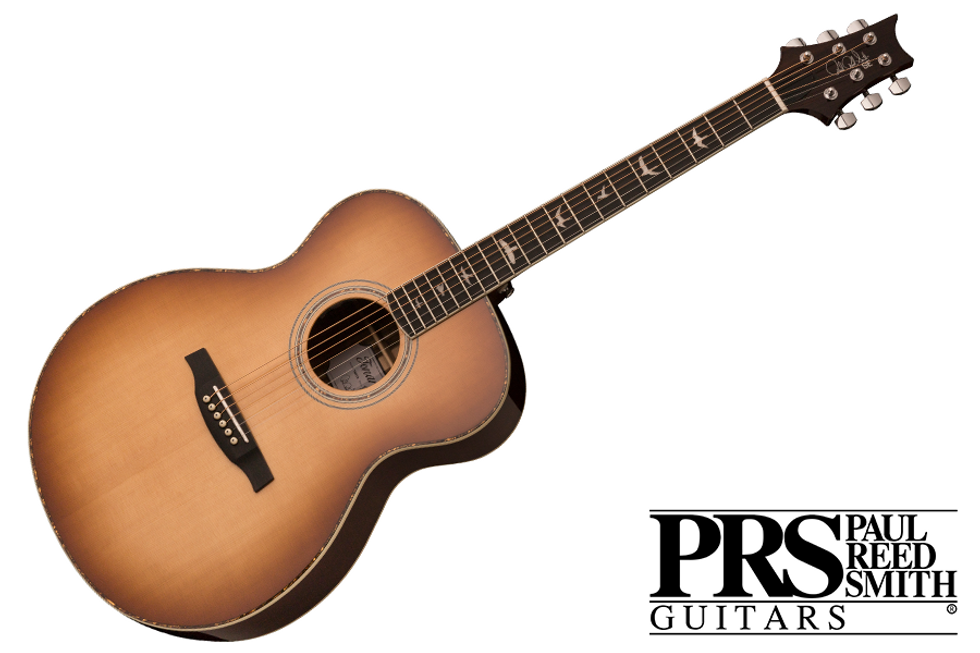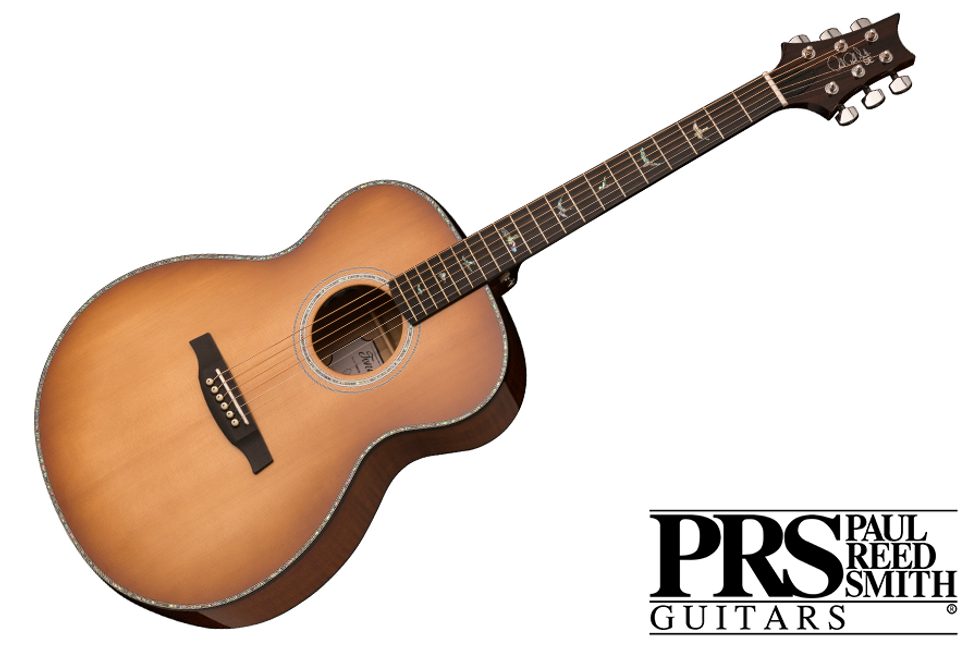 Tanglewood
Inspired by the guitars made in the 1930s, the Tanglewood Blackbird series evoke traditional values, yet offer the benefits a guitar manufactured in the modern era. These guitars feature hand-selected tone woods and a unique bracing pattern. The Blackbird Orchestra electro-acoustic guitar is carefully braced to environments, with Cole Clark's signature 3-way pickup system and beautiful, sustainably-sourced, natural Redwood and Blackwood timbers.
Click here to learn more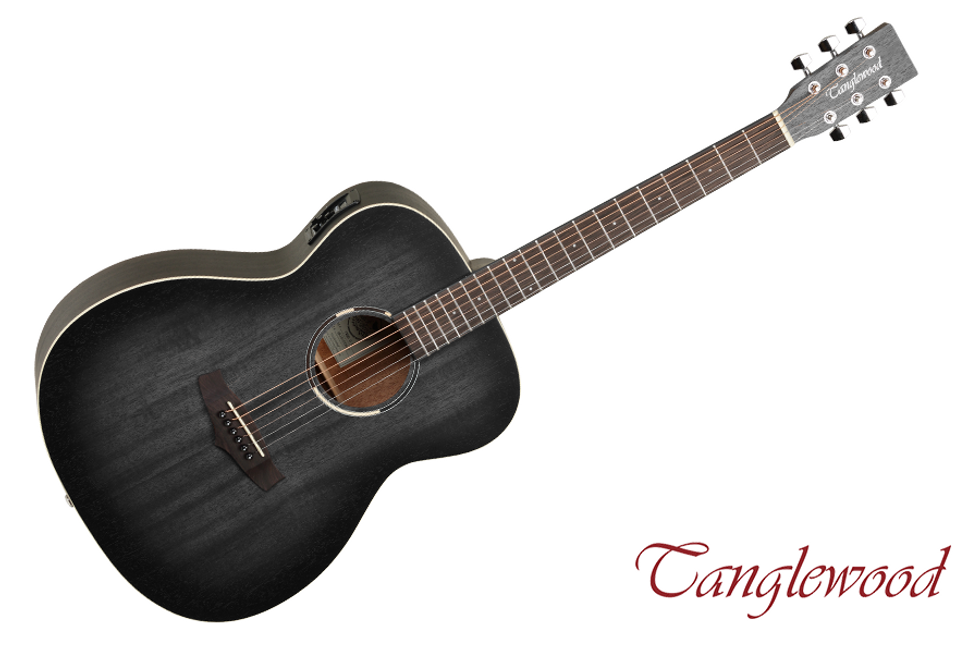 Taylor Guitars
Taylor's popular, compact GS Mini has brought countless hours of guitar-playing joy to musicians of all stripes, and the GS Mini-e Koa Plus takes the fun to a new level with elevated aesthetic details. Back and sides of layered Hawaiian koa pair with a solid koa top for a punchy, bold sound with surprising power and volume for a small-bodied guitar with a scale length of 23-½ inches, while the 1-11/16-inch nut width makes forming chords a breeze. A dusky edgeburst accentuates koa's natural grain and luster around the top, back and sides, while other notable features include nickel tuners, a three-ring rosette, and a genuine West African ebony fretboard. It includes onboard ES2 electronics and Taylor's new AeroCase®, a soft yet sturdy case with all the protection of a hardshell case at one-third the weight.
Click here to learn more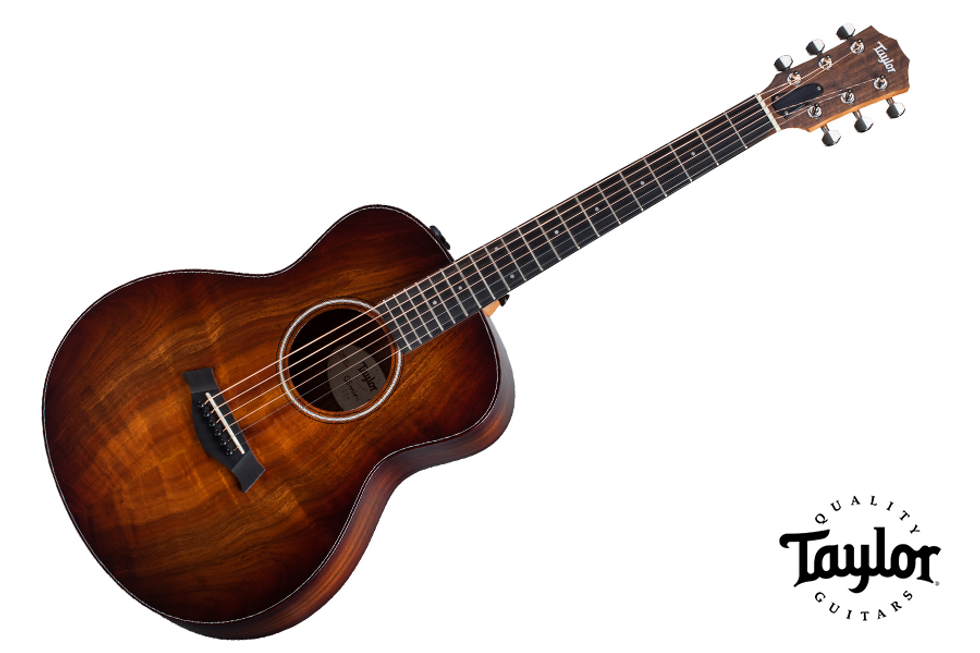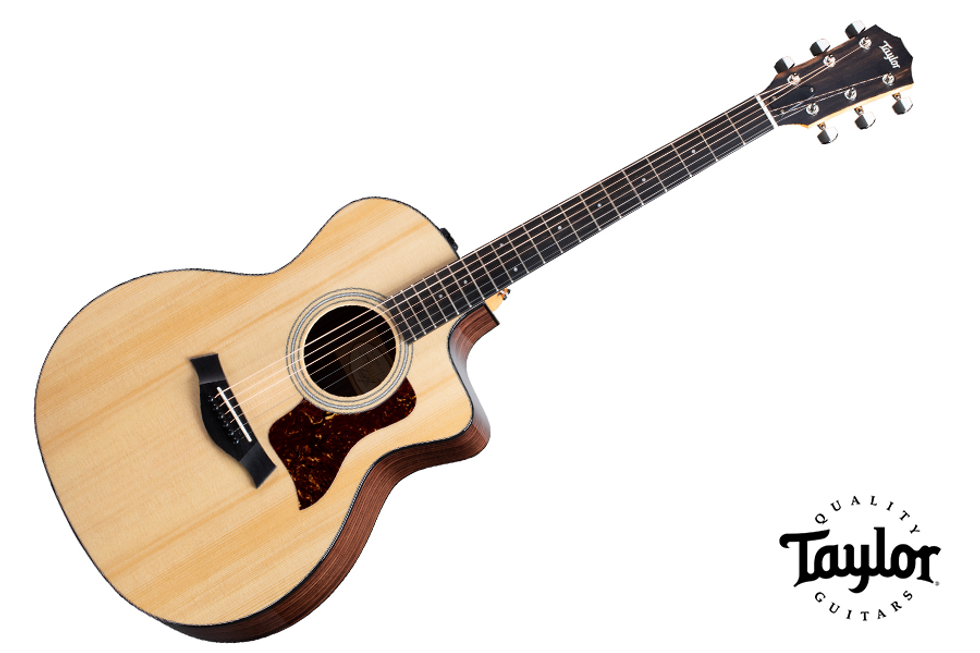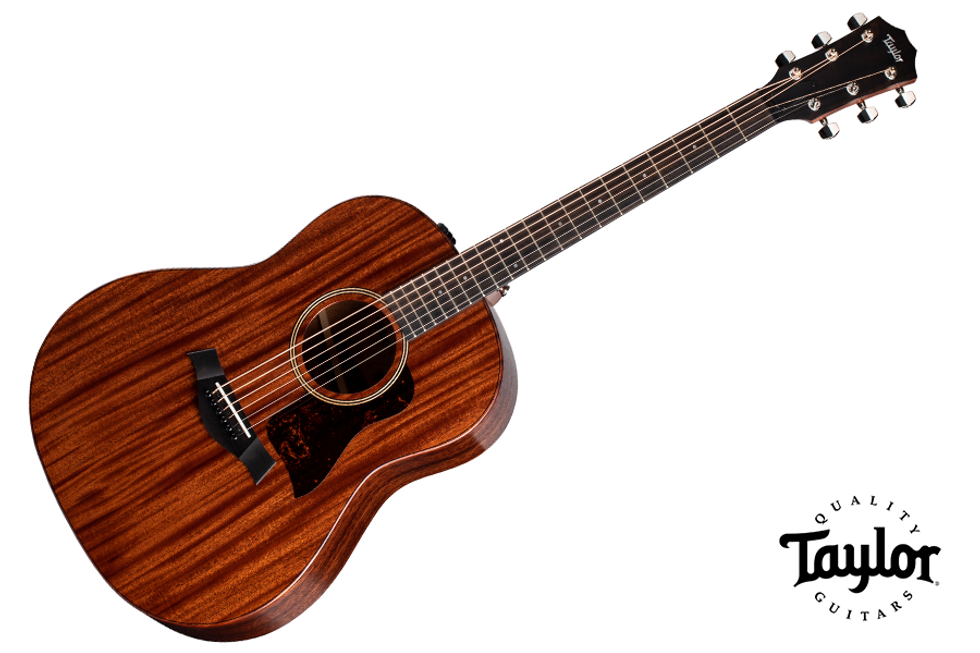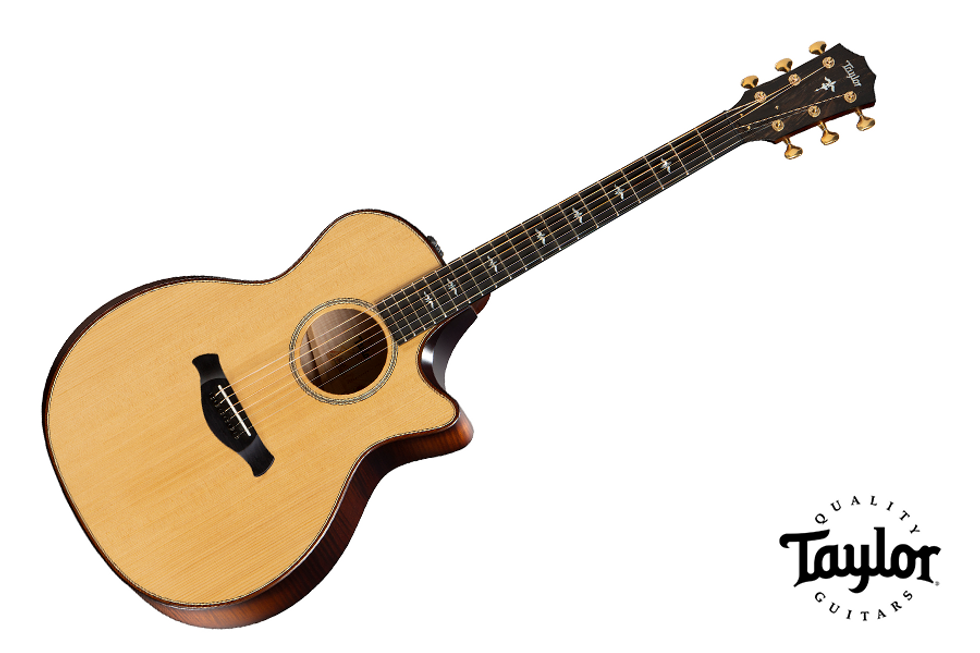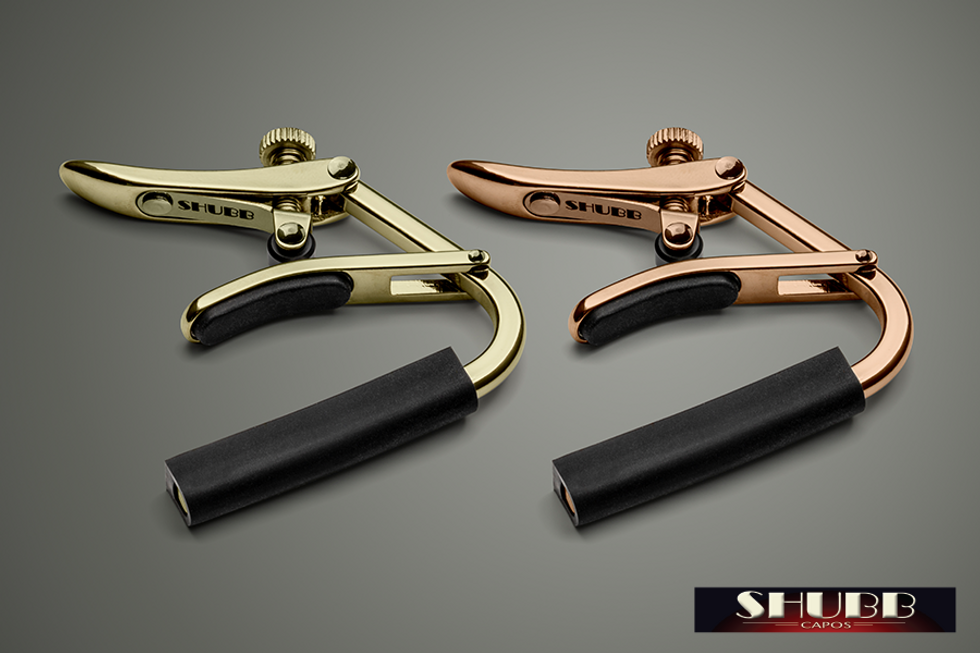 Adding to the company's line of premium capos, Shubb has introduced the new Capo Royale Series, featuring durable gold finishes that deliver long-lasting beauty.

Available in two lustrous finishes – Gold and Rose Gold – the Capo Royale Series brings a distinctive visual flair to Shubb's famed capo design, revered since 1980 for its ability to provide flawlessly clean fretting while keeping the instrument in tune.

For many years Shubb has received requests for a gold plated Shubb Capo. While gold is undeniably beautiful, it is not at all durable; it will wear off far too easily and quickly. It is also famously expensive. Now, Shubb has developed a high-tech technique for creating a gold-toned titanium finish. It possesses all the beauty of real gold, but is as durable as any metal finish in the world.

Click here to watch videos
Click here to learn more
Click here to follow Shubb on Facebook
Shubb Capos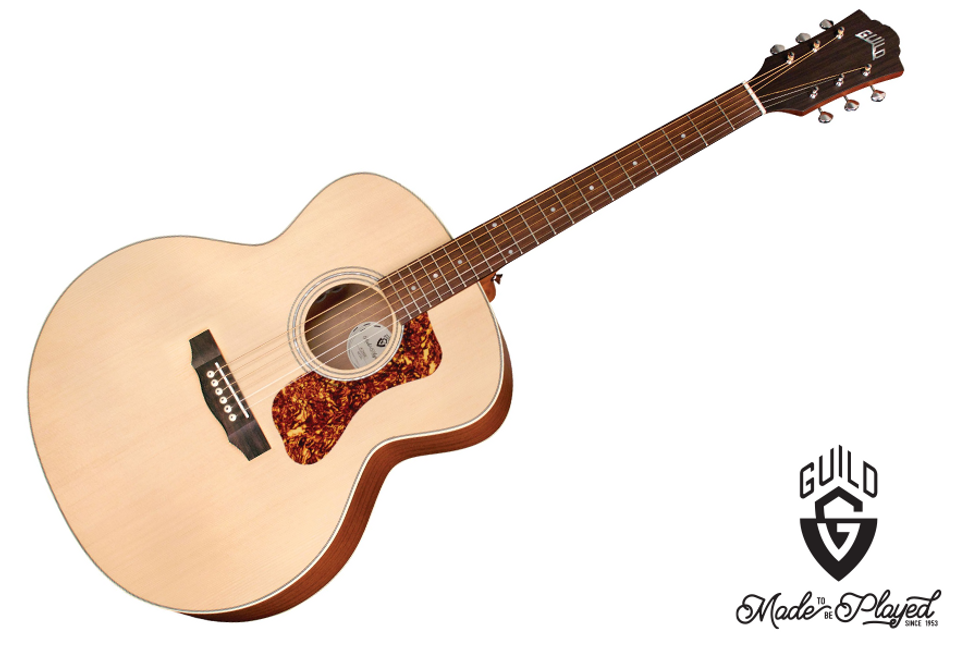 Guild's most affordable jumbo yet! The F-240E is a tone cannon at a player's price. Built with a solid spruce top, mahogany sides, and an arched mahogany back, the full-bodied and powerful voice of this Guild Jumbo provides guitarists with historically-Guild acoustic tone and voicing. Guild's signature arched back design allows for enhanced volume and projection, long sustain, and a lush, full sound. The F-240E features Guild's Fishman-designed AP-1 electronics, a pau ferro fingerboard and bridge, bone nut and saddle, mother-of-pearl rosette, period-correct tortoiseshell pickguard, and a satin polyurethane finish.

Click here to see videos
Click here to learn more
Click here to follow Guild Guitars on Instagram
Guild Guitars
Blackstar Amplification
The Blackstar ACOUSTIC:CORE 30 was designed to give singer/songwriters the ability to get a professional sound without any sound engineering expertise, then share it via live streaming or recording, or live performance. All in a compact easily portable combo with the option of battery power. This take-anywhere acoustic amp is designed for the way you play today: streaming, recording, practice or live.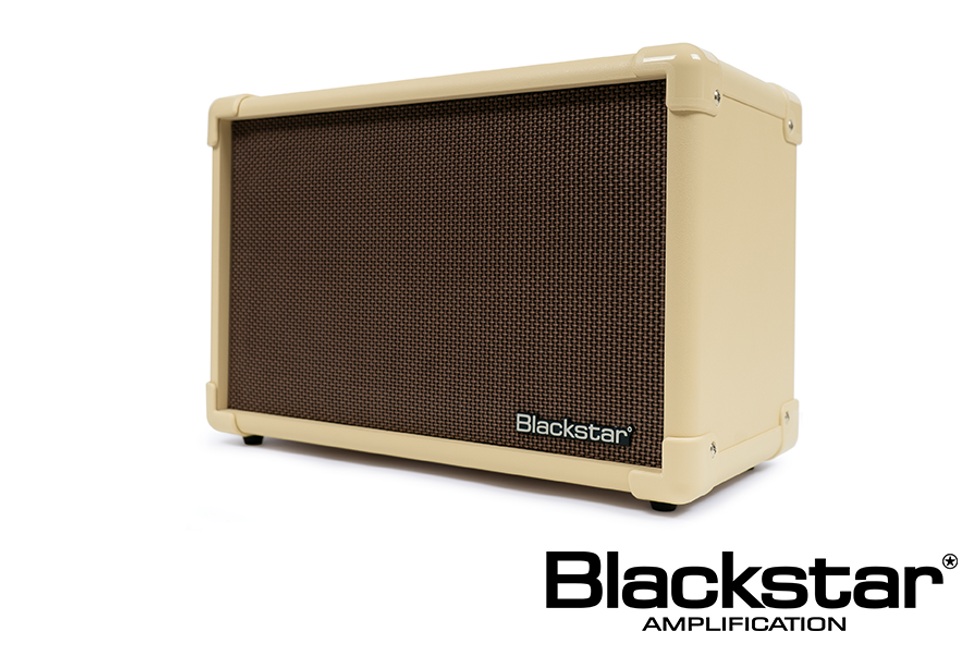 Santa Cruz Guitar Company
Santa Cruz Guitar Company has made it even easier to order the custom acoustic you've always wanted. They invite you to email them directly at scgc@santacruzguitar.com to be walked through the design process, where they will take the time needed to answer all your questions about models, tonewoods, structural options and aesthetics to ensure you will receive the heirloom acoustic that is right for you.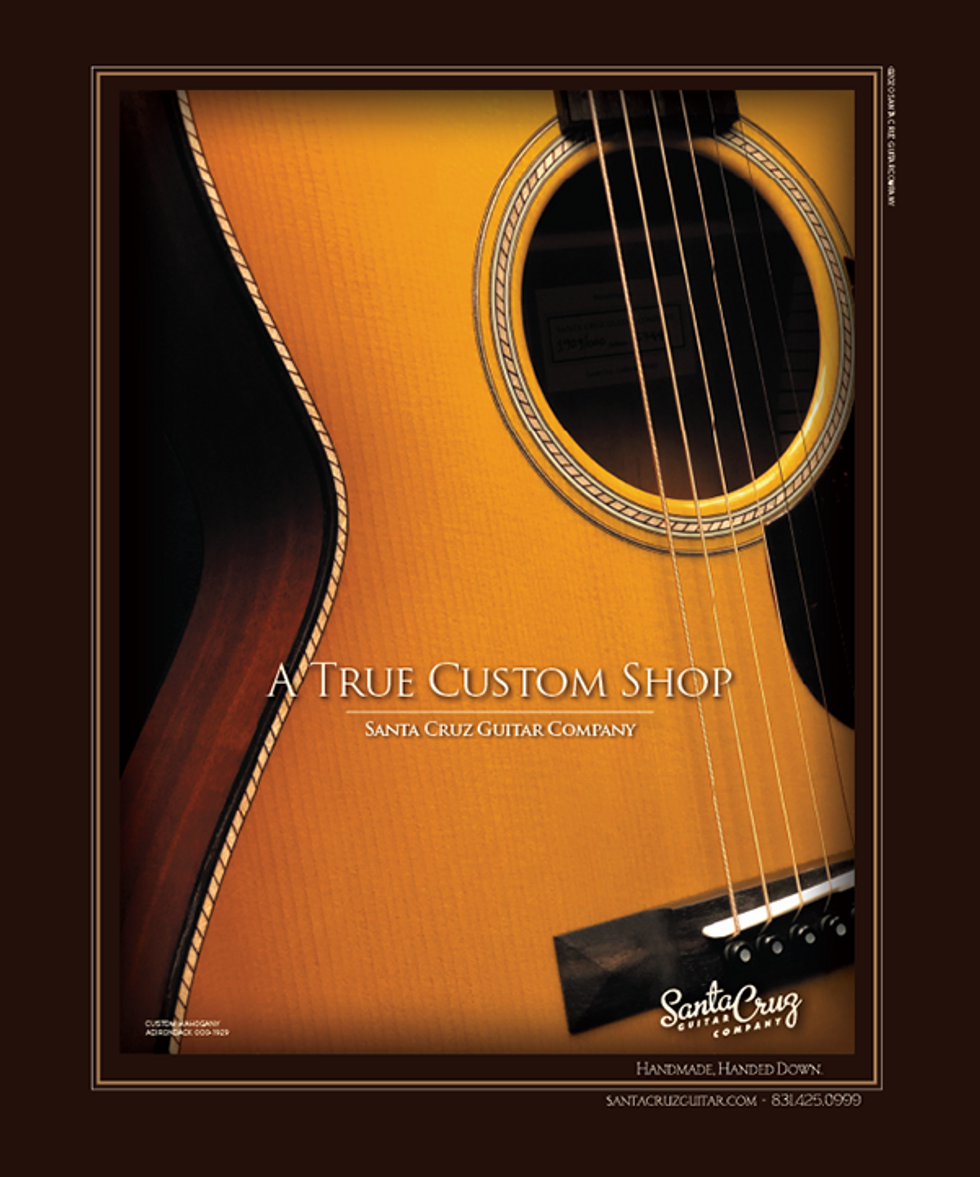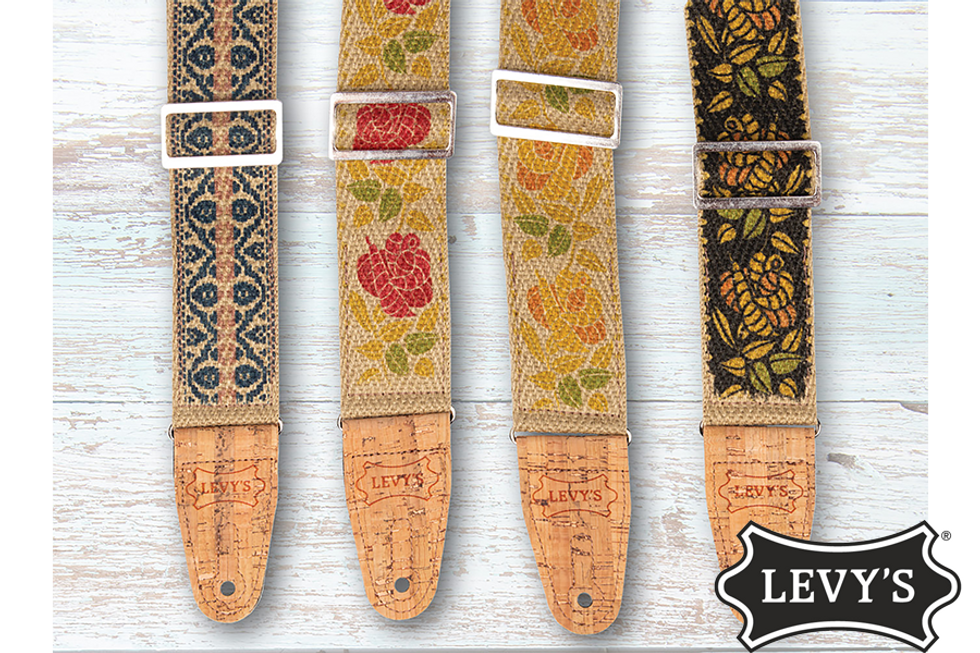 The New MH8P Series Vegan Hemp Series guitar straps by Levy's come in four new beautiful motifs and measure 2"/51mm in width. These organic straps are cruelty-free using sustainable materials and extend from 37"/940mm to 62"/1572mm via silver-colored tri-glide sliding adjustment. Natural hemp webbing and durable 2-ply cork ends safely support your instrument, along with pinhole stitching on both ends to prevent stretching. To address the issue of pick dropping encountered by almost every gigging guitarist, the MH8P Series comes equipped with a convenient 2.5"/64mm inside pocket to provide quick access to extra picks. Hand-crafted in Novia Scotia.

Click here to learn more
Click here to follow Levy's Leathers on Instagram
Levy's Leathers
LR Baggs
The product of nearly 3 years of intensive research and collaboration with a team of PhDs, LR Baggs is thrilled to introduce Voiceprint DI, the next breakthrough chapter in acoustic amplification. Voiceprint DI measures the acoustic response of your guitar by leveraging the processing power of your iPhone® to accurately capture your guitar's one-of-a-kind voice. A Voiceprint is created, transforming your pickup into the most authentic sound we have engineered in our 40+ years.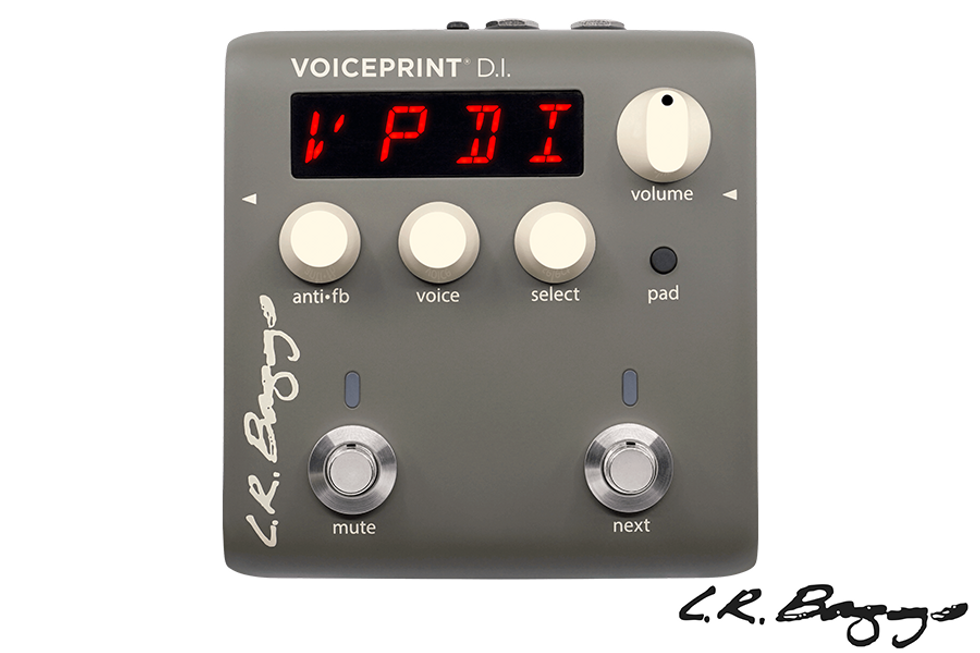 Henriksen Amplifiers
Raise your hand if you only own one guitar… that's what we thought. But do you need a different amplifier for each one? The Bud from Henriksen is no ordinary amplifier; it sounds just as amazing with your acoustic guitars as it does with your electric guitars, regardless of style. The Bud is just 13 lbs and 9"x9"x9" but packs 120 watts of power and a pro-grade feature set that you can truly gig with, record, teach, or just practice.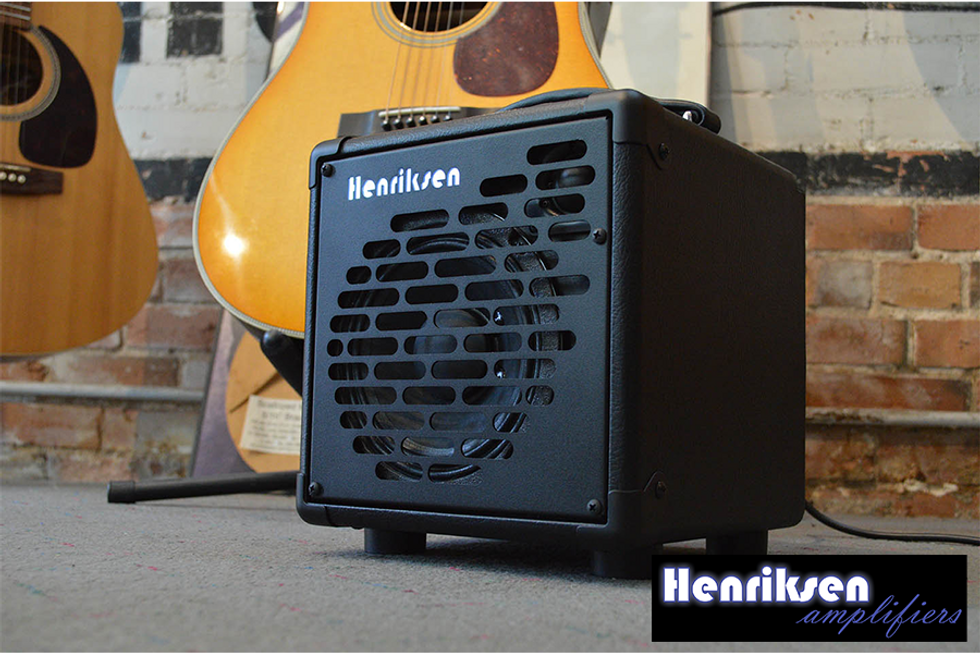 Breedlove Guitars
Powerful and responsive like a dreadnought, tonally the acoustic electric Breedlove Jeff Bridges' Signature Model emphasizes the unique qualities of myrtlewood, with a deep rosewood-like bass, the fundamental clarity of mahogany and the enchanting shimmer of koa. The Breedlove Jeff Bridges signature "All in this Together" project benefits Amazon Conservation Team, which works in partnership with indigenous colleagues to protect rainforests.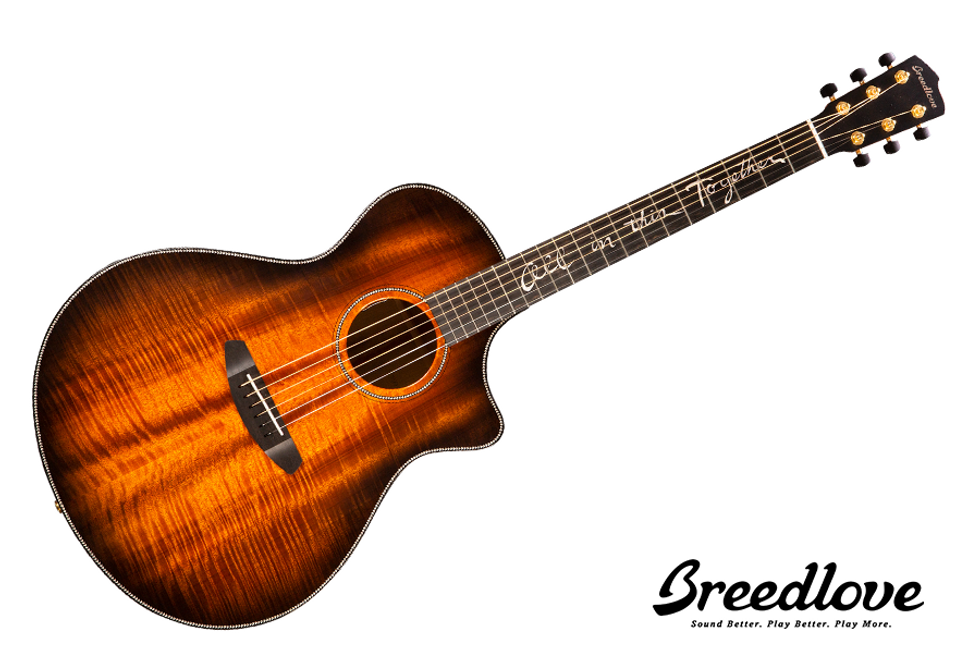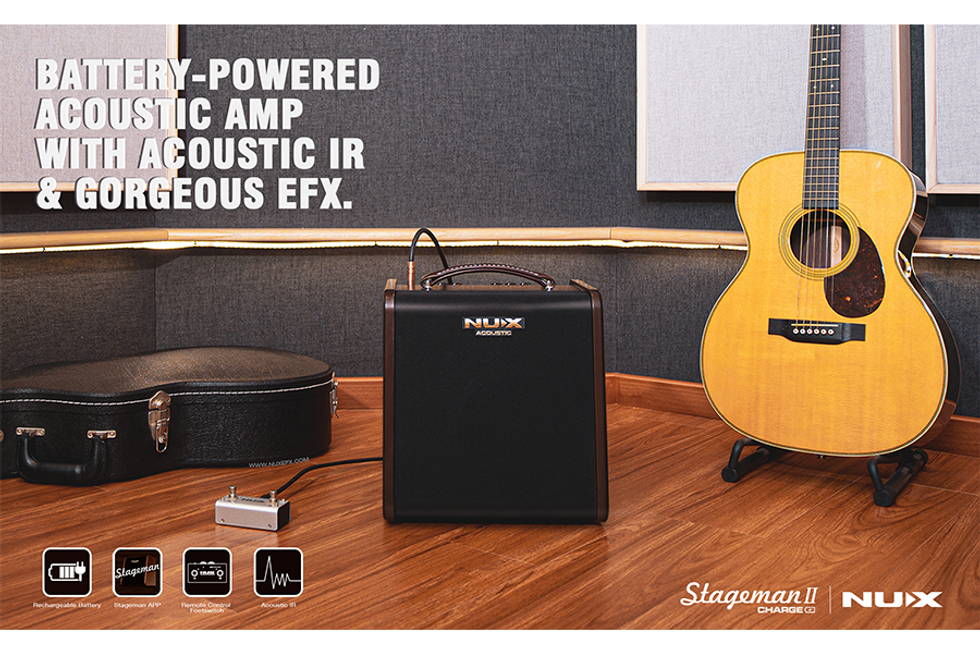 NUX Stageman II Battery-Powered Acoustic Guitar Amplifier features a pure analog preamp with NUX's iconic Core-Image post-effects. It has specific EQ scenes for finger-style as well as strum-style in channel 1, and you can engage built-in Acoustic IRs with a dedicated mobile APP. Acoustic IR is the new trend to make your acoustic sound as natural as micing. Stageman II keeps Drum & Loop, you can control by the original NUX NMP-2 foot-controller. And the built-in rechargeable battery can let you busk on the street for 4 hours.

Highlights:
- 80-watt rich warm sound acoustic amp with 6.5" premium speaker and 1" tweeter
- Rechargeable battery for 4.5 hours outdoor performing
- Built-in Acoustic Impulse Response
- 2 independent channels with routing adjustable post-effects
- Mobile APP for editing and control
- Drum & Loop (60s phrase loop)
- Bluetooth Audio Stream
Click here to learn more
Click here for audio clips
Click here for video
Click here to follow NUX on Instagram
NUX
Djentlemen Jake Bowen, Mark Holcomb, and Misha Mansoor show off their cavalcade of signature gear from Ibanez, PRS, Jackson, Seymour Duncan, DiMarzio, Bare Knuckle, and Peavey—and then explain how digital modelers continue shaping and shifting their sound.
Our third Rig Rundown with Periphery's Jake Bowen, Mark Holcomb, and Misha Mansoor—at Nashville's Marathon Music Works on April 2—caught the band on their final tour stop for a spring run in support of the brand-spankin'-new Periphery V: Djent Is Not a Genre. Our time with the triumvirate of tone reminded us that these fellas never rest their ears. They know gear and how to make it work for them. That's why each of them has spent extensive time in several R&D collaborations with some of the biggest, most influential companies in guitardom. This time Bowen, Holcomb, and Mansoor all dish on the evolutions of their signature gear and how everything meshes and molds together for the greater, Transformer-like machine that is Periphery. Whether it's going up to 27 frets, utilizing Alnico 8 magnets, or adding an Evertune bridge to compensate for deeply dropped tunings, this trio of tone hounds will sniff it out. Let's dig in!
Brought to you by D'Addario XPND Pedalboard.
Final Fantasy 27
Jake Bowen busted out this blue belle first because it's his most-recent signature—an Ibanez JBM9999 that features a basswood body in their RGA shape, a 5-piece maple-walnut neck, a bound-ebony fretboard, a 25.5" scale that crams in 27 frets, Gotoh MG-T locking tuners, and Ibanez's Gibraltar Elite bridge, plus it comes loaded with a fresh set of Bowen's latest signature DiMarzio Mirage humbuckers. The neck model is a custom-voiced, Strat-style, single-coil-sized humbucker that incorporates some finessed tones via the 5-way. Position one and five are standard and individually engage the bridge and neck humbuckers (respectively). Position four puts the neck humbucker into parallel mode. The center slot gets both humbuckers involved, while position two selects the bridge side of the neck humbucker and the neck side of the bridge humbucker. The reason Jake opted for the single-coil-sized humbucker was to inspire fans who want to swap in their favorite single-coil pickups without any extra routing.
Ibanez is known for their wild combinations of letters and numbers for product cataloging, but the 9999s have a significance to Bowen … beyond sounding like an injury law firm's phone number. He's a superfan of the Final Fantasy world and 9999 is the max damage you can get in the earlier games, so Bowen requested that gamer Easter egg and they obliged. All his 6-string signatures take Horizon Devices Progressive Tension Heavy 6 strings (.010–.014–.019­–.030–.042–.058).
Back in Black
Bowen commissioned this sleek JBM9999 from Ibanez's L.A. Custom Shop. It matches all the previous model's accoutrements but shakes it up by including an Evertune bridge. That appointment means it comfortably rides in G–G­­–C–F–A–D tuning and sees the stage for "Reptile" and "Zagreus."
The Mojo Machine
This JBM9999 has a few different wrinkles than the previous two. It has a roasted-maple neck and fretboard, and while the single-coil-sized neck humbucker looks like another Mirage model, it's actually DiMarzio's The Chopper. That pickup worked as a starting point when Bowen was testing out their rail hum-canceling Strat pickups, and that ultimately led him to the voicing of his signature Mirage version.
Knight in White Satin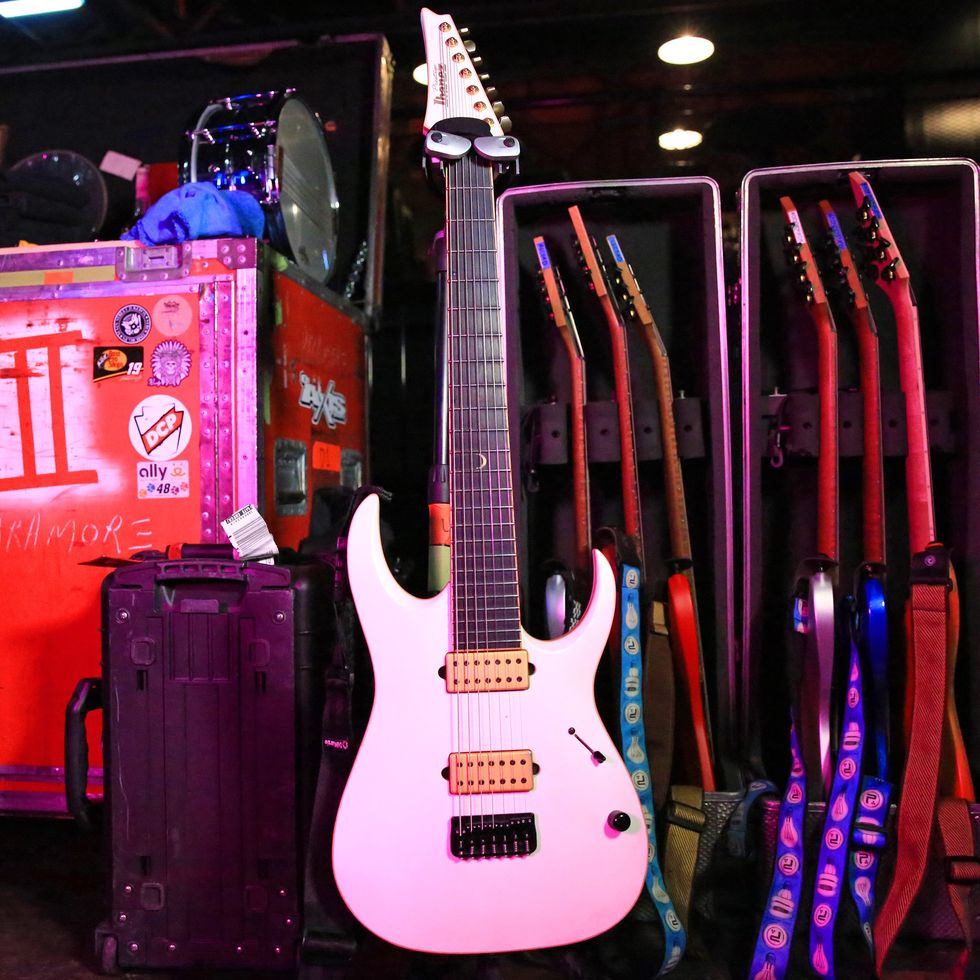 Lastly, here's Jake's signature Ibanez JBM100 7-string, stocked with his original signature DiMarzio Titan 'buckers, that was shown off in the 2017 Rundown. His first standard sig model was generally done in a matte black finish, but he wanted something special and felt the gold pickup covers would really pop with a white finish. The JBM100s have a mahogany body/maple top configuration.
A $200 Private Stock PRS?!
Back in 2016, Mark Holcomb ordered this 7-string custom from PRS' Private Stock team. It's based on his 2015 signature model, but with all of Paul Reed Smith's bells and whistles. A few things make this guitar unique to PRS' signature artist roster in that it has a 26.5" scale length, a flat 20" radius on the fretboard, and Holcomb's first signature Seymour Duncan Alpha & Omega humbuckers.
When it was built, PRS sent the special instrument via FedEx (signature required), and it was left by the delivery person without Holcomb's John Hancock outside his Austin, Texas home. It was swiped by a porch pirate and assumed to be gone forever. Mark rallied his online followers to get the word out and a fan recognized it in a flea market 60 miles south of Austin. The kicker: It was being sold for $200! The fan bought the guitar and returned it to Mark. The best part, Holcomb didn't let the sloppy bandit deter him from touring with it as he uses it on "Ragnarok" and other low-tuned riffers. He laces all his 7-strings with Progressive Tension Heavy 7 (.010–.014–.018–.028–.039–.050–.065).
Holcomb Burst
For any Periphery songs that only require a standard 6-string attack, he shoulders his brand-new 2023 PRS SE Mark Holcomb that is off-the-shelf stock. Ingredients include a mahogany body topped with a quilted maple top that incorporates an elegant violin carve, a satin maple neck with 24 frets, an ebony fretboard with a flat 20" radius, a 25.5" scale length, and this one leaves the factory with Holcomb's just-released Seymour Duncan Scarlet & Scourge humbuckers. Controls are just a 3-way pickup selector, master volume, and push/pull tone knob for coil splitting. Holcomb puts Horizon Devices Progressive Tension Heavy 6 strings on all standard guitars.
7th Heaven
This is Holcomb's PRS SE SVN signature that is identical to its little brother, but has the added string and a 26.5" scale.
Evertune Eviscerater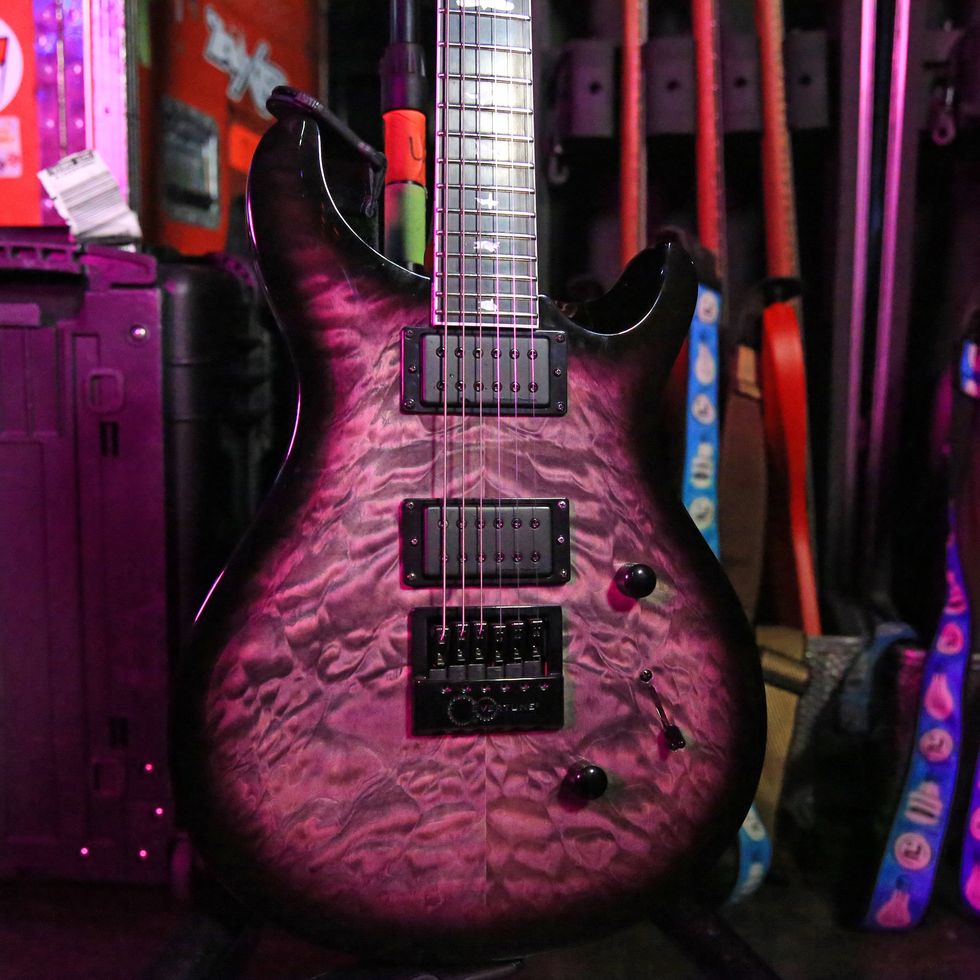 For the set opener "Reptile," Holcomb enlists this PRS SE SVN signature that was modded with an Evertune bridge to accommodate "the stupid-low G tuning" that Mark stumbled upon while riffing away on vacation in Spain.
Reptilian Rocker
For the band's rumbling G–G­­–C–F–A–D tuning, Misha Mansoor grabs this Jackson USA Misha Mansoor Signature Juggernaut HT6. Its DNA starts with a caramelized basswood body, caramelized quartersawn maple neck and fretboard, 24 jumbo stainless-steel frets, a Graph Tech TUSQ XL nut, a 25.5" scale, Hipshot open-gear locking tuners, and Misha's signature Bare Knuckle Ragnarok humbuckers. He puts Horizon Devices Progressive Tension Heavy 6 strings on it. And it has a retro-fitted Evertune to keep things tight, prompting Mansoor to commented that "this tour is the most in-tune 'Reptile' has ever sounded. It's been wonderful." He notes that he recorded nearly all his parts for Periphery's last two albums with this silver siren.
Orange You Glad
A few years back, Mansoor listed a bunch of gear on Reverb during an equipment purge. He almost listed this one but had second thoughts and is very glad he didn't. His tech Vinnie gave it some serious TLC and it's back in the rotation. A cool tidbit about this first-generation Jackson USA Misha Mansoor Signature Juggernaut HT7 is that it has a stunning quilted maple cap sitting over a roasted basswood body. There was a slight blemish on its top, so to salvage the build Misha suggested painting over the quilt, but leaving the edges exposed for a quilted binding effect. It sees work for "Ragnarok," in their unique variation of drop-A-flat tuning (F#–D#–G#–C#–F#–A#–D#).
Snobs Need Not Apply
Another staple for Mansoor during Periphery's live set is this import Jackson Pro Series Signature Misha Mansoor Juggernaut HT7 in shimmery blue sky burst. Many of the same appointments are here: a basswood body and a caramelized maple neck and fretboard. The stock models roar with a set of Jackson MM1 humbuckers, but Mansoor opted to upgrade with a set of Bare Knuckle Ragnaroks.
Easy Peasy
"This thing just shreds, man. It's just so easy to play and it doesn't fight me for the little note-y bits in 'Marigold.'" The set closer puts this matte Jackson USA Misha Mansoor Signature Juggernaut HT6 into drop-C tuning. Mansoor is a mega car enthusiast and Formula 1 fan, so he had Jackson put this one in matte red to match Ferrari finishes.
Pass the Scalpel, Please
This might look yet another Jackson USA Misha Mansoor Signature Juggernaut HT6 with a basswood core and quilted maple top, but it has a mahogany body and flame maple cap for a darker sound and heftier weight. Misha's signature Bare Knuckle Juggernauts give this baby a bite. Mansoor says the Ragnaroks are a sledgehammer, whereas the Juggernauts are a precision tool.
All in the Family
Misha and Jake have nearly identical setups and patches when it comes to amps and effects. Both are using Peavey Invective120 heads—a design alliance with Mansoor—that each run their own Fractal Audio Axe-Fx II XL+ units through a Peavey Invective 412 and out to FOH. The cabinets are loaded with two pairs of Celestion speakers: Vintage 30s and Creambacks. Mark uses a Fractal Audio Axe-Fx II XL+, but his is juiced by a Seymour Duncan PowerStage 700. He also has a Peavey Invective 412 cabinet onstage. In addition to live stage audio via 4x12s, each guitarist relies on Sennheiser EW IEM G4 Wireless In-Ear Monitor and side fills for a complete sound. And the three amigos plug their shred sticks into Shure ULXD4Q Wireless Units.
A perfect fusion of elegance and high performance, the Pro-Mod Series offerings are designed for a new breed of player whose musical vision and versatility knows no boundaries.
Charvel is revealing its newest addition to its legendary Pro Mod So-Cal Style 1 Series, the Pro-Mod So-Cal Style 1 HSS FR M, Maple Fingerboard and Pro-Mod So-Cal Style 1 HSS FR E, Ebony Fingerboard.
The new Pro-Mod So-Cal Style 1 HSS comes loaded with everything a player could ask for in terms of sound, style, and feel. A perfect fusion of elegance and high performance, the Pro-Mod Series offerings are designed for a new breed of player whose musical vision and versatility knows no boundaries. These models epitomize sleek, advanced playability for the seasoned professional and the aspiring performer, blending sophisticated style with assertive tone for maximum playing enjoyment.
Here's what's different about the Pro-Mod So-Cal Style 1 HSS FR M, Maple Fingerboard:
A conveniently located heel-mount spoke wheel allows for rapid truss rod tweaks, even in between songs.
Engineered for effortlessly nimble playing, the speed neck profile and 12"-16" compound radius fingerboard with 22 frets is perfect for all styles of play—from low-end riffing to soaring leads with worry-free upper-register bends.
Here's what's different about the Pro-Mod So-Cal Style 1 HSS FR E, Ebony Fingerboard:
The no-load tone control operates like a standard tone control from positions one through nine, removing itself from the circuit at position ten for transparent sound, letting the full natural voice of the guitar shine through.
Scream or rumble with the Floyd Rose 1000 Series double-locking tremolo system without sacrificing tuning stability or the pinpoint intonation.
Presenting the New Charvel Pro-Mod So-Cal HSS Models | Charvel Guitars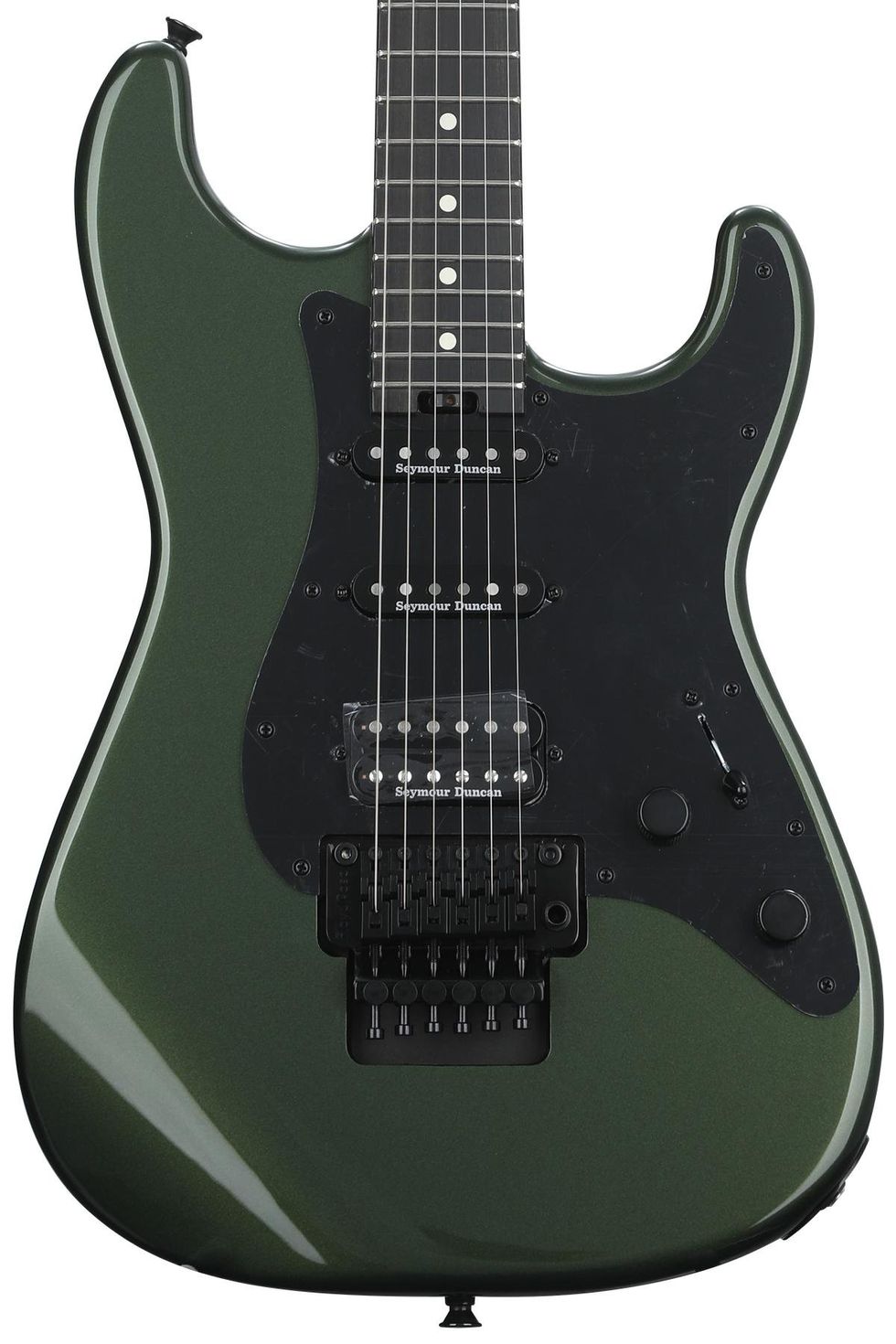 Pro-Mod SC4 HSS FR, Lambo Grn
Charvel
EHX releases their take on the extreme '80s distortion.
The Electro-Harmonix Hell Melter takes distortion to its extremes in their take on the cult classic chainsaw distortion pedal with expanded controls and tonal capabilities. This distortion circuit originally designed as the ultimate in high-gain is now known for the death metal sounds of the likes of Sweden's Entombed, and the shoegaze wash of My Bloody Valentine. Surprisingly, it's even been at home in the rig of David Gilmour.
​The EHX Hell Melter enhances on the original design with many modern updates and features. More overall output volume is available on tap than the original circuit. The active EQ expands the original single highs control, which controlled peaks in both the treble and upper-mids, into a HIGH control and parametric MIDS LVL control with adjustable MID FREQ ranging from the signature high-mids bark to a low-mids growl. The LOW control rounds out the powerful 3-band EQ. A mode toggle goes from NORM to the new BURN mode which opens up the sound of the pedal significantly by switching to more open clipping options and boosting the internal voltage for more headroom. Additional new features include a noise gate and DRY LVL control, which is useful when using a bass guitar or using an already dirty amplifier. A foot-switchable BOOST section increases the overall gain and volume of the pedal. DISTORTION and LEVEL knobs control the overall gain and output volume of the pedal respectively.
Electro-Harmonix Hell Melter Distortion Pedal
​Electro-Harmonix
The Hell Melter comes equipped with an EHX 9V power supply and buffered bypass. It features a USA street price of $176.66.
For more information, please visit ehx.com.
Electro-Harmonix Hell Melter Distortion Pedal