This vintage-oriented digital reverb moves from intimate to atmospheric with ease.
It's never easy to make digital reverb sound cool. A clever pedal builder will find ways to give it color and character, and a really crafty one will coax just enough spring- or plate-reverb-like shading and digitally derived sweetener to appease all but the most hardened analog fascists. The latter trick is the essence of EarthQuaker Devices' Levitation Reverb, an expressive, vibrant, and super-dimensional digital box that can stand in convincingly for spring and plate units and generate a light year's worth of lovely textures outside analog constraints.
Echoes from a Ghost
The Levitation circuit is a close cousin of EarthQuaker's very spring-reverb-like Ghost Echo, though the Levitation's functionality differs significantly. Where the Ghost Echo had an attack function (which added clarity to pick attack) and a dwell knob, the Levitation replaces them with a reverb-length toggle and decay, atmosphere, and tone controls. The last of these is a low-cut filter at the front end of the reverb circuit. At its full counterclockwise setting, it eliminates most of the low end hitting the reverb circuit. As you rotate it clockwise, you re-introduce bass frequencies. The atmosphere control, meanwhile, takes high-end content from the reverberated signal and feeds it back through the circuit to create a singing, regenerative harmonic effect.
Judicious use of the atmosphere control adds trace elements of high-harmonic space dust that lend motion and glow to chord arpeggios and overdriven/boosted solos in particular.
The heart of the Levitation is an Accutronics BTDR-3H Digi-Log chip, which is essentially three PT2399 chips—one of which is modulated to simulate the electromechanical irregularities of spring and plate reverbs. It's a great foundation for a digital reverb, and in the Levitation it helps generate tones from subdued to deeply subterranean, and snappy to interstellar.
Phantom Space Surfer
The Levitation's short reverb settings move from just-barely-there, small-room ambience to more vivid and animated spring sounds. Does it pass the spring-reverb likeness test? Well, yes and no. It has a lot of the resonance and liveliness of a big Fender tank, but it's much smoother—lacking some of the dirt, electro-mechanical resonance, and artifacts you hear in tube-driven tanks. Does that sound cool?
Ratings
Pros:
Wide range of delicious reverbs—from intimate to atmospheric. Easy-to-explore control set.
Cons:
Traces of digital artifacts in more atmospheric sounds.
Tones:


Ease of Use:


Build/Design:


Value:




Street:
$185
EarthQuaker Devices Levitation Reverb
earthquakerdevices.com
I'm a longtime Fender Tube Reverb user, and I loved the Levitation's smooth-but-twitching decays and the extra room they provide for exploring the atmosphere and tone controls, which you can use to dial in a little vintage patina. If you're hell-bent on a dead-on spring emulation, there are pedals out there dedicated to that mission. But the Levitation is arguably a more flexible platform from which you can explore spring-ish realms. Other cool short-reverb settings come with the reverb mix down low, where the Levitation works as a subtle tone-thickening agent without tinting guitar or amp tones too significantly.
The Levitation's long-reverb toggle settings emulate, to some extent, the properties of plate reverb—though they are not strictly plate-like by design. Instead they offer a very pretty compromise ground between classic plate textures and contemporary digital shimmer-verbs (though on the whole the pedal's voice tilts toward the former.) You can push long-reverb settings into very spacious regions, and judicious use of the atmosphere control adds trace elements of high-harmonic space dust that lend motion and glow to chord arpeggios and overdriven/boosted solos in particular. You have to be careful not to push the atmosphere control too hard if you're sensitive to digital's tendency toward hard-edged decays. These right angles in the fading echoes are not starkly prominent, but in treblier settings and with bright amplifiers they will show up.
The Verdict
A lot of digital reverbs try to compensate for digital's intrinsic shortcomings by being all things to all players. The Levitation doesn't bother with creating the most impossibly ambient echoes or the most immaculately spring-like reverb. Instead it provides a flexible, easy-to-navigate platform for very musical, tasteful, and authentically vintage-flavored 'verbs that sound virtually indistinguishable from their inspirations within a band mix. Even with my own predilections for Fender reverb tanks, I loved the Levitation's smooth echoes and bright-to-dusky vocal range in short-reverb mode. And while the long reverbs can reveal faint digital artifacts at extreme atmosphere, delay, and tone settings, they can also be sparkling and vibrant, thanks to the controls' range and sensitivity. If the Levitation is a pedal of compromises, they are smart ones—and they add up to a genuinely utilitarian and expressively varied effect.
Looking for more great gear for the guitar player in your life (yourself included!)? Check out this year's Holiday Gear Finds!
Outlaw Effects introduces their next generation of NOMAD rechargeable battery-powered pedal boards.
Available in two sizes, NOMAD ISO is a compact, versatile tool that offers the convenience of a fully powered board plus the additional freedom of not having to plug into an outlet. NOMAD ISO is ideal for stages with limited outlet availability, quick changeovers, busking outdoors, temporary rehearsal locations, and more!
NOMAD ISO builds upon the legacy of the ultra-convenient and reliable NOMAD rechargeable pedalboard line originally launched in 2018. The brand new NOMAD ISO editions feature eight isolated outputs (1 x 9V DC, and 1 switchable 9V/12V DC) for even more versatility and clean, quiet power. With an integrated lithium-ion battery pack boasting 12800mAh capacity, NOMAD ISO can fuel a wide array of pedals, and will last over 10 hours* on a single charge.
Each NOMAD ISO pedal board includes adhesive hook & loop pedal-mounting tape, eight (8) standard DC connector cables, and one (1) reverse polarity DC cable, giving you everything you need to build your ultimate "off-the-grid" rig. A rugged, road-ready padded gig bag with shoulder strap is also included, to safely protect your gear while you're on the move.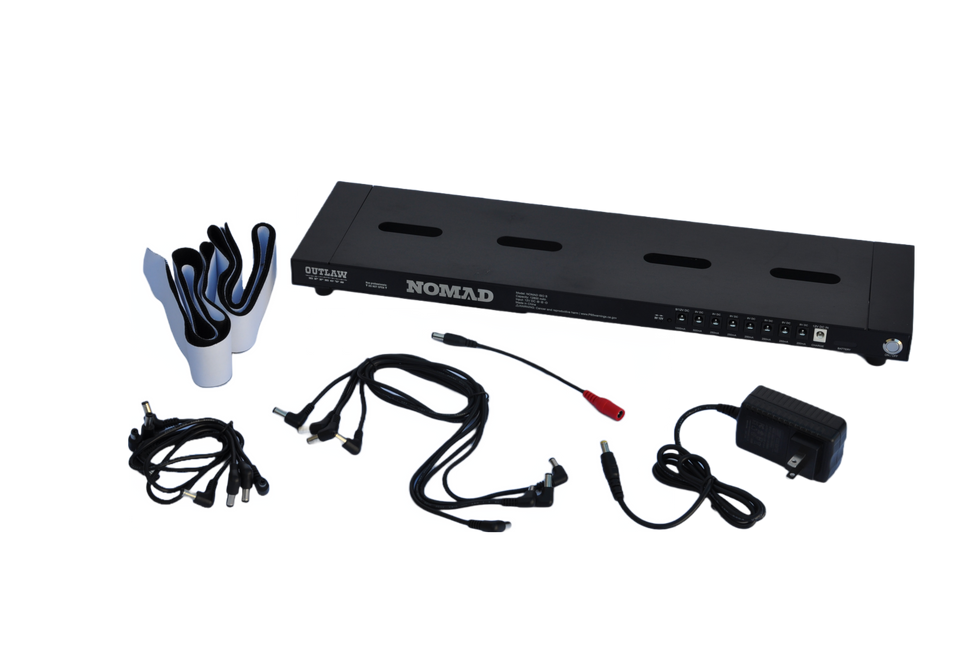 Dunable announce new Minotaur model featuring Grover Rotomatic Keystone tuners.
The Minotaur's DNA is rooted in their classic Moonflower model, which Dunable discontinued in 2017. However, they have long since wanted to create a fresh take on a carved top guitar design, and various attempts to rework the Moonflower led them to a brand new concept with the Minotuar.
Dunable's goal is to give the player a guitar that plays fast and smooth, sounds amazing, and gives maximum physical ergonomic comfort. The Minotaur's soft and meticulous contours, simple and effective control layout, and 25.5" scale length are designed to easily meet this criteria.

Dunable Minotaur!
Features
25.5" scale length
Dual Humbucker
one volume, one tone, push pull for coil splitting
Grover Rotomatic Keystone tuners
Grover Tune O Matic bridge with brass Kluson top-mount tailpiece
jumbo nickel frets
12" fretboard radius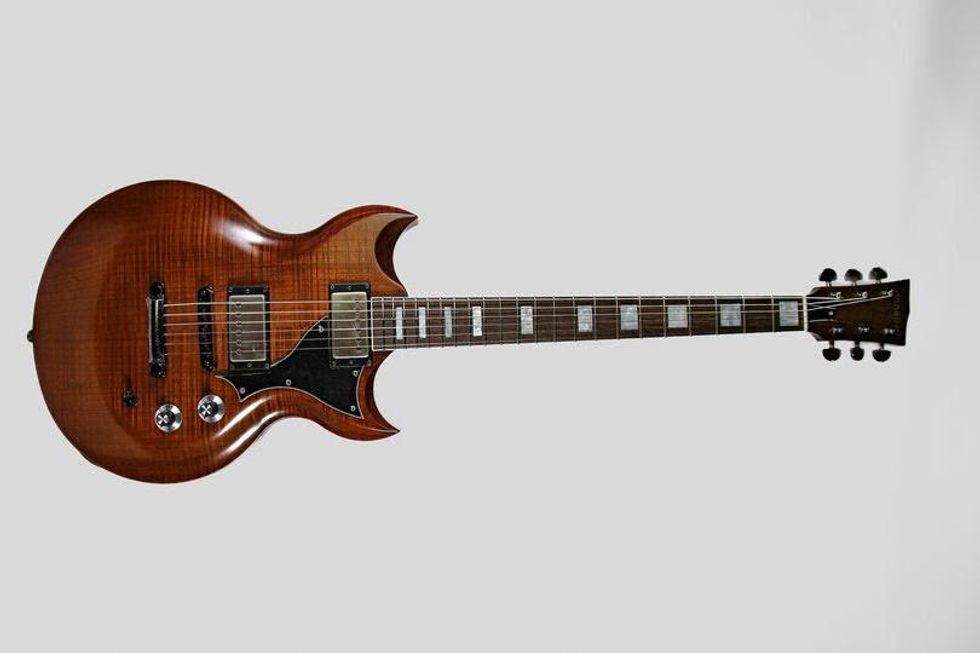 Dunable
This full-amp-stack-in-a-box pedal brings a new flavor to the Guitar Legend Tone Series of pedals, Missing Link Audio's flagship product line.
Adding to the company's line of premium-quality effects pedals, Missing Link Audio has unleashed the new AC/Overdrive pedal. This full-amp-stack-in-a-box pedal – the only Angus & Malcom all-in-one stompbox on the market – brings a new flavor to the Guitar Legend Tone Series of pedals, Missing Link Audio's flagship product line.
The AC/OD layout has three knobs to control Volume, Gain and Tone. That user-friendly format is perfect for quickly getting your ideal tone, and it also offers a ton of versatility. MLA's new AC/OD absolutely nails the Angus tone from the days of "High Voltage" to "Back in Black". You can also easily dial inMalcom with the turn of a knob. The pedal covers a broad range of sonic terrain, from boost to hot overdrive to complete tube-like saturation. The pedal is designed to leave on all the time and is very touch responsive. You can get everything from fat rhythm tones to a perfect lead tone just by using your guitar's volume knob and your right-hand attack.
Features 
Three knobs to control Volume, Gain and Tone
Die-cast aluminum cases for gig-worthy durability
Limited lifetime warranty
True bypass on/off switch
9-volt DC input
Made in the USA
MLA Pedals AC/OD - Music & Demo by A. Barrero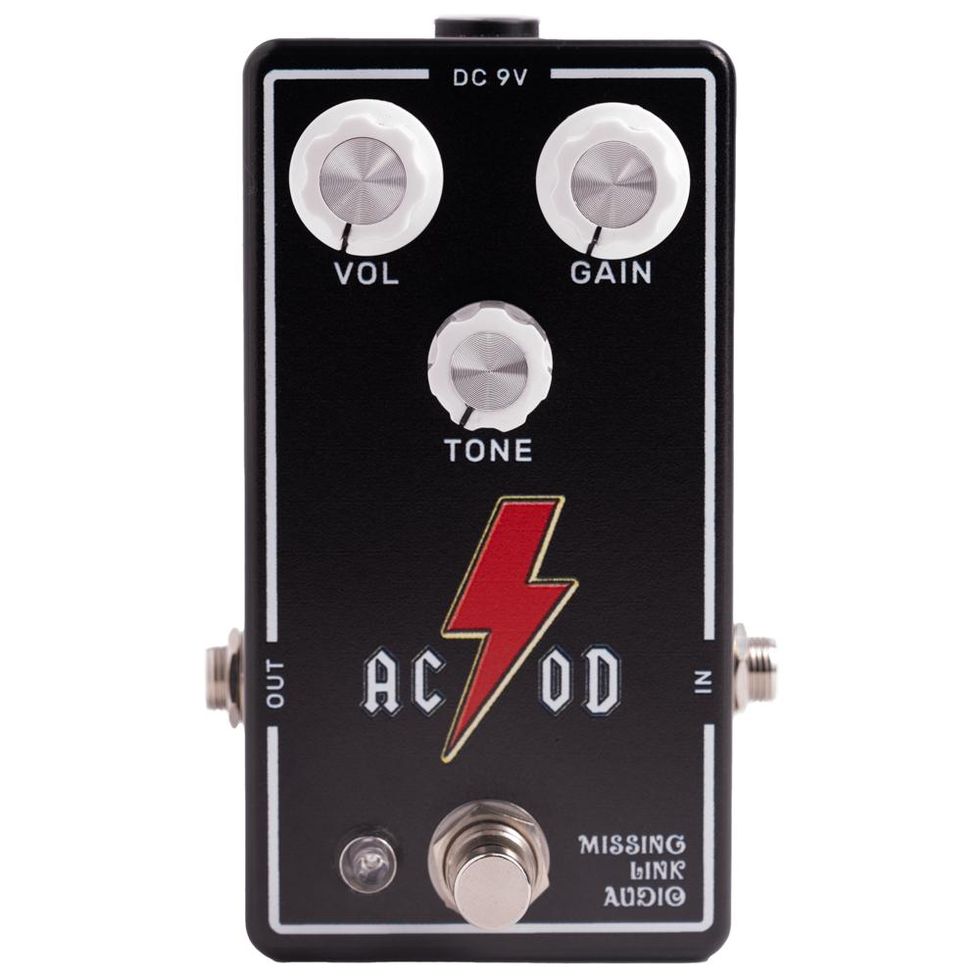 www.mlapedals.com.