From Skulls to Scooby-Doo—9 of the World's Strangest Stomps
Fantastic freaks that annihilate preconceptions about how pedals should look and sound.
The effects pedal industry is booming—or was, before the coronavirus. Still, we carry on and continue to create new music and new sounds. There are hundreds, if not thousands, of different stompboxes available. Musicians and producers are clamoring to have an arsenal of sounds at their feet. What was once only possible in a recording studio can now be fully realized in almost any environment, thanks to pedals.
So, people are experimenting with sounds more than ever, and weird sounds abound, but it seems that most stompboxes are relatively plain-looking: mostly rectangular metal enclosures, usually painted or printed with some very cool designs, but still…. What does one do when one wants a pedal that looks as unique as it sounds?
They go a-hunting for strange stomps! There are pedal makers popping up who are building wild, non-traditional pedals. Some are fairly large companies that you might already know, while others are smaller operations that deserve to be better known. This article aims to share some of these wild units and their makers with our readers. We think you'll be amazed by these creations!
---
ScrewedCircuitz

Canadian company ScrewedCircuitz is Dan Roleau and Kassia Lebeau, and synthesis is their game—aimed at recording, live sampling, and the spontaneous creation of freaky, haunted-house type atmospherics. Dan builds the circuits and Kassia does the design of the enclosures. They have many strange creations, but the Ring Mod Skull pedal is one of the visually strangest. It offers a passive ring modulator with eight oscillators, lo-fi pre-amplification, and feedback loop options—all built inside a replica of a human skull!

There are controls for each of the eight different oscillators in the Ring Mod Skull. Each knob controls oscillator pitch independently. Each oscillator has its own switch that gives the user the option to flip between resistors and diodes, in order to create two different sounds within the matrix mixer. Courtesy of Dan Roleau and Kassia Labeau or ScrewedCircuitz

"We love matching the enclosure to our sound," says Roleau. Hence, also, the Harsh Noise Coffin Synth, which is a tiny device shaped like a wooden coffin that sounds like a box full of snakes … until it starts to whoosh and whoop.
"We were inspired to create something dark, atmospheric, and harsh all-in-one," Roleau says about the Ring Mod Skull. "The pedal is based on our very first Zombie-Head Synth, which was noisy as hell and freaked everyone out because of the realism of the enclosure. The Skull circuit is handmade from scratch using whatever components were laying around at the time. We added cool LEDs because … well, because why not? Who doesn't like 'em? We aim to please ourselves before anyone else, so when someone appreciates our work it's a bonus."
"The Skull circuit is handmade from scratch using whatever components were laying around at the time. "—Dan Roleau, ScrewedCircuitz
Almost all ScrewedCircuitz effects and sound circuits are built inside of unique, one-of-a-kind enclosures. Plastic toy organs and locomotives, repurposed keyboards, and Walkman cassette players are all fair game, although builds like their Lo-Fi Sampler, Lo-Fi Looper, and some of their other sound twisters come in conventional enclosures.
Prepare for some uneasy listening, but hang in through the end to hear the full range of buzzing, grinding, hissing, warbling, and even vaguely threatening sounds that come from this little box of horrors.
---
Effesk
effesk.com

"Make fuzz not war" is the slogan of Effesk, another one-man company in Arnhem, Netherlands. It's run by William van Giessen, who makes guitar pedals in the unlikeliest of objects. A quick look at their website reveals a wealth of off-the-wall tone treats: a pinball-machine-shaped fuzz and sound randomizer, an octave fuzz in the form of an old tabletop radio, an OD built into a plastic cat-and-cheese bank, a tremolo in a model VW microbus, and a fuzz built into an old Agfa Clack camera. But my favorite is the DejaVu Minette: an analog-modeled delay with a prominent vintage feel in its looks and sound. Each Minette is boxed up inside of a beautiful old Super 8 mm miniature film projector, which is still functional as a movie viewer! Van Giessen includes found-footage Super 8 film rolls with his orders, so you can watch an old movie and make a soundtrack to it simultaneously.

The DejaVu Minette has a front-panel switch that activates either of its two separate delays, and a half dozen pots—including four on the right side—to control various parameters including pitch bend and the transition speed between delays. Inputs are at left. And yes, the Minette can play movies on its monitor screen. Photo courtesy of William van Giessen/Effesk

The DejaVu has the usual volume, blend, regenerate, and tone controls. As a distinct feature, it has two separate switchable delays, each with its own speed control. It also has a unique modulation effect. The delay controls are selectable via a switch, and, when switching from one time setting to the other, the change happens slowly, just as if you were manually turning the delay time pot on a standard delay pedal. This causes a gradual pitch bend that slowly resolves to unison if a note or chord is struck and held when toggling between the delay pots. To control the speed of the pitch bend/resolve, there is a pot labelled "slow." Making the transition speed slower also makes the overall delay time longer. It's a very interactive system—warm, clean, useable, and awesome!
"During my lifetime, I have hoarded a large collection of vintage objects. These enclosures deserve a second life in the spotlight."—William van Giessen, Effesk
"During my lifetime, I've hoarded a large collection of vintage objects," says van Giessen. "They were laying around, doing nothing. I figured that these could function as awesome enclosures for the effects I've fallen in love with. Why use standard aluminum enclosures when you can put the circuit into something that fits the theme? These enclosures deserve a second life in the spotlight."
Ready for its close-up, this DejaVu gets put through its paces. Hang in to hear its truly cool space-age, analog-delay-style feedback and repeats after the 6-minute mark.
---
Loe Sounds
@loesounds

Strange effects pedals are what I'm all about. My little two–woman company, Loe Sounds, makes out-of-the-ordinary stompboxes and sound machines. My partner Fiona Loe and I salvage old electronics and have amassed some pretty amazing things over the years.

This Loe Sounds Atari Fuzz, fashioned from an Atari 2600 controller, has volume and gain controls on the top left and right, and a lower-right on/off switch. The Realistic intercoms have been converted into FM Thingees, a heavily modulated reverb with controls for reverb, width, drone, chaos, modulation speed, modulation depth, and blend. Reverb width is a sort of time control. Drone sets how long the reverb lingers. Chaos adds nasty feedback and dirt. Mods, like expression pedal control, are optional. Courtesy of Aisha Loe/Loe Sounds

Many of the items we find are broken beyond repair, but I save the components inside, as well as the enclosures. Rather than put them into the landfill, I repurpose them by building new effects circuits that are made of a mixture of salvaged and new parts inside—essentially transforming trash into handmade, one-of-a-kind stomps. I usually try to put period-specific effects, knobs, and flair into these boxes.
"We make Atari Fuzz pedals out of broken Atari 2600 joysticks and paddles."—Aisha Loe, Loe Sounds
For example, we make Atari Fuzz pedals out of broken Atari 2600 joysticks and paddles. We gut the insides and build fuzz circuits into them. Each time we make a new run of 10 pedals, a different fuzz circuit goes inside, so there are multiple flavors of Atari Fuzz out there. Another thing we love to make is our Realistic FM Series. We take old Radio Shack intercom units and transform them into modulation effects pedals we call the FM Thingee.The enclosures are beige, and awesome-looking. There's lots of room inside, so I can fit a lot of sound into one box and keep the outside design aesthetics looking sharp. The best part is that it can all be customized, and for us that is the most fun: the collaboration between the person who builds the unit, and the person who will be using the pedal to create sound and music, while being visually inspired by it.
Check out a Loe Sounds FM Thingee in operation. The modulated reverb device is wired for true bypass and features a clean blend for optimum signal. The results run from moody to menacing and well beyond.
---
Lightning Wave
lwave.nz

Among other things, New Zealand's Lightning Wave effects provide a stompbox interface for creating modulation waves via other pedals. Their devices, like the Ghost, have dense functionality, making it possible to draw squiggly LFO shapes for guitar effects and plug into analog synthesizers (and other gear) at the same time. All Lightning Wave pedals can work as controllers for other pedals with CV or 0-5V expression inputs, applying their own weird mojo. While the company does use traditional Hammond-style aluminum boxes, LED-backlit faders and '80s-video-game-and-anime-inspired faceplates make these units stand out.

Although it has five presets, which can be customized, Lightning Wave's Ghost allows you to control the shape of waveforms, plus the wet/dry mix, with its slider. The large button at the top controls the depth and speed of its tremolo function, and the lower right button is a tap tempo. And yes, it's stereo and has other functions that go much deeper. Photo courtesy of Lee Nicolson/Lightning Wave

Co-founder Lee Nicolson has this to say about the Ghost—at its core, a tremolo that lets players draw their own sine waves. "I started with the aim to make an LFO pedal with an analog signal path, and the ability to draw custom waveforms. Once I started exploring the digital possibilities, all of the what-ifs that came up led to the concept going through something like five or six revisions before a release.
"It became a bit of a quest to fit every function we could into a standard, portrait 1590BB enclosure with top-mounted jacks, while still having a simple interface that didn't get in the way of a clear aesthetic. My friend Josh Hunter, a tattoo artist from Dunedin [New Zealand], helped to bounce around graphic ideas ranging from nostalgic video games to dystopian anime.
"It became a bit of a quest to fit every function we could into a standard, portrait 1590BB enclosure with top-mounted jacks, while still having a simple interface."—Lee Nicolson, Lightning Wave

The gold-and-black faceplates were actually a last-minute thing, because I couldn't find anyone to screen-print onto pedal cases in New Zealand. I think the fader idea might come from the Ibanez Standard Fuzz, but, instead of a fixed-function analog control, it was combined as a way to sketch the waveforms while recording, and as a depth control during playback."
While the Ghost is Lightning Wave's best-known creation, the company also makes the Doom pedal, which allows an automated or manual crossfade between two signals, and the Astro, which is an experimental MOSFET-based version of the Ghost.
Check out Lightning Wave's happily blinking Ghost pedal. Its unique functionality blended with sharp vintage-gaming aesthetics rocks—and shudders, and warbles.
---
ezhi&aka
ezhiandaka.com

The pedal company ezhi&aka is based in Yaroslavl, a historic city about 160 miles outside Moscow. This builder is best known for the Polarized Flutter delay, which is an infrared force-sensor-controlled lo-fi tape-stop emulator pedal. It might look like a conventional—if Soviet-era industrial-design inspired—box until you point your gaze to the bottom-left corner of its enclosure. What the heck is that? That weird, square-ish-looking thing is the
force sensor
.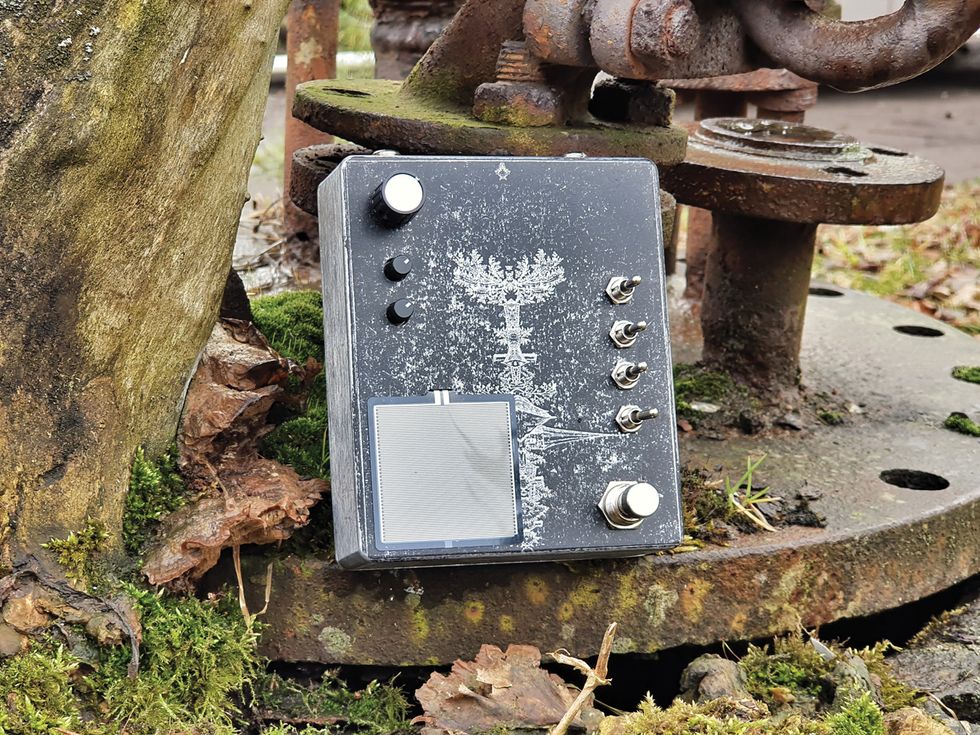 The Polarized Flutter blends controllable character with a degree of unpredictability, with options for lo-fi flutter, vibrato, a mean fuzz, and a clean blend that yields unusual chorus sounds. The infrared sensor works in light or darkness and allows pitch manipulation to create myriad fluttering and tape-stop and wobbling effects. Photo courtesy of Alexey Kruglov/ezhi&aka

The Polarized Flutter's creator, Alexey Kruglov, elaborates on how this thing works: "The force sensor lets you control how quickly and deeply your signal drops into a faux-tape-stop dive, via applying more pressure to the sensor in downward mode, but also has a polar different upward mode where your signal is not audible. You press hard to revive it, sending it back into unwinding-tape-like effects. These upward and downward modes are [the heart of the] Polarized Flutter. In aviation, having flutter means if you don't do anything, something will break. And upward mode here feels a lot like that. The Polarized Flutter also has the ezhi&aka Signature Fuzz built in. The sensor is strange and sensitive, so experimenting with pressing it with sponges, brushes, and the like is very fun."
"The sensor is strange and sensitive, so experimenting with pressing it with sponges, brushes, and the like is very fun."—Alexey Kruglov, ezhi&aka

Delay lovers out there are going to want this pedal, which has pitch, amplitude, mode, and fuzz controls, plus a wet/dry mix, and comes in several iterations—including the latest, with the sensor hidden from sight in the same bottom corner. The tape-delay sound itself is extraordinary, and that force sensor is just too cool. It's great to have a way to control functions on a pedal that isn't just knobs or faders. The force sensor's feel is reminiscent of Korg's Kaoss Pad touch control screen—used to great effect by Reeves Gabrels and a handful of other guitarists—in some ways, since it's best manipulated at arm's length. Many new sounds can be encountered using this fluid type of control over the effect. And Kruglov's Reverb/Pitch Shifter/Tape+ is equally unique.
Check out this weirdly and wildly expressive unit, and then try applying pressure to a corner of one of your own delay or overdrive pedals and see what happens. (Nuthin'!)
---
Landscape
landscape.fm

Speaking of different types of control interfaces, Brooklyn's Landscape is quite innovative in this regard. This is the company of instrument designer and musician Eric Pitra, who creates experimental electronic instruments influenced by obsolete technology, with interfaces that invite intimate human involvement within electronic sound creation. With his works, the human touch
is
the control.
The Landscape device that really caught my attention is the HC-TT, which is a compact cassette manipulation box that allows you to manually play a cassette with your hands. The resulting sound can be incredibly similar to scratching a vinyl record. Sound will only be produced while your fingers are turning either of the large playback knobs. By turning these knobs, you are directly rotating the cassette spindles, which moves the tape across the internal tape head. The knobs "play" a regular cassette forwards and backwards. There is no motor in this device, so direction and speed is left to the performer.

The HC-TT's ability to allow real-time tape manipulation with your hands opens up new sonic opportunities to accompany your live guitar playing or to manipulate pre-recorded music on cassette. Photo courtesy of Eric Pitra/Landscape

And yeah, there's more to it as well. The device has a momentary touch mute that's sensitive to the amount of skin touching its control pad—so sputtering sonic breaks to buzzing sounds are available. There's also a gain control, a lo-fi dirty tone control, a 3.5 mm CV input so the HC-TT can be used to modulate an incoming playback signal, and feedback touch points.
There is no footswitch on this device. But obviously the HC-TT is not a traditional guitar pedal. Or even, really, a guitar pedal. But these days, many of us guitarists and bass players are incorporating sound boxes of all kinds into our sonic palettes—expanding the boundaries. There really are no limitations when one starts to get creative with effects and sound generators. I'm seeing a lot of ambient looping artists out there using Landscape's devices, in conjunction with oodles of guitar pedals. And there's the similarly un-floor-bound Kaoss pad. But the HC-TT is so odd and wonderful that I couldn't help but include it. Landscape has other strange and useful creations, too, including the analog-synthesizer-like Stereo Field, which is packed with touch-plate controllers.
Cassette chaos in a box! Imagine laying down a loop of feedback with your guitar, and then sliding sustained notes with your left hand while manipulating a tape—perhaps one you recorded—with your right.
---
Sehat Effectors
@sehat_effectors

One of my favorite pedal companies out there is Sehat Effectors, based in Yogyakarta, Indonesia. Co-founders Kusuma Prasetyo Putro and Aljuliano Pandan Bara make the brilliant, oddball Moisture Phone Fuzz Deluxe, which comes in germanium and silicon versions. This wacky contraption consists of unruly fuzz built into discarded land-line telephones. The handset receiver has a functional microphone that works in tandem with the fuzz—allowing it to be a guitar and vocal effect simultaneously.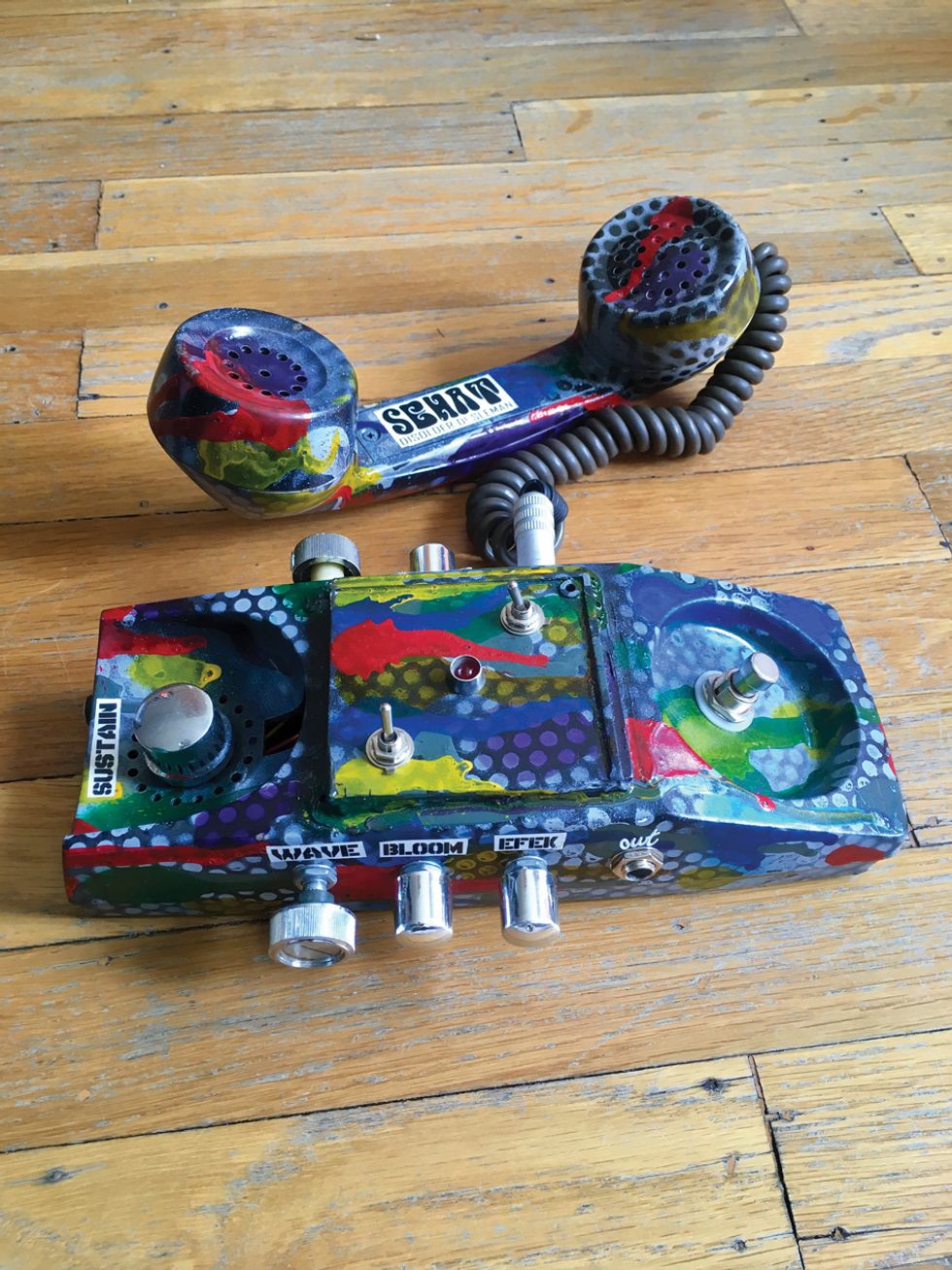 This pedal is as cool and crazy as it looks, with controls for wave shape, bloom, sustain, fuzz, oscillation, modulation, attack, and tone. Check out the video to hear just how raw and radical a sonic palette the Moisture Phone Fuzz Deluxe dials up. Photo by Aisha Loe

I asked Putro to explain his process for creating this crazy device: "We use old wall-office intercoms—most of them are made in Japan—from the '80s and '90s. During the '80s, the circuit was manufactured using a germanium amplifier circuit to drive the speaker and the microphone on the phone's handle. Luckily, the germanium transistors are usually still working and can be re-used for another purpose. In this case, we use those germanium transistors for our Moisture Fuzz circuit, which is the heart of this pedal.
"The '90s phones we use are lighter, because all materials were made from plastic and the shape is much rounder than the '80s phones. The electronics inside these '90s phones are fully silicon technology. This makes for a more modern type of sound. In addition to the Moisture Fuzz circuit, we added extra features like an additional jack and preamp with individual volume control for the microphone input [which is the phone's receiver]. We also put the NE555 Atari Punk Console circuit [an oscillator] in there, which works in conjunction with the fuzz circuit to give an extra noise function.
"The purpose is to make a crazy noise experience."— Kusuma Prasetyo Putro, Sehat Effectors

You can get the oscillating noise from the Moisture circuit and square wave tremolo that keeps interrupting the signal, but you can control the speed/rate of the square wave with your input signal—either from your instrument or the microphone input. The purpose is to make a crazy noise experience."
This thing is absolutely bonkers! I can personally attest to the wonderful mayhem of this device. It's the ultimate guitar and vocal fuzz noise machine. Pedals that can do both guitar and vocal effects simultaneously can be very fun to use onstage and are useful studio tools as well. Sehat's other contraptions include the RX Synth Telephone and RX Synth Fuzz, which use the NE555 to create absolute mayhem.
Sehat's Moisture Phone Fuzz Deluxe is a furious ball of fuzz and fizz, with extremely sensitive controls for its extremely insensitive sounds.
---
Cascade Pedals
cascadepedals.com

This one-man company based in Asheville, North Carolina, is joyfully dedicated to making colorful guitar pedals, and grew out of builder Charles Mostoller's desire to make a one-of-a-kind pedalboard packed with custom boxes.

While Cascade makes some hip-looking but otherwise conventionally housed stomps, there are some notable exceptions, like the Scooby-Doo Mystery Machine Fuzz. Courtesy of Chris Mostoller/Cascade Pedals

His stomps are distinctive looking, with bright-hued conventional enclosures (like his popular MOSFET Hosstortion, which has a shiny green shell and see-through dials) or unconventional containers like vintage Tung-Sol auto lamp boxes and tobacco tins, but a few of his older builds—like an overdrive inside a vintage Pac-Man game controller box—point toward his latest creation: the Scooby-Doo Mystery Machine Fuzz, which is a crunchy batch of fuzzy goodness built inside an actual toy Mystery Machine van. The result is eye-catching, of course, and sounds killer.
"I'm always stopping at garage sales looking for funky, weird things that I can repurpose as pedal enclosures. That's when I stumbled on the Scooby-Doo Mystery Machine van."—Charles Mostoller, Cascade Pedals

"I'm always stopping at garage sales looking for funky, weird things that I can repurpose as pedal enclosures," says Mostoller. "That's when I stumbled on the Scooby-Doo Mystery Machine van. I grabbed one to see if I could make it work. It turns out there's plenty of room inside for a killer two-transistor, one-knob fuzz. I'm a huge fan of the Scooby-Doo cartoons, so I love the response these have gotten. I've made a half-dozen Mystery Machines so far, and I love building them."
While it looks more conventional than a plastic micro-bus filled with cartoon teenagers and their dog, the Hosstortion provides a listen to one of the company's essential fuzz sounds, built around a MOSFET circuit with 3-band EQ.
---
Rainger FX
raingerfx.com

Perhaps the most well-known builder of zany stomps is David Rainger. He started his North West London-based company, Rainger FX, in 2009. His outfit designs and builds intriguing and often offbeat pedals that don't just look weird, but make some positively bizarre sounds and feature unconventional controls.

Lending a new meaning to "one for the road," the Rainger FX Minibar has two liquid sensors in its center cup that shape gain structure based on the density and viscosity of the fluid poured into it, and color tone based on a liquid's opacity or darkness. Courtesy of David Rainger/Ranger FX

"For a while, I'd been having pedals built from scratch or customized," Rainger says, explaining his start in pedal building. "In the 2000s, I started to make my own—just one-offs, for my personal use. After a while, I realized other guitarists would be interested in using them, too.
"We're aiming to provide new sounds inspired by music around right now, with a totally distinctive visual style and use," he declares. "Pedals should sound great, be totally reliable, and be fun! We like LEDs a lot, and a visual representation of the sound, from a basic on/off indicator upwards, is very important. If the whole thing can be done simply … then that's best of all."
"Pedals should sound great, be totally reliable, and be fun!"—David Rainger, Rainger FX

Rainger makes so many unusual pedals it was hard to choose one to focus on. Their names tell the story: Dr. Freakenstein Chop Fuzz, Bleep and Igor Controller, the Air Traffic Controller white noise/filter. They are all strange and wonderful. However, Rainger's latest, the Minibar Liquid Analyser, is really a stand-out. It's a stompbox mini-pedal that uses the properties of liquid you put into its cup-like central container to define the amount of gain, treble, and bass in your sound. Yes, you read that correctly: You put liquid inside the thing! In fact, it makes no noise at all until you pour liquid into it. Try any combination of liquids you can dream up. Then, when you've got your own unique stew and sound, screw the lid on tight and you're ready to go. If you shake the pedal while playing a note, you get a kind of tremolo as the mixture slops about. Turn the Minibar on its side and the sound decays away to nothing as the liquid connection is broken. Sit it back upright, and the sound returns. It's insane!
Which way to the kitchen? Listen to how soy sauce, tap water, coffee, and other liquids bring the noise with David Rainger's latest device.
As the demand for unique-looking, uncommon effects and sound tools continues to increase, there will undoubtedly be more makers of weird stuff coming onto the scene. One day, pedalboards everywhere are going to look as crazy-cool as they sound, because unique pedals give players an extra bit of individuality—something that feels, and looks, special and personal.
---