For our annual guitar mods issue, we asked readers to share projects from their own workbenches.
---
Anthony Pereira: Jackson with Warpigs
Not as elaborate as others I've seen, but I've always been a sucker for Jackson guitars, and I'm not even a shred player. I wanted to do something different to my SL2, so I installed FU-Tone Noiseless Springs, an FU-Tone Brass Block on the Floyd Rose, a trem stopper, and Bare Knuckle Warpig pickups. The kicker is that I put a P-90 Warpig in the neck position for the punchy leads. The pickups are much darker than the stock pickups, but they scream through my 1982 Marshall 2203.
Gregg Ledoux: Meet Mavis
This is Mavis. She has a Warmoth swamp-ash body, a Warmoth Goncalo Alves neck with pau ferro fretboard, and stainless-steel frets. I chose a Lollar P-90 and Seymour Duncan Pearly Gates for the pickups. I assembled this guitar in the last couple of months. She rocks!
Jin J. X: Covering Serious Ground
Hi Premier Guitar!
This may look like a "normal" Ibanez Artcore, though it has some extra goodies. This is an Ibanez AFJ85 with a Stewmac Golden Age Parson Street alnico 2 PAF-style pickup in the bridge, and a custom alnico 3 neck pickup made for me by David Magazzi out of Connecticut. Instead of a 3-way switch, it uses the middle three notches of a 5-way rotary switch with the outside positions acting as a "mute." The "top" master volume and tone pots are dedicated to the magnetic pickups with their own input jack.

You may notice a small wire coming from the bridge—this is a Fishman Powerbridge posted to the floating posts. That wire goes to the "bottom" volume and tone and to a separate jack. Historically, I've not been the biggest fan of piezo pickups in solidbodies, but in a hollowbody it actually sounds more real (a trick I picked up from the mighty Gilad Hekselman). So, this guitar covers some serious ground: legitimate jazz and R&B sounds in the neck, bright twangy sounds in the bridge, and a whole separate circuit for acoustic sounds that, in the studio with EQ, sound very much like a dreadnought we all know and love.
Thank you for all you do, and I appreciate that you give readers the opportunity to get in on the fun.
Justin Lee: Smashing Pumpkins Squier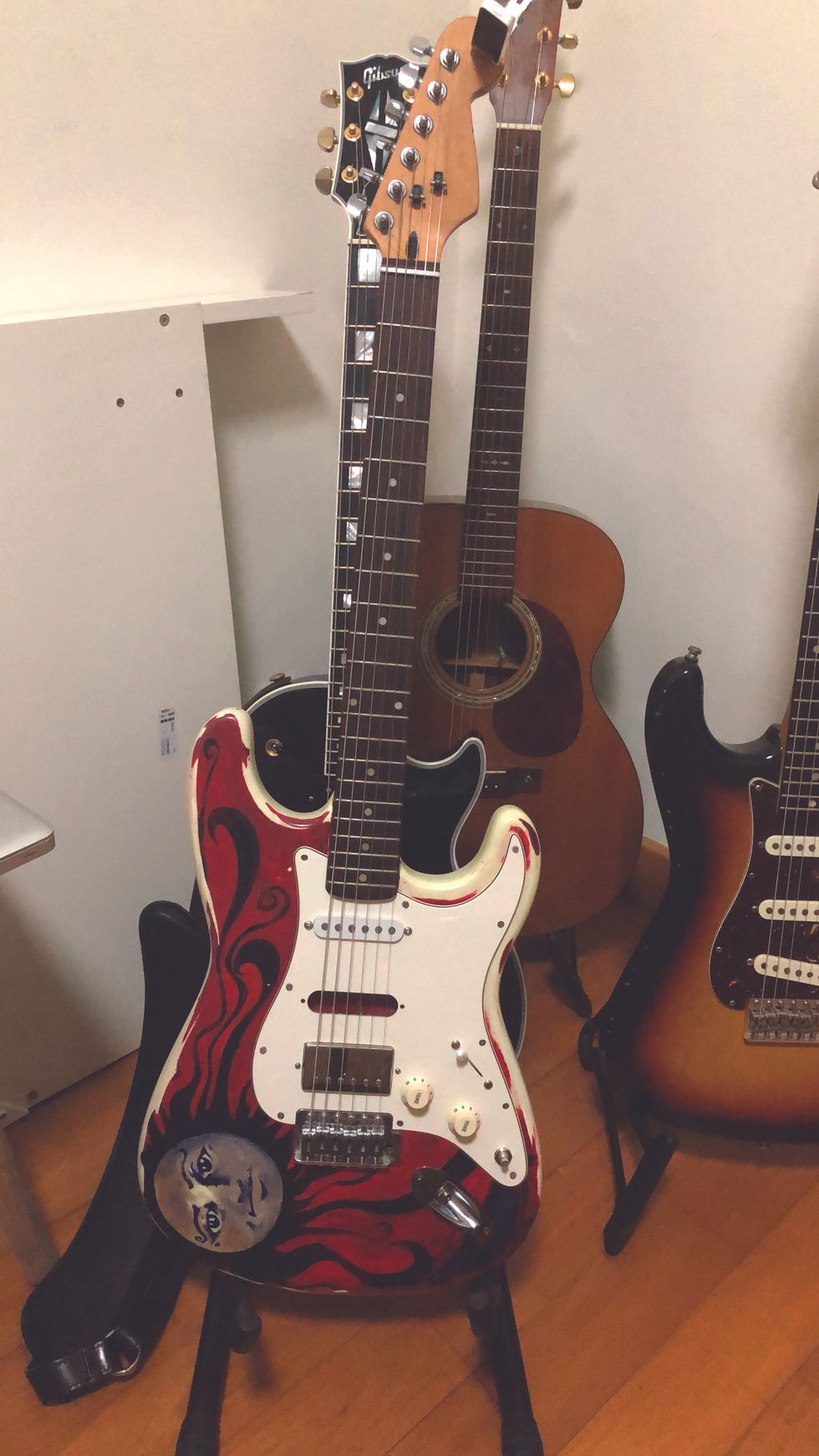 Hi Premier Guitar,
Love all your content, especially the Rig Rundowns! I'd like to share with you my quarantine guitar project. It's my first-ever guitar that had been unassembled for the longest time. I've since gone on to own much better guitars but there's still something very magical about this one.

It's started life as a Korean Squier and I thought the white finish was a bit boring (no offense to Jimi), so I painted it, inspired by Smashing Pumpkins' Mellon Collie and the Infinite Sadness album. I guess the choice of red and white was inspired by Van Halen.

During this whole period of quarantine, I decided to get it back up and running with some help from my local guitar shop. I changed the tuners and nut, and I wired in a few old pickups I had around: a Gibson pickup in the bridge and a DiMarzio Vintage Pro in the neck. I'm still not sure what to do about the space for the middle pickup. I might just leave it empty, which makes it more Frankencaster-esque. I've set it up with .011s and raised the action with the intention of trying to play slide (again!). I'm also waiting to get the right (free) knob for the second tone pot.

It's probably not worth the money that I've just put into it, but I can't give it up and it should be played. Also, it seems to be my kids' favorite one of them all.

Kind regards,
Justin (currently living in Singapore but spent a lot of time in the U.K. and Canada)
Justin Motander Jones: Berto
This pine-bodied "Berto" was made from a beam from a neighbor's 1930s patio here in the Kensington neighborhood of San Diego, California. The purpleheart fretboard pays tribute to the now-defunct historic Ken Cinema. The guitar has a TV Jones Magna'Tron, and a McNelly CC neck pickup. The anodized aluminum knobs are made locally by Forney Guitars. Berto has a Schroeder bridge and Gotoh tuners. I make guitars in San Diego and my IG handle is @justinmotanderjones, if you'd like to see some others.
Kato: Tilt-Back Banana
I put together this beautiful guitar out of some parts that were made to my specifications. It's a Strat-style body but it's a little bit thinner than normal. The neck is custom-made and the closest replication of the tilt-back banana headstock like George Lynch's. The pickups are alnico 2 in the bridge, alnico 4 in middle, and alnico 5 in the neck. The neck has a slightly slimmer profile, so it's easier to play blazing-fast leads. I had the neck plate custom-engraved with my logo and the headstock is currently out being painted to match the body and I'm having my logo applied. Hope you like it. Took me quite a while. Can't wait to play her!
Mark Cully: Two-Fer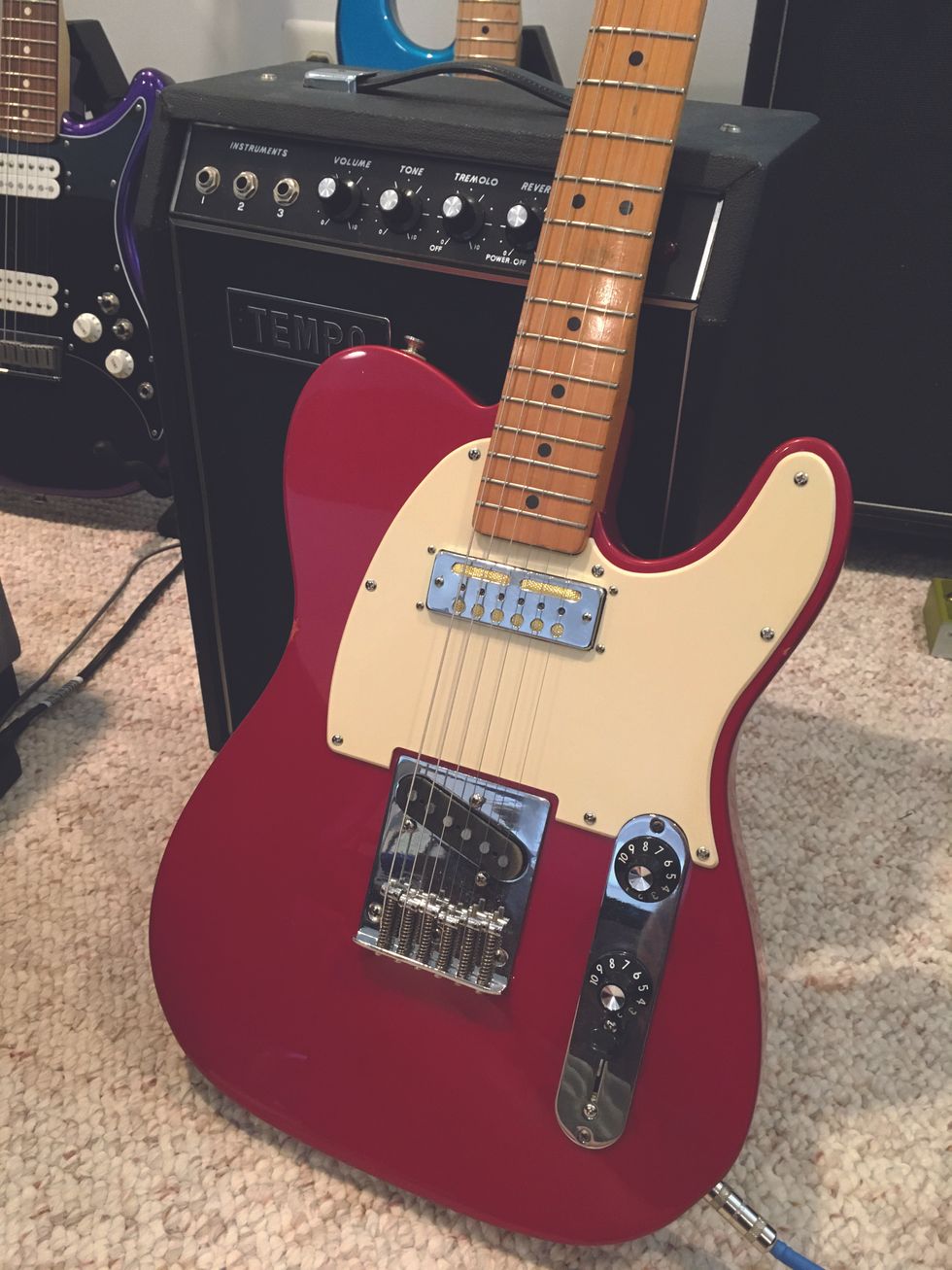 I have two guitar projects to share. The first is my '90s MIM Squier Telecaster. I put a gold-foil pickup from a 1960s Teisco guitar in the neck position along with CTS pots, orange drop capacitors, and a proper Fender switch.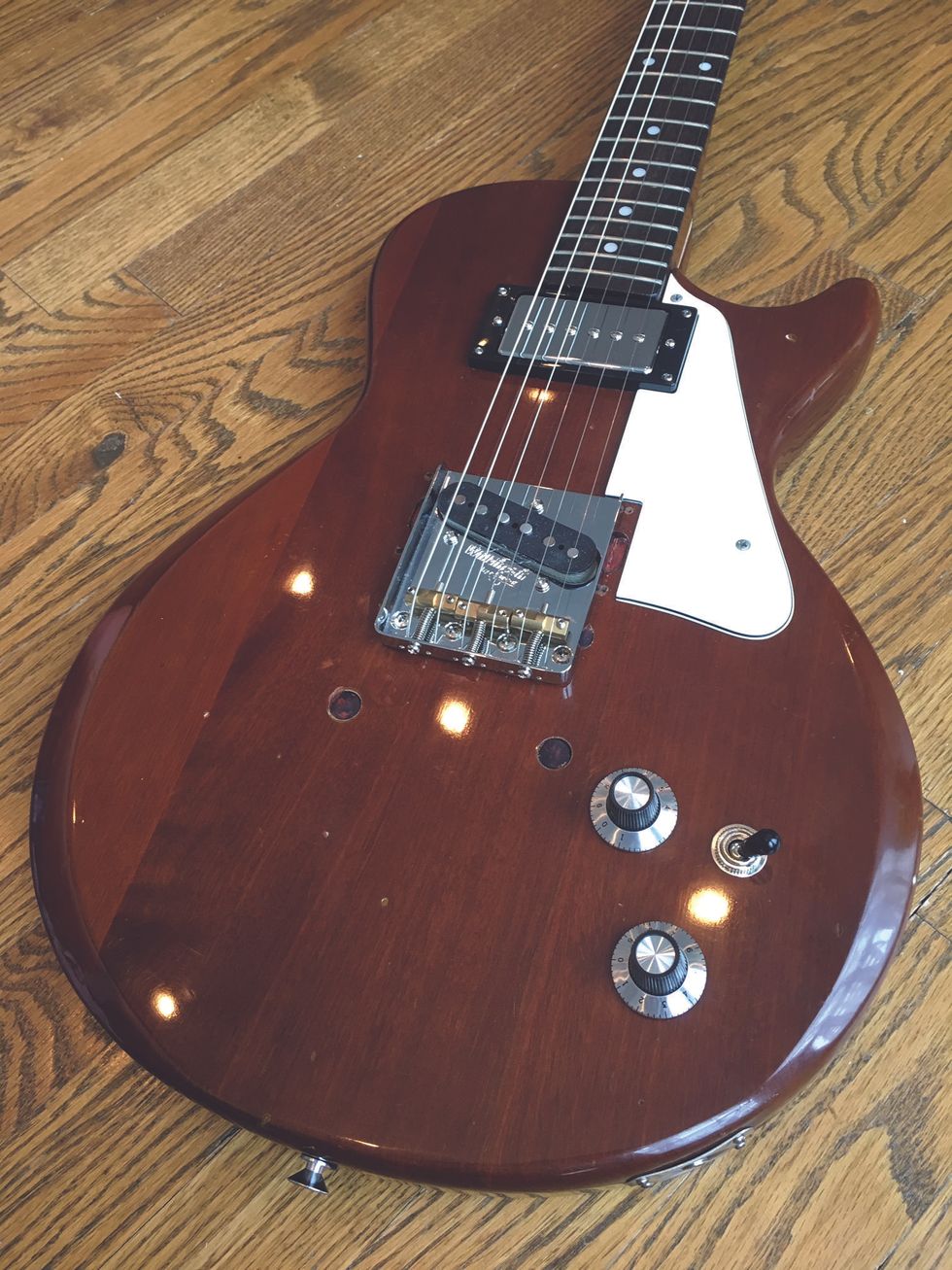 The second project is my Lotus guitar. It started out as a double-humbucker guitar with a Tune-o-matic bridge. I installed a Tele-style bridge and pickup, and a P-90 in the neck position. It's now a string-through body. I handmade a hardwood shim for the neck pocket to make the neck angle suitable for the lower bridge. It has all new electronics, including CTS pots, orange drop capacitors, etc. Great mag, by the way!
Matt Dunn: Best of Both Worlds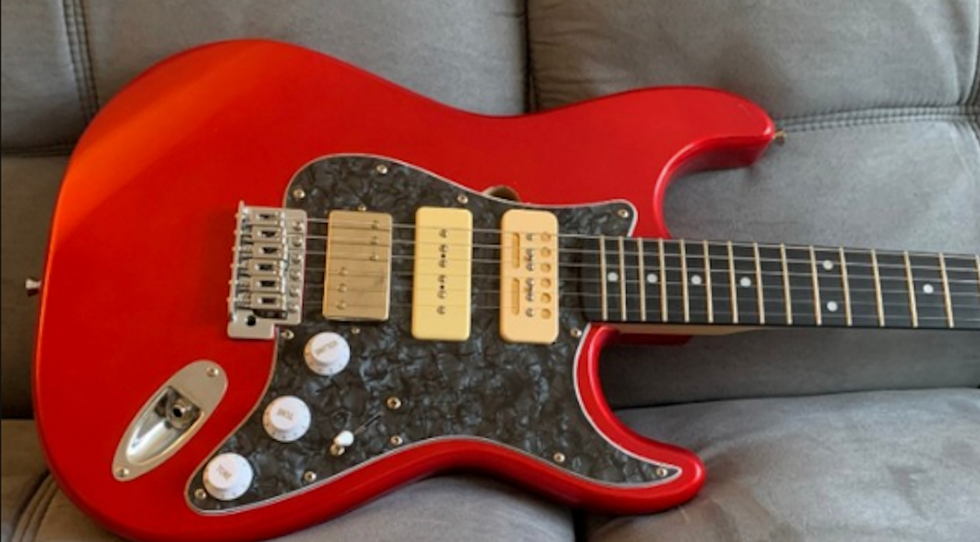 This guitar started its life as a cheap Strat copy under the Stadium brand. I've always loved HSS Strats because of how versatile they are in terms of sonic possibilities. But you rarely ever see P-90s put into a Strat, let alone P-90s for an HSS configuration! So, I ordered a custom pickguard with the help of WD Music, loaded the guitar with some GFS pickups, and decided to see how a pair of P-90s and a Wide Range-style humbucker would sound. It ended up sounding wonderful, with more of a Gibson flavor than I anticipated or expected. As a Les Paul Junior fan, this guitar provided me the best of both worlds and is quite the conversation starter!

Michael Menkes: Modded Explorer
This bass was a stock Epiphone Korina Explorer. These are the mods:
Hipshot A Bass Bridge with string through
Bartolini Classic Bass humbuckers
John East Uni-Pre preamp
Hipshot D extender tuner
Alperious Custom pickguard, pickup covers, and truss rod cover
It took a full year to complete! Worth it.
Rhett and Zach unpack the big news for secondhand guitar sellers and buyers: Sweetwater has launched their new Gear Exchange. How does it compare to Reverb, Craigslist, and Marketplace? To find out, Zach takes the site for a spin and buys a pedal. He calls the process both "very easy" and "normal." They discuss the pros and cons of the various used-gear outlets and share tips for not getting got when buying gear. Plus, Zach grew a mustache, Mythos Pedals is moving, and he talks about his forthcoming line of Strat pickups inspired by Hendrix's reverse-stagger setup.
Sweetwater vs. Reverb

Expanding on the innovations of Cort's original 8-string multiscale, the KX508 Multi-Scale II features an updated okoume body and a specially designed Fishman Fluence Modern Humbucker.
The KX508 Multi-Scale II is the second iteration of the eight-string KX508, Cort's first multi-scale 8-string guitar introduced in 2020. Like its predecessor, the KX508 Multi-Scale II has a visually stunning poplar burl top in a Mariana Blue Burst finish. Beyond its visual appeal, the poplar burl is an ideal tonal complement to Cort's newly introduced okoume body. Okoume is known for its light weight and ability to improve tonal clarity. It has a tight low-end and highly articulate high-end, which matches the overall sonic characteristics of the KX508 Multi-Scale II. The multi-scale, measuring 26.5 to 28 inches, offers a punchy low end while maintaining a familiar feel and tension on the treble strings, which allows for speedy runs and string-bending. Players have unhindered access to the high frets thanks to the low-scooped heel.

The 5-piece maple and purple heart neck not only provides strength and stability, aided by a spoke nut hotrod truss rod, but a strong and focused sound. The Macassar ebony fingerboard (15.75-inch radius) offers smooth playability along the 24 frets with teardrop inlays. Macassar is an ideal tonewood for high-gain applications because of its ability to cut through a dense mix. At the top of the neck, the 2 7/32-inch nut width (56.5 mm) is surprisingly comfortable for an 8-string guitar and is even suitable for players with smaller hands. The individual hardtail bridge with string-thru-body design results in greatly improved sustain, superb string separation for enhanced articulation, and precise intonation. Deluxe locking machine heads offer reliable tuning as well as easier and quicker string changes.

The Cort Sessions | KX508 Multi Scale II Electric Guitar
MSRP $1699.99 USD

MAP $1199.99 USD
For more information, please visit cortguitars.com.
The Tour Collection is defined by a minimalistic, vintage-inspired aesthetic, top-of-the-line components, and a simplified electronics configuration featuring new, custom pickups by Supro.
Available in the collection is the 16-inch-wide double-cutaway DC, the 15-inch-wide single-cutaway SS, and a 14-inch-wide Mini DC. Each model comes in three finishes: Slate Blue, Solid Wine, and Solid Black.

Every detail of the Tour Collection was chosen to achieve retro minimalism. Small diamond fingerboard inlays match 1930s-style diamond f-holes, and an undersized Throwback Scroll-style headstock achieves excellent head-to-body balance. The collection also features satin nickel hardware and custom Vintage Deluxe Grover tuners with a 15:1 gear ratio. Each model also features a simplified two-knob electronics configuration with 50s-style wiring to retain top-end clarity upon rolling off the volume knob. The neck shape in the Tour Collection is similar to the slim C-shape found throughout the D'Angelico line, but with more thickness in the shoulder to allow for snug hand fit as well as extra sustain. Medium Jumbo fret wire and a 12-inch fingerboard radius allow for quick navigation of the fingerboard while also prioritizing comfort for both rhythm and lead playing.
In 2020, Supro and D'Angelico became part of the same family of brands under Bond Audio. At that time, EVP of Product Ryan Kershaw and CTO Dave Koltai began designing custom pickups under the Supro name for the Tour Collection project.
"Supro Bolt Bucker pickups were designed to offer the tone of the most sought-after vintage "PAF" pickups from the late 1950's. Scatter wound, just like the originals, Supro Bolt Buckers utilize 42-gauge enamel wire along with a mixture of Alnico II (neck) and Alnico V (bridge) magnets to provide the perfect balance of warmth and clarity with unrivaled articulation and note bloom." - Dave Koltai, Chief Technology Officer at Bond Audio.
Introducing the Excel Series Tour Collection | D'Angelico Guitars
All models are available for pre-order and will be in stock this holiday season. US MAP $1499. For more information, please visit dangelicoguitars.com.
The Cream Amp is a handmade low-gain overdrive pedal based on the Electra Distortion circuit.
The Cream Amp was designed to deliver full dynamics amp-like dirt to your clean and crunch amp or to another pedal in the chain without altering your tone too much. To add some grit at low volume or to make your amp sound more full, use the Drive control to set the gain and the Level control to match with your amp.
​Two knobs to control Volume and Drive
Shielded inputs/outputs to avoid RF
Filtered and protected 9VDC input
Daisy-chain friendly
Current draw: 7.5mA
The Cream Amp pedal is hand-made in Barcelona with carefully selected components and has a price of 100.00€. The pedals are available and can be purchased directly from the Ananasheadonline store.
For more information, please visit ananashead.com.