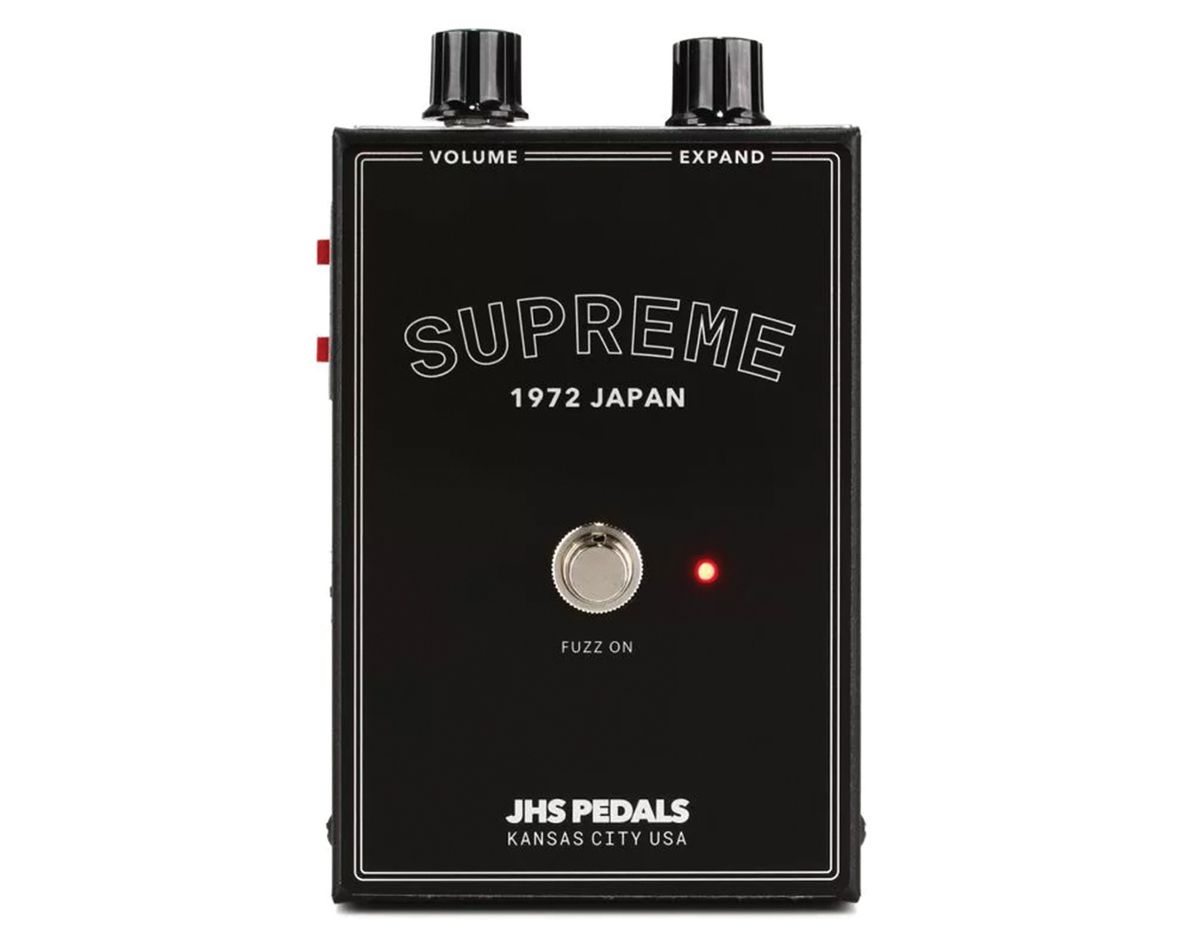 Classic fuzz-pedal chaos meets modern tone shaping.
 

Ratings

Pros:

Authentic vintage Super-Fuzz tones with slightly more control. Fair price.

Cons:

Hard to determine precise knob position.

Street:

$179

JHS Supremejhspedals.com

Tones:Ease of Use:Build/Design:Value:
---
If you're a rabid Who fan, you probably wanted a Shin-Ei/Univox Super-Fuzz before you ever knew what a Super-Fuzz was. But even if Live at Leeds hadn't made the sound of the Super-Fuzz an obsession for aspiring Townshends, it's sheer wickedness and massive speaker-shredding octave fuzz would have driven circuit heads to re-create it. JHS has made a Super-Fuzz of their own called the Supreme, as part of their Legends of Fuzz series, and it manages to sound authentic and add a midrange boost switch that extends the device's versatility in more straightforward fuzz settings.
The Supreme's slight, intrinsic compression doesn't squash dynamics.
While I don't have a vintage Super-Fuzz for comparison, I A/B'd the JHS against a Wattson clone that is a proven dead-ringer for a friend's blue-and-orange vintage model. In general, the JHS pulls off the high-wire feat of making the Supreme sound and feel a touch more controlled without sacrificing the buzz-saw aggression of the basic fuzz or the hectic, seat-of-the-pants thrill of the octave-up mode. Some of this extra civility is thanks to the Supreme's more compressed voice. For anyone who's ever used a vintage Super-Fuzz at volume and knows how wildly compressed it can sound, that might be a frightening concept. But the Supreme's slight, intrinsic compression doesn't squash dynamics. Instead it imparts a touch of harmonic equilibrium that keeps the pedal feeling responsive and sounding fantastically ferocious.
Test Gear: Guild X-175, DeArmond JetStar, '68 Fender Bassman, Marshall 1987x
Check out our video demo (featuring Yvette Young) of JHS' Crimson fuzz.
---