Ear to the Ground: Bison's "One Thousand Needles"
The Vancouver rock titans deliver a lengthy, two-song EP that veers sharply away from their party-thrash roots and headfirst into doomy sludge.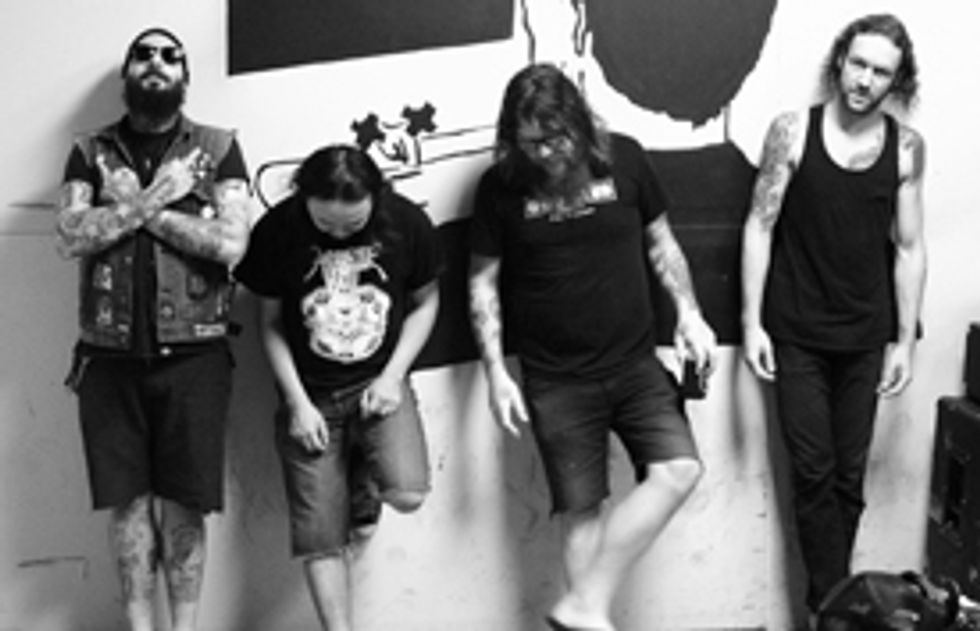 Born from the remains of Canadian skate-thrash band S.T.R.E.E.T.S. (an acronym that righteously stands for "Skating Totally Rules, Everything Else Totally Sucks"), Bison may have been named less cleverly than its predecessor—but its four members were also recently acquitted of calling themselves Bison B.C.
Actually, it's difficult to say if they were actually acquitted or if the original Bison band threw in the towel after realizing they'd never rock as hard—or as loud—as this Bison. Because when you listen to the two lengthy songs that comprise Bison's new EP, One Thousand Needles, it's easy to imagine their juggernaut sludge taking the form of an actual bison. Not just any bison—a bison that's somehow both prehistoric and from the not-too-distant future. A bison that wears a filthy XXXXXXL black-denim biker vest and shoots red lasers out of its eyes. A bison that craps entire lakes of molten lava.
The lumbering, nine-and-a-half-minute title track opens with squealing feedback that sounds like a double-humbucker axe in front of a dimed tower of old Sunn amps. When Matt Wood's ham-fisted drumming ushers in the gargantuan riffs, it feels like somebody just kick-started a tank. James Farwell's pained howls don't even enter the equation until nearly four minutes in, but if you had to wipe spatters of blood off the bashed-in head of a Shure SM58 every time you sang, you'd probably take your sweet time, too. Oh, and then there's Dan And's off-the-rails solo—which sounds like somebody tried to tattoo a skull on the back of a drunk mule. bison.bandcamp.com
<a href="https://bison.bandcamp.com/album/one-thousand-needles-ep" _cke_saved_href="https://bison.bandcamp.com/album/one-thousand-needles-ep">One Thousand Needles ep by BISON</a>