Mesa/Boogie Mark VII Review
Mesa/Boogie's maximalist masterpiece is overflowing with clean-to-mean tones, and is surprisingly intuitive,too.
Packs many high-gain lead tones spanning decades. Impressive versatility and functionality. High quality.
Crunch mode can feel less inspiring than high-gain options.
$3,799 street ($3,499 for head or rackmount)
4.5
5
4.5
4.5
Mesa/Boogie launched a high-gain revolution in the 1970s with the first of the Mark Series amps. Fifty years later, they are still refining that template. And in the Mark VII (which enigmatically leapfrogs the nonexistent Mark VI), they've created a tone palette that's impressively comprehensive—even by Boogie standards. The Mark VII is the most significant new release since the historic California amp maker was made part of the Gibson stable. It's feature-packed in the great Boogie tradition, but it's also cleverly designed to help you move between modes and tap into the amp's ample raw power with minimal effort. There's lots of power to tap into, too. The 90-watt Simul-Class dynamo also features channel-assignable 25- and 45-watt levels. Each of the three footswitchable channels boast three modes. There's also MIDI switching capabilities, and built-in channel-assignable CabClone IR.
---
The Mark VII can be purchased as a rack, head, or combo. The combo we tested is likely the smallest 90-watt Mark Series combo amp ever created, at just 18.75" x 18.25" x 11.5". It weighs a mere 58 pounds—more than 40 pounds less than some of its fully loaded predecessors, even with the hefty Celestion Custom 90 Black Shadow speaker onboard. And at the list price of $3,799, it costs about the same as a top-tier Mark IIB from the 1981 price list, when adjusted for inflation.
Triple Play
I've heard skeptics argue that Boogies have too many knobs or are difficult to dial in. But some of those perceptions are due to failing to see the forest for the trees. Each of the Mark VII's three channels has the same 6-control complement: gain, master, presence, treble, mid, and bass. So, each channel really functions as its own independent 6-knob amp. Each channel also has its own 3-way mode switch. Channel 1 is home to clean, fat, and crunch modes. Channel 2 features fat, crunch, and MkVII modes. Channel 3 is host to MkIIB, MkIIC+, and MkIV modes. Each channel also enables you to automatically assign the graphic EQ or make it footswitchable. Further, each channel has its own reverb control. The reverb is also footswitchable. All three channels have a variable 90/45/25-watt power switch. It sounds like a lot on paper. But, really, the most complicated thing is deciding which of each channel's modes is your favorite, and that's a big part of the fun.
A little more than half of the back panel is dedicated to the built-in CabClone IR, which has an internal load so it can be used with headphones or speaker-silent on stage. It includes an 8-position cab-select switch for each channel, which adds another level of tone versatility. There's also an input level control with a clipping indicator, a ¼" line out (dry), an XLR DI out for the IR, an output level control (which also governs the headphone out), a ground-lift switch, and a USB port for loading and exchanging IRs (which can include third-party IRs as well as Mesa's). There are also four speaker outs: two rated at 8 ohms and two at 4 ohms. That's not all. There's an effects loop send and return, DINs for MIDI thru/out and in, a MIDI channel-select rotary switch and store switch, and, finally, an EL34/6L6 bias selector switch. Our review combo, by the way, comes loaded with four Mesa 6L6GC STR output tubes, and five 12AX7s.
If I were to strain to discern anything missing from the amp the Mesa/Boogie folks have nicknamed the "Simul-Seven," perhaps it would be a pair of footswitchable global master-volume controls, which would enable an overall output level plus a "solo" or boosted level. We've seen this feature on other Mesa/Boogie amps. Then again, the Mark VII control panel is already crowded. Plus, the footswitchable EQ can be dialed in to serve a similar solo function.
Boom Box
Tested with a Les Paul and a Telecaster, the Boogie Mark VII was surprisingly intuitive and easy to dial in to taste. It's amazingly versatile, too. The available sounds are so abundant that trying to comprehensively list each variation here would be futile. But the Mark VII effortlessly moves from pristine clean, to crunchy, to high-gain sounds that would be at home in the 1970s, 1980s, or 2020s.
The real test for hyper-functional amps like this is in how quickly you segue from head-scratchingly turning knobs and flicking switches to just grooving on the tones you discover in the process. The Mark VII, however, put me in that headspace posthaste. There are some very pretty and usable clean tones here, particularly in the clean and fat modes. But few will be surprised to hear that the real fun is in the lead settings, and flipping between the four of those on tap is a blast.
I was pleased to find the underappreciated Mark IIB voice among these, and it didn't disappoint. While the IIC+ is iconic for its über-saturation and sizzling high end, the IIB is throatier with more warmth and girth, if less gain, and works great for grungy rock 'n' roll as well as early-'80s metal tones. It's also the loudest of the lead modes. MkIV and MkVII are arguably the most versatile lead voices. They bridge the characteristics of the IIB and IIC+, but they also offer the most contemporary voices.
Suffice to say, there are more than enough stellar lead voices here to satisfy the fussiest rock or fusion soloist, and a lot of gravy on top. Bells and whistles like the effects loop, multi-watt output options, MIDI switching, and CabClone IR (by now a well-established cab-sim unit in its own right) all work great and increase the Mark VII's gigging and recording functionality exponentially.
The Verdict
The Mark VII is a rather magical—and powerful—gigging, recording, and practicing machine. The clean tones are rich, and the four classic lead voices ably deliver loads of seminal high-gain tones. Better still, it's intuitive and functional. In short, the Mark VII is a monumental feat of 21st-century tube-amp design.
Mesa Boogie Mark VII Demo | First Look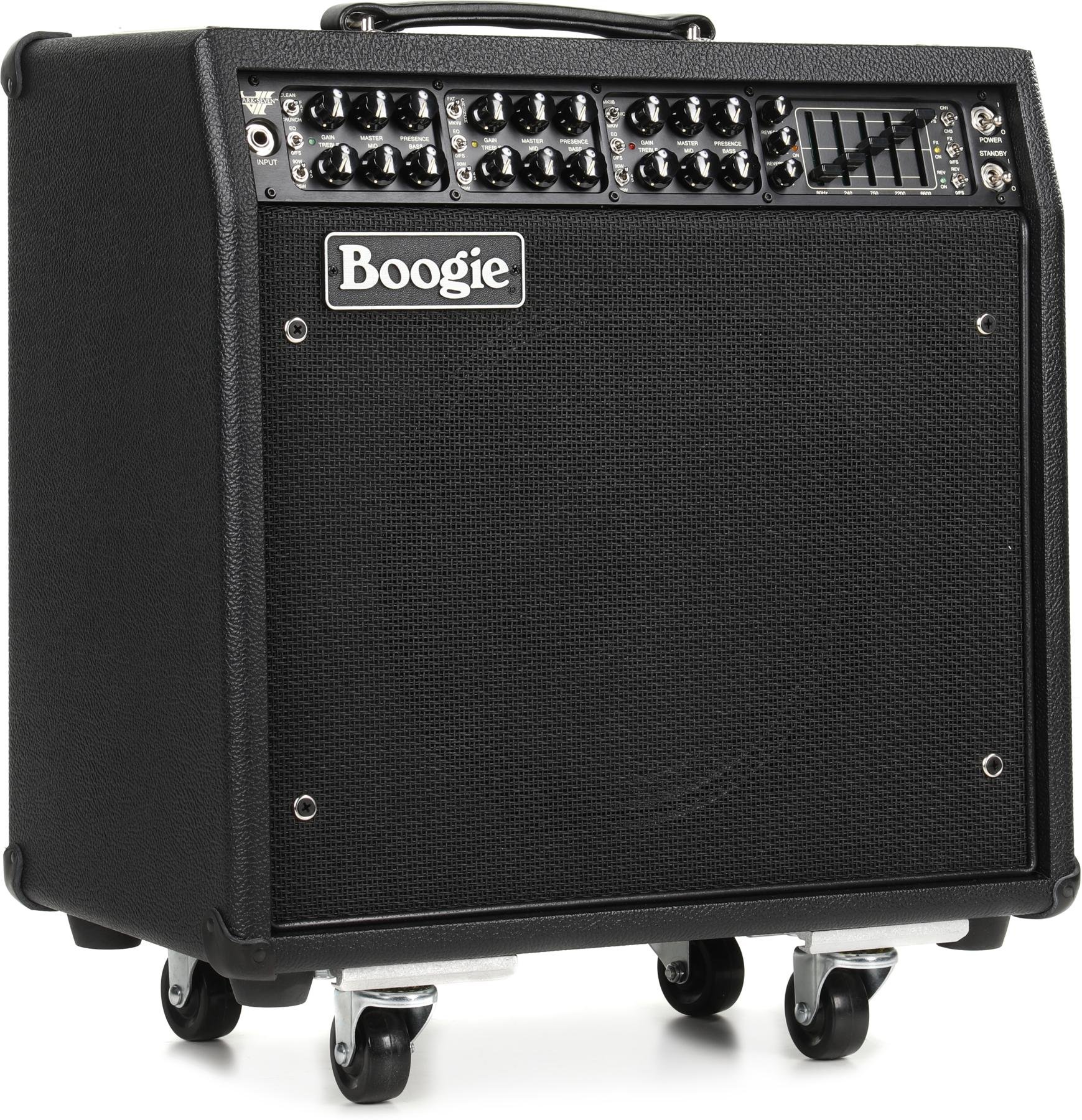 Mesa/Boogie
From Your Site Articles
Related Articles Around the Web