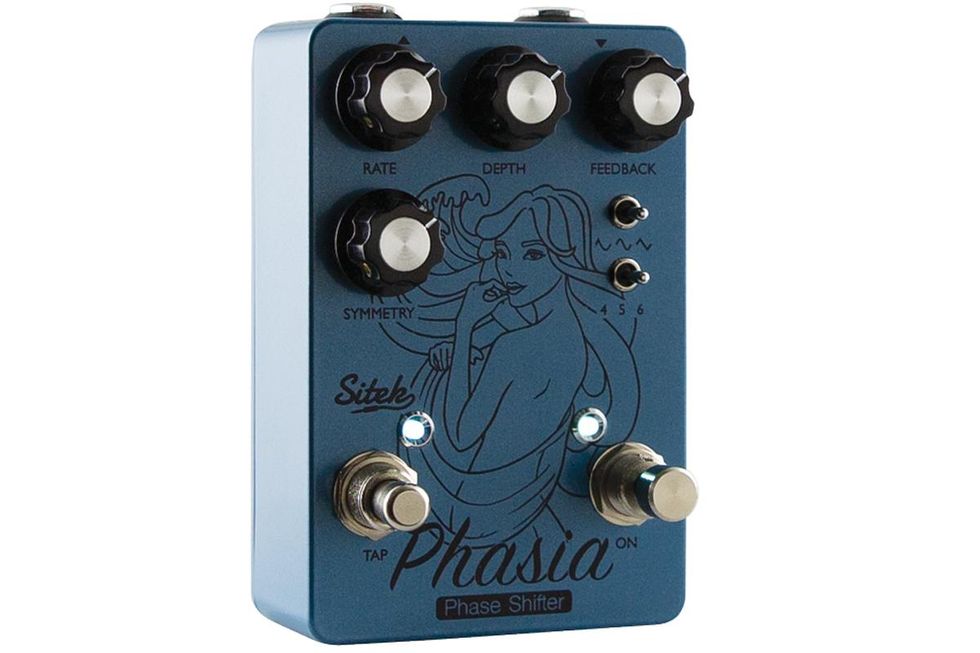 An analog phaser that walks the waveforms between simplicity and subversive modulations sounds.
Unique features and sounds for its price category. Intuitive. Capable of sounds beyond simple phase. High-quality build.
Might be expensive for players that don't utilize the most unusual sounds.
4.5
4.5
4.5
4
It's easy to overlook the expressive potential of a phaser if you use a simple, 1-knob version of the effect. Old horses like the Small Stone and Phase 90 may be perfect in their simplicity. But paradoxically, when you really listen to the depth of those basic pedals' voices—rich with ephemeral, passing overtones and harmonic complexities—you hear how varied and nuanced phase can be with precise wave-shaping control.
---
Sitek's analog Phasia opens up many secret corners of the phaser experience without a clumsy, complicated control set. There's a modest learning curve because these controls are interactive and have expansive range. But it's easy to use, and with tap tempo, selectable waveshape options, and variable 4-, 5-, and 6-stage settings, Phasia delivers unexpected treats that defy basic phaser categorization—all without inducing option anxiety or making the pedal impractical for stage use.
Sitek Phasia Review by premierguitar
Listen to Sitek Phasia Review by premierguitar #np on #SoundCloud
Tri-Lingual and Gifted
Phasers can come across as domineering and one dimensional if you're in the wrong mood. Phasia is far from one-dimensional, though. It readily moves from weird to seamlessly integrated with your guitar voice. This leaves ample room for different pickups and effects to speak, and it's responsive to changes in guitar tone and volume.This open, agreeable nature—combined with flexible controls—make Phasia capable of subtle to mind-melting extremes.
Phasia's stage-selection switch is one key to its extra headroom and adaptability. The 4-stage voice has a distinctly vintage patina. It's simultaneously elastic and soft around the edges, though there is also a snorkel-y midrange emphasis. The phase effect can be subdued at low depth settings—a nice option to have. But it's beautiful to hear the combination of chewy and soft contours at advanced settings. And it excels in faux-rotary style settings where the pulses take on an organic edge.
The 6-stage voice is more complex. Listening to a given waveform at the same rate, depth, and feedback in this mode can be like watching the rippling undulations on a creek versus observing rolling offshore swells. There's more color and complexity in the 6-stage modulations—at certain settings you might even perceive compound subdivisions within the overtones of a waveform. If you like to foreground your phaser in bold, weird style, the 6-stage voice delivers.
The 5-stage is the real revelation, and it does much to set the Sitek apart. This voicing is extra clear and smooth, perceptibly warmer, rounder, and more EQ-neutral, which means more of your guitar and amp voice shines through. It leaves ample room for dynamics, and bass notes in particular ring with detail. If you're a jazzist communicating complex chord voicings, a producer that likes to leave space and flexibility in a mix, or a fingerstyle technician that doesn't want to obscure rhythmic emphasis, I can't imagine a better range of textures than Phasia's 5-stage mode.
This open, agreeable nature— combined with flexible controls—make Phasia capable of subtle to mild-melting extremes.
Mutating the Classics
Phasia's basic controls—rate, depth, and feedback—all have expansive and useful range, from subtle to freakishly undulating. But the other controls contribute much to the whole once you master their sometimes elusive functionality.
The symmetry control, for instance, doesn't reveal its magic easily. It can be subtle, or just not jive with what you're trying to accomplish. But when you get the feedback, rate, and waveshape recipe just right, the Phasia can almost transcend phasing entirely. In the highest quarter of its range, the long-taper/short-rise settings can sound like soft, contoured delay echoes or even gentle envelope filter squawks. In the opposite direction, the long-rise/short-taper settings sound like a cross between a Vox Repeat Percussion's staccato tremolo pulses and a reverse reverb. Each of these settings can totally recast an otherwise mundane riff.
The waveform control is trickier to wrangle. The triangle wave is peakier and vowely. The sine wave is smoother but still very vocal. The hypertriangular setting, in general, has the most soft-edged modulations. But all these qualities can become more enhanced or mild depending on where you set the symmetry, depth, and feedback controls.
The Verdict
Sitek's Phasia is a joy to use. Not all of its virtues are immediately obvious. And some differences between waveshape and symmetry settings can be pretty hard to perceive at low depth and feedback settings. But this subtle-to-robust wave-shaping power and the easy, intuitive means of accessing the breadth of those sounds makes Phasia a star. Between the mellowest and maddest extremes there are smooth, intoxicating rotary-style sounds, Uni-Vibe style undulations, and slow-cycling modulations that warp time while leaving room for overtones, pick detail, and other effects to breathe. At 250 bucks it's not an inexpensive solution, and before buying you should really make sure that the subtler corners of the Phasia's performance envelope are textures you'll really use. If you're the kind of player, arranger, or producer that likes to stack effects, or just likes the options that come from using a more spacious and versatile phaser, the Phasia is an elegant, unique, and capable modulation tool.
Rhett and Zach unpack the big news for secondhand guitar sellers and buyers: Sweetwater has launched their new Gear Exchange. How does it compare to Reverb, Craigslist, and Marketplace? To find out, Zach takes the site for a spin and buys a pedal. He calls the process both "very easy" and "normal." They discuss the pros and cons of the various used-gear outlets and share tips for not getting got when buying gear. Plus, Zach grew a mustache, Mythos Pedals is moving, and he talks about his forthcoming line of Strat pickups inspired by Hendrix's reverse-stagger setup.
Sweetwater vs. Reverb

Expanding on the innovations of Cort's original 8-string multiscale, the KX508 Multi-Scale II features an updated okoume body and a specially designed Fishman Fluence Modern Humbucker.
The KX508 Multi-Scale II is the second iteration of the eight-string KX508, Cort's first multi-scale 8-string guitar introduced in 2020. Like its predecessor, the KX508 Multi-Scale II has a visually stunning poplar burl top in a Mariana Blue Burst finish. Beyond its visual appeal, the poplar burl is an ideal tonal complement to Cort's newly introduced okoume body. Okoume is known for its light weight and ability to improve tonal clarity. It has a tight low-end and highly articulate high-end, which matches the overall sonic characteristics of the KX508 Multi-Scale II. The multi-scale, measuring 26.5 to 28 inches, offers a punchy low end while maintaining a familiar feel and tension on the treble strings, which allows for speedy runs and string-bending. Players have unhindered access to the high frets thanks to the low-scooped heel.

The 5-piece maple and purple heart neck not only provides strength and stability, aided by a spoke nut hotrod truss rod, but a strong and focused sound. The Macassar ebony fingerboard (15.75-inch radius) offers smooth playability along the 24 frets with teardrop inlays. Macassar is an ideal tonewood for high-gain applications because of its ability to cut through a dense mix. At the top of the neck, the 2 7/32-inch nut width (56.5 mm) is surprisingly comfortable for an 8-string guitar and is even suitable for players with smaller hands. The individual hardtail bridge with string-thru-body design results in greatly improved sustain, superb string separation for enhanced articulation, and precise intonation. Deluxe locking machine heads offer reliable tuning as well as easier and quicker string changes.

The Cort Sessions | KX508 Multi Scale II Electric Guitar
MSRP $1699.99 USD

MAP $1199.99 USD
For more information, please visit cortguitars.com.
The Tour Collection is defined by a minimalistic, vintage-inspired aesthetic, top-of-the-line components, and a simplified electronics configuration featuring new, custom pickups by Supro.
Available in the collection is the 16-inch-wide double-cutaway DC, the 15-inch-wide single-cutaway SS, and a 14-inch-wide Mini DC. Each model comes in three finishes: Slate Blue, Solid Wine, and Solid Black.

Every detail of the Tour Collection was chosen to achieve retro minimalism. Small diamond fingerboard inlays match 1930s-style diamond f-holes, and an undersized Throwback Scroll-style headstock achieves excellent head-to-body balance. The collection also features satin nickel hardware and custom Vintage Deluxe Grover tuners with a 15:1 gear ratio. Each model also features a simplified two-knob electronics configuration with 50s-style wiring to retain top-end clarity upon rolling off the volume knob. The neck shape in the Tour Collection is similar to the slim C-shape found throughout the D'Angelico line, but with more thickness in the shoulder to allow for snug hand fit as well as extra sustain. Medium Jumbo fret wire and a 12-inch fingerboard radius allow for quick navigation of the fingerboard while also prioritizing comfort for both rhythm and lead playing.
In 2020, Supro and D'Angelico became part of the same family of brands under Bond Audio. At that time, EVP of Product Ryan Kershaw and CTO Dave Koltai began designing custom pickups under the Supro name for the Tour Collection project.
"Supro Bolt Bucker pickups were designed to offer the tone of the most sought-after vintage "PAF" pickups from the late 1950's. Scatter wound, just like the originals, Supro Bolt Buckers utilize 42-gauge enamel wire along with a mixture of Alnico II (neck) and Alnico V (bridge) magnets to provide the perfect balance of warmth and clarity with unrivaled articulation and note bloom." - Dave Koltai, Chief Technology Officer at Bond Audio.
Introducing the Excel Series Tour Collection | D'Angelico Guitars
All models are available for pre-order and will be in stock this holiday season. US MAP $1499. For more information, please visit dangelicoguitars.com.
The Cream Amp is a handmade low-gain overdrive pedal based on the Electra Distortion circuit.
The Cream Amp was designed to deliver full dynamics amp-like dirt to your clean and crunch amp or to another pedal in the chain without altering your tone too much. To add some grit at low volume or to make your amp sound more full, use the Drive control to set the gain and the Level control to match with your amp.
​Two knobs to control Volume and Drive
Shielded inputs/outputs to avoid RF
Filtered and protected 9VDC input
Daisy-chain friendly
Current draw: 7.5mA
The Cream Amp pedal is hand-made in Barcelona with carefully selected components and has a price of 100.00€. The pedals are available and can be purchased directly from the Ananasheadonline store.
For more information, please visit ananashead.com.