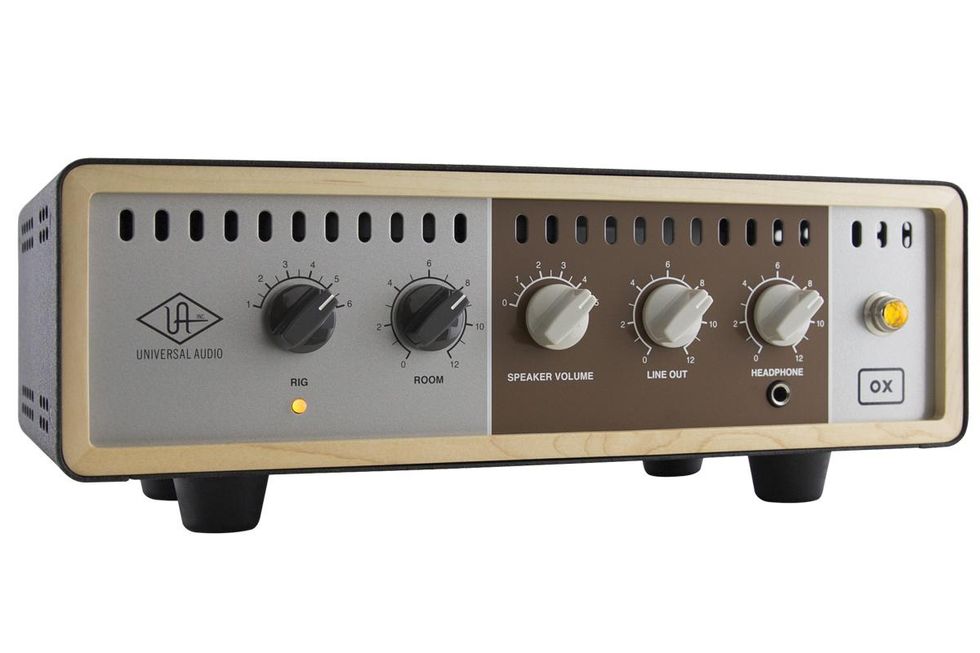 Unsurpassed effects, intuitive operation, and a diverse set of speaker emulations elevate this top box to industry standard status.
The three devices reviewed here cover similar territory as Universal Audio's $1,299 OX Amp Top Box. In some cases, the OX influence isn't exactly subtle.
---
We reviewed the OX almost exactly two years ago. I purchased the review model and have used it regularly ever since. The OX proved to be a hit, acquiring a large pro user base. It remains a go-to solution for low-volume recording and related tasks. I stand by the original review, and the device hasn't changed much since it debuted. So this is a rare opportunity to revisit a piece of gear after years of use while comparing its features to those of newer arrivals.
IRs vs. Modeling
Universal Audio refers to its emulating process as speaker modeling, not impulse responses. Impulse responses are realistic but static snapshots, whereas the OX aspires to mimic speakers in varying states, with a front-panel speaker breakup knob that introduces the harmonic variations that occur when speakers are pushed to extremes.
The OX's speaker emulations are magnificent. You get 22 superb models based on Fender, Marshall, Vox, Mesa, and Hiwatt cabs. There are six "usual suspect" mic models, and six virtual room mics. The room sounds are lush and realistic, and you can adjust the amount of room ambience via a dedicated knob on the box's front panel. You can also assign two virtual microphones to each cabinet, position them in virtual space, and tweak their characteristics.
But there's a downside to UA's proprietary speaker emulation process: You can't load additional IRs. I've never failed to find appropriate tones within the OX sound library. But if you insist on a specific speaker sound not included here, the OX may not be your best option.
Elevated Editing
The OX's software editor is attractive, powerful, and intuitive. Photorealistic depictions of the modeled gear make it easy to visualize your edits. You can store six favorite speaker/mic/effect combinations ("rigs") within the OX box itself and access them without connecting to a computer. The editors are available for Mac and PC. There's a mobile version for Apple iPads, but not for iPhones or Android devices.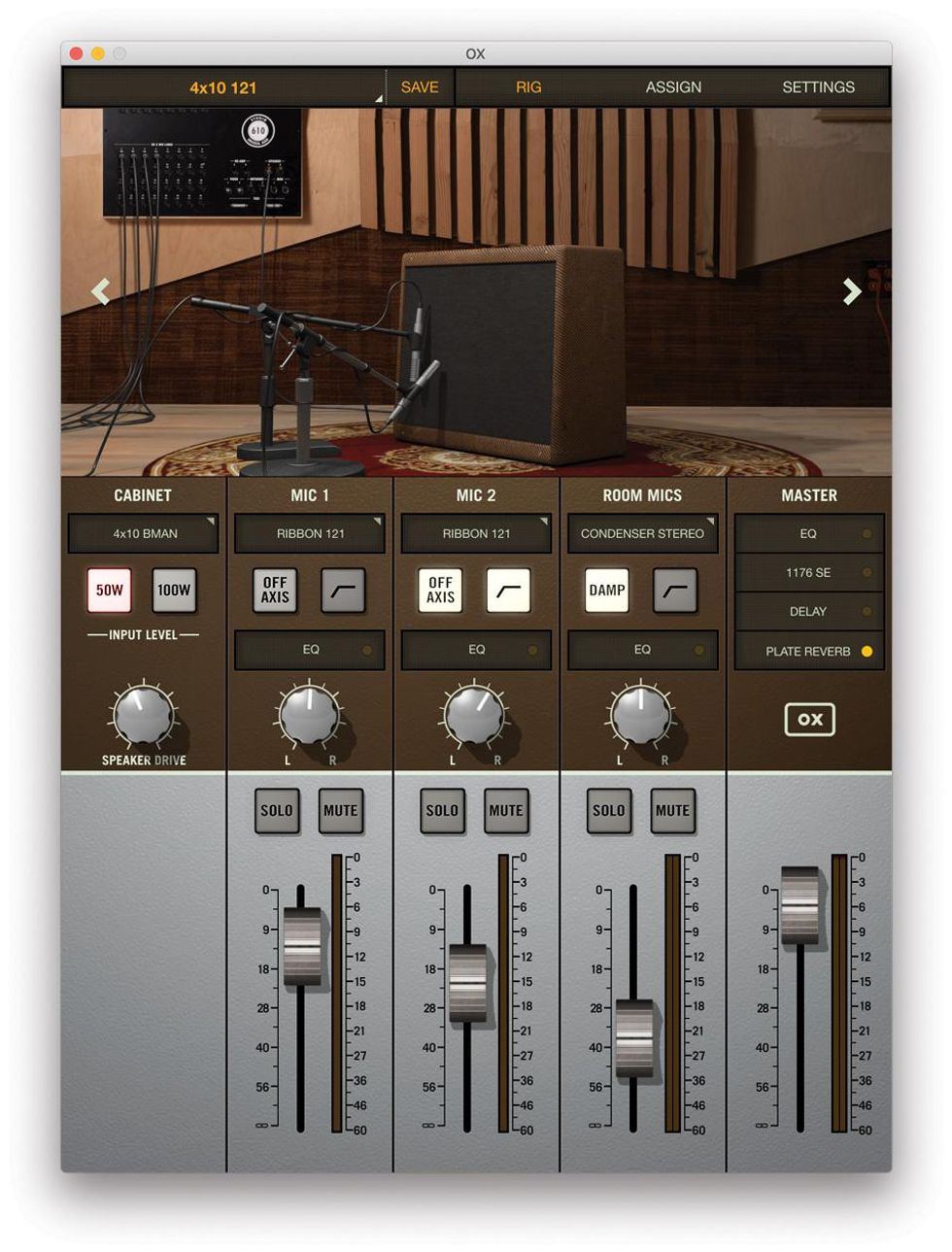 The OX's software editor has the sophistication of a full-featured DAW.
You don't need a physical connection to edit the OX's sounds. The device includes its own WIFI network. Just connect your computer or iPad to the network, and tweak away. It's a great idea, but it is sometimes problematic in practice.
We must often go online while recording to access files, manage authorizations, and search for relevant data, which can mean constantly switching networks mid-session. Most pro users I know keep a dedicated iPad connected to the OX network, while the DAW's computer remains on its usual network. Even then, the iPad tends to drop its connection if it goes into sleep mode. I've always managed to get the job done via the OX's network, but this clever feature has never quite lived up to its promise.
Exemplary Effects
To my ears, Universal Audio's effects modeling is unsurpassed. The OX includes two dead-accurate models of classic recording gear: a Urei 1176 compressor and an EMT 140 plate reverb. There's also high-quality EQ and delay. All the devices covered here include excellent effects, and picking favorites is a subjective task. But to my ear, nothing else touches the OX's.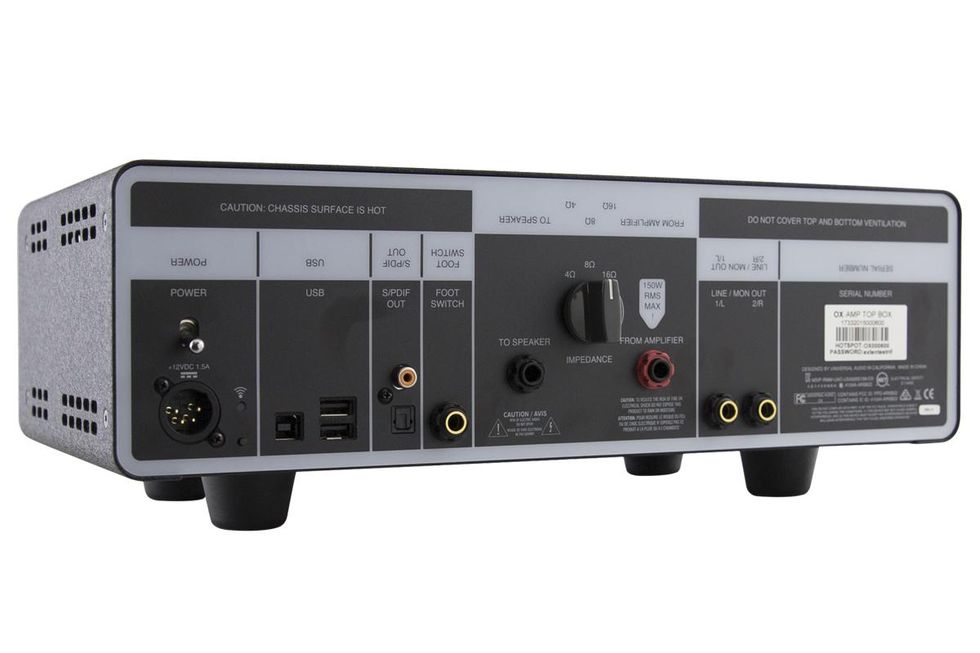 Other Noteworthy Details:
The OX's impedance switcher supports 4, 8, and 16 ohms.
The OX is an excellent direct recording preamp.
The OX outputs sound via balanced stereo analog outs, digital AES/EBU, and optical digital TOSLINK. The analog outs are 1/4" TRS. But I've always wished there were pro-quality XLR outs, especially considering the OX's pro-level price. (The three newer devices all have XLR outs.)
The attenuation level is continually variable, as opposed to using fixed steps.
You can use one-, two-, and three-button footswitches (not included) to toggle the OX's effects.
The OX has no MIDI control.
The OX comes with 125 unusually good factory-preset rigs.
Despite the minor frustrations mentioned above, OX has been a miracle worker for me. I use it incessantly (including on many PG gear reviews) and I'm always delighted by the results.
Rhett and Zach unpack the big news for secondhand guitar sellers and buyers: Sweetwater has launched their new Gear Exchange. How does it compare to Reverb, Craigslist, and Marketplace? To find out, Zach takes the site for a spin and buys a pedal. He calls the process both "very easy" and "normal." They discuss the pros and cons of the various used-gear outlets and share tips for not getting got when buying gear. Plus, Zach grew a mustache, Mythos Pedals is moving, and he talks about his forthcoming line of Strat pickups inspired by Hendrix's reverse-stagger setup.
Sweetwater vs. Reverb

The Royale was designed to deliver loud and vivid clean tone with a responsive, tactile low end.
Designed to offer massive headroom, the 50-watt Royale Head lets you indulge in smooth clean tones at even higher volumes on stage without any breakup. Select between class A and class AB modes, with its variable mode switch, so you can choose between gushing Supro tone or a punchier, tight midrange response.⁠

Introducing the Royale Head & Extension Cabinet | Supro
The Royale 1x12 Extension Cabinet features the custom Supro BD12 high-power driver, offering the same mid-range punch and clean articulation as the Royale combo but with additional stage volume. ⁠More info: suprousa.com.
Royale Head | $1,499⁠.99⁠
Royale Cab | $669.99
D'Addario Foundation's education project sets out to help schools throughout the country and kicks off with an online auction.
​The D'Addario Foundation will host a virtual auction from November 9 to November 30, 2022, with the overarching goal of raising $30,000 for the D'Addario Foundation's Immersive Music Challenge.
​Inspired by a new study published in the Journal of Youth Development, the D'Addario Foundation recently launched the Immersive Music Challenge. This ambitious project will help school districts and charter systems throughout the country boost academic achievement by implementing effective, multi-day-per-week music-based mentoring programs that include training, administration, and evaluation. The D'Addario Foundation has invested in an incredible team of consultants that include school superintendents, public health experts, and data analysts to ensure sound results. In addition, D'Addario is actively seeking corporate partners to support the establishment of these programs and champion their success.
Thanks to the generosity of D'Addario artists and industry partners including Gibson, PRS Guitars, D'Angelico, Taylor Guitars, and more, one-of-a-kind items & experiences are up for bidding. Some of the items include:
Evans Drumhead signed by Anderson Paak
ESP Mirage Deluxe '87 Signed by Bruce Kulick of KISS and Grand Funk Railroad
Gibson Les Paul Custom electric guitar
D'Addario bass string set signed by Bryan Beller of the Aristocrats
PRS S2 McCarty 594 Singlecut
Virtual Lesson with Marty Schwartz
To celebrate its 20th anniversary, Xotic Effects unveils an updated version of their classic boost pedal.
Xotic's RC Booster pedal is back to celebrate its 20th anniversary. The RC Booster's original design was a customer favorite due to its versatile clean boost, active treble, bass, gain and volume controls. This classic reissue will join their regular pedal lineup permanently.
Features
• Transparent boost pedal for electric guitar
• Up to 20dB of boost for adding volume or sending your amp into overdrive
• Treble and bass EQ controls with +/-15dB range for fine-tuning your sound
• True bypass switching removes the effect from your signal path when disengaged
• Powered via 9-volt battery or optional AC adapter (sold separately)
• 9-18 volts
The first 1000 pedals will contain a special limited edition packaging with special items and actual guitar picks from Andy Timmons, Paul Jackson Jr, Dean Brown, Kirk Fletcher, Allen Hinds, Chris Duarte, Scott Henderson, Oz Noy, Michael Thompson, Yuya Komoguchi, Toshi Yanagi.
RC Booster with limited edition packaging street price is $172.00. More info: xotic.us.