Rig Rundown: Gary Clark Jr. & Eric Zapata [2019]
Gary Clark Jr.'s longtime tech Dave Holman met with Premier Guitar's John Bohlinger before their three-night sold-out run at Nashville's Ryman Auditorium for a look at Gary Clark Jr.'s simple, yet stellar, setup. Later, JB met with King Zapata (above right) who showed off how he uses his complex rig for layering deep soundscapes.
When Gary Clark Jr. took over the scene with his debut Warner release, Blak and Blu, he did it armed with this 2007 Epiphone Casino packed with the stock P-90s. "Red" stays strung with D'Addario Chromes (.011–.014–.018p–.028–.038–.049).
This '90s Ibanez Blazer, a gift from Gary Clark Jr.'s mother, is where it all started. The Blazer stays strung with D'Addario Custom Nickel Roundwounds.
Gary Clark Jr. worked with Gibson to help create a Gibson GCJ Flying V prototypes. Clark carries two of them on the road and both rock a trio of Gibson Custom Shop P-90s and D'Addario .011–.049 strings.
Here is Gary Clark Jr.'s second V prototype.
In 2017 Gibson built Gary Clark Jr. this signature SG with Gibson Custom shop P-90s.
Gary Clark Jr. has long been associated with the Fender Vibro-King. Currently, he tours with a 2012 65-watt head version that sports a 100-watt transformer with modded bias points on the back of the amp.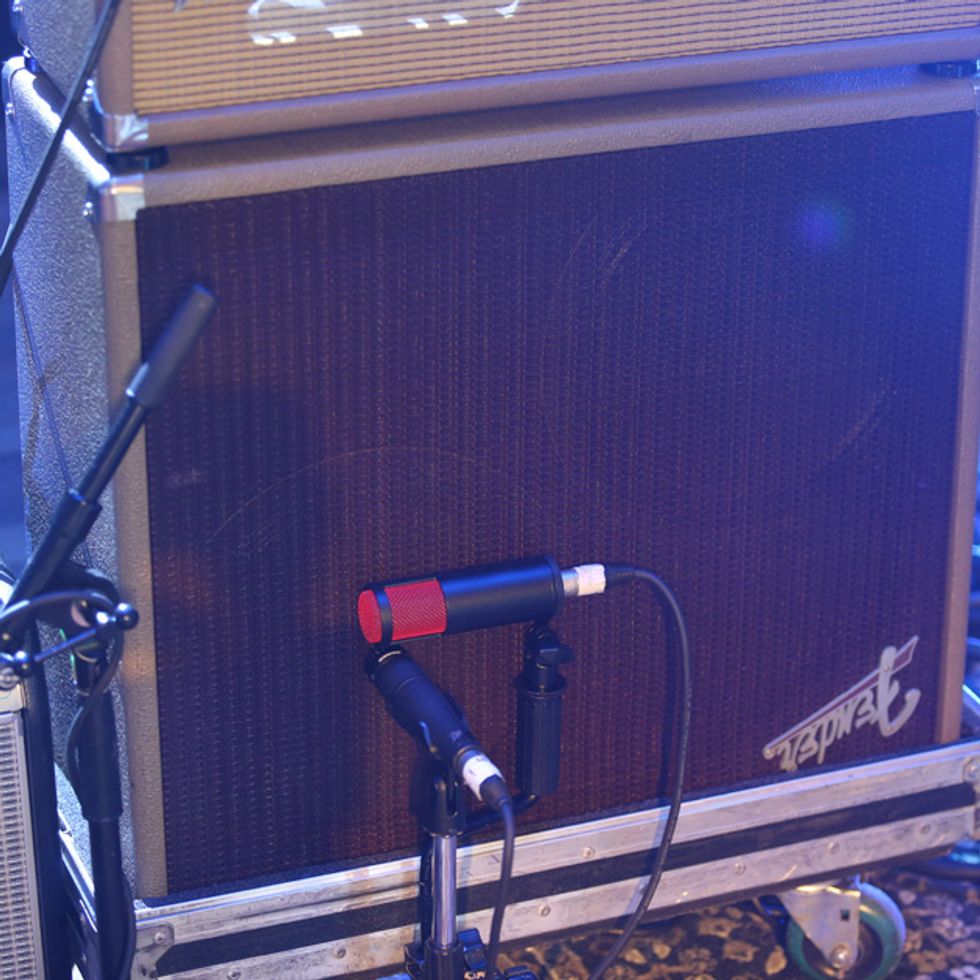 The Vibro-King feeds a Fender 2x10 closed back cab loaded with Fender 10" speakers.
Depending on the venue, Gary Clark Jr. will often add this 2013 Fender Princeton at low volume in rooms when the big amp loses tone from lack of volume.
Gary Clark Jr.'s pedalboard is run entirely through the effects loop of the Vibro-King, so his guitar plugs straight into the front of his amp. Down front he has a TC Electronic PolyTune 2 Noir, Fulltone Octafuzz, Function f(x) The Cannon Dual Fuzz, Strymon Flint, Dunlop Gary Clark Jr. Cry Baby Wah, Function f(x) Clusterfuzz, and a Hermida Audio Zendrive.
This yellow sparkle number is Eric Zapata's go-to on every gig. It's a Moollon S-style axe based on vintage '60s Stratocaster specs. He outfitted it with Don Mare pickups with the bridge pickup reversed. Zapata strings it up with D'Addario EXL115 Nickel Wound strings (.011–.049).
Eric Zapata's other Moollon is this lefty Esquire-style axe.
For something a bit different, King Zapata plays this 1959 Supro Belmont made by National Valco. The pickup looks like a humbucker but it's actually a hot 9K single-coil. This vintage beauty features a Brazilian rosewood fretboard, solid mahogany body, and a maple neck.
Eric Zapata uses a dual-amp setup where both amps run into a single cab via a Radial Headbone VT. On the bottom is an Amplified Nation Steel String Singer, which was based on a Dumble Steel String Singer S/N #005. It contains four 6550 tubes running at a staggering 150 watts. The power section is articulate, punchy, and stays clean at extreme levels of volume. It also has a cathode follower driver tube, which is an additional 12AT7 located in the power section. The cathode follower adds output with extremely low distortion.
On top is a custom built Royal JPP100. The Royal and the Steel String run into what started out as a Marshall JTM45 4x12 cab, but he converted it to a 2x15 loaded with Electro-Voice 15L speakers.
Eric Zapata combines pedals to create spacious, ethereal effects. On the floor, from amp to guitar, Zapata runs a Carl Martin Headroom Reverb, '70s MXR Loop Selector, '90s Electro-Harmonix Deluxe Memory Man, '80s Ibanez Analog Delay D-80, Sonus Halo Vibe, Hughes & Kettner Rotosphere, a '60s Vox 847 Wah, a '70s Shin-Ei 8tr Fuzz that was rehoused by Analog Man, and a Scott McKeon germanium fuzz. Other than some proprietary power solutions, a Voodoo Lab PP2 supplies the juice. Zapata's pedalboard was built by Mason Marangella at Vertex Effects.
On top of Zapata's rack sits a '70s Roland Space Echo Tape Delay.
American Stage Cables:https://www.daddario.com/AmericanStageRR