Rig Rundown: The Bouncing Souls
The seminal East Coast punks prove that beat-up guitars and undeniable hooks can keep a band touring the world for over three decades.
Before soundcheck, PG's Perry Bean dropped into Nashville's Exit/In to spend some quality time with hopeless romantics Pete Steinkopf (guitarist/producer/engineer) and Bryan Kienlen (bassist) who were touring in celebration of the band's 30th anniversary. The duo shows off the gnarliest instruments, road-tested tube heads, and a few key tone tweakers that bring their punk-rock tales to life.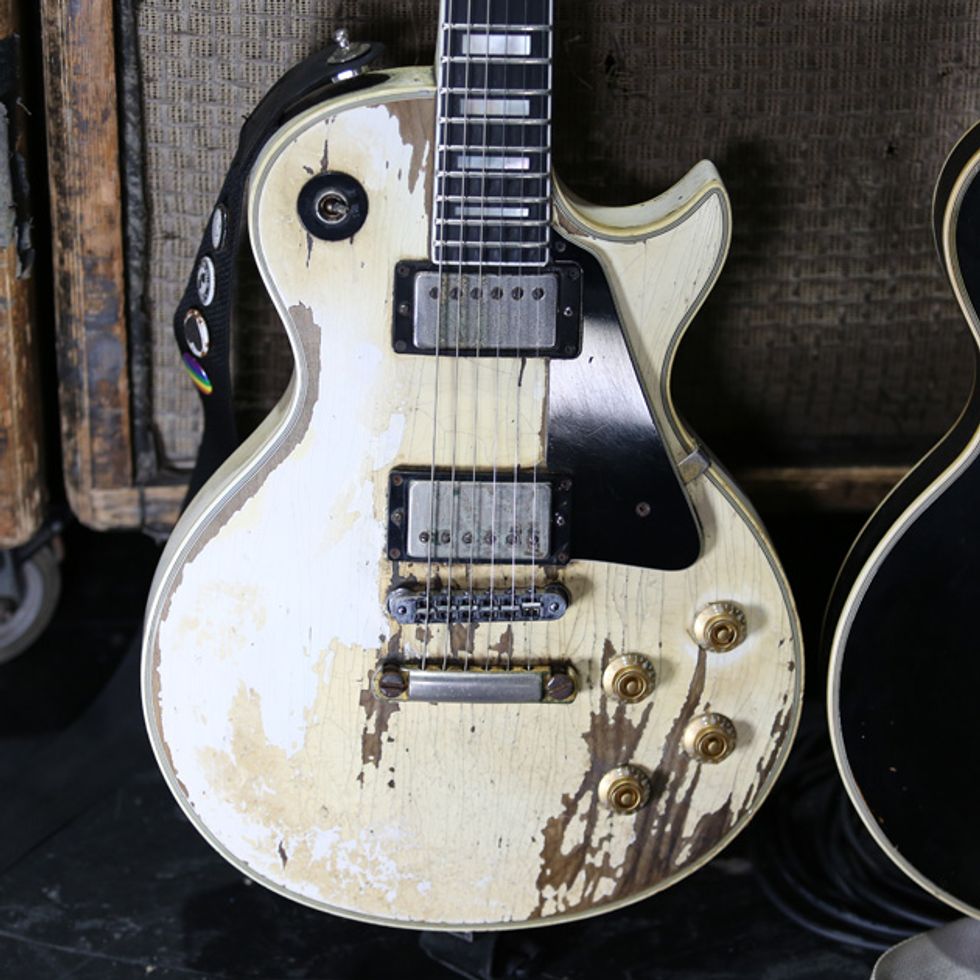 Since 1989, if you've seen cofounding guitarist Pete Steinkopf onstage, you've most likely seen him joined by this 1979 Gibson Les Paul Custom. Minimal things have been done to his No. 1, but the battered stage soldier recently did receive its first refret and the original bridge pickup was rewired by Russo Music in Asbury Park, New Jersey. All of his 6-strings use Ernie Ball Slinky .011–.048 strings.
Pete Steinkopf's equally worn-down backup is this 1979 Gibson Les Paul Custom. Both guitars are always tuned to E standard.
For ultimate firepower, Pete Steinkopf goes full-on arena rocker with the help of three blaring amps. First one in the lineup is a Marshall 2555 Silver Jubilee.
Pete Steinkopf's middle amp is rock's industry standard, a Marshall JCM800.
And the third amp in Steinkopf's equation is a Vox AC30.
A man of few pedals, Pete Steinkopf travels with three essential stomps—seen here is an MXR Micro Amp and Electro-Harmonix Memory Man.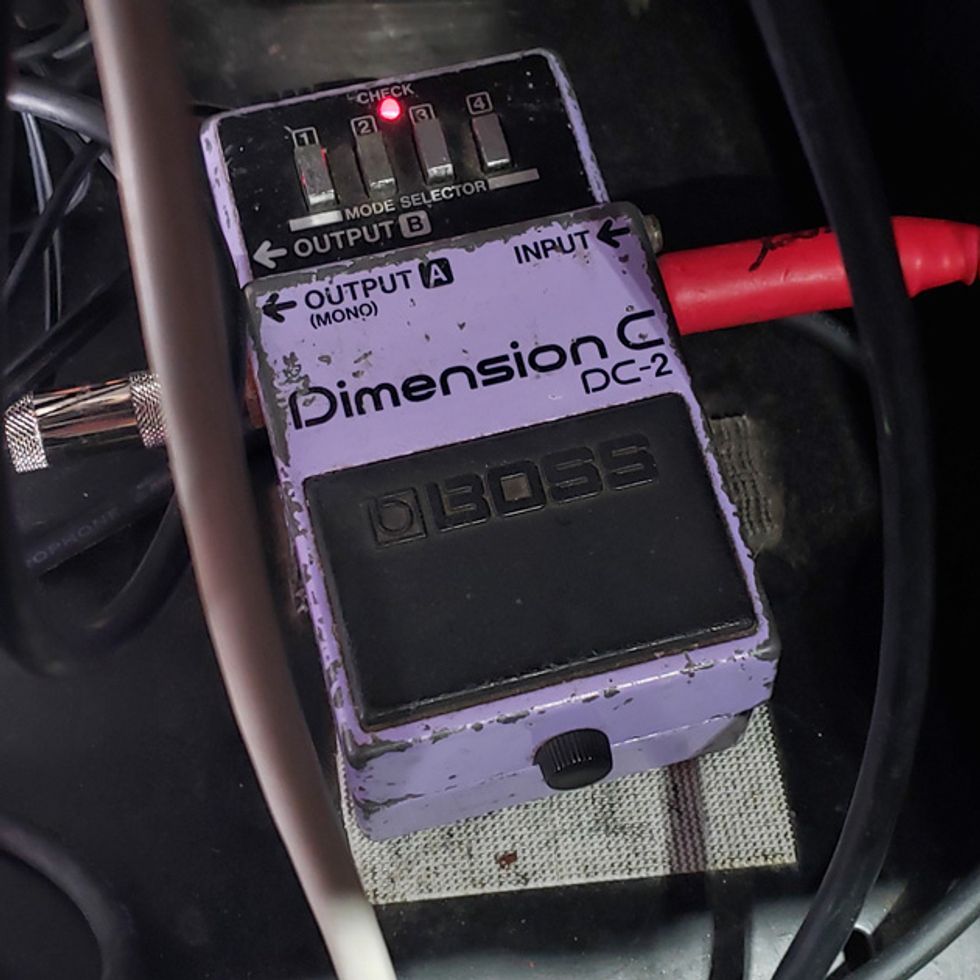 And lastly, to thicken up Pete Steinkopf's solos, he kicks on a Boss DC-2 Dimension C Chorus.
Everything is controlled by Pete Steinkopf's beautiful Bob Bradshaw-designed Custom Audio Electronics RS-5 midi switcher.
Over the last 30 years of being the only Bouncing Souls bassist, Bryan Kienlen has played thousands of shows with his trusty 1966 Fender Jazz Bass that he bought during an early tour at Mike's Music in Cincinnati, Ohio.
While his main '66 has never left him stranded, Bryan Kienlen knows to hit the road prepared, so he also has this 1966 Fender J as an alluring backup. He's a pick man (whatever he can grab) and both 4-strings use Ernie Ball Slinky .045–.105 strings.
Bryan Kienlen gets all the dynamic shifts and tonal changes he needs from his playing style, so the only thing between his J basses and the crowd is a pair of Ampeg heads—a SVT-2 Pro (main) and an SVT-III Pro (backup/recording). Both heads go through matching Ampeg 8x10 cabs.
Click to subscribe to our weekly Rig Rundown podcast:

D'Addario Micro Tuner:https://www.daddario.com/MicroTunerRR
---
---