Made in Canada, this two-voice guitar features a chambered Mahogany body, carved Swamp Ash top, 25.5" scale Mahogany neck and Rosewood Fingerboard.
Godin Guitars launches the Radium-X as part of its high-quality guitar lineup. After over 30 years of hand-crafting award-winning multi-voice guitars, celebrated by players worldwide, we are proud to introduce the Godin Radium-X! Designed to be ultra-versatile, the Godin Radium-X delivers both electric and acoustic tones.
With a Seymour Duncan Jazz SH-2 at the neck and a Bare Knuckle Boot Camp True Grit Zebra at the bridge, the Radium-X is designed to be a powerhouse of tone. This diverse magnetic pickup combo is capable of delivering powerful, warm distortion to clear, glassy tones, appealing to a wide range of players and musical styles. The Radium-X's stunning acoustic voice comes courtesy of a custom-designed LR-Baggs X-Bridge tremolo with six built-in "HEX" saddle transducers.
Godin Radium-X Rustic Burst - demo'd by Frank O'Sullivan
Body : Chambered Mahogany
Top : Carved Swamp Ash
Neck : Mahogany
Fingerboard : Rosewood
Scale Length : 25.5" (647.7 mm)
Neck Pickup : Seymour Duncan Jazz SH-2
Bridge Pickup : Bare Knuckle Boot Camp True Grit Zebra
Bridge : LR Baggs X-Bridge Tremolo
Controls : 1x Volume, 1x Tone, 3-way Toggle for magnetic pickups, 1x blendable volume and 3-way mini-toggle for acoustic/electric mix
Colours : Rustic Burst, Natural
Finish : Semi Gloss
Gain is fun in all its forms, from overdrive to fuzz, but let's talk about a great clean tone.
We're all here for one thing. It's the singular sound and magic of the stringed instrument called the guitar—and its various offshoots, including the bass. Okay, so maybe it's more than one thing, but the sentiment remains. Even as I write this, my thoughts fan out and recognize how many incarnations of "guitar" there must be. It's almost incomprehensible. Gut-string, nylon-string, steel-string, 12-string, 8-string, 10-string, flatwound, brown sound, fuzztone…. It's almost impossible to catalog completely, so I'll stop here and let you add your favorites. Still, there's one thing that I keep coming back to: clean tone.
I've had the luck and good fortune to work in the studio with Robert Cray, and it was the first time I watched how a human being could split the atom with tone so pure that you could feel it in your blood, not just your gut. It's a piercing voice like heaven's glass harmonica. Now, I've had fellow musicians turn up their noses when Cray is mentioned, but that's their problem. I love a saturated guitar—my Analog Man King of Tone cranked way up high in the clouds—but it's a power trip. I know it's scarier to get it right when down low and tight. Fearless Flyers tight.
It's not that I don't like distortion. I've chased saturated and singing sustain all my guitar life. I've experienced it all, from big amps with quads of Mullard bottles glowing brightly as they approached meltdown, to tweed combos turned up to a sagging and farting 12. There have been racks full of effects piled upon effects—hushing, squashing, squeezing, chorusing, echoing, and expanding my guitar's output like some Lego sound transformer. The good, the bad, and the relatively unknown. I even tried building my own amp line with a friend when I was 17 years old just to get what I heard in my head. But when I'm honest with myself, the stinging clean sounds of guitar strings are what move me the most.
When I started playing guitar, clean was about all you could get. If an amp started to distort or feed back, we worried that the amp might burst into flames.
When I started playing guitar, clean was about all you could get. If an amp started to distort or feed back, we worried that the amp might burst into flames. I didn't understand how it worked, but I learned fast. The instruments didn't ignite, but the sound did. That buzzing, clipping tone hid all my bad finger technique, and I was on my way, squealing and spitting fire from the speakers. The neighbor lady complained to my parents, so, clearly, I was doing something right. It was the power I was looking for in my young life. Clean tone was a thing of the past; long live the square wave on the throne of 16 speakers piled high above the stage.
Many of us have clamored for that thick distorted sound we've heard on records and in concerts. Guitarists still curate their collections based upon the building blocks we all discovered during our formative years. It started on the early rock 'n' roll recordings, when small combo amps got turned up loud to compete with the horns. Bluesmen dimed their amps on Chicago's Maxwell Street to be heard down the block—good for business. The Brits cranked it up a notch and we players took notice. To some degree, clean was being pushed out. Then, in 1978, "Sultans of Swing" and "Roxanne" came clean. Alongside the slow burning rise of metal, the chiming clarity of the guitar returned to the fray. I'm not trying to build a definitive timeline history of popular guitar sounds here. I'm just merely acknowledging that they ebb and flow. But I always come back to clean.
Even the apex of thick, fat, beefy tone—the PAF humbucker—was and is built for bold hi-fi tone. Its shimmering, articulate clean highs are often lost on period recordings or lousy playback systems. If you doubt it, listen to Michael Bloomfield's piercing tone on "Albert's Shuffle" found on the Super Session album. His contemporary, Peter Green, also made extensive use of the clean tones available from his PAF-loaded axe on seminal Fleetwood Mac recordings. Humbuckers can play sweet and clear. It's worth contemplating that some of the most revered guitar sounds ever committed to record were, in fact, cleaner than we remember. Don't even get me started with country music.
A lot can be said about practicing guitar with a frighteningly clean sound. Strip away the fuzz and echo and bask in the glory of that stringy, popping, slicing tone that will reward your progress but punish your carelessness. Even after all these years, I'm a sloppy player. But getting it right when all the distortion is put back in the toy box is a scintillating high you can be proud of. It's just a different addiction. The best part is that when you dial up the dirt again, it feels like flying.
A supreme shredder's signature 6-string dazzles with versatility.
This immaculately built guitar sounds great and can do it all.
The more affordable price is still out of reach for many guitarists
5
5
4.5
4.5
Charvel's first Guthrie Govan signature model was released in 2014, after an arduous two-year effort to get the design just right. Since then, the guitar—now in its second edition—has become one of Charvel's most coveted models. Unfortunately, its $3,699 price keeps the U.S.-made axe out of reach for many.
This year, though, the company released the Made-in-Japan signature MJ San Dimas SD24 CM, which sells for a slightly more manageable $2,799. Needless to say, that's not cheap. But depending on your priorities, it's a fair price for a very high quality, pro-level instrument.
Made for the Road Warrior
Govan is a seasoned touring and recording musician, to say the least, and real-world experience and practicality informs the SD24 CM's design down to the smallest details. The knurled chrome knobs, for instance, are dressed up with glow-in-the-dark Luminlay numbers, which together with recessed position indicators on the body help you recall volume and tone settings fast and with precision. Crème-colored inlays and more glow-in-the-dark Luminlay side dots help you find your place on the neck on dark stages. The heel-mounted truss rod adjustment wheel, meanwhile, makes neck relief adjustments convenient.
The proprietary tremolo system is unique to the SD24 CM. It functions a bit like a conventional locking tremolo setup, but there's no locking nut like you find on a Floyd Rose-type system. Instead, the SD24 CM uses Gotoh diecast locking tuning pegs and a Graph Tech TUSQ XL nut. The bridge does require an Allen wrench for string changes, but it's not encumbered by fine-tuning knobs like a Floyd Rose. So, if you want to change tunings, you can do so quickly using just the tuning pegs
To facilitate pitch-up maneuvers on the whammy bar, the bridge is recessed into a body cavity. The resulting range of motion is considerable, and I was able to get the bar to go up a major 3rd on the G string. Needless to say, I was also able to dive-bomb to oblivion. Tuning stability is quite good—even when the guitar is subjected to excessive whammy bar abuse. By the way, at Govan's suggestion, there's also a foam strip situated between the springs and the spring cavity to eliminate sympathetic vibrations. Such issues probably wouldn't cross the minds of casual guitarists, but they are peace of mind for players that like to eliminate all possibilities of weird vibrations or overtones from unwanted sources.
Another interesting design detail: The recessed input jack is located adjacent to the endpin. This uncommon placement was one of Govan's ideas. It prevents accidental unplugging. But because most players wind their cables over the endpin, it also situates the jack closer to that point.
The SD24 CM comes with a hybrid gigbag/hardshell case, which is a nice upgrade from just a standard gigbag (or no case, which is an unfortunate new trend, even with pricey guitars). Needless to say, the guitar looks great, with a satin, 3-tone sunburst finish over a figured ash veneer that is mated to a basswood body. With wood-colored pickups and chrome hardware, it makes up an understated and classy instrument.
Sonic Flexibility
At the heart of the SD24 CM's sound are pickups designed by guru Michael Frank-Braun (the mastermind behind Eric Johnson's signature pickups). They are set in an H-S-H configuration and a 5-way selector switch activates either the bridge humbucker, the bridge's slug coil and middle pickup, the bridge and neck's outer coils, the neck outer coil and middle pickup, or the neck humbucker. Note that even though the middle pickup is a single-coil pickup, there are no single-coil-only settings available via the 5-way switch. There is, however, a 2-way, mini-toggle switch that splits the neck and bridge humbuckers and filters the output in what Charvel calls a single-coil "simulation."
The bridge pickup has a modern, high-output signature that will make speed demons drool. Legato runs sound natural and feel easy to execute, and fast alternate picking lines sound alive and clear, especially in the single-coil simulation setting, which often sounds more articulate, more responsive, and makes single notes pop.
As hot and articulate as it can be, the SD24 CM isn't merely a shred monster.
Interestingly, the neck pickup with the simulated split-coil setting is similar in volume to the full humbucker, which makes real-time changes sound more organic. I especially liked this setting for clean, funky 9th chord strums and Motown chordal stabs. Pickup positions 2 and 4 are slightly lower in volume, and both cleaner and leaner sounding than the simulated split bridge and neck pickups. This option offered some nice faux-Telecaster sounds. All of these settings benefit from a treble bleed circuit that retains high-end even as you reduce guitar volume.
As hot and articulate as it can be, the SD24 CM isn't merely a shred monster. With the neck pickup engaged and tone knob rolled back, the SD24 CM is a convincing jazz machine that invites fingerstyle walking bass lines, chord comping, or blistering flatpicked bebop. Add a little overdrive and the neck pickup delivers a very creamy and rich lead sound.
Appropriately for a Guthrie Govan signature model, the SD24 CM is built around specs that facilitate fluid play. It features a 25.5" scale, caramelized maple neck with 24 jumbo frets, rolled fingerboard edges, and a 12-16" compound radius fretboard. The satin finish on the back of the neck adds to the guitar's quick feel, and the contoured heel enables easy access to the highest regions of the fretboard. Playability is excellent and there are no dead spots anywhere along the neck.
The Verdict
Many people think of Guthrie Govan as a super shredder with phenomenal chops. While that's true, Govan is also a multi-dimensional guitarist fluent in a staggering number of styles. His signature Charvel guitar reflects the breadth of his talent. It's an amazingly versatile instrument that can cover virtually any genre. And while it doesn't come cheap, it may be one of the closest things to a desert island guitar you'll find.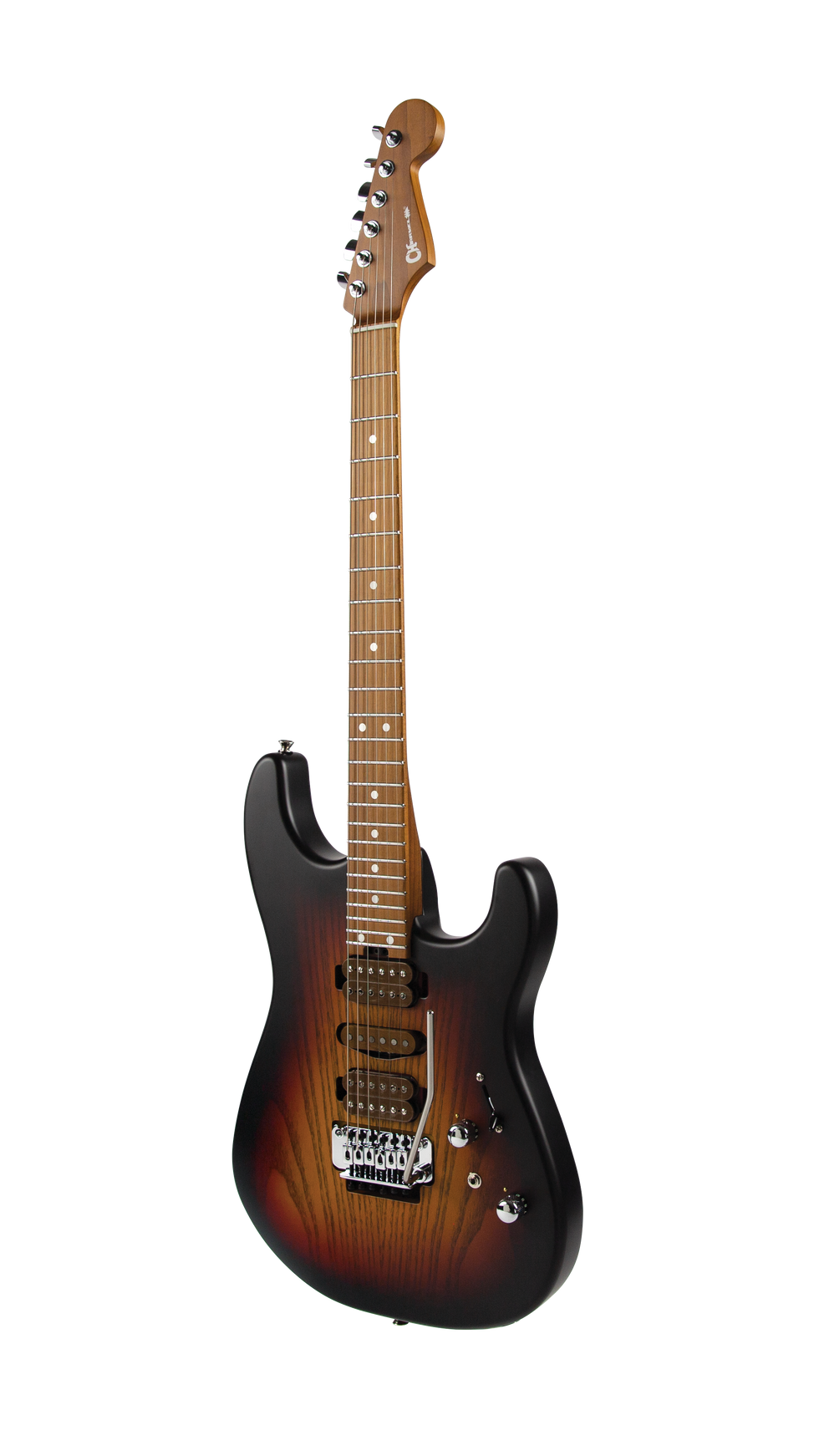 Harkening back to the late '80s when Charvel guitars were manufactured exclusively in Japan, we proudly introduce the all-new Guthrie Govan Signature MJ San Dimas SD24 CM. Exquisite in style, this MJ signature model blends Charvel's unparalleled legacy of designing high-performance instruments with an assortment of Govan's preferred top-end features.