Stone Deaf Tremotron Review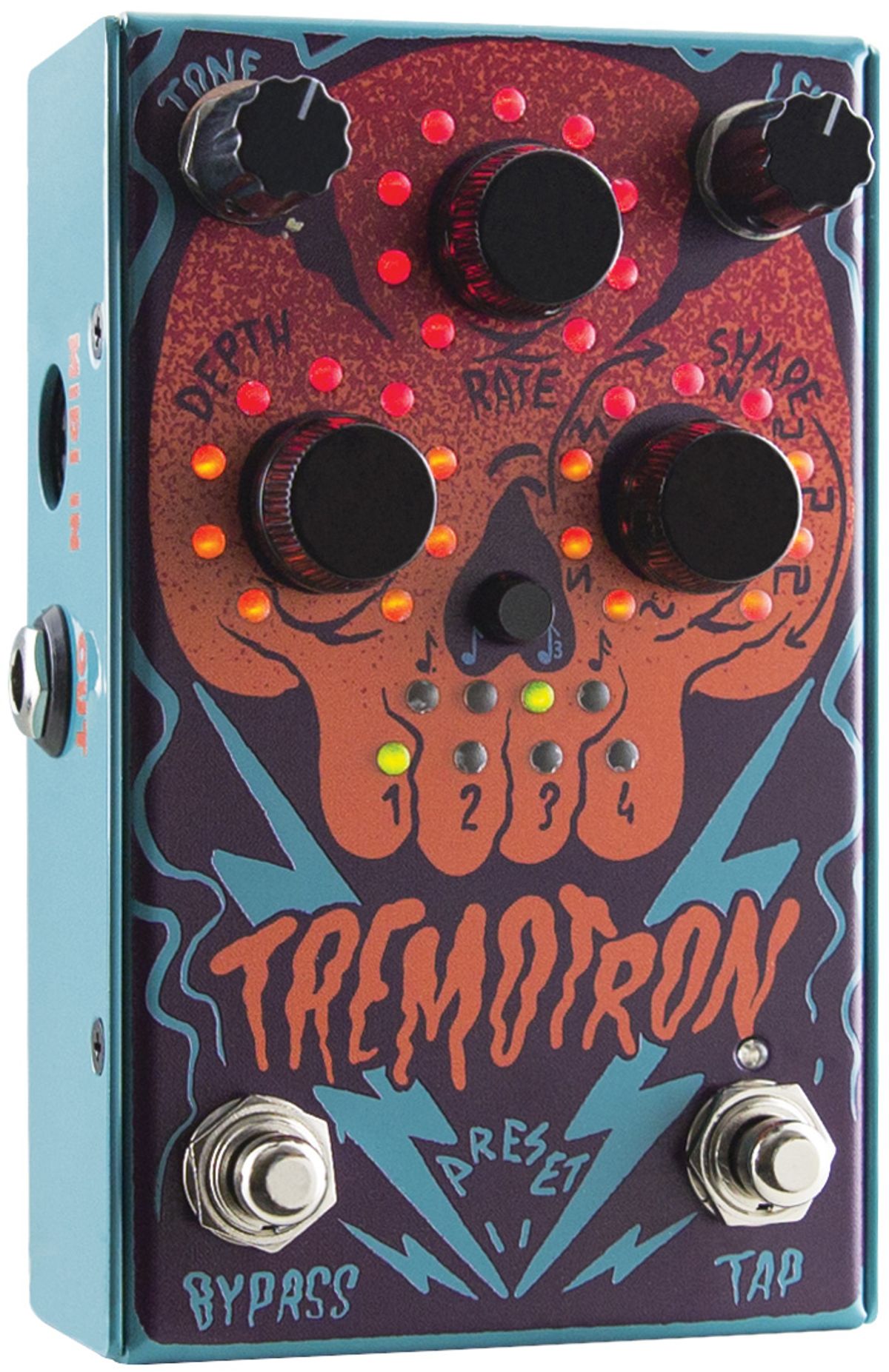 A VCA-driven, digitally controlled dual tremolo probes the deepest depths and broadest possibilities of volume modulation.
I consider tremolo indispensable. I'm also open minded about its possibilities—happy to swim in waveforms from smooth Fender pulses to hard-chopping Vox sawtooth sounds to hyper-precise digital manifestations of the effect. What's cool about Stone Deaf's Tremotron is how many of these tremolo variations it can cover, and then mutate, with its impressive two-tremolo engine and imaginative controls.

Twin-Engine Mod Machine
Tremotron is bristling with features, including MIDI connectivity, brilliant digital and expression pedal control, and plentiful waveforms, but at its heart are two waveform generators driven by a voltage control amplifier (a modulation source more commonly seen on analog synthesizers) and a secondary LFO tremolo circuit. VCA tremolo is a little less contoured than, say, Fender optical or bias tremolo. But it's easy to regulate—especially with exacting digital control, which makes it ideal for precise, choppy, and fast modulations. These waveforms, in turn, enable clear compound, subdivided, and multiplied waveforms that don't turn to mud.
The ability to blend rigid and relatively chaotic waveforms will lead
to happy accidents.
If you took away the killer McBess skull graphics, you might be struck by how streamlined the Tremotron control array is in relation to its expansive capabilities. There are five knobs for tone, depth, level, rate, and shape, plus a push-button subdivision switch and bypass and tap-tempo footswitches. When you power up the unit and the LEDs illuminate, the Tremotron looks like an acid-fried riot on Carnival night. It won't please staunch minimalists, but it is visually arresting and easy to navigate once you know which control does what.

The low-pass tone control and the level control work conventionally, moving between stops at either end of their range. The other three knobs—depth, rate, and shape—rotate 360 degrees and illuminate LEDS arrayed around the circumference that correspond to depth, rate, and waveform type. The three digital controls have a strange throw that takes practice to master, largely because you can actually spin the knob several times before you've moved through its whole range. A small push-button switch moves between four tap division presets, which run from simple quarter-note divisions to ring-modulated 64th notes. The soft-relay footswitches, meanwhile, work independently as bypass and tap-tempo switches or can be pressed simultaneously to recall presets.
Ratings
Pros:
Functional dual-tremolo design. Rich VCA tremolo voice. Cool waveforms. High level of control. Useful expression pedal functionality. MIDI control.
Cons:
Players used to vintage amp trem may find the VCA's voice too binary. Controls can feel imprecise.
Tones:


Ease of Use:


Build/Design:


Value:


Street:
$269

Stone Deaf Tremotron
stonedeaffx.com
Tremotron's expression pedal functions are simple to use. You just press and hold the depth, rate, or wave shape control, which assigns that parameter to the pedal. And while it's hard to know how many users will dig deep into Tremotron's MIDI functionality, it enables very cool and precise clocking effects, management of presets, and extended functionality for each of the three digital controls.

Pulses in Play
Tremotron's functionality is deep, but it's easy to dive right into the most common tremolo applications. For some, such pedestrian usage may end the second they press any one of the three digital controls to activate the second LFO modulation engine. Piloting Tremotron as a two-engine craft isn't totally intuitive at first. The controls can sometimes have an imprecise feel and the process of switching the VCA tremolo (levels indicated by green LEDS) and the LFO (levels indicated by red LEDS) on and off can feel clumsy. Once you have the process down, though, you can start to tailor complex poly-modulations by ear.

The subtle to radical shadings you can achieve with compound tremolos and the tap division controls often feel infinite in number, which makes the presets handy. True control freaks will likely want to use the MIDI clock capability to dial in super-precise waveforms. For other players, the ability to blend rigid and relatively chaotic waveforms will lead to happy accidents. The latter is the realm I enjoyed most. And I particularly enjoyed the effect of using a hard-chopping sawtooth wave as my primary modulation color and tucking a softer or more chaotic waveform at a lower level, multiplied into the primary modulation's slipstream.

The Verdict
Stone Deaf earns our infinite respect for packing this much tremolo-sculpting power into a relatively compact enclosure. And while the streamlined control set isn't exactly intuitive in the early going, it can be a powerful and ultimately very streamlined way to craft complex and bizarre tremolo textures. The additional functionality that you get with the expression pedal and MIDI controls is considerable, and for players willing to leverage the whole of the Stone Deaf's potency, the pedal could become a powerful stage and studio fixture. That said, more casual players that love meandering explorations of a pedal's capabilities will find treasure lurking at every turn in the Tremotron. And I won't be surprised if a classic riff—or many—are born from the unique, unexpected modulations it can manufacture and the satisfying manner in which it rewards the curious.