Top 5 Pop-Rock Rig Rundowns
Witness the gear of the pop-rock gods—from James Valentine's fully-loaded boutique board to Monte Pittman's stash of signature axes, Justin Derrico's collection of Les Pauls, the Neon Trees' custom Fender setup, and John Mayer's beat-and-battered BLACK1 Strat.
Sure, most of the magic conjured by the world's best players is in their hands, but obviously their gear is a huge deal, too—because they're still pretty particular about what they play. So take a break from honing your own chops for a bit, and check out what your heroes use to conjure their amazing tones. Who knows, maybe it'll help you rethink how you approach your music and give you some ideas for how to improve your own rig. Or just sit there and lust after all the cool stuff. Either way works.
Here we've compiled our top Rig Rundowns with some of the most badass pop-rock heavy hitters on the road today:
Maroon 5's James Valentine
Madonna's Monte Pittman
Pink's Justin Derrico and Eva Gardner
Neon Trees
John Mayer
James Valentine
Guitars
James has been a quest to score a vintage '60s Gibson ES-335 and hasn't found the right one yet. During his seemingly never-ending search for the right hollowbody, a fellow guitarist turned him onto Collings Guitars' I-35 and he was thoroughly impressed with how the guitar plays and how warm it sounds. He used this particular 6-string on "She Will Be Loved" because it starts with a jazzy intro using the neck pickup and when the song goes into overdrive he kicks into the bridge position and cranks it up.
Mike Mogis [multi-instrumentalist for Bright Eyes], Valentine's friend from back in Nebraska, was using one and a Fano and he really dug the guitar's vibe and feel when he was messing around with Mike's. Originally, Valentine was in New York City at 30th Street Guitars to buy the Jazzmaster-esque model [Alt de Facto JM6], but all they had at the time was the Telecaster-esque model so his first Fano was the TC6, which became one of his favorite go-to guitars. A few months had passed since he bought his first one, and now he has several JM6s, including the one in the middle that he uses for songs with big, thick, stadium-rocking choruses because he feels the P-90s sound bigger than any of his other guitars. And another custom JM6 that is a mash-up of a Jazzmaster, Firebird, and Silvertone.
The guitar on the right is a custom Hamer Talladega Pro that James uses for the heavier portions of the set.
Other guitars that were on the road with him included a Fano TC6, two Fender Custom Shop '70s Telecasters, and two Martin Performance Artist Series acoustics.
Amps
Valentine claims both amps—the Matchless Independence 35 and the Divided by 13 FTR 37 heads—are great in their own regards, but when they work together they complement each other in a very dynamic way. Generally, he has them both on—running through their own matching 2x12 extension cabs—and he has their channel switchers next to each other on his pedalboard so that he can switch them both to their dirty channels for a huge, overdriven sound or he can keep one clean and one dirty. He likes keeping each amp different—one set to clean and the other dirty—because he gets this really big, stereo effect where each amp's tone is independent, but when they're combined in this setup he can cover so much more ground tonally. Plus, it just sounds huge!
To Valentine, the Divided FTR 37's tone has a vintage vibe, while the Matchless Independence head is more modern sounding… [laughs] it's not nearly as modern as his Mesa/Boogie Mark Five, but it tends to break up earlier and has a drastically different tonal vocabulary than the Divided. It took him a number of years and experimentations with several amp combinations before he reached his current rig. Just recently, he's been getting a lot of compliments and questions about his tone during their recent tour. A lot of that credit goes to his guitar tech Mike Buffa who has helped him really dial in his setup and overall stage sound because the four heads [each head has a backup] sit offstage with Buffa and he controls the amps' volumes and blends them directly offstage with an Ernie Ball Volume pedal.
Effects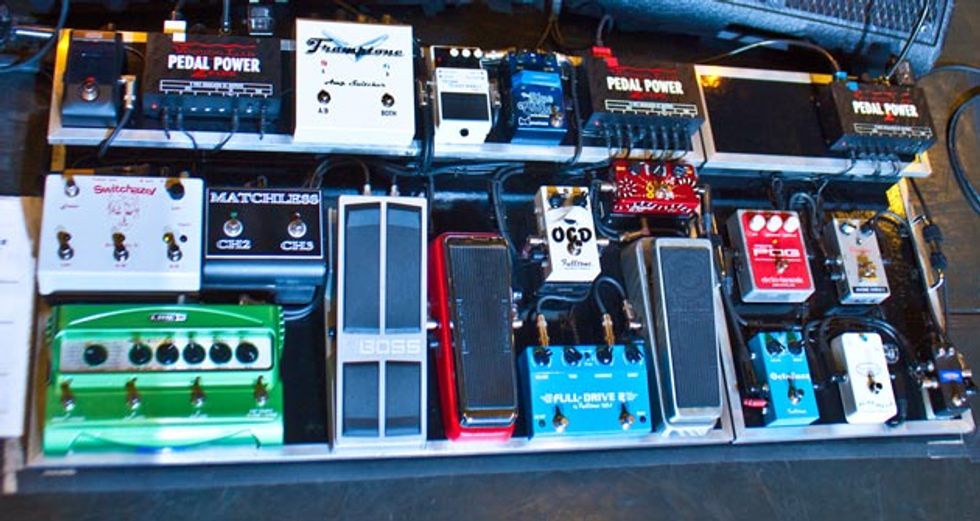 Valentine's tech wired up his pedalboard and they experimented with the order of the signal path to avoid too much tone sucking. It has a Line 6 DL4 Delay Modeler, a Boss FV-500H Volume Pedal, a Dunlop Rotovibe, a Fulltone Full-Drive 2, a Dunlop Zakk Wylde Signature wah, a Fulltone Octvafuzz, a Keeley Katana Clean Boost, a Keeley True Bypass Looper, Providence Anadime Chorus 2, an EHX Micro POG 2 (both the chorus and the POG 2 are in a separate effects loop for the intro and main riff on "Give A Little More"), a ZVEX Effects Octane 3, a Fulltone OCD, a Menatone Blue Collar Overdrive (the Fulltone works as his ballsy, over-the-top gritty soaring solo tone, while the Blue Collar colors his tone for the crunchy rhythm parts), and a Boss NS-2 Noise Suppressor.
Madonna's Monte Pittman
PG's Rebecca Dirks is on location at the Xcel Energy Center in St. Paul, Minnesota, where she catches up with Madonna guitarist Monte Pittman. In this segment, he discusses and demonstrates how he uses his Axe-FX II with his Orange rig, why you might not always hear guitar in Madonna's songs, and shows off his signature guitars. We also learn about the setup and guitars Madonna herself uses when she plays during the set.
Guitars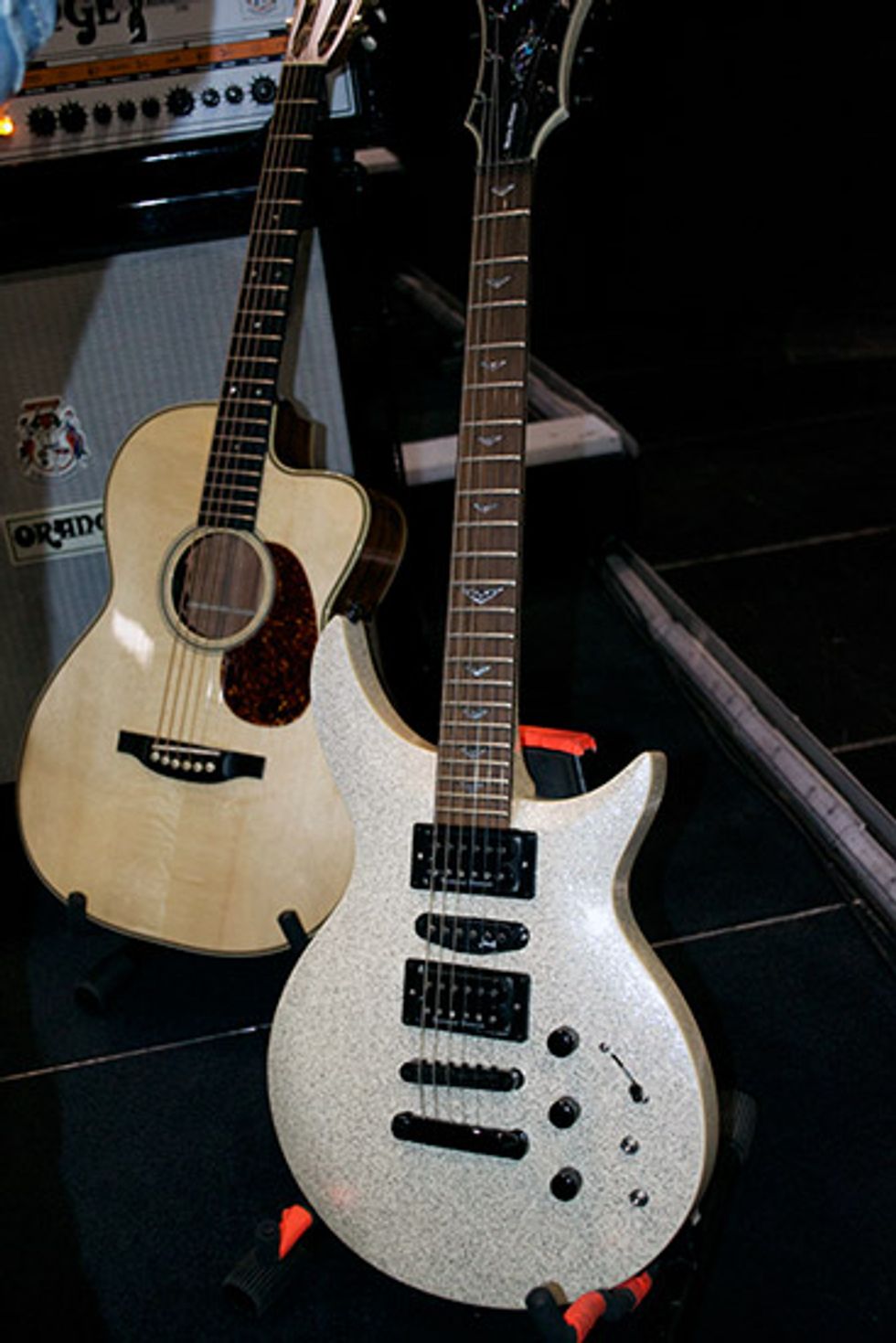 Pittman primarily uses Jarrell Guitars MPS Monte Pittman Signature Guitars, either with a Floyd Rose or stop tailpiece. His personal guitars use custom-wound Dimebucker, S7, and P-Rail pickups made by Maricela Juarez (MJ) at the Seymour Duncan Custom Shop. He uses the many available pickup configurations for both a variety of tones and output levels when he needs to be further back in the mix. His signature guitar also comes in "classic" with Jarrell pickups instead of Seymour Duncans. In addition to his signature guitars, Pittman uses a stock recent-issue Fender Jazzmaster for "Vogue," "Candy Shop," and "Human Nature," a Jerry Jones Electric Sitar for "I'm a Sinner," and a Gibson Melody Maker with a Bill Lawrence pickup and Swarovski crystals for "Like a Prayer." He uses Dunlop .88 picks and D'Addario .010s for strings.
His main acoustic is a Bourgeois OMS with Peruvian rosewood and Fishman electronics that's tuned down to C#. He also travels with a Bourgeois Ray LaMontagne model and an Alhambra nylon string that aren't used in the Madonna set but are used for solo shows Pittman does during the tour.
Madonna uses a 2002 Gibson Les Paul Standard with custom Seymour Duncan Alnico 2s overwound for Madonna's hands for more presence.
Amps

Pittman uses two Orange Rockerverb 100s with KT88s into two Orange 4x12s with Celestion Vintage 30s, run in stereo. He runs the Oranges' clean channel when using his Fractal Audio Axe-Fx II for amp tones, and the boost channel when he needs more gain or for feedback. He recreated his personal Marshall JCM800 sound in the Fractal, which he uses for his amp tone sometimes as well.
Madonna uses a Fractal Axe-FX II for her amps, triggered by her tech. She plays three songs, with three patches per song. "I Don't Give A" has a patch inspired by Meshuggah's Koloss album, "Turn Up the Radio" has a patch inspired by Allan Holdsworth based off a Dumble amp with volume swell chorus and doubled Mr. Mister sound, and "I'm a Sinner" has a raw, Patti Smith clean sound.
Effects

For effects, Pittman uses the Fractal Axe-Fx II with an MFC-101 controller for traditional effects as well as atmospheric tones and sound effects, and a variety of synth tones for doubling or complimenting keyboard parts. On the floor he uses an Ernie Ball Volume Pedal, Dunlop Jerry Cantrell Signature Wah, MXR Boost/Line Driver, MXR Dime Distortion, MXR Bass Octave Deluxe, MXR EQ (used for boost), MXR Carbon Copy, and a TC Electronic PolyTune. He explains that there's room for playing with different sounds during the set, so the pedals on the floor give him flexibility to do so. With his acoustic, he uses a Fishman Aura pedal that's stocked with models of his personal acoustics that he leaves at home.
Pink's Justin Derrico & Eva Gardner
Premier Guitar's Jason Shadrick is On Location at the United Center in Chicago, Illinois, where he catches up with Justin Derrico and Eva Gardner on tour with Pink's The Truth About Love tour. In this segment, Justin and Eva detail their go-to instruments and signal chains.
Guitars

Derrico brings about 10 axes on tour with Pink, sometimes traveling with a backup boat of 10 more. A majority of them are Gibson Les Pauls, along with a Fender Strat, Valley Arts Brent Mason, and a duo of Maton acoustics. His main LP (used for about 80 percent of the show) is 2006 Les Paul Standard that is totally stock—outside of a few repairs to the headstock and a piezo pickup. His Fender Custom Shop Strat Pro is used for the cover of Chris Isaak's "Wicked Game." On the Valley Arts, he uses the neck pickup with the controls (including the middle pickup blend) all the way up.
Amps and Effects

For this leg, Derrico brings out two complete rigs, "A" and "B" both are exactly the same and are centered around Bogner and Friedman amps. For pedals, he has a Wampler Ego Compressor, Bogner Ecstasy Blue, Xotic BB Preamp, MXR Custom Badass Modified OD, Boss Giga-Delay, Foxrox Octron, Electro-Harmonix Micro Pog, Boss BF-3 Flanger, Boss TU-2 tuner, MXR EVH Phase 90, Fulltone Deja Vibe, and a Line 6 M5. Around the back he has a Boss CH-1 Super Chorus.
Up front, Derrico's pedalboard is designed around a Dave Friedman-designed rig. The heart of the on-stage setup is his Voodoo Lab Ground Control Pro which is programmed with individual patches for each song along with direct access buttons to control the pedals in his rack.
He also relies on a Dunlop Cry Baby wah, two Ernie Ball Volume pedals, a custom designed piezo signal splitter (which works with his stereo cable), a Boss TU-3 tuner, and a Fishman preamp.
Neon Trees' Chris Allen & Branden Campbell
Guitars

Chris Allen's main guitar is a Fender Eric Johnson Strat that he's modified with a GraphTech Ghost Acousti-Phonic system and stereo output jack for the acoustic part of "Everybody Talks." The bridge pickup is a Lindy Fralin Split Blade to help cut noise and hum. He also uses a Fender Custom Shop model of his design with an Eric Johnson-profile neck, 12-string headstock, Jazzmaster body with Tele hardware and electronics, a NOS '63 Tele bridge pickup and a Jazzmaster neck pickup. He also uses a MIM Fender Jazzmaster in a custom tuning for "Sins of My Youth."
Bassist Branden Campbell's number one bass is his 1961 Fender P bass. It has Hanson NeoPunch pickups, which are wired like a classic Fender-style with an additional Neodynium magnet for more hair on the note, which he likes for how they break up with a natural compression. The bass also has a new pickguard and Babicz Full Contact bridge. He uses DR Fat Beams strings, gauges .045 - .105. He also uses a '66 Guild Starfire with original Hagstrom "Mickey Mouse" pickup that's tuned to Eb for "Everybody Talks." "It is the loudest but clearest of any of my basses," Camp told us. Other basses include a Rickenbacker tuned to Drop D, a Hofner Club Bass Limited Edition, a '74 Gibson Ripper bass, and a Fender Mike Dirnt P Bass.
Amps

Allen uses a Laney Lionheart LH-20 20-watt hand-wired amp. He told us, "Even though it's only 20 watts, it gets really loud. Sits well in the mix."
Campbell plugs into a Fender Super Bassman 300 with 6550s and two channels: vintage and modern.
Effects

On his board, Allen uses a Cusack Pedal Board Tamer to keep his tonal path as streamlined as possible. He's arranged his effects switches song-specifically in order to minimize the "tap dancing" he was doing from song to song. He names his Ibanez TS808HW Hand-Wired Tube Screamer overdrive as a must-have, and his Malekko Trem and Vibrato and Z.Vex Fuzz Factory are also favorites. He's also using: EHX Nano Holy Grail, Dunlop MXR Power Amp, Keeley Compressor, Fulltone GT-500 Boost/Distortion, Strymon El Capistan dTape Echo, A/B amp switch to control his Laneys and Roland JC-120, HardWire CR-7 Stereo Chorus, and a TC Electronic poly-chromatic tuner.
Campbell's pedalboard is extensive for a bassist. He says his Aguilar Tone Hammer is his bread and butter, but he's also proud of his homemade channel switcher for his one-of-a-kind white Fender Bassman amp rig (bottom right). Starting from the top left, Campbell's pedals include: a JHS Bass Utility, Tech 21 VT Bass pedal, Aguilar Tone Hammer, Peterson StroboStomp tuner, EBS DPhaser, EBS UniChorus, EHX Nano Holy Grail, JHS Pandamonium 4 Wheeler Fuzz, TC Electronic ND-1 Nova Delay, Z.Vex Woolly Mammoth Bass Fuzz Pedal, EHX Bass Big Muff Pi, JHS Low Drive, EHX Bass Microsynth, EBS Octabass, homemade amp switch.
John Mayer
Guitars
Mayer is a big fan of switching axes—over a dozen guitars are used per show—Mayer has a drool-worthy collection of 6-strings, including a relic'd Fender Custom Shop of his '63
Stratocaster
BLACK1 that he uses on "Gravity," a 1997 Fender Custom Shop Monterey Strat that he plays during "Waiting on the World to Change," a Fender Custom Shop "Heartbreak Warfare" Strat the he rocks during the namesake song, a cherry Gibson ES-335 he pulls out for a cover of Bill Withers' "Ain't No Sunshine," and a signature Martim OMJM model he strums for "My Stupid Mouth."
Other guitars that Mayer keeps on hand include a relic'd white Fender Custom Shop La Cabronita, a sunburst Fender Strat, a gold Gibson Super 400 archtop, a red Gibson SG, a blonde Fender Custom Shop '52 Reissue Telecaster, a sunburst Fender John Mayer Signature, a PRS Hollowbody, a Rick Turner Model 1, a Fender Custom Shop Chris Fleming Masterbuilt Strat/Tele hybrid, a Novax Expression, a Les Paul Jr, a Les Paul Standard, and two Ernie Ball Music Man models—a 25th Anniversary and a Reflex.
Amps
In comparison to his plethora of guitars, Mayer keeps his amp choice and setup pretty simple with three heads. He currently uses a Dumble Steel String Singer.
A Two-Rock John Mayer Signature model.
And a Fender Band-Master.
"Each of John's amplifiers sound great at a particular EQ setting and volume," says René Martinez, Mayer's guitar tech. "When you put all three of them together, they will obviously give you more volume because of the increased power, but each amp brings a completely different tone to the table, so when they're projected out of the speaker cabs you get three sweet-spot tones rather than just the one." All three amps go through four open-back Alessandro 2x12 cabs loaded with various Celestion speakers.
Effects
Most of Mayer's effects are housed within a custom-built rack and swicthing system setup by CAE mastermind Bob Bradshaw. One drawer holds a Way Huge Aqua-Puss, Eventide Time Factor, and a Roger Linn Design AdrenaLinn III.
The second drawer is home to a Keeley Electronics Katana Clean Boost, a MXR M-108 10-Band EQ, a Roger Linn Design AdrenaLinn II, and a Roger Linn Design AdrenaLinn.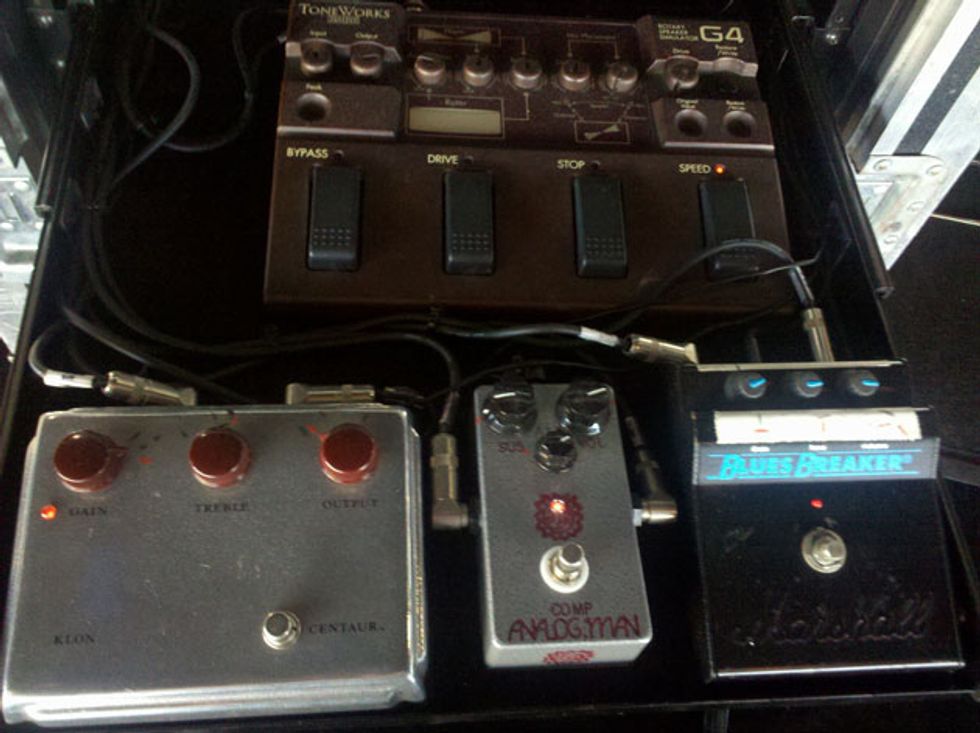 The third drawer is where Mayer keeps his Korg Toneworks G4 Rotary Speaker Simulator, a Klon Centaur Overdrive, a small Analog Man Comprossor, and an original Marshall Bluesbreaker pedal.
His final drawer holds an Ibanez TS-10 Tube Screamer Classic, another Eventide Time Factor, a second Roger Linn Design AdrenaLinn III, and a Boss GE-7 Equalizer.
The pedals on the floor include two Boss TU-2 tuners, a Teese Real McCoy RMC8 Guitar Eqwahlyzer, a Uni-Vibe with accompanying expression pedal, another Keeley Electronics Katana Clean Boost, and a MXR/Custom Audio Electronics Boost/Line Driver.