Hamstead Launches the Comet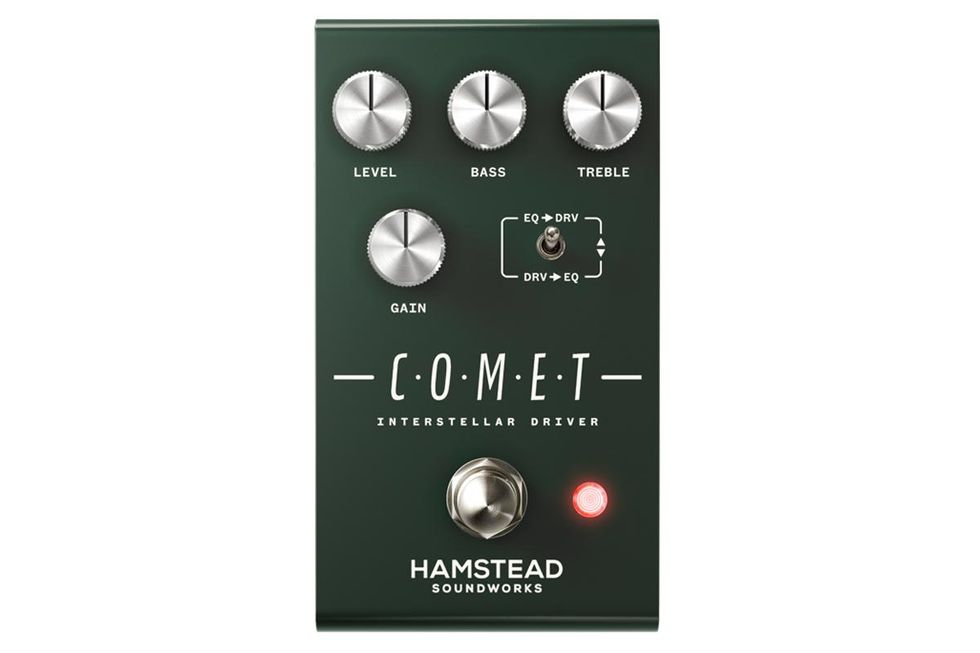 The 4-knob drive includes transparent and character drive voices (changing the order of drive & EQ circuits) that cover boost, drive, and fuzz tones.
Overdrive versatility with its own voice Hamstead Soundworks are proud to introduce Comet: a meticulously voiced overdrive pedal that opens up a whole world of tones from a simple control set.
---
Representing our pursuit to take analogue drive circuitry to new heights, it can be moulded from boutique sounding overdrive with a vocal midrange, right through to a rich and creamy fuzz. Both transparent and character drive tones are accessed via a deceptively simple, but incredibly powerful switch. Furthermore, your tone can be shaped via an intuitive two-band EQ, for additional tone sculpting.
Comet Features:
Incredibly versatile tone shaping from a simple control set

From tone-enhancing 'always on' preamp gain, to boutique overdrive and all the way to rich, creamy fuzz
Transparent and Character drive voices
Multifunction EQ/Drive switch:

Changes the order of the Drive & EQ circuits
Switches between two distinct clipping circuits
Adjusts the gain structure for a wide range of drive sounds

Active EQ with +/-15dB of clean Treble & Bass boost & cut Up to 30dB of Level boost
High Gain mode (via an internal switch)
Global Hi Cut adjustment (via an internal pot)
Silent optical switching and TheGigRig's OptoKick footswitch, for excellent reliability
Drive, EQ & Gain Structure
The EQ/Drive switch sits right at the heart of Comet, providing two distinct tonal paths. While on the surface it may appear to be just a simple physical switch, it's much more than that. By selecting DRV>EQ or EQ>DRV, you not only change the order of the Drive and EQ circuits, but also the type of clipping and gain structure circuitry. The design uses complex analogue engineering on the inside, to be simple and instinctive to use on the outside.
DRV>EQ mode gives you a very dynamic and transparent clipping circuit and places the EQ after the Drive Circuit, for studio style EQ sculpting.
EQ>DRV mode moves the EQ in front of a more raw, yet organic clipping style that boosts the input gain into the drive circuit. Doing this provides a wide range of character drive tones that can be pushed all the way to into super saturated fuzz tones.
Global Gain & Tone Control
From pre-amp boost and right through to fuzz, Comet has a very wide range of gain available onboard. However, to push the circuit even harder into high gain territory, we've also added an extra gear. Selectable via an internal switch, Hi Gain Mode can open up heavy crunch and distortion or even highly saturated fuzz tones.
While Comet is voiced to work excellently with any guitar or bass set-ups straight out of the box, we wanted to add a little extra flexibility for those players who really want to fine tune their sound. With the internal Hi-Cut pot, you can tailor the high frequencies to suit any rig or tonal preference.
Comet Specification:
All-analogue design

Dimensions: 70 w x 130 d x 65 h mm
Weight: 525 g / 1.16 lbs
Power Requirement: 9-12 V DC ONLY, 65 mA (Centre Negative) Input Impedance: 500 kΩ
Output Impedance: < 300 Ω
Warranty: 5 Year Limited Warranty
Comet has been extensively tested with a large range of familiar guitars and amplifiers to ensure that it will work superbly with any setup.
An all-analogue circuit designed by Peter Hamstead. Built at the Hamstead labs in Cambridgeshire, Great Britain.
Hamstead Soundworks COMET: Interstellar Driver
Hamstead Soundworks Comet Interstellar Driver : RRP £199 // €235 // $259
hamsteadsoundworks.com
From Your Site Articles
Related Articles Around the Web