Hutchinson Guitar Concepts Unveils the Oxidizer, Cafe Racer, and Viking Explorer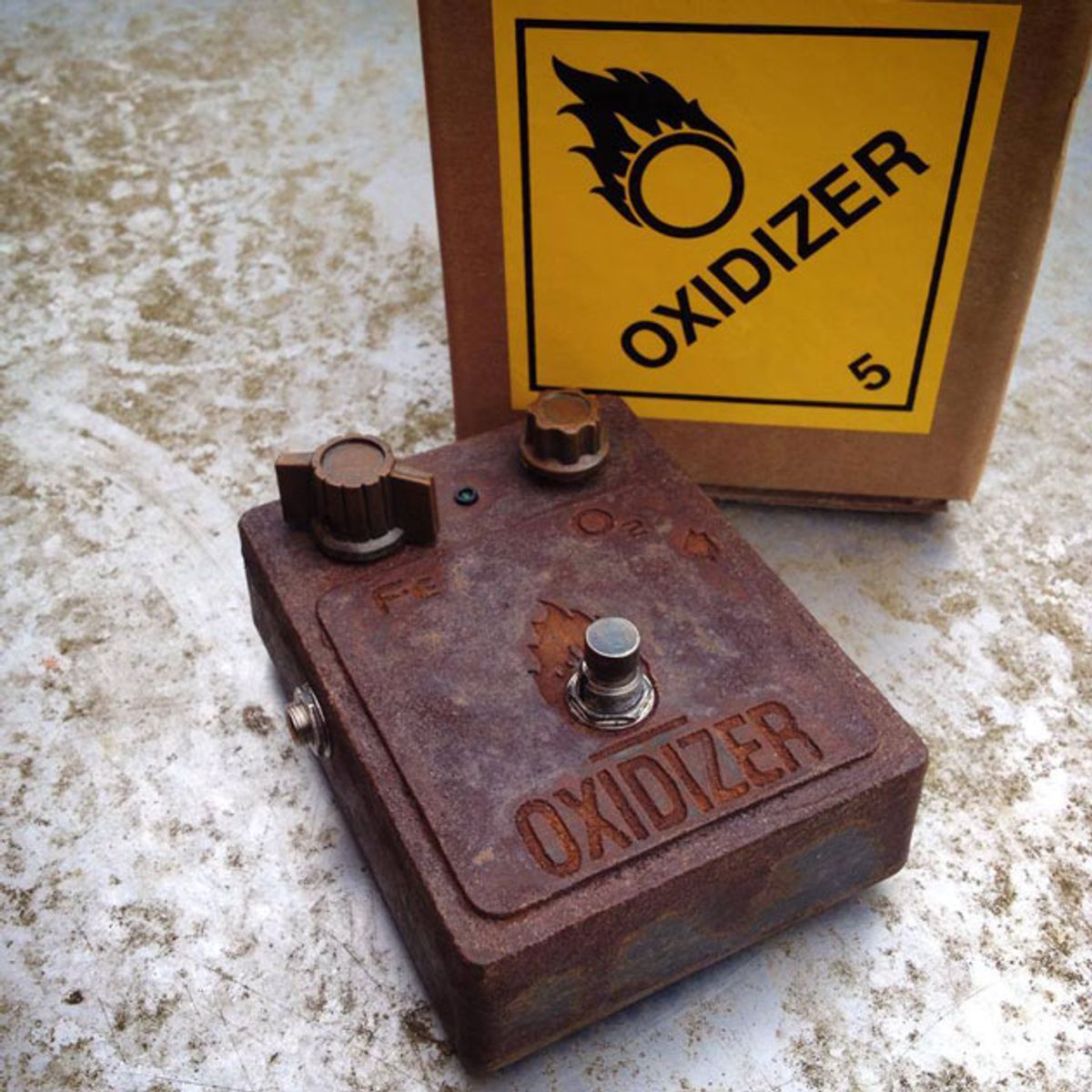 The Oxidizer is a limited-edition overdrive pedal with only 20 pieces available.
London, UK (July 10, 2014) -- Hutchinson Guitar Concepts are proud to announce the release of a limited run of its first ever overdrive pedal, "The Oxidizer."
With its heavily rusted finish and Fe (Iron/volume) and O2 (Oxidation/drive) controls, you know that it's going to add some serious oxidation to the sound.
The Oxidizer creates overdrive tones going from tweed style to a heavier distorted tone. With its massive volume boost working in conjunction with your amps gain rather than instead of it, to hammer your amp and push it into overdrive without colouring the tone. The Oxidizer is responsive to pick attack and dynamics, and cleans up really well by rolling the guitar volume back. The pedal comes with an adapter but has a low drain on batteries. Get yours now as they are limited to a run of 20 pedals, which are each hand numbered.

Café Racer
Hutchinson Guitar Concepts are happy to announce the release of the Café Racer, a light motorcycle inspired concept based on a Gibson Melody Maker.
Inspiration is drawn from the famous Cafe Racer light motorcycles, with their utilitarian appearance and stripped down design to optimise handling. Upgraded chrome Schaller machineheads and Gotoh bridge/tailpiece improve performance and handling, just like the bike that inspired this creation. This concept is the epitome of simplistic style that captures the essence of a racer bike.
The concept features a bare aluminium scratchplate with push/push volume switching the Seymour Duncan P-Rails from humbucker to P-90, chequered flag 12th fret inlay and Cafe Racer style exhaust silencer jack socket. The HGC logo is incorporated into a bike style badge on the upper bout.

Viking Explorer
Hutchinson Guitar Concepts has just released its fourth guitar in the series of Viking inspired concept. This new concept the "Viking Explorer" has been created on an ESP Edwards explorer.
Elaborately carved into the shiplap panelling is the central scene showing the epic battle between the hero Sigurd and the mighty dragon Fafnir. With an intricate knotwork carved border and inspirational runes carved on the neck reading 'Strength and power within'. Like Sigurd's mighty sword Gram, this guitar is truly the ultimate Viking weapon.
Seymour Duncan custom Black Winter pickups with aged bronze covers, match the aged metallic finish of the Schaller Bridge and locking tuners. As with all HGC designs, the weight and tone of the original guitar is left unaffected.
More designs are available through the Hutchinson Guitar Concepts website, which feature a portfolio of finished instruments inspired by wide ranging themes and executed through hundreds of hours of intricate wood carving, masterful finishing and state of the art electronics.
For more information:
Hutchinson Guitar Concepts