1966 Fender Mustang, 1961 Fender Princeton, and Vintage Gibson Maestro Fuzz-Tone FZ-1A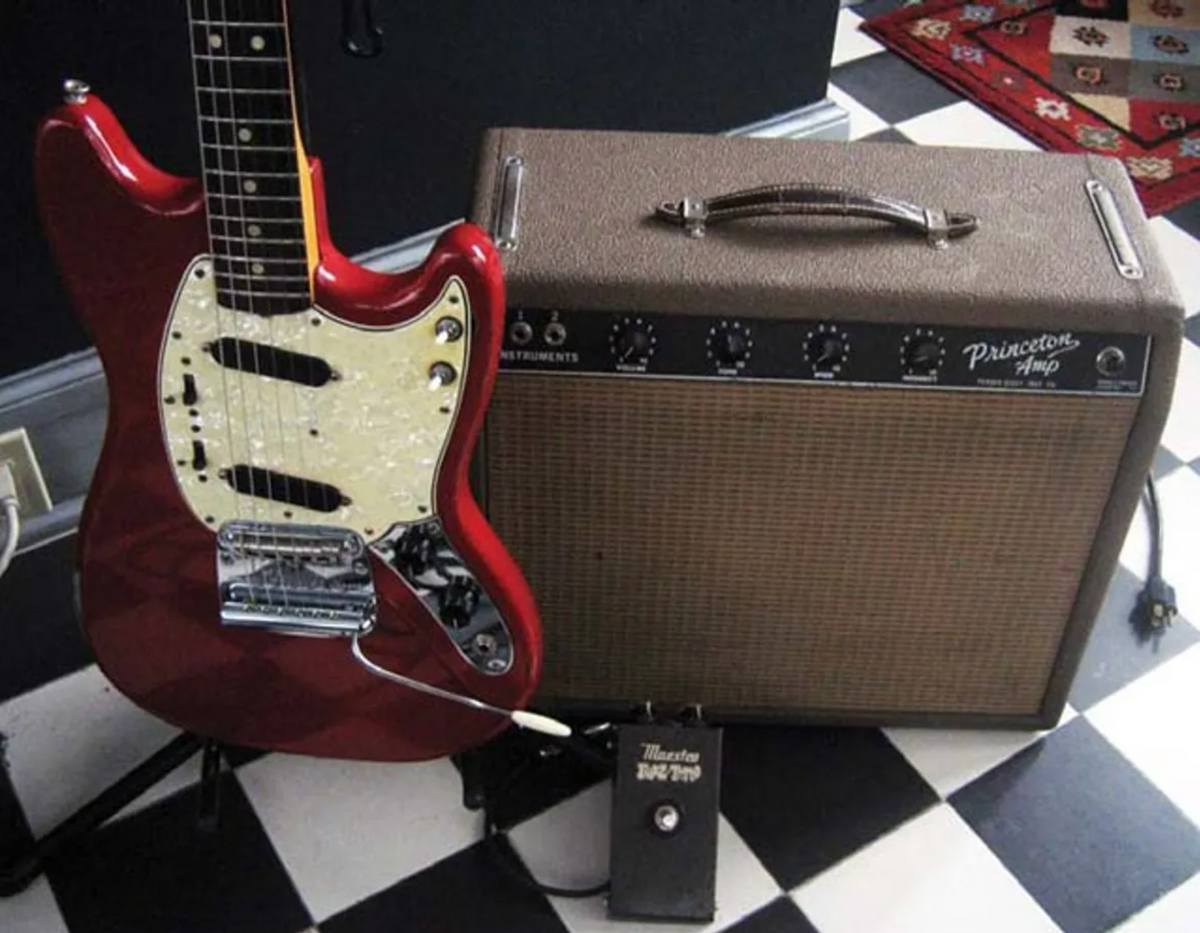 That first real rig often holds a special spot in a player's heart, and in the case of guitarist Brook Hoover, it was because his seminal setup sounded so good.
All guitarists start somewhere. Some are initially better equipped than others (a plastic Tyco Hot Lixx toy versus a family-owned, hand-me-down Martin, for example), but all that matters is that the guitar-playing bug bites them. If they're lucky, it's a lifelong illness that spawns a recurring condition: GAS (Gear Acquisition Syndrome). During a guitarist's life, guitars, amps, pedals, and accessories are bought, sold, traded, lost, stolen, and broken. However, that first real rig often holds a special spot in a player's heart, and in the case of guitarist Brook Hoover, it was because his seminal setup sounded so good.
---
"As a teen, I worked on my grandparents' farm walking beans and earned enough to buy my first electric guitar in '75 or '76," remembers Hoover, who plays guitar in a surf rock/rockabilly band called the Surf Zombies, operates a home studio, and teaches guitar lessons. "The first one that showed up in the want ads was a red Fender Mustang much like this one—I was attracted to the white pearloid pickguard, whammy bar and shiny chrome."
Unfortunately, Hoover sold his first Mustang in '77 to a friend so he could upgrade to a Gibson SG, but he recently got his paws back on a similar red Mustang (shown here) to bring his first rig full circle. This '66 Mustang features a double-cutaway asymmetrical ash body—similar to a '60s Musicmaster—bolt-on maple neck, rosewood fretboard, and a 22-fret, 24" scale length (a smaller 21-fret, 22.5" option was also available). The 'stang also has a floating bridge/vibrato with bridge cover and two slanted single-coils.
Shortly after acquiring his first mid-'60s Mustang, Hoover got his first real tube amp: a '61 Fender Princeton. Lucky for Hoover, the price tag for the Princeton included a Maestro Fuzz-Tone—a favorite of Keith Richards and Pete Townshend—that was found lying in the cab. The brownface Princeton has a single 7025 dual triode in the preamp, a 12AX7 dual triode—one half operates the tremolo and the other half serves as a split-load phase inverter—and two 6V6GT power tubes. The Princeton's front panel only has four controls—volume, tone, speed, and intensity. The "Satisfaction"-in-a- box is built with germanium transistors, runs on a 1.5V battery, and has only two controls—volume and attack.
"When I was a youngster, plugging into that rig was a sonic adventure. I learned the sounds of blues, rock, disco, pop—anything that was on a record, 8-track, or radio, I tried playing through that setup," recalls Hoover. "The shimmering twang, whammy bar acrobats, and gross, crackly fuzz set the stage decades before starting my current band the Surf Zombies. I just got this '66 Mustang a few months ago, but I already know that matching it with my old Princeton and bristly fuzz will inspire many more hairy, surf instrumentals."
A special thanks to Brook Hoover of the Surf Zombies for the opportunity to feature these fine pieces of gear and their story.
[Updated 2/24/22]