Last Call: From Front of House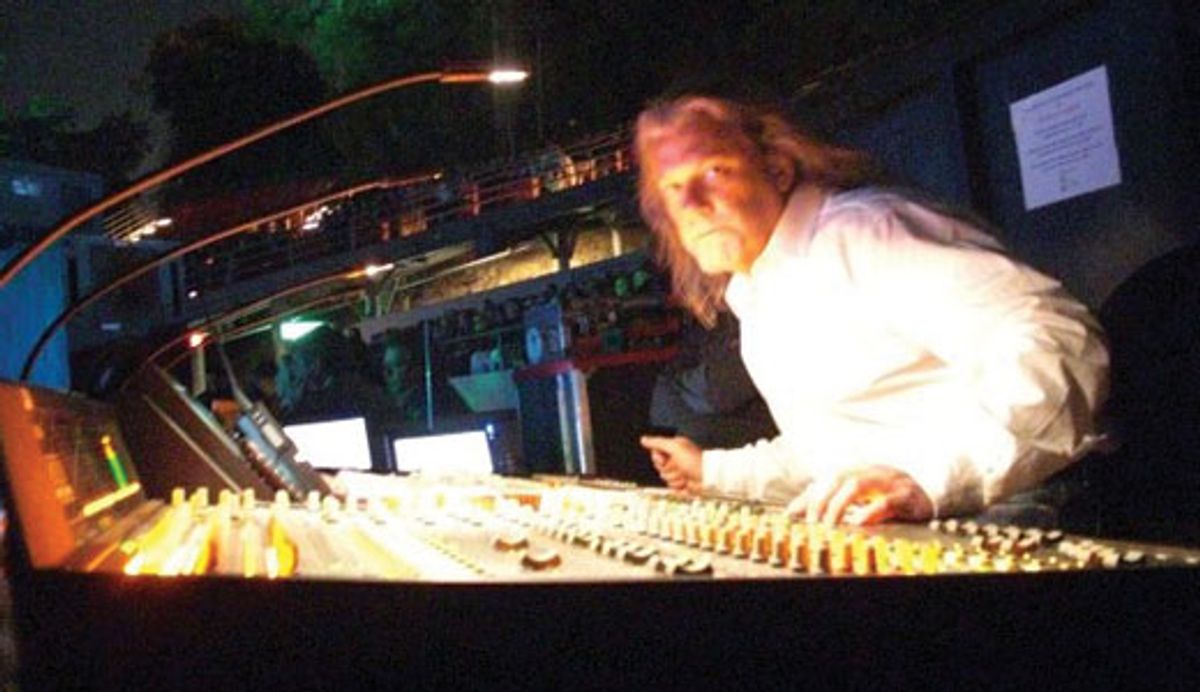 Get some sound advice from award-winning live mixer, Wayne Pauley.
Currently I'm on tour with award-winning engineer Wayne Pauley, who is mixing front of house (FOH). Wayne and I have toured together off and on for over a decade, playing everywhere from Madison Square Garden to Minot, North Dakota, to Austria to Kosovo, and most points in between. There's no bar too far, no hall too small—we've played them all and suffered very few casualties. Wayne Pauley is the 5th Beatle to every band he works with. I've seen him polish a sonic turd until it shines like a black diamond. I've heard him mix a great band in an acoustically friendly environment and you'd swear you're hearing angels sing. I've seen him drink enough top-shelf booze to fill an Olympic-size pool and still be the first guy up every morning directing a local crew as they unload a tractor trailer full of sound, lights, and staging. I'm not entirely sure Wayne sleeps.
---
Wayne is the kind of engineer who makes you a better player. Musicians can be a bit myopic: We focus on what we're doing but sometimes miss the big picture of how our part works with the rest of the band. It's a matter of perspective. Stand close to a Monet painting and all you see are blobs of paint. Step back and you see Water Lilies. From the front of house, Wayne hears everything and lets you know what's working. And he isn't one of those EQ-happy mixers jacking with your tone: If your sound isn't cutting it, Wayne makes suggestions.
Over the years Wayne has steered me clear of many disasters and severely damaged my liver after hours. I feel blessed to know him. For those of you not lucky enough to have worked with Wayne Pauley, you can still benefit from his knowledge. Behold, I give you the keys to the kingdom.
Wayne's Words of Wisdom
1. When playing arenas, cut down on your verb and delay. You're basically performing in a reverb chamber. Anything you add will make you sound mushy and sloppy.
2. When playing arenas, go easy on subtleties. That stuff is totally lost with a loud band in an arena or big shed. Your dynamic range should stay between 7-10. Anything under 7 is pretty much buried, so quit being so damn dynamic.
3. During soundcheck, every musician is eager to tweak his or her rig and play a bit, but get off the deck when the engineer is ringing out the system or all your tweakery won't matter. You may sound great coming out of your amp, but if the front of house isn't tuned properly, everything will suck.
Your personal tone is not as important as the overall sound.
4. Never mix wine and scotch.
5. Analog sounds better.
6. If you're playing in a sticky-floored dump with six people in the audience, it's your duty to play like you're in a packed arena. Those six people deserve a killer show and that's the only way to make these gigs fun. Kick their ass and your crowd will grow.
7. Choose a good sounding, dependable amp over an incredible sounding, delicate amp. Consistency is the key to a great sound on tour. A less expensive amp that's bulletproof will serve you much better than a super high-end boutique amp that changes drastically every day when the electricity in the building isn't perfect.
8. When ordering food on the road, aim low. That salmon and feta on a bed of arugula is most likely going to disappoint you. A good cheeseburger rarely disappoints.
9. If your amp is the loudest thing onstage and it's pointed at the front of house, you will not be as prevalent in the mix. Give the soundman a clean palette to paint with. Let him control the mix, not you. If you need the volume for your tone, point your amp backwards, or set it off to the side of the stage pointing at you, or put a Plexiglas shield in front of it.
10. If you are a loud player playing a small venue, you have to turn down to fit the space, even if it compromises your tone. Your personal tone is not as important as the overall sound. The best solution is to have an amp with variable wattage, or bring a big-room amp and a small-room amp.
11. Belts and suspenders: Carry everything you may need and bring backups, tools, and parts. Tours can be like a trip to another galaxy. Assume your gear will break and you will not be able to find replacements. If you're doing an in-town gig, bring extra cables, strings—all the gig-killing small stuff you may need. Make sure your gear is working before you leave the house.
12. Strippers never go home with the guy buying them lap dances. Ever.
13. Don't feel like you have to play all the time, but when you do play, do it with conviction. Strong and wrong is better than timid. When in doubt, hang out. The difference between a good musician and a great musician is not "knowing what to play," it's knowing what not to play. Great mixes are filled with space, not notes. No one wants to hear 64 bars full of 32nd-notes except the douche-bag blowing them from the stage.
14. There's no money above the 5th fret. [Author's note: These are Wayne's words, not mine. I like all the notes.]