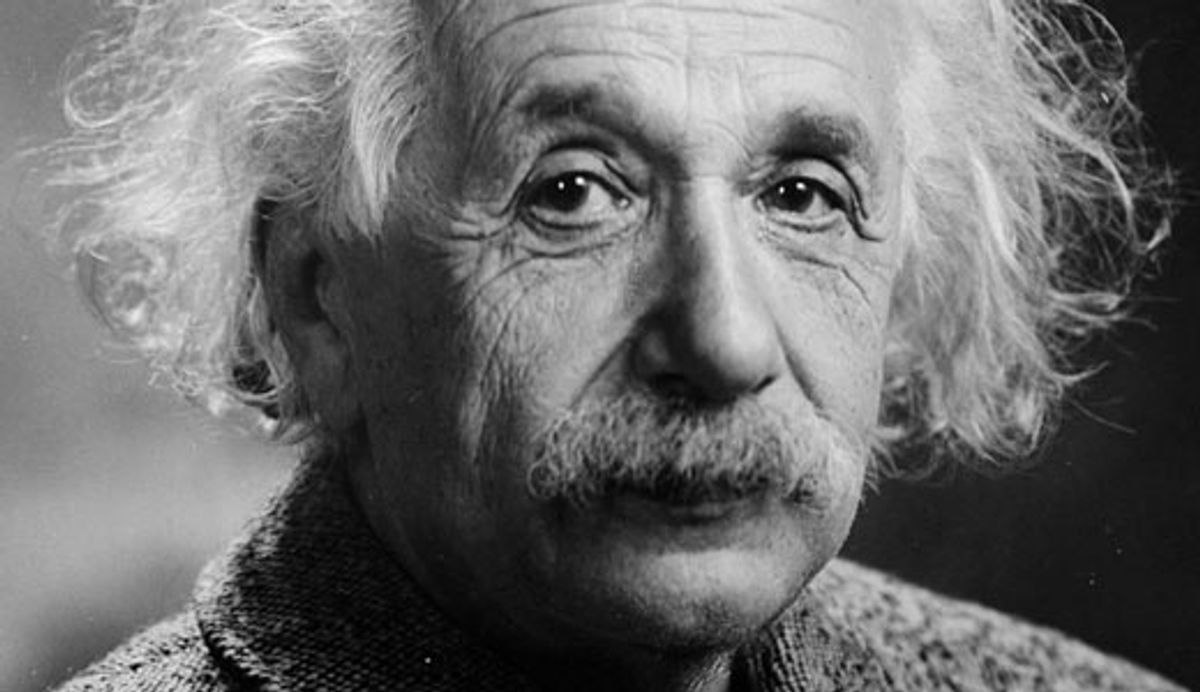 Albert Einstein and Brian Wilson reveal the secret of the universe: energy.
"Everything in life is vibration."—Albert Einstein
I recently Amazoned the Brian Wilson movie Love & Mercy. If you're in a hurry, skip to 1:25:24 where the Paul Dano version of Brian Wilson walks around a large tracking room while 12 string players, three engineers, and a couple suits from the label wait and watch nervously. Brian spreads his fingers over the acoustically tiled walls muttering worried sighs until a suit says, "What do you say, Brian? It's been two hours."
---
Brian: "I'm not sure. It's hostile in here right now. The vibrations aren't right … ummmm…. Okay. Let's cancel the session."
Suit: "Are you sure? It's going to cost like $5,000 with everybody here."

Brian: "Cancel it. We can't work. I don't know; the vibrations are all wrong tonight."

This scene attempts to show Wilson entering a psychotic breakdown. However, at the time Wilson was at the top of his game, having just recorded Pet Sounds and "Good Vibrations"—music that routinely makes every best-ever list of pop recordings. So, was Wilson out of his mind or just hyper-aware of those intangible elements that make music great?

Warning: We are heading into a place where physics meets the paranormal. I'm talking a mix of quantum mechanics, entanglement theory, and some new age, hippie-spiritual shit. Oxygen gets a little thin up here when you open your mind, so take a deep breath and let's walk through the looking glass.

There is nothing solid: you, your guitars, your computer, your loved ones, and the floor under your feet. The planets and stars may appear solid, but all of this seemingly rock-solid matter is actually in vibration. All physical atoms are comprised of atomic particles (protons, neutrons, and electrons) that are constantly spinning and vibrating. Ergo, you and all you see and touch are just energy and vibration. We've all heard of Einstein's equation, E=mc2. Here's what it means, essentially: Energy can be transformed into massive particles, and mass can be transformed into energy. Energy is matter.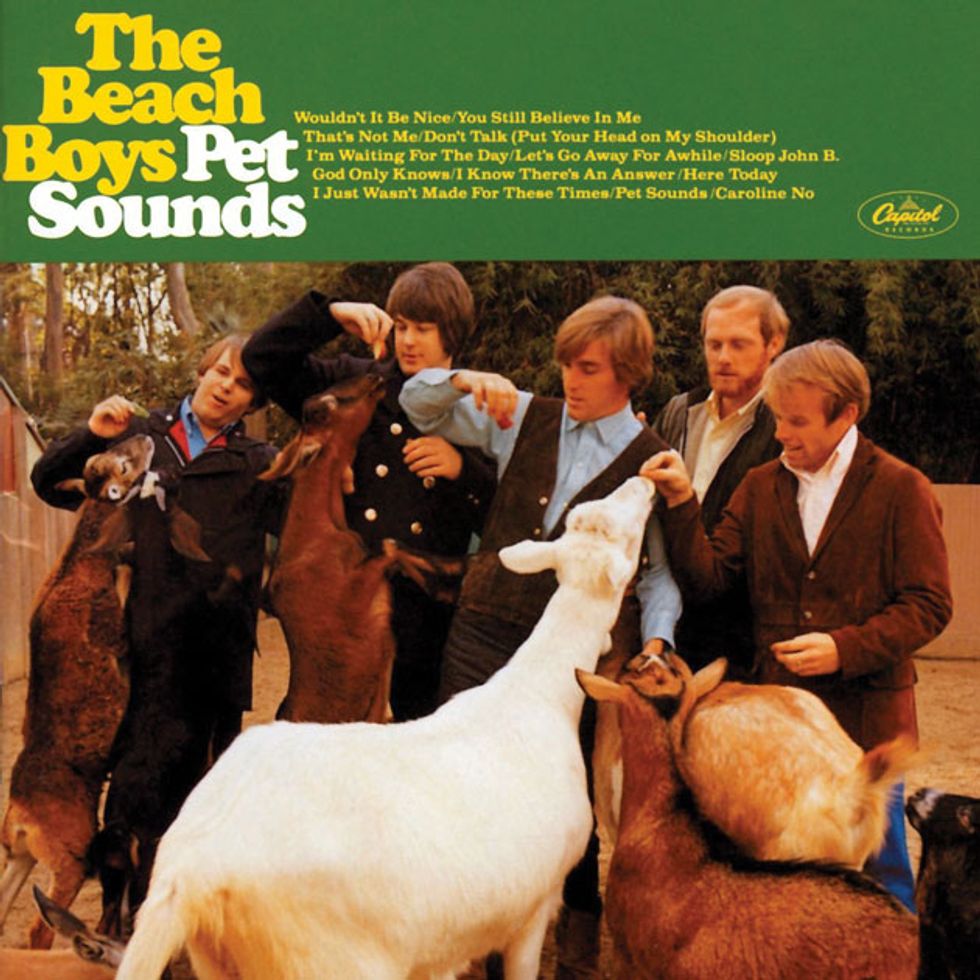 After recording Pet Sounds, was Brian Wilson really out of his mind, or just hyper-aware of those intangible elements
that make music great?
Mind blown? Well, now consider this: Our thoughts are energy. Studies at Stanford University proved that directed thoughts produce a physical energy, even over remote distance. Let me put this in terms that you'll understand: Your thoughts are literally as solid as a 1957 Les Paul.
Now plug that goldtop into the amp of your choice, turn all the knobs right, and hit that low E like the sumbitch owes you money. The energy from your hand hitting those strings creates a vibration that is a physical presence that joins with the vibration of the universe. If you're ready for a personal paradigm shift, consider this: Those vibrations from the strings are a physical energy, you are a physical energy, and the air molecules around you are a physical energy all comprised of these same basic building blocks. This means that everything in the universe is connected, but nothing actually touches. We're all just a vibrating skin sack of vibrating atoms swimming in a universe of vibrating atoms. We are stardust.
As Nikola Tesla said over a century ago, "If you want to find the secrets of the universe, think in terms of energy, frequency, and vibration." That's why Brian Wilson was right in cancelling his recording session. Everybody in that studio was nervous. Those negative vibrations were a physical presence in the room that did not vibrate on the same frequency as the music in Wilson's head. The people at the session acted like Wilson was crazy, but I bet most of those musicians were relieved when the session got called off, because they could feel that they were not going to get a great performance. The vibe was not conducive to making great music.

Isn't it interesting that the word "vibe" means, according to Merriam-Webster, "a distinctive emotional atmosphere; sensed intuitively," but its root is vibration? Even our language suggests that emotions are energy vibrating like guitar strings.

When I'm on tour during the summer and I see hundreds of thousands of people who drove for hours, paid too much for tickets, had to deal with bad parking and huge crowds, waiting 20 minutes in line for a $12 flat beer and another 20 minutes for a biohazard port-o-john, I wonder if these people are out of their collective minds. All that trouble just to see music performed does not seem worth it. But then I think about how good it feels to watch or play music when the energy is positive and the crowd is into it, and I totally get it. Live music feels amazing. If church felt like that, I'd be there every week.

Music is more than just melody, meter, and dynamics. It's also energy, frequency, and vibration. Music connects us to life, the universe, and the infinite. Call it what you will, but I think this connectivity of all life, matter and energy is where God lives. This may smell of hippie, but I feel it's absolutely true. That's why all of you reading this are obsessed with guitars. Hit the right note and you're connected to life, the universe, and the divine.
Looking for more great gear for the guitar player in your life (yourself included!)? Check out this year's Holiday Gear Finds!
Outlaw Effects introduces their next generation of NOMAD rechargeable battery-powered pedal boards.
Available in two sizes, NOMAD ISO is a compact, versatile tool that offers the convenience of a fully powered board plus the additional freedom of not having to plug into an outlet. NOMAD ISO is ideal for stages with limited outlet availability, quick changeovers, busking outdoors, temporary rehearsal locations, and more!
NOMAD ISO builds upon the legacy of the ultra-convenient and reliable NOMAD rechargeable pedalboard line originally launched in 2018. The brand new NOMAD ISO editions feature eight isolated outputs (1 x 9V DC, and 1 switchable 9V/12V DC) for even more versatility and clean, quiet power. With an integrated lithium-ion battery pack boasting 12800mAh capacity, NOMAD ISO can fuel a wide array of pedals, and will last over 10 hours* on a single charge.
Each NOMAD ISO pedal board includes adhesive hook & loop pedal-mounting tape, eight (8) standard DC connector cables, and one (1) reverse polarity DC cable, giving you everything you need to build your ultimate "off-the-grid" rig. A rugged, road-ready padded gig bag with shoulder strap is also included, to safely protect your gear while you're on the move.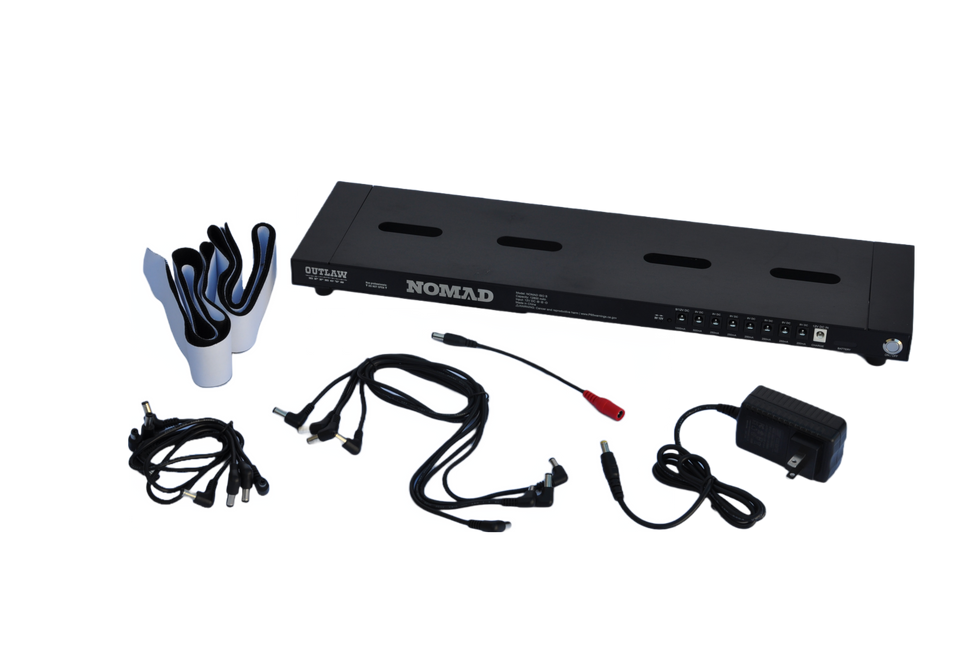 Dunable announce new Minotaur model featuring Grover Rotomatic Keystone tuners.
The Minotaur's DNA is rooted in their classic Moonflower model, which Dunable discontinued in 2017. However, they have long since wanted to create a fresh take on a carved top guitar design, and various attempts to rework the Moonflower led them to a brand new concept with the Minotuar.
Dunable's goal is to give the player a guitar that plays fast and smooth, sounds amazing, and gives maximum physical ergonomic comfort. The Minotaur's soft and meticulous contours, simple and effective control layout, and 25.5" scale length are designed to easily meet this criteria.

Dunable Minotaur!
Features
25.5" scale length
Dual Humbucker
one volume, one tone, push pull for coil splitting
Grover Rotomatic Keystone tuners
Grover Tune O Matic bridge with brass Kluson top-mount tailpiece
jumbo nickel frets
12" fretboard radius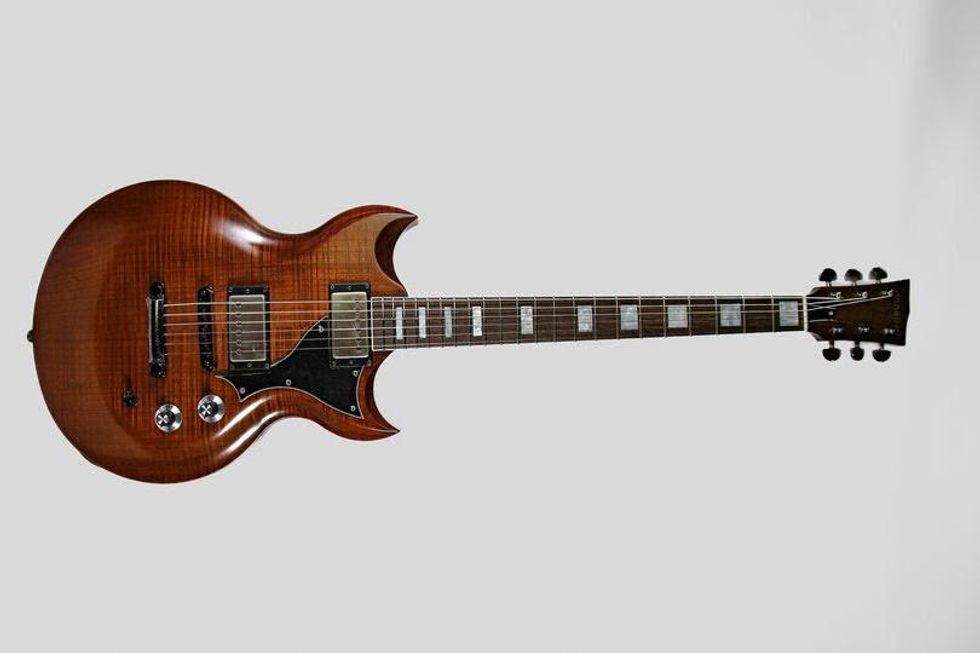 Dunable
This full-amp-stack-in-a-box pedal brings a new flavor to the Guitar Legend Tone Series of pedals, Missing Link Audio's flagship product line.
Adding to the company's line of premium-quality effects pedals, Missing Link Audio has unleashed the new AC/Overdrive pedal. This full-amp-stack-in-a-box pedal – the only Angus & Malcom all-in-one stompbox on the market – brings a new flavor to the Guitar Legend Tone Series of pedals, Missing Link Audio's flagship product line.
The AC/OD layout has three knobs to control Volume, Gain and Tone. That user-friendly format is perfect for quickly getting your ideal tone, and it also offers a ton of versatility. MLA's new AC/OD absolutely nails the Angus tone from the days of "High Voltage" to "Back in Black". You can also easily dial inMalcom with the turn of a knob. The pedal covers a broad range of sonic terrain, from boost to hot overdrive to complete tube-like saturation. The pedal is designed to leave on all the time and is very touch responsive. You can get everything from fat rhythm tones to a perfect lead tone just by using your guitar's volume knob and your right-hand attack.
Features 
Three knobs to control Volume, Gain and Tone
Die-cast aluminum cases for gig-worthy durability
Limited lifetime warranty
True bypass on/off switch
9-volt DC input
Made in the USA
MLA Pedals AC/OD - Music & Demo by A. Barrero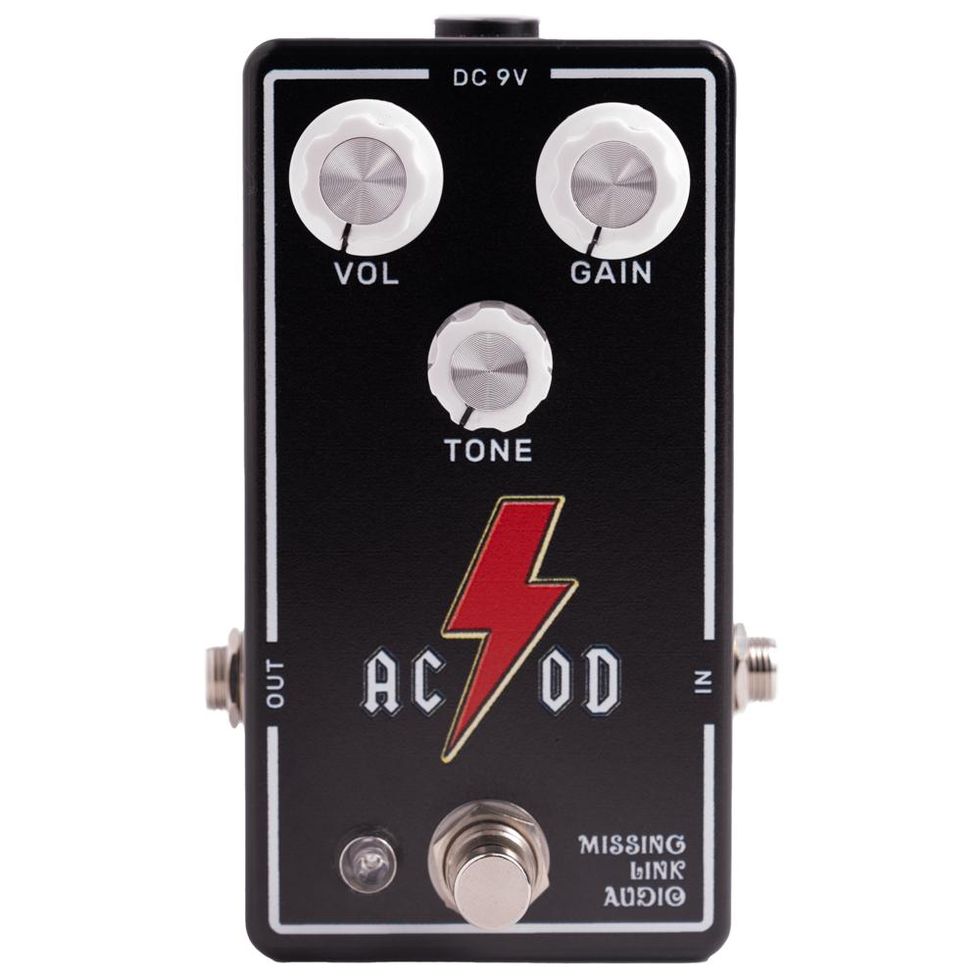 www.mlapedals.com.