Reader Guitar of the Month: The CooderMapster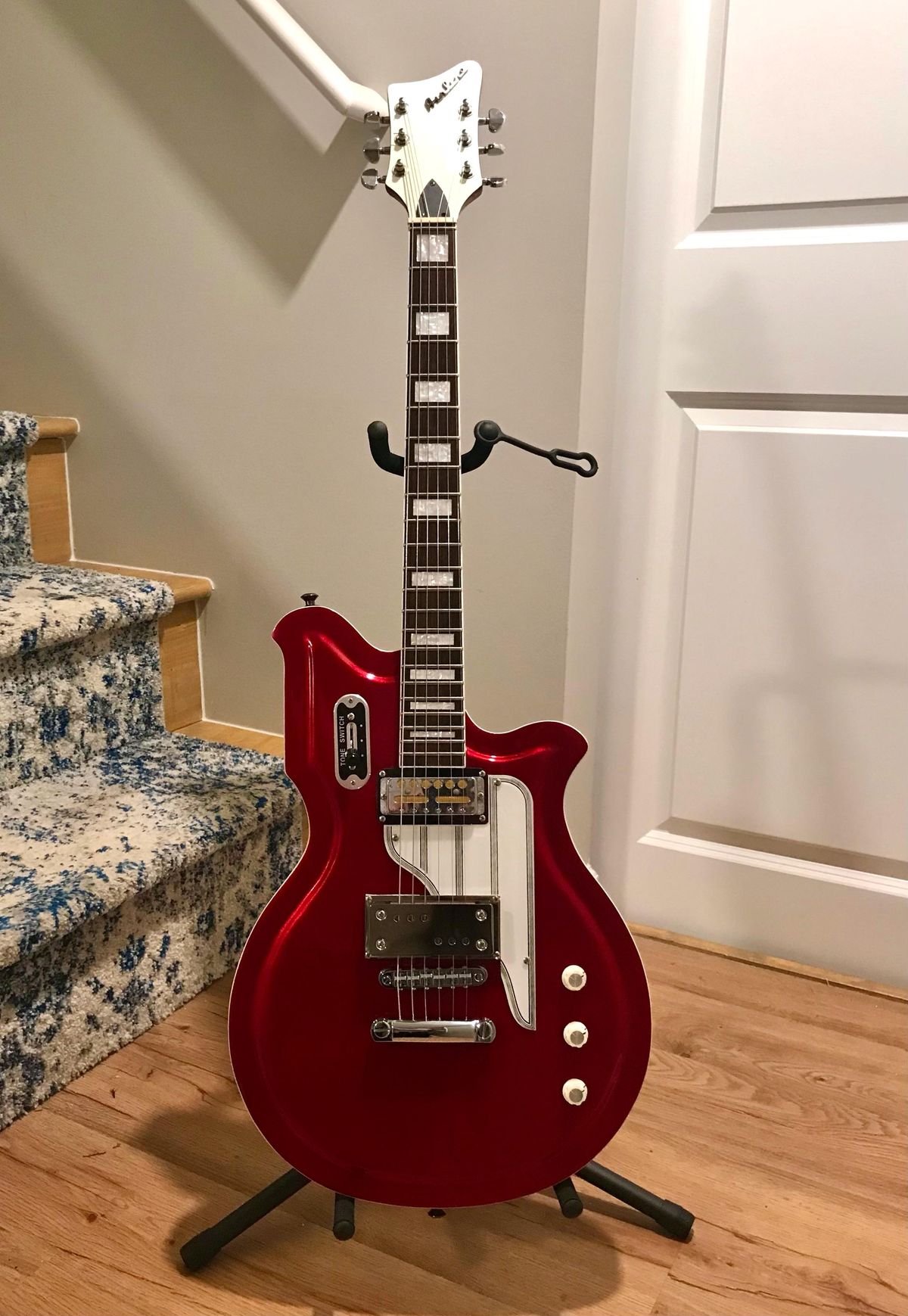 An affection for Ry Cooder and Arlen Roth inspired this glorious guitar amalgamation.
My introduction to Ry Cooder and slide guitar came with the 1986 Walter Hill movie Crossroads. As a teenager searching desperately for music with more feeling than the hair-metal bands my friends listened to, I'd begun buying Chess reissues by Muddy Waters and Howlin' Wolf, so I already knew I liked the blues. I was especially drawn to the slide sound, but I didn't really know how it was done. Crossroads helped fill in the blanks, and before long, I was buying my first guitar, putting a piece of cut-off brass pipe on my finger, and trying (and failing miserably) to emulate the sounds I heard Ry Cooder making. To me he was magic: How did he make everything sound so good?

Arlen Roth to the rescue….
To the rescue came Arlen Roth and his Hot Licks Slide Guitar VHS video, which I ordered via an ad in a guitar magazine. He was Ralph Macchio's guitar coach in Crossroads, so I figured if he could teach an actor with no previous guitar playing experience, he could teach me. He laid out open tunings, scales, and left- and right-hand damping techniques, and with that solid basis I was able to take off on my own. Roth had a different tone than Cooder with his heavy brass slide versus Cooder's glass, but he had the same kind of magic in his playing. I was especially enamored of Roth's black map-shaped National Newport he used in the video. I'd never seen anything like it. Someday ....
Speaking of cool guitars, Cooder's famous Coodercaster with the Valco string-through lap-steel pickup, big plate, and Teisco gold-foil pickup was something I considered unobtainable. This was, of course, back in the days before there was a cottage industry producing emulations of this previously singularly unique instrument.
Fast-forward a few decades, and my admiration for those two mentors hasn't diminished, but I never managed to get a cool map-shaped National electric. I also never jumped on the Coodercaster bandwagon, the repro market for which is in full swing. The yearning for both was still there, but in the case of the National map guitars, the collector's market priced them into unaffordability. However, I came across a used Airline Map STD by Eastwood for a good price on Reverb. It's red, not black like Roth's National Newport, but the red-and-white color scheme reminded me of J.B. Hutto's Airline, so it would do.
There's even a little J.B. Hutto in the CooderMapster's mixed genes.
When I received the guitar, I liked the way it felt and played, but I'm not a humbucker guy (the pickups had been upgraded to Duncan '59s). And then it hit me: Why not make it a Coodercaster? I lucked into a couple of vintage, bona fide Cooder-style Teisco gold-foil pickups that were liberated from a trashed guitar, so all I needed was a Valco-style lap-steel pickup. A viable original would be difficult to get. I also don't like the idea of harvesting pickups from perfectly good-working lap steels for my vanity project, so it came down to Mojo or Lollar. I went with Mojo because they seemed to have ironed out the notorious phasing issues without a special wiring harness.
I could fumble my way through the wiring, but I knew some routing was needed to install the Mojo, so I had that done by Gavin Gaines at Southeast Guitar Repair. Mounting the gold-foil on a piece of pickguard material cut to the size of a humbucker ring was my idea, and it worked well. The Mojo pickup needed a riser to get it to the right height, and the pickguard had to be cut back a little, but otherwise it wasn't difficult. However, the string spacing needed help. The treble strings were okay, but the bass strings lacked punch and volume, so I ordered a new Tune-o-matic bridge. I then notched the saddles to line up with the pickup polepieces, which made a marked improvement in tone.
And a wonderful tone it has! The 24.75" scale and largely hollow construction of the Map makes it sound a little different than the typical Strat 25.5" scale and solid body, but it's recognizably Coodercaster-ish. The pickups balance beautifully, with the Mojo lap steel being bright and cutting, while the gold-foil offers warmth and chime. The combined pickup setting doesn't have the dreaded phase issue. The extra volume control also allows a bit more flexibility than the typical two-knob Coodercaster, allowing individual volume control of the pickups.
Since it's an Airline Map and a Coodercaster, I named it the CooderMapster. When I play it, it reminds me of my guitar heroes Ry Cooder and Arlen Roth. To them I say: Thank you, gentlemen, for the instruction, the enjoyment, and the inspiration.