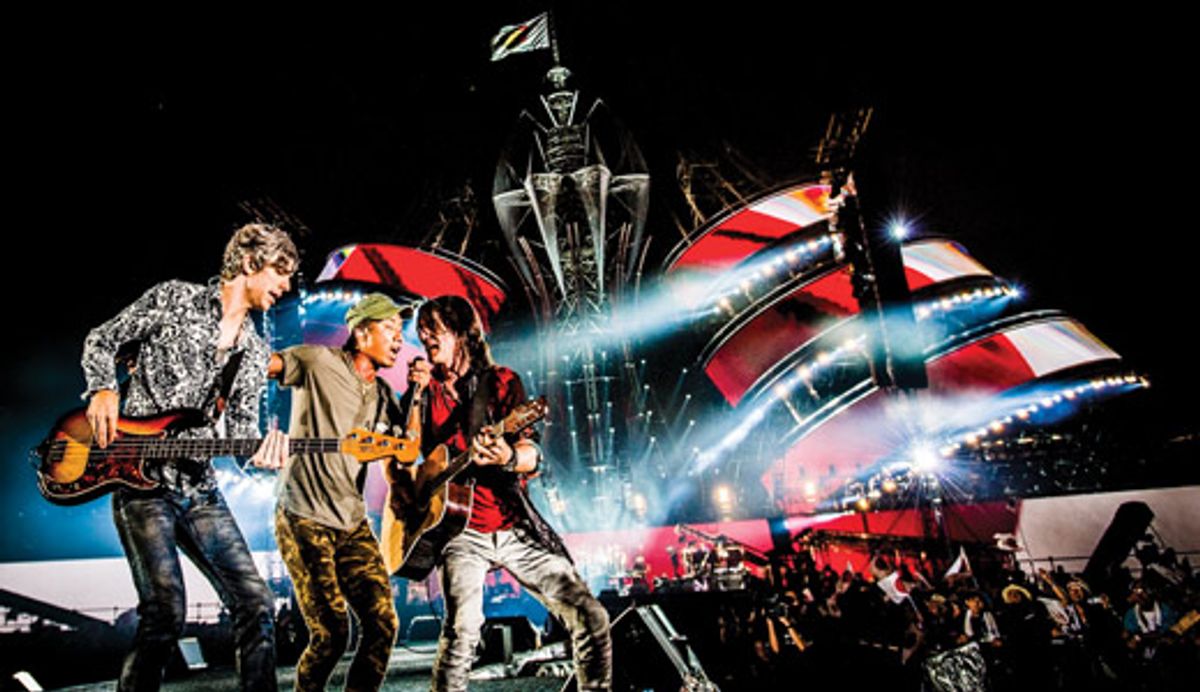 No worn-out clichés about the power of networking here—just some sound advice on landing your next better gig or helping a friend land his or hers.
Greetings, readers! On a recent gear-forum thread, a fellow named Billy Moss requested that I write a column about the process of getting a high-profile gig like playing with Melissa Etheridge—essentially, how to become a "hired gun." I've touched on the subject a number of times in PG by writing about topics such as choosing the proper gear, preparation, being intuitive, and the importance of living in a music city. This request from the forum thread is timely, in that recent events have clarified the importance of another major factor in any musician's success: that it's largely about the company you keep.

Birds of a feather. A few weeks ago, a guitarist friend of mine—who plays in a local cover band and has had some hired-gun touring gigs—related an interesting story to me. He told me that an opportunity had come up for him to audition for a new (and good) touring gig. After the audition, however, he discovered that the drummer in his cover band had known about the opportunity and even had a close connection to the band that was hiring, but didn't put my friend's name forward as a candidate. My friend found out about the audition through someone else.

In essence, the drummer put the short-term pain of losing a guitarist that his band would endure ahead of the potential advancement of my friend's career through a better gig. I'd guess that many of us have likely been in bands with folks like this drummer. Make no mistake: Music as a career is a hard road to take. And unfortunately, there are some musicians who tend to become jealous, vindictive, and resentful when they see others succeed, or even when potential opportunities for others come up.

I can't stress enough how important it is to avoid these negative, toxic emotions. Trust me: The longer you stay in this business, the smaller it gets. After a (long) while, everyone seemingly knows everyone, so do not burn bridges. You should always strive to help out your friends and fellow musicians, because it always comes back to you. The folks who are jealous and vindictive seem to wallow in a low place, and blame others for failure, mediocrity, and lack of work. The good folks who help one another out always seem to rise and shine. Birds of a feather flock together, right? So, make sure your flock is a good one.

Coming full circle. I picked up the guitar for the first time at 10-years-old and the very first song I learned was "I Can't Explain" by the Who. Those E, D, and A power chords resonated with me in such a way that my life path was changed forever, and now here I sit, writing about music and the guitar.
He just recently flew to London and is now on tour with one of the most celebrated rock bands of all time.

One of my oldest friends in L.A. is a terrific bassist named Jon Button. We've done many tours and sessions together over the years, and he's one of the most solid, trustworthy people I know. Simply said, Jon is the kind of guy you'd want in your band, for both his musical ability and personality. It should come as no surprise that he's had an exemplary career, evidenced by touring and recording with the likes of Sheryl Crow, Shakira, Mylène Farmer, the Corrs, and many others.

Now, back to that question Billy Moss asked me about getting a gig with someone like Melissa Etheridge. The short answer? Jon was the connection. When he got a call about a bass audition from Melissa's tour manager, the TM asked him if he could recommend a guitarist as well. Jon gave him my number and that ended up turning into three years of really enjoyable and rewarding touring work for me!

Around that same time, I received a call from an old friend Frank Simes. Frank had just become Roger Daltrey's guitarist and musical director, and was helping put a band together for Roger. So, I gave him Jon Button's name and phone number, and, you guessed it, Jon ended up getting the gig. But that's not the end of the story.

Fast-forward to 2016. The Who was gearing up to do some shows in 2017 and their bassist—the legendary Pino Palladino—was booked to play all year with John Mayer. Given all the circumstances, Jon was the natural first-choice to fill the bass chair. He just recently flew to London and is now on tour with one of the most celebrated rock bands of all time.

It's amazing to me that, in a way, I've had some small impact in helping the Who find a bassist—the band that actually influenced me to pick up the guitar. Full circle indeed. I'm a true believer that the company you keep is one of the biggest factors in developing a successful music career. Surround yourself with talented, driven, good people, and strive to help them at every opportunity. I promise you that it will come back to you. It may not happen right away, but eventually it will.

Until next month, I wish you success and happiness in all that you do!
Looking for more great gear for the guitar player in your life (yourself included!)? Check out this year's Holiday Gear Finds!
Outlaw Effects introduces their next generation of NOMAD rechargeable battery-powered pedal boards.
Available in two sizes, NOMAD ISO is a compact, versatile tool that offers the convenience of a fully powered board plus the additional freedom of not having to plug into an outlet. NOMAD ISO is ideal for stages with limited outlet availability, quick changeovers, busking outdoors, temporary rehearsal locations, and more!
NOMAD ISO builds upon the legacy of the ultra-convenient and reliable NOMAD rechargeable pedalboard line originally launched in 2018. The brand new NOMAD ISO editions feature eight isolated outputs (1 x 9V DC, and 1 switchable 9V/12V DC) for even more versatility and clean, quiet power. With an integrated lithium-ion battery pack boasting 12800mAh capacity, NOMAD ISO can fuel a wide array of pedals, and will last over 10 hours* on a single charge.
Each NOMAD ISO pedal board includes adhesive hook & loop pedal-mounting tape, eight (8) standard DC connector cables, and one (1) reverse polarity DC cable, giving you everything you need to build your ultimate "off-the-grid" rig. A rugged, road-ready padded gig bag with shoulder strap is also included, to safely protect your gear while you're on the move.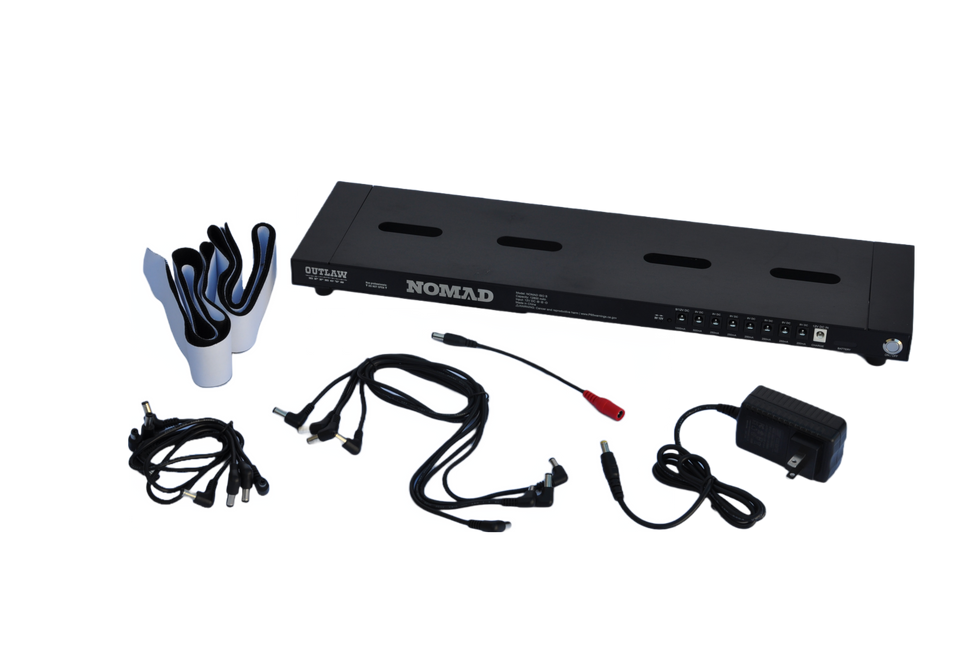 Dunable announce new Minotaur model featuring Grover Rotomatic Keystone tuners.
The Minotaur's DNA is rooted in their classic Moonflower model, which Dunable discontinued in 2017. However, they have long since wanted to create a fresh take on a carved top guitar design, and various attempts to rework the Moonflower led them to a brand new concept with the Minotuar.
Dunable's goal is to give the player a guitar that plays fast and smooth, sounds amazing, and gives maximum physical ergonomic comfort. The Minotaur's soft and meticulous contours, simple and effective control layout, and 25.5" scale length are designed to easily meet this criteria.

Dunable Minotaur!
Features
25.5" scale length
Dual Humbucker
one volume, one tone, push pull for coil splitting
Grover Rotomatic Keystone tuners
Grover Tune O Matic bridge with brass Kluson top-mount tailpiece
jumbo nickel frets
12" fretboard radius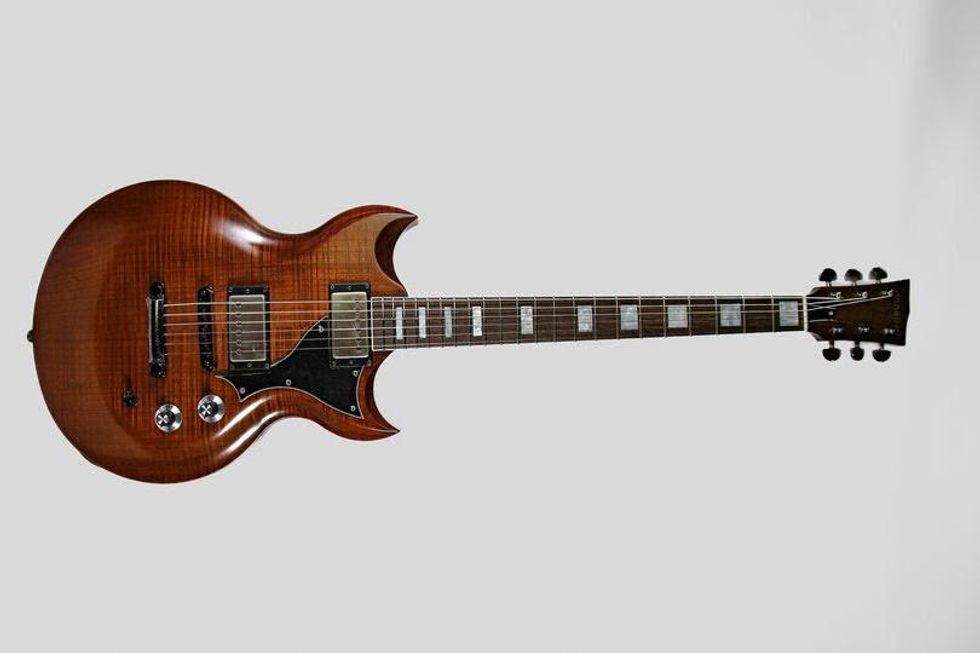 Dunable
This full-amp-stack-in-a-box pedal brings a new flavor to the Guitar Legend Tone Series of pedals, Missing Link Audio's flagship product line.
Adding to the company's line of premium-quality effects pedals, Missing Link Audio has unleashed the new AC/Overdrive pedal. This full-amp-stack-in-a-box pedal – the only Angus & Malcom all-in-one stompbox on the market – brings a new flavor to the Guitar Legend Tone Series of pedals, Missing Link Audio's flagship product line.
The AC/OD layout has three knobs to control Volume, Gain and Tone. That user-friendly format is perfect for quickly getting your ideal tone, and it also offers a ton of versatility. MLA's new AC/OD absolutely nails the Angus tone from the days of "High Voltage" to "Back in Black". You can also easily dial inMalcom with the turn of a knob. The pedal covers a broad range of sonic terrain, from boost to hot overdrive to complete tube-like saturation. The pedal is designed to leave on all the time and is very touch responsive. You can get everything from fat rhythm tones to a perfect lead tone just by using your guitar's volume knob and your right-hand attack.
Features 
Three knobs to control Volume, Gain and Tone
Die-cast aluminum cases for gig-worthy durability
Limited lifetime warranty
True bypass on/off switch
9-volt DC input
Made in the USA
MLA Pedals AC/OD - Music & Demo by A. Barrero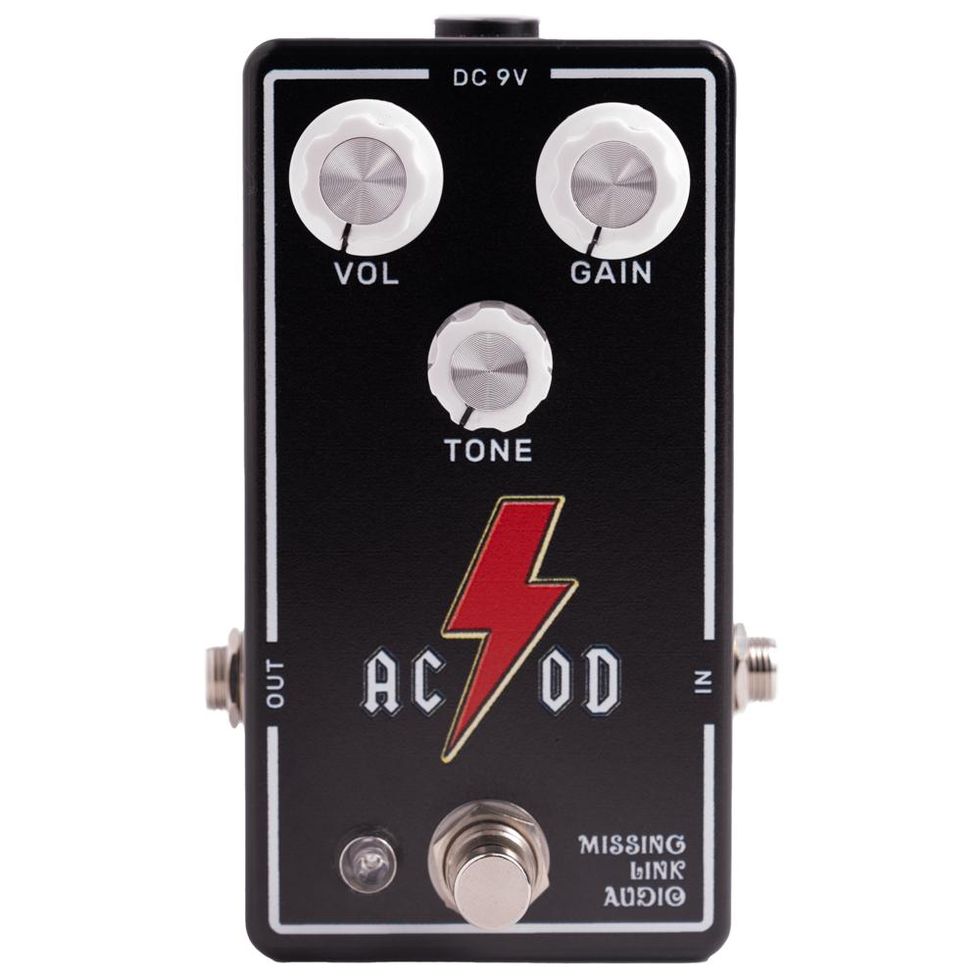 www.mlapedals.com.