This Gold-Standard Airline Flies on Three Pickups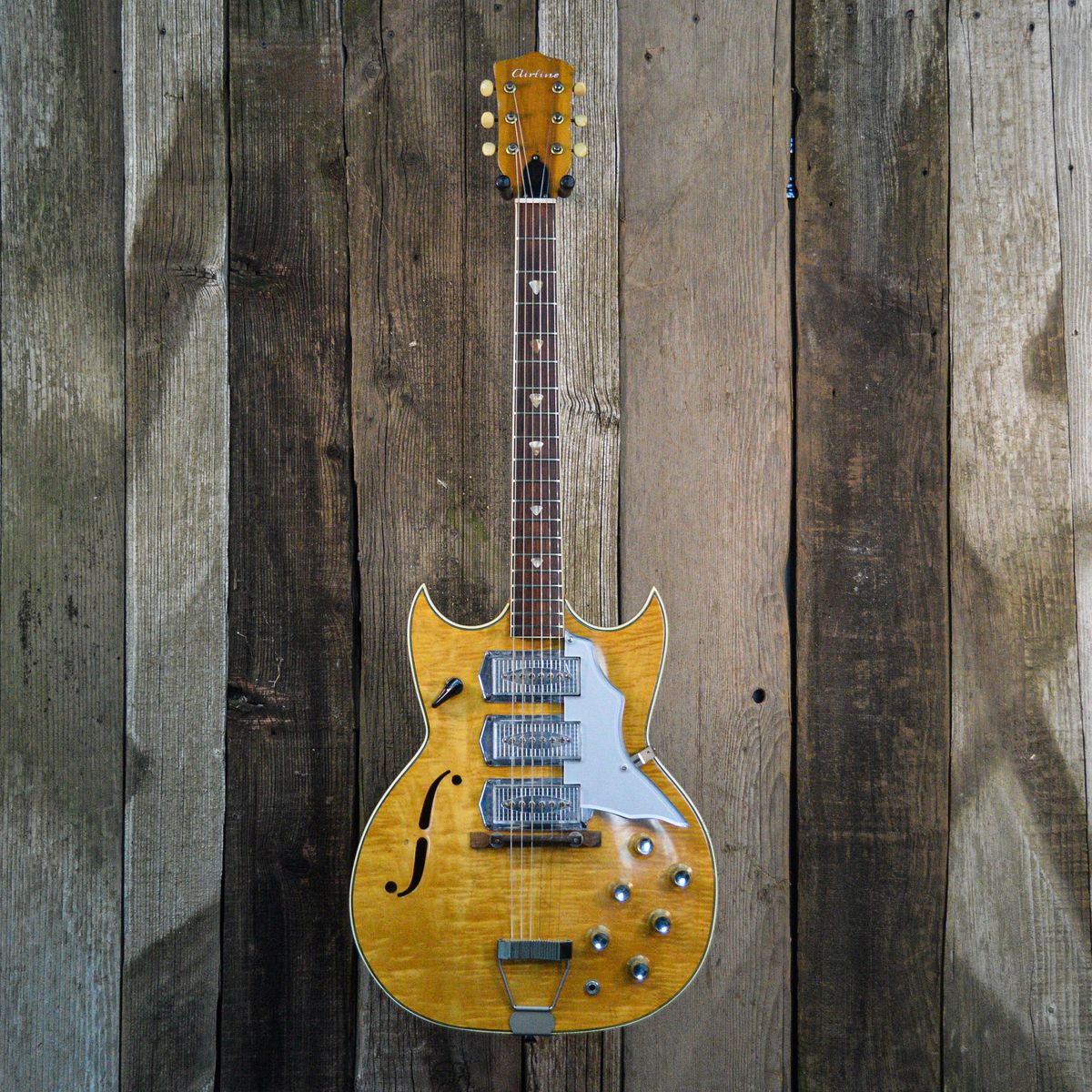 The Kay-made Swingmaster P-5 carries the torch for its higher-end predecessors, like the company's Barney Kessel model.
When the guitar boom of the 1960s hit, manufacturing operations all over the world rushed to meet skyrocketing demand. There were factories in Japan and Italy, in Southern California and Czechoslovakia, and, perhaps most prolifically of all, in Chicago, Illinois—that long-established center of American retail distribution. Chicago instrument makers churned out entry-level guitars in enormous volumes, and by the time of Beatlemania, it seemed like they couldn't build them fast enough.
---
The three big names from this time and place were Harmony, Valco, and, the maker of today's featured instrument, Kay. All three companies competed and at times collaborated, and supplied instruments to retailers like Sears and Montgomery Ward to be sold under a dizzying array of brand names.
This is one of a series of Kay-made instruments with appointments similar to that of the earlier Gold K generation.
In today's vintage market, Harmony is known for the sheer volume of beginner guitars it produced, while Valco, the company behind brands like Supro and National, has enjoyed something of a Jack White-ified resurgence over the past two decades. (Believe it or not, "Fell in Love with a Girl" was released in 2001.) Kay's reputation and legacy, while high among a certain set of collectors and players, is perhaps less well defined, but still claims a fascinating history of its own.
Like Harmony, Kay's origins can be traced to the 1890s when it started as the Groeschel Mandolin Company. In the 1920s and '30s, it went through some name changes, eventually landing on Kay Musical Instrument Company under the leadership of Henry Kuhrmeyer. Kay was right there at the birth of the electric guitar as one of the first makers to explore this new arena in the 1930s.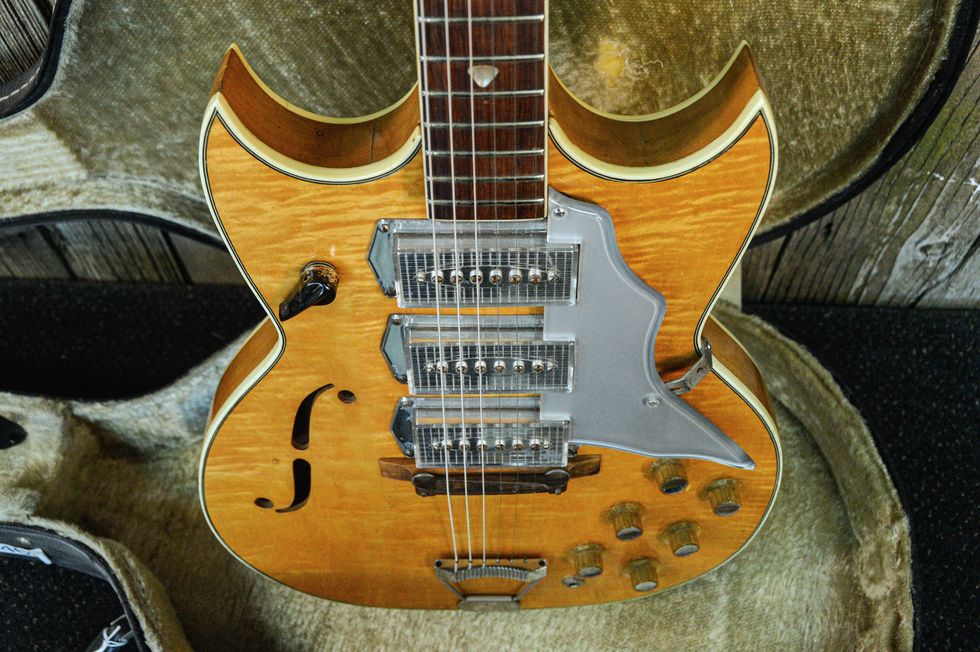 These Kleenex box variations on the P-90 have larger pole pieces, but typically less midrange than actual P-90s, giving them a distinctive tone that's highly sculptable thanks to individual pickup tone and volume controls.
The most intriguing stretch of Kay's history came in the late 1950s, when it sought to compete directly with higher-end brands and market more professionally oriented guitars, called the Gold K series, which included a set of signature models for jazz great Barney Kessel. A Kay catalog from 1959 proclaims, "Only Kay offers you so complete a line—ranging from a $24.50 student model to a $400 professional electric." A $400 guitar in this era would put it on the same shelf as a high-end Gibson. Mr. Kessel himself made the switch to Gibson by 1961, which, going by the guitars featured in Kay catalogs from this period, coincides with a refocus by the company towards the lower end of the market.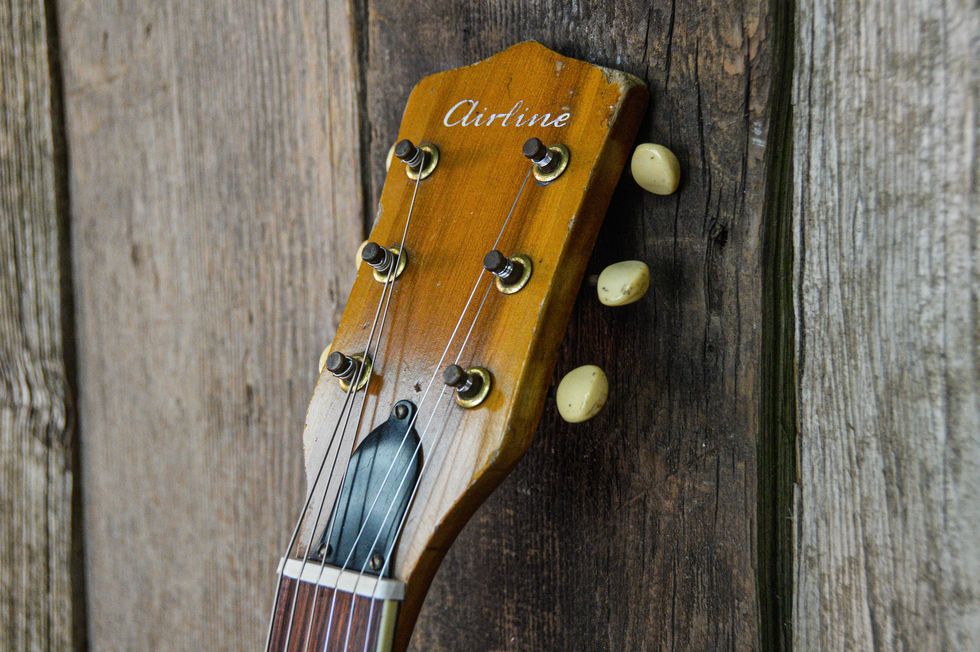 The humble headstock marks this Kay-built Airline as a more affordable model than its Kelvinator-headstock-equipped inspirations. Nonetheless, it is a formidable example from the heyday of Chicago guitar builders.
The Gold K and Kessel models (along with the Thin Twin, which was played by bluesman Jimmy Reed) are the most recognizable vintage Kays and are set apart by their higher-end hardware—flourishes like the ornate "Kelvinator" headstock (which, along with the pickup frames and pickguard, resembled the appointments of that company's line of appliances) and the distinct Gold K pickups, sometimes called Kleenex box pickups, for obvious reasons. Moving through the '60s, as Kay shifted away from the original Gold K guitars, these pickups—a variation on the P-90, with larger pole pieces—continued to be used on other models including today's featured instrument, the hollowbody Swingmaster P-5 archtop. Sold under the Airline brand name exclusively through Montgomery Ward, this guitar shows up in a 1965 edition of their catalog simply as an Archtop Dual Cutaway. While often vintage dealers and others label any Kay with the Kleenex box pickups a Barney Kessel model, this does not appear to have been the actual designation. Instead, this is one of a series of Kay-made instruments with appointments similar to that of the earlier Gold K generation, but overall, more in the mold of the other guitars then being sold through catalog partners.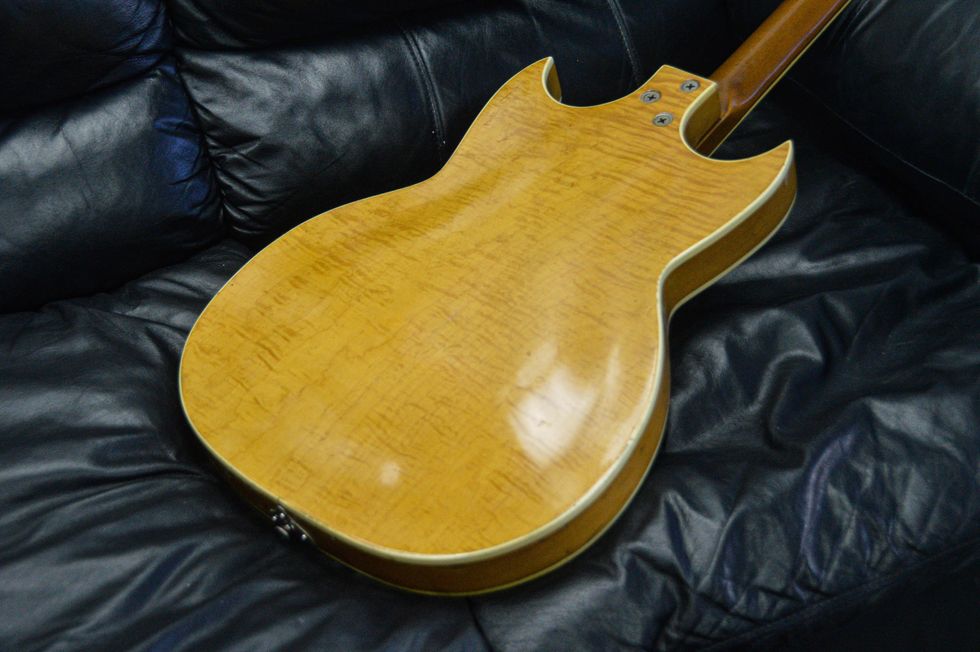 Here's an unobstructed view of the curly maple back of this Airline Swingmaster P-5. The neck appears to be rosewood.
According to the Reverb listing for this guitar from Guitar Showcase of San Jose, California, it has a replacement bridge and some swapped screws, as well as a noticeable crack on the bottom near the trapeze tailpiece hinge. The listing also points out the strength of the Kleenex box pickups, which are controlled by a 3-way selector and individual tone and volume dials. The triple set of pickups on this guitar is part of what makes this model one of the most sought-after Kay instruments of the 1960s—at about one-third to one-half the price of a two-pickup Kay with the actual Kessel designation and Kelvinator headstock. This specific guitar was listed at $1,995.
There's a tendency for those of us who are interested in the history of gear to seek easy categorization and neat, orderly model names and serial number sequences. During the '60s guitar boom, among the wholesaling factories things were never quite so simple. They used what parts they had. That stack of bodies might meet that pile of necks, and the result might contrast a bit with how that model looked last year or will look in the next batch. Oddities, contradictions, and inconsistent information abound on the vintage market when it comes to Chicago guitars, and Airline-branded Kays like this one are a typical example. Ultimately, though, it's this mysteriousness and the possibility of finding something truly unique that makes guitars like this so much fun.